Spätzle with ramps, mushrooms, and lemon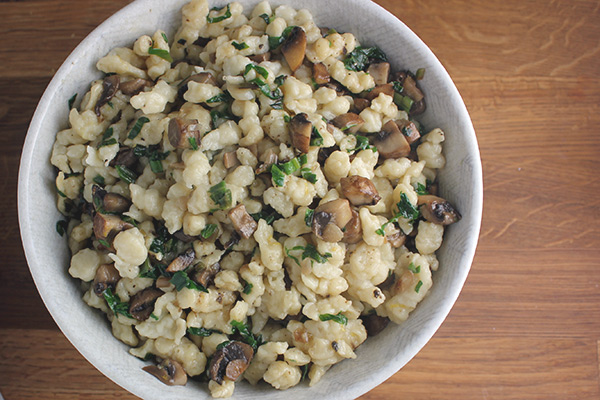 The start of spring comes with its own set of significant yearly milestones – the last bit of snow melting, the first 60+ degree day, the first walk without gloves, the first drive home with the windows open, the first dinner on the grill. And here in Wisconsin, there's a particularly joyous spring milestone to mark the start of spring harvest – wild ramps. I wrote a bit about ramps last spring to a somewhat puzzled response from folks living elsewhere, but there's somewhat of an introduction to them in that post should you need a bit of background. The best way to describe them is as tiny little wild leeks, with a sweet, onion-garlic sort of flavor. Like spring, really.
If you're a culinary sort living in Wisconsin, you probably don't need any introduction. You know why one of my favorite farm stands went through 1,200 bunches of ramps on the first day of the outdoor Capitol Square farmers' market, and why we had to try a few grocery stores before finding one that still had them in stock. You know why all the restaurants in town scramble to get together their ramp specials, and how canning aficionados dust off their equipment to get some pickling done within ramps' painfully short little harvest season.
I wanted to work ramps into our dinner plans this week, but we weren't sure we'd be able to get our hands on any in this first harvest week, so I planned a side dish that would be good enough without them – tiny little spãtzle dumplings (a classic go-to side in our house) together with some lemony sauteed mushrooms. A perfect base for a bunch of ramps, or not.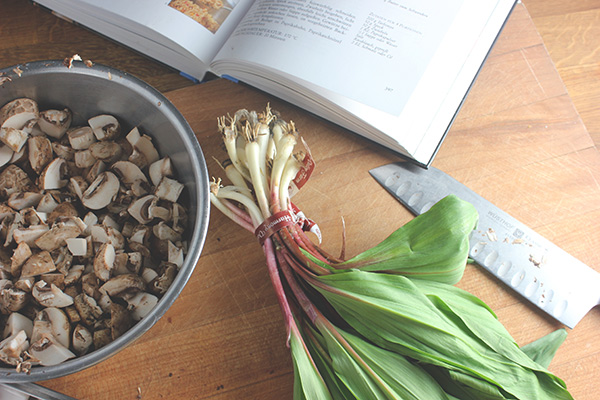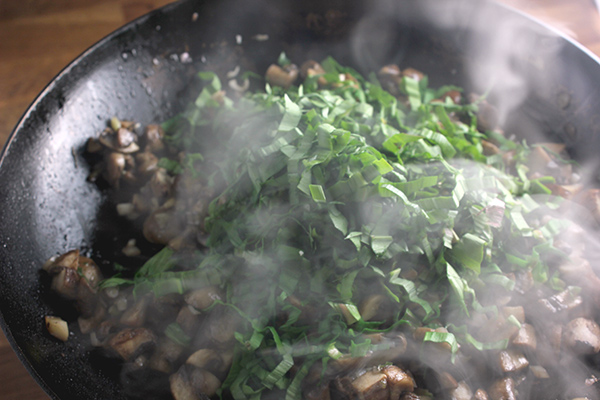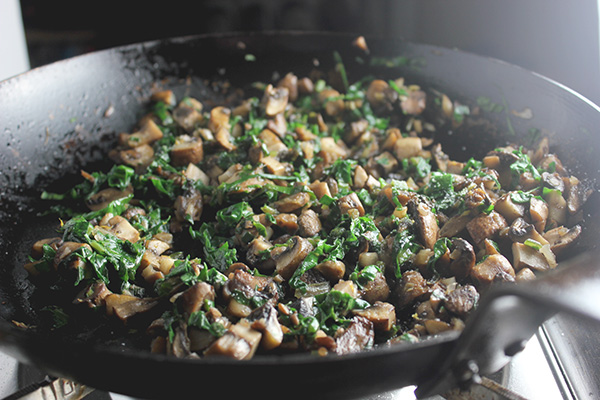 I've written about spätzle here on the site before as well, though we've mostly transitioned to this more traditional recipe rather than the earlier version with ricotta (but it's still a great one if you have ricotta you're looking to use – if you've made your own you probably don't need any reasons to use it up, but the store-bought kind somehow seems to linger in the fridge, at least in our house). If you have flour, eggs, and milk in the house you're set, and while a spätzle maker certainly makes things easier (more on that in the recipe below), you can see from the earlier spätzle recipe post how we used to use a colander to good result.
To our basic recipe I added some lemony sauteed mushrooms and ramps, a quick and easy spring side to go along with grilled pork chops (head over to Instagram to see a picture of Brett's pretty excellent pork chop-grilling skills).
Rhubarb, asparagus, and morel mushrooms should be the next local items to pop up at the market. Here we go!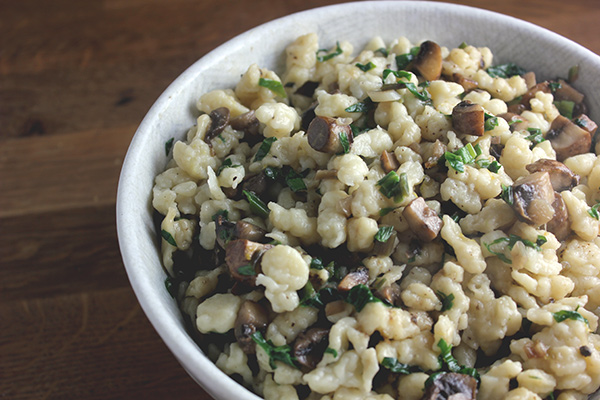 Spätzle with ramps, mushroom, and lemon

Serves 4 as a hearty side, easily scalable

2 cups flour
1/2 cup milk
2 eggs plus 1 yolk
1 tsp. salt, plus more to season mushroom mixture and for serving
1 1/2 tsp. oil (any cooking oil) or melted butter, plus more for cooking mushrooms and for serving
1 bunch ramps (usually about 12), bulbs roughly chopped and leaves finely chopped or sliced chiffonade-style (into ribbons)
Around 12 oz. mushrooms, any type, cleaned and chopped into 1/4-1/2″ pieces
Zest and juice of 1/2 lemon (plus more to taste)

– Make spätzle batter Set a medium pot of heavily salted water to boil. Meanwhile, whisk together flour, milk, eggs and yolk, 1 tsp. salt, and 1 1/2 tsp. oil or melted butter. it will be a fairly thick batter, and it doesn't need to be completely smooth. Set aside while you make the mushroom mixture, or proceed with the cooking step, below.

– Make mushroom-ramp mixture Heat a large skillet over medium-high heat. Add enough oil or butter to coat the bottom of the pan. Add prepared mushrooms and ramp bulbs plus a pinch of salt, stirring frequently until all is tender, 3-5 minutes. Mushrooms will start by soaking up all oil and moisture in the pan, but will soon release liquid. Once that liquid cooks off, they're done! Stir in prepared ramp leaves, cooking for another minute or two until wilted. Add lemon zest and lemon juice. Taste and add salt and more lemon zest/juice as desired.

– Cook spätzle Press your spätzle batter through a spätzle maker or the holes of a colander directly into boiling salted water. (We have this very inexpensive spätzle maker, which is fine, but a nicer one would make a wonderful gift – hint, hint. There are many options available, and I know The Kitchen Gallery in Madison generally stocks a nicer version. We spent years pressing dough through a colander with a spatula, which works fine but is mostly hard to coordinate with the setup so you're not holding up the colander with one arm and pressing down on it using your spatiula with the other arm.) The little dumplings will cook very quickly, so usually by the time I've gotten all the dough through the maker and moved the bowl and maker to the sink, it's ready to remove from the water. The usual technique is to let it cook for just another moment or two after the dumplings have floated to the top of the water, but for a batch of this size I find it easier to coordinate removing them all at once. Transfer cooked spätzle into a bowl using a slotted spoon, shaking them gently to remove excess water. When they're all in the bowl, add about 1-2 Tbsp. butter or oil, mixing thoroughly to melt butter (if using) and to mix the fat throughout. This will keep the spätzle from drying out and sticking to each other.

– Assemble final dish Combine mushroom-ramp mixture with spãtzle. Taste for salt, lemon zest and juice, and butter/oil. Freshly cracked black pepper, grated cheese, and chili flakes would be nice additions to consider as well!

Storage/making ahead: Spãtzle keeps well in the refrigerator for up to 5 days and can be reheated in a pan or in the microwave with a splash of water. You'll probably need to add a bit more salt, and perhaps a bit more lemon as well.