'Nduja focaccia rolls
I'd never hesitate to say we love living in Madison (aside from Brett's desire to be closer to mountains). It's no secret I'm meant to be in the Midwest, but I really do love this place in particular, for reasons chief among which is that the food scene here is incredible. I don't mean the hipness of the restaurants or the caliber of the chefs (although in those arenas Madison certainly wins some points), but because of how many people here are so passionate about Wisconsin and everything it means – its slightly eccentric culinary traditions, its commitment to agriculture and small-scale production, and an endless joy to be taken in the enjoyment of good eats and drinks. (No one could deny the strong and pervasive German sense of gemütlichkeit in this place – no wonder we feel so at home here.) There's a reason farmers' markets are such a big occasion here in Madison, and why it's natural for folks to turn it into a morning of activity, filled with eating and enjoying the space, not just picking up ingredients for that week's meals.
And all of this is why I'm happy to feature local companies and their products on this site and in my recipes. I always try to source local products with a story when I teach my classes, and we certainly do it when we're shopping for ourselves. So when a local company whose work I know and love asks if I'd like to put something together with their products, I don't hesitate to say yes.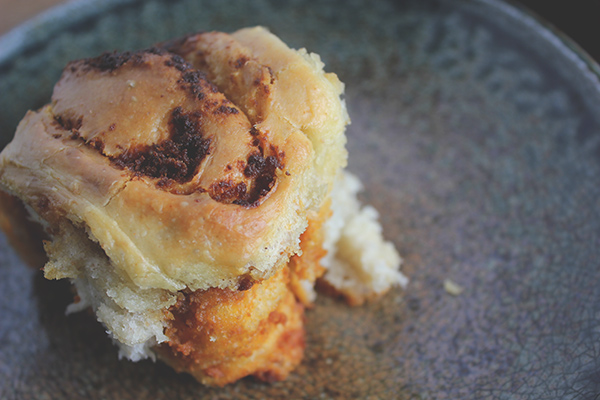 And when someone from Underground Food Collective asks, there's doubly no reason to say no.
Well before we moved here, people began telling me to make sure to eat at Underground's restaurant (the indomitable Forequarter) and to check out their other work (catering, butcher shop, charcuterie line), and it's all certainly lived up to the hype. It's nearly impossible to live in Madison, care about food, and not be excited about what the Underground crew is up to.
Underground Meats asked if I'd be interested in featuring some of their charcuterie products, I said yes, and they sent me a small, beautifully packaged selection of items to play around with. It's no surprise that, just like my friend Vicky over at Things I Made Today, I was immediately drawn to the 'nduja. Spicy, intensely flavored, and spreadable – something akin to a butter made of spicy, smoky Spanish chorizo. But it's Italian, not Spanish, and my pork daydreams quickly led to a vision of it folded into a soft, luscious focaccia dough. I kept it simple to let the 'nduja shine – and shine it does – but adding in some green onions, some finely chopped and sautéed mushrooms, or perhaps some thinly sliced roasted potatoes could be a good idea as well. Just know that the 'nduja is potent stuff indeed, so a handful of fresh rosemary (focaccia's natural partner) or other really flavorful additions could be a bit of overkill.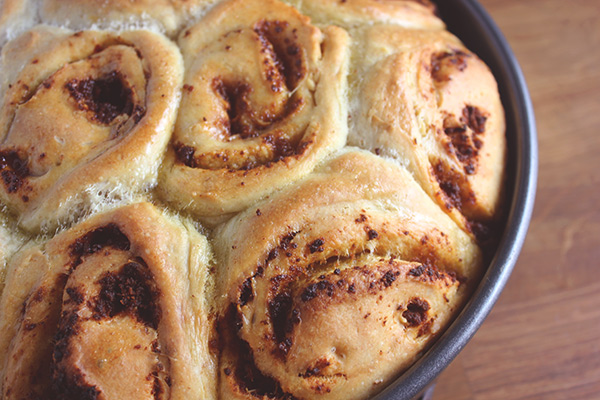 I made these early in the day yesterday and we enjoyed them for lunch with bowls of lentil soup and hard-boiled eggs – making the 'nduja here the epitome of meat-as-condiment, and perfectly placed as a way to perk up what would otherwise be a slightly boring meal. I then proceeded to tear off chunks of another two rolls over the rest of the afternoon, each time wondering from my post on the living room couch if I'm quite pregnant enough to request that Brett fetch me more pieces from the kitchen. (I decided no, not yet – let's save those requests for when we really need them, yes?)
We enjoyed them again this morning with some olive oil-fried eggs, perfect for soaking up the smears of oil left on the plate. Tomorrow, they'll be sliced in half as rolls for egg salad sandwiches. (I'm not craving eggs at all, no siree …)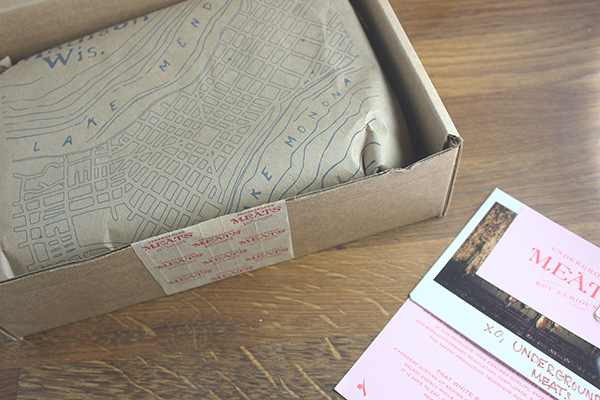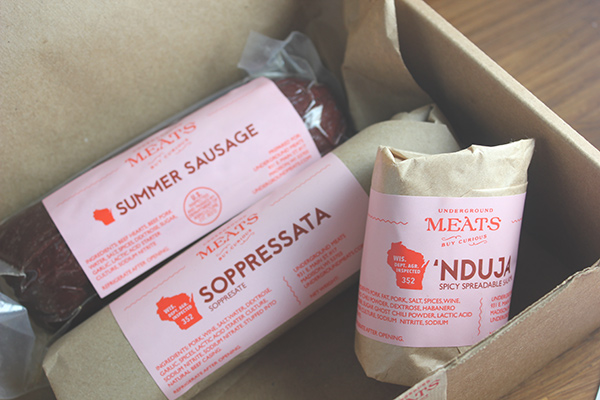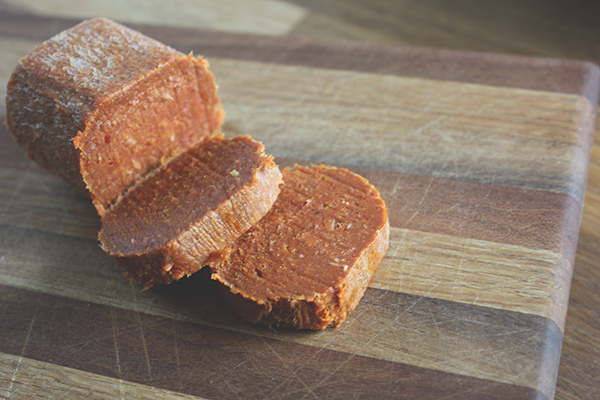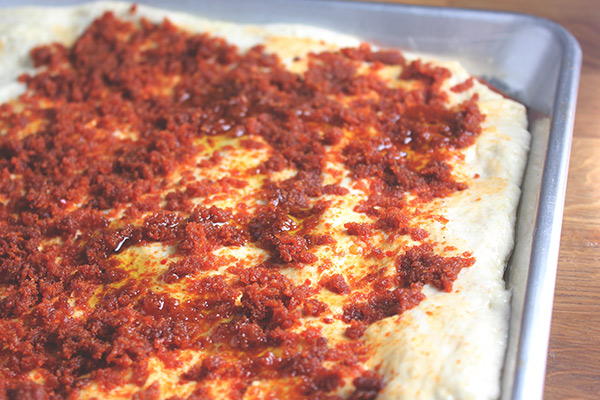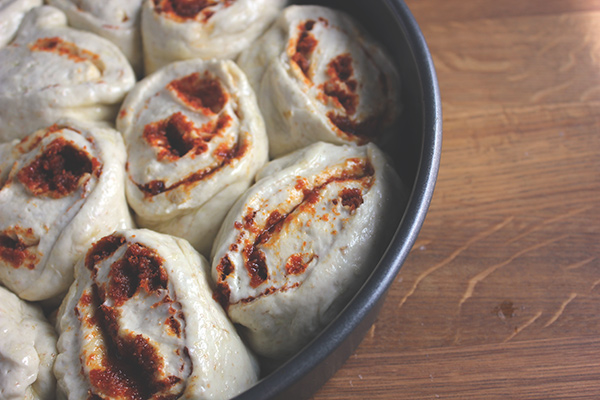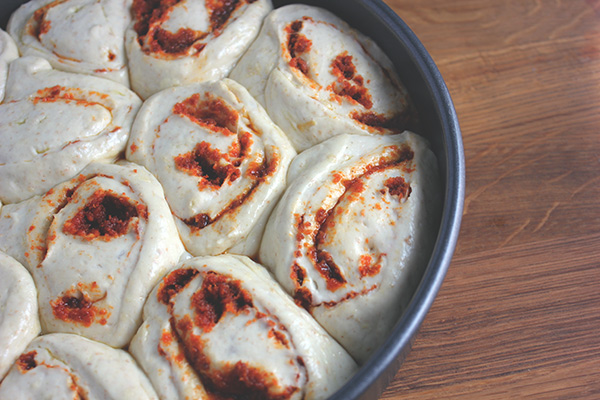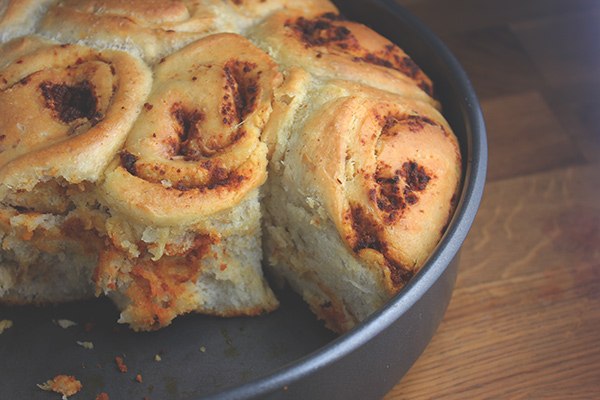 'Nduja focaccia rolls

Makes 12 rolls

Note: To make a full 12 rolls, you'll likely want two 3 oz. pieces of their 'nduja. Otherwise you can fill just half the dough with the processed 'nduja for 6 filled and 6 plain rolls (just spread a bit of oil on the dough for the plain rolls), or spread the filling a bit thinner. If you want to halve the dough, bake the 6 rolls in a smaller cake pan or loaf pan.

1 packet or 2 1/4 tsp. active dry yeast
1 3/4 cups warm (not hot) water
4 cups all purpose flour
1/2 cup whole wheat flour (can be substituted with more white flour)
2 tsp. salt
Olive oil
6 oz. 'nduja (two pieces of Underground Meat's 'nduja)

– Make the focaccia dough Combine the yeast and water in the bowl of a stand mixer fitted with the dough hook. Let sit 5 minutes or until slightly foamy. In another large bowl, whisk together the flours and salt. Add the flour mixture and 2 Tbsp. olive oil to the yeast mixture and mix with the dough hook until combined. Continue mixing at low speed for 8-10 minutes to knead. (If you don't have a stand mixer, mix the dough in a large bowl with a wooden spoon or spatula, then knead on a countertop for another 8-10 minutes.) The dough will be softer than most bread doughs, and potentially quite sticky. That's okay.

– Give the dough its first rise Rub a bit of olive oil in the bottom of a large bowl. Place the kneaded dough in the bowl, cover with a kitchen towel, and let sit somewhere draft-free and room temperature. (If your kitchen is chilly, heat your oven for just a few minutes, turn off the heat, and let the dough rise there.) Let rise until doubled, about 2 hours. You can also let it rise in a covered container in the refrigerator for 12 hours.

– Heat oven to 425F. (Make sure to take the dough out first if you're proofing it there!)

– Fill dough and let rise again Smash the 'nduja into a paste or process in a food processor or blender. Wipe olive oil on a baking sheet and spread the dough out to reach all four corners.  Sprinkle/spread the 'nduja to cover the dough, then drizzle with olive oil. Roll up the dough on the long side, creating a long spiral log. The dough will be fairly soft and will stretch easily, so be gentle. Using a sharp knife, cut the log into 12 slices. Place these slices flat in a 9″ cake pan. Cover with a kitchen towel and let rise for another 30-40 minutes, which is likely perfect timing for heating your oven. The rolls should have puffed to fill in any space between them in the pan.

– Bake in your 425F oven for 25-30 minutes, until golden and crusty. If you have an instant read thermometer, bring the rolls to at least 200F. Right out of the oven, drizzle the top with a bit more olive oil.

Making ahead/storage: Rolls will keep well at room temperature for a day, then in the refrigerator for up to 3 days. They're better warm, preferably briefly toasted in an oven/toaster oven or gently heated in a microwave.