Tex Mex-style ground beef (aka homemade taco seasoning)
Being a person who not only loves food as much as I do but someone who does it more or less professionally, I've fielded quite a few questions over the last six months or so on how being pregnant has affected my diet, my tastebuds, my craving, my cooking activities, etc. etc. etc. There have been ups and downs as far as all elements have been concerned, but I will say as I head into my final month (final month! Okay, month-ish!) of carrying this tiny little human around that lately things in both the Cooking and General Accomplishments categories have been a bit touch and go. About six weeks back we started joking about how I could reasonably accomplish  just one thing each day – go to work OR run an errand OR cook a meal OR do something social OR do a couple of chores around the house – but soon enough that joke became reality, and I wouldn't hesitate to say that Brett has taken on the vast majority of household tasks, including the shopping and cooking. Lucky me, he's a pretty fantastic cook, so we're still eating well. But in general my preferred diet has taken on characteristics similar to that of me as a nine-year-old, albeit with significant improvements in ingredients and process, so even when I am cooking it hasn't been much of anything to share here.
But I've spent the entire weekend swooning over a rediscovery of a particular childhood favorite, so even with a bit of hesitation I'm going to share it all with you today. Blame the baby, if you must, for what I'm about to share may be seen as a giant betrayal among many – the ground beef hardshell taco.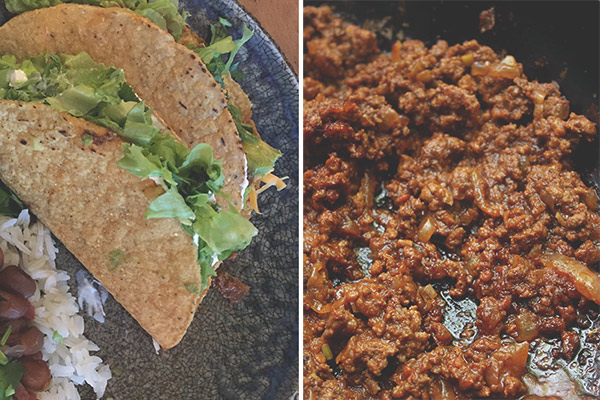 That's right, friends, I'm slightly betraying even my own sensibilities here to bring you a recipe for the thing that could have single-handedly caused this nation's widespread warped sense of Mexican cuisine (okay, not single-handedly … burritos clearly had a role to play as well). (A roll to play, perhaps?) (Again, please blame the baby. My head's not right.)
As did most 90s children of the Midwest, I grew up with weekly taco night. The scenario varied little – ground beef with a packet of taco seasoning, shredded cheese, salsa, sour cream, and shredded lettuce, shoved into a toasted shell. Maybe some sliced canned black olives or diced tomato, if we were feeling particularly fancy. I'd barely thought about hardshell tacos in years, relegating them to some dusty backroom vault of my culinary memory, but when when the craving hit late last week, it was unstoppable – but I knew we'd need to step it up quite a few notches, with some better fillings and certainly a homemade seasoning for the meat.
The recipe below veers only slightly from the original, from America's Test Kitchen (the absolute perfect source for recipes like these, we've found). We kept the shredded cheese, salsa, sour cream, and lettuce of my childhood, but added some avocado and cilantro as well. I fully recognize that I'm eight months pregnant and thus prone to a bit of gustatory hyperbole, but holy bejeezus, these were some delicious tacos. Lots of fresh spices, a bit of onion and tomato, and a tiny of bit cider vinegar and brown sugar give the meat an incredible amount of flavor, and made our house smell incredible for hours. (A good one for inviting people over.)
So here you go, for any time you want Tex Mex-style ground beef. Tacos, burritos, taquitos, casseroles, whathaveyou. I'm not judging, and should you make it in the next few weeks, I'll gladly accept an invite to join you for the meal. It'll be my one activity of the day!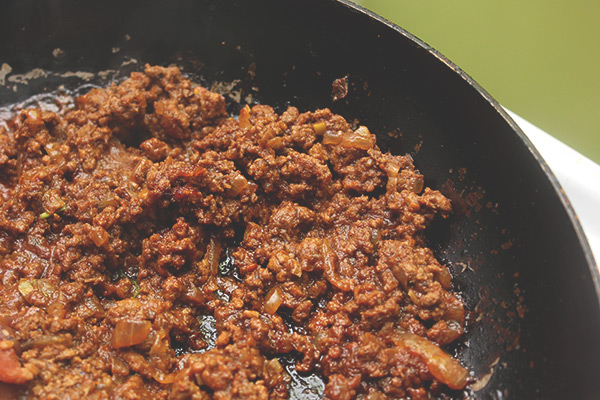 p.s. In all seriousness, I could say a lot more about my pregnancy diet, should anyone be interested. I've mostly been using the book Real Food for Mother and Baby to help guide things generally, focusing on certain types of foods/nutrients in certain trimesters as laid out in the book (I would recommend the book, but fully admit I've had to extend quite a bit of patience for the author's tone, which can be a little pretentious). Influenced by that, along with my absolute favorite pregnancy book Expecting Better, I think I'm a little more on the liberal end of the spectrum in terms of what I will and won't eat. I generally guide my decisions with the general philosophy of "trust the source, trust the food," and thus far that has worked out perfectly well for me. Plus a lot of ice cream. (Like, a LOT of ice cream.)
Tex Mex-style ground beef

Adapted from America's Test Kitchen Family Favorites

Makes about 12 tacos or 4 burritos

1 Tbsp. neutral cooking oil (e.g. sunflower, grapeseed, canola)
1 onion, diced
3 garlic cloves, minced
2 Tbsp. chili powder
1 tsp. ground cumin
1 tsp. ground coriander
1/2 tsp. dried oregano (optional, and preferably dried Mexican oregano)
1/4 tsp. cayenne pepper (or more, to vary spice level)
Salt
1 lb. ground beef (preferably not extra lean)
1/2 cup tomato – diced very ripe fresh tomato, or canned crushed/diced tomato, or canned sauce/puree
1/2 cup chicken stock (or water)
2 tsp. apple cider vinegar
1 tsp. brown sugar

– Cook flavor base Heat a medium skillet over medium-high heat. Add oil, then onion and garlic, and cook until softened (about 5 minutes). Add spices and 1 tsp. salt and cook until fragrant, about 30 seconds.

– Cook beef and thicken Add beef, breaking up with a spoon or utensil and cooking through (about 5 minutes). Stir in tomato, stock, vinegar, and brown sugar, and simmer until thickened (about 10 minutes). Salt to taste.

Making ahead/storage: Cooked beef mixture can be refrigerated for up to 5 days and frozen for up to 6 months.