Cucumber-mint agua fresca PLUS: Whisk is here!
Remember way back in February when I announced my official collaboration with Things I Made Today and Wisconsin From Scratch? We're back with more developments. Developments that might even include you! We've been gradually working on this behind the scenes for over half a year now, and today we're excited to make some major new announcements! Together the three of us have formed Whisk, a collaborative project for Wisconsin-based food bloggers and other media folks. We have a lot of long-term plans to grow this community, helping us support each other and build new skills and offering opportunities to partner with local producers and businesses.
For now? The most exciting part of this announcement is that we are accepting member blogs as of TODAY! If you're interested, head over to our website, see what we're offering, submit your info, and we'll be in touch soon. Whether you send us your info or not, we're also hosting our first meet-up on Thursday, September 3 from 5-7 p.m. (location tbd). Join us to chat with other local food bloggers and hear what Whisk is all about! (The sad news it that it's fairly unlikely that I'll actually be there, since that's nearly two weeks after my due date … but Vicky and Sarah will host you excellently.) We'll post more details on our website and on our respective social media sites as more details come together.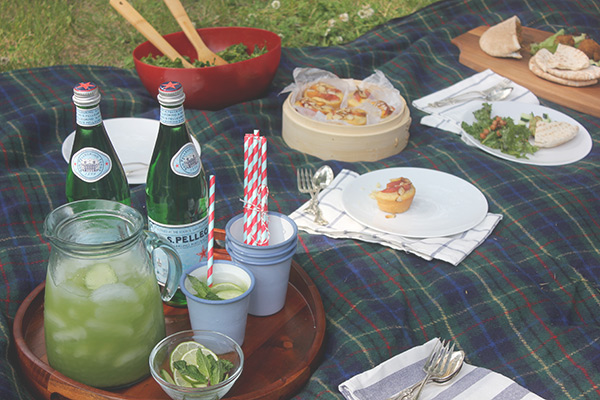 In celebration of this launch, we recently hosted a little picnic for ourselves featuring a collaborative summer menu perfect for all your remaining summer picnic plans (even our amazing intern Alice got in on the action – that's her delicious kale salad with crispy chickpeas you see in some of the photos).
Want to picnic with Whisk? Here's what you're in for:
Fava bean falafel w. mint-yogurt sauce

Lebanese-style falafel, packed with chickpeas and fava beans, and paired with a cooling mint-yogurt sauce. 
Cucumber mint agua fresca


A pitcher-worthy cooler packed with garden-fresh cucumber and mint.

See recipe below
Mini peach almond cakes


Handheld sweets packed with fresh peaches make sharing easy!
I chose to contribute a beverage for the event as somewhat of a challenge to myself, struggling to get excited about fun summery beverages that are non-alcoholic. As cucumbers flood into gardens and farmers' markets this time of year, this is a perfect one to bring to your next picnic or party or to have stashed in a big jug in the fridge. (And if you wanted to add a splash of gin or vodka, heavens knows I wouldn't stop you … I have it on good authority that it's delicious.)
A note about using a food processor here – I'd usually strongly suggest using a blender when working with liquids, since in a processor it's easy to accidentally go over the height of the center post in the canister and begin leaking underneath the blade (that did in fact happen here, slightly). Had the gears on our trusty old blender not basically disintegrated in front of my eyes a few weeks back, I'd be using a blender here instead. That said, a processor will work fine – just be really careful and work quickly to avoid too much escaping through that center post (most importantly: do NOT remove the blade before pouring out the puree!).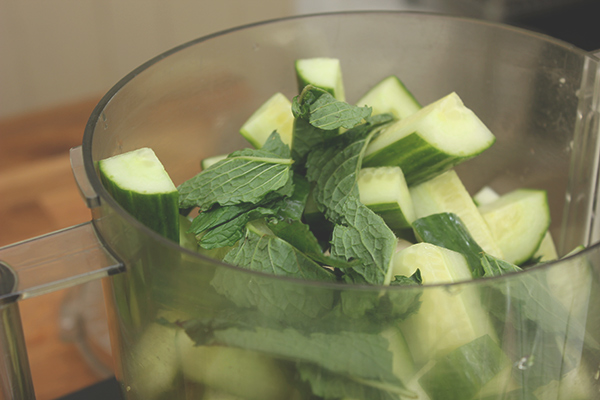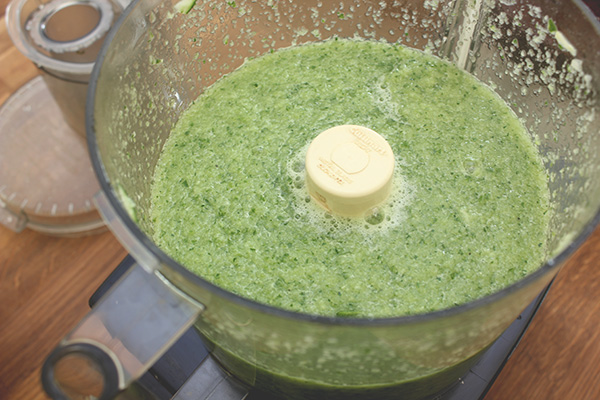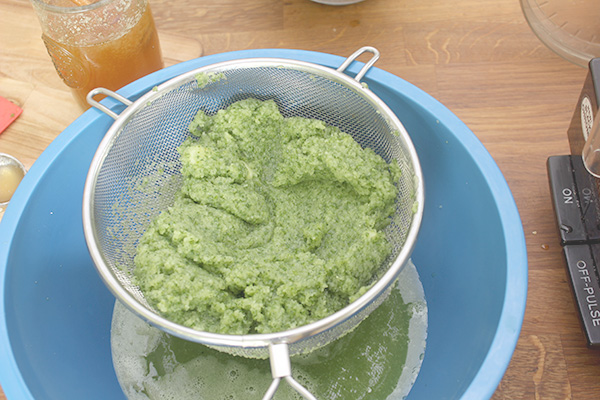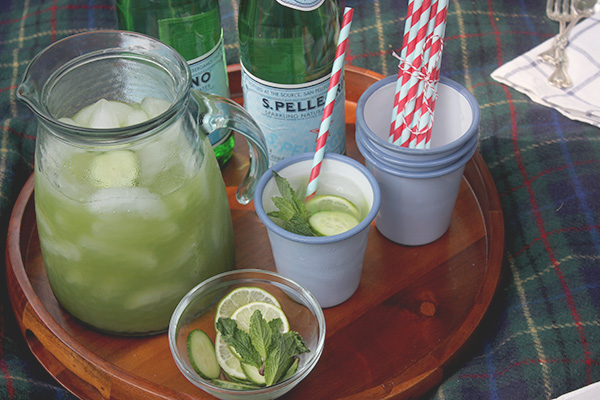 Cucumber mint agua fresca

Makes 4-6 moderate servings, easily scalable

About 2 1/2 lbs. cucumbers, preferably English/hothouse with the thinner peel
1/4 cup fresh mint leaves, plus a few more for garnish
1/4 cup honey
2 Tbsp. sugar
1/4 cup lime juice (about 3-4 limes), plus lime wedges for garnish
2 cups water
Pinch salt

Note 1: I like the combination of honey and sugar, but you're welcome to use all one or the other for a total of 1/4 cup + 2 Tbsp. (6 Tbsp.) sweetener. (Or you can adjust up or down to taste, of course!)

– Prep cucumbers First, make a few thin slices of cucumber to set aside for garnish. Then: if you're using English/hothouse or other cucumbers with tender seeds, simply chop into roughly 1″ cubes and you're set. If you're using American cucumbers, the kind with the waxier peels and tougher seeds, slice them lengthwise and scoop out the seeds with a spoon before cubing.

– Process all ingredients Put prepped cucumbers in the container of a food processor or blender along with the mint leaves, sweetener, lime juice, water, and salt (don't worry, it won't taste salty – this just helps bring out more of the flavor). If your machine isn't quite large enough, start without the lime juice or water and add only if needed to process smoothly, then add the rest after straining. You could also keep out the water overall and combine the strained cucumber mixture with sparkling water before serving for a fizzy version. Blend until well pureed.

– Strain and chill Pour the puree into a mesh sieve and let drain for at least 30 minutes. Before discarding the strained puree, scrape around the edges with a rubber spatula and press down to get out any remaining liquid. (If you're in a rush, think about squeezing the puree through cheesecloth, or spend more time pressing down firmly using a spatula or spoon). You can adjust lime juice, water, and sweetener to taste, but know that the flavor will develop further as it sits – I recommend at least 1 hour for chilling, and overnight is even better. Pour into a pitcher or large container to chill. Serve garnished with cucumber slices, mint leaves, and lime wedges.

Making ahead/storage: As mentioned above, this beverage gets better with a longer chilling time – at least 1 hour and up to 5 days.