Squid linguine with chili and lemon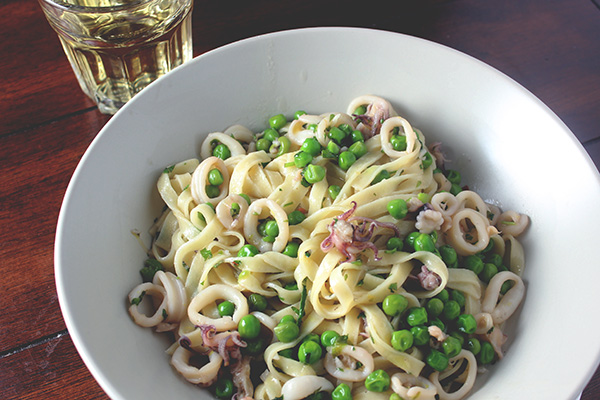 Hello from the other side! You may have seen on the Bowen Appétit Facebook page that there is in fact a baby here (a pretty cute one, in fact). He made his arrival three weeks ago today, and life has been pretty surreal since then. Let's be clear that it took four capable adults to put together the dinner in this post – it shouldn't have, but it did. There's plenty else to do around here, even if it's just sit around and watch the baby sleep, wiggle, eat, or anything else he does. (Really that's about it.)
I'm pretty proud of myself for getting this post together, during what's been a pretty trying few weeks. A trying few months, really, when you count how difficult the end of my pregnancy was. I generally don't get too personal in this space, but I'll just say that we've had and are still in the midst of one of the harder periods of our lives, and we're hoping that soon we'll be moving beyond what has been an unfortunately somewhat complicated start to our family of three. Keeping a small business going while dealing with a complicated personal life is an insanely difficult thing to balance, but I'm still planning to come back to teaching in early November and hoping to be in this space a bit more as time goes on.
Okay now, that's been said. Let's keep going to this dish, a simple but flavorful way to showcase seafood and to get a unique one-dish dinner on the table. I get a lot of questions about how to cook seafood and what to do with it, and this is an easy one to start with. Squid is quickly marinated in lemon, chili flakes, parsley, and garlic, then tossed with white wine and mint to make a beautiful sauce for fresh linguine (dried works perfectly well here too, and of course other pasta shapes would be just fine). Whole shrimp could be substituted easily, just make sure not to overcook it (take it off the heat when it's just about to turn totally pink and opaque). 
A note about cleaning squid – the squid I buy comes frozen in a 17 oz. package from Willy Street Co-op or the Seafood Center. It's cleaned and the tentacles and mantles are separated, which is a nice place to start. It's not difficult to clean squid, but can be a bit time-consuming – see the link in the recipe below for easy instructions.
A note about fresh pasta – if you live in the Madison area (or even if you don't – they distribute nationwide), RP's Pasta is fantastic. You can find their pastas in the cooler and freezer sections at Willy Street Co-op, Metcalfe's Market, and many other stores, and at the Saturday morning Dane County Farmer's Market on the Square (where you'll often find Peter, the owner). Their frozen filled pastas even donate 5% of proceeds to REAP Food Group, which in full disclosure was recently my employer and deserves a massive shoutout.
One more important announcement: it's Madison Magazine Best of Madison time yet again! Bowen Appétit has won silver (second place) for Best Local Food Blog two years in a row … can we keep it going? You can vote every day from now until October 17 at the Madison Magazine Best of Madison 2016 website – Best Local Food Blog is a write-in category in the Arts & Entertainment section. Vote every day, folks! 
Squid linguine with chili and lemon

Adapted from Jamie Oliver's Cook with Jamie

Serves 4 heartily

Around 1 lb. squid mantles and tentacles, cleaned and cut into thin rings (tentacles cut into 2-3 pieces if needed to be bite-size – see note about cleaning squid, above)
2 cloves of garlic, roughly chopped
Zest of 2 medium lemons and about 1 Tbsp. lemon juice (usually about 1 lemon)
Large pinch dried chili flakes
One handful parsley leaves, roughly chopped
1 lb. linguine – preferably fresh (RP's brand is fantastic, local to Madison, and what we used here)
1 cup frozen or fresh peas
4 oz. (1/2 cup) dry white wine (not oaked Chardonnay – when you cook with wine, the flavors increase and the oak flavors will intensify too much)
A large pinched of chopped fresh mint (optional)
Olive oil
Salt

– Marinate squid In a medium bowl, toss the prepared squid with the garlic, most of the lemon zest, half the lemon juice, the chili flakes, the parsley, and a splash of olive oil. Marinate at room temperature for 15 minutes. This is also a good time to bring a large pot of heavily salted water to a boil to cook your pasta.

– Cook squid Heat a large skillet or saute pan over high heat. Add the marinated squid and cook, tossing or stirring, for a minute or two until the squid pieces start becoming more opaque and perhaps curl up a bit. Add the peas and the wine and cook for another 3-4 minutes. The wine will reduce down a bit and the flavors will intensify. Turn off the heat.

– Cook pasta according to package directions (fresh pasta takes about 2-3 minutes). Drain, retaining about 1 cup of the pasta cooking water in case you need it.

– Assemble dish Toss the cooked squid with the pasta. Add the rest of the lemon zest and juice, the mint (if using), and a generous splash of olive oil. Taste and season with salt accordingly – seafood is naturally somewhat salty, but this will probably still require at least a bit of salt.

Storage/making ahead: Squid is definitely best eaten freshly cooked, but leftovers will keep in the refrigerator for another day or two and can be reheated in a skillet with a splash of oil and/or water. The flavor of the squid and the lemon may intensify and the pasta may require reseasoning with a bit of salt.