Snap pea, radish, mozzarella salad in Le Parfait (with a wine pairing!)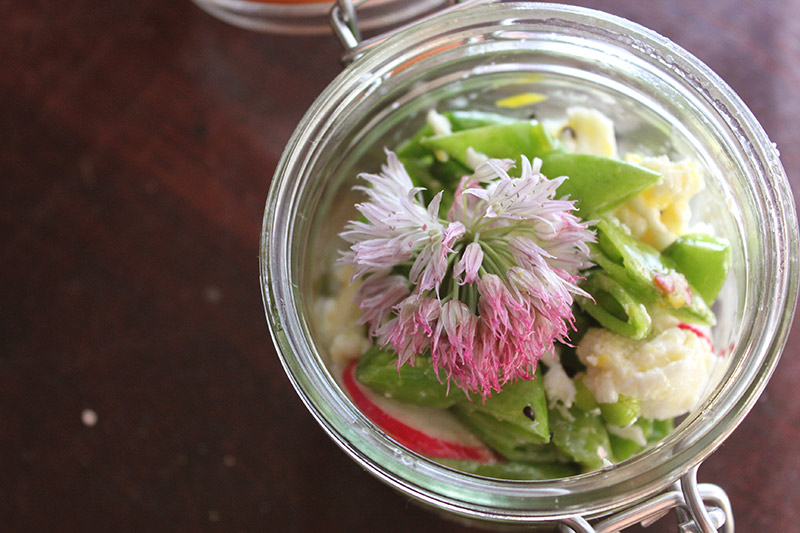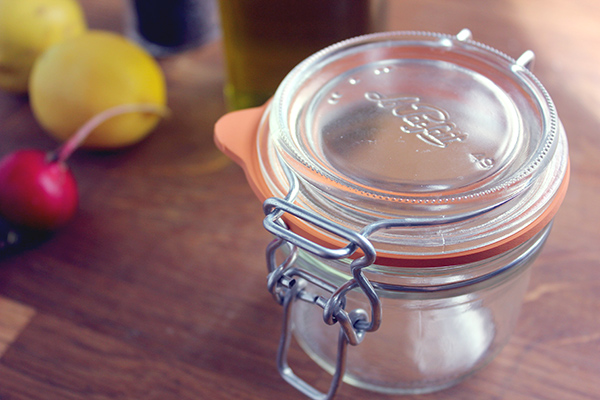 On Sunday, I taught my last class before starting my summer hiatus. We have grand travel plans this summer, and who wants to be in a hot kitchen on a beautiful summer evening, anyway? Thinking about summer brings back memories of waddling around a kitchen last summer, hugely pregnant, teaching from a stool and trying to avoid picking up my heavy tubs of equipment and groceries. Ha! So glad that's not me this time around. Instead, I'll be cooking over a camp stove, eating dinner from a picnic table, and happily lugging around 22+ pounds of purely adorable baby chub in a hiking pack.
Before we head out on our adventure, I want to share with you a perfect summer recipe from this last class – it doesn't require any heat, and packs perfectly for picnics or lunches or backyard barbecues. The class was a collaboration with my friends over at Table Wine, with special gifts from the French jar company Le Parfait. We put together a beautiful, summery salad of farmers' market snap peas and radishes with torn fresh mozzarella, dressed with lemon and sesame and garnished with chive blossoms from Vitruvian Farms, and paired it with a lovely Italian white wine (more on that, below). 
A bit about Le Parfait: It's the go-to canning and storage option over in France, and no wonder – they've been hand made over there for more than 80 years, and they're particularly lovely. They make gorgeous jars in various formats, some for canning, some for storage, some for drinking glasses (we used their "jam pots" for the wine pairings in this class, which you can see in the bottom photo).
Someday, my pantry will be stocked full of these beauties instead of the mostly hodge podge collection I have now (on beautiful pantry shelving, of course, in a space with natural light and a work counter and a gigantic bookshelf for my cookbooks …). Here in Madison, you can buy them at a few places, but of course my favorite source is my friends at The Kitchen Gallery downtown, where you can get a variety of sizes and configurations.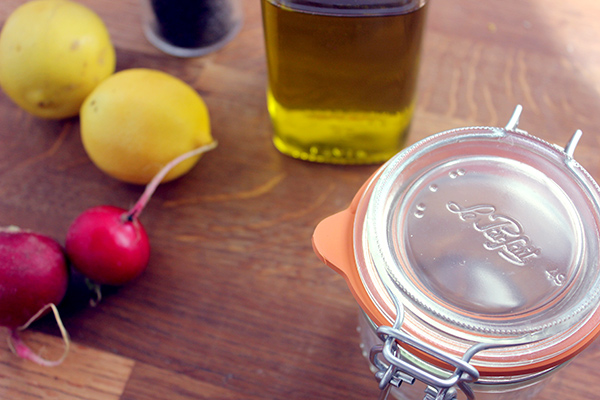 I wish in class we could have taken our meal on an actual picnic, unloading a stash of these jars packed with this pretty green, pink, and white salad and spreading out on blankets with our bottles of wine and other goodies. Instead we sat at tables (thanks to Mermaid Café for hosting!), but each student got to take home their jar and drinking glass and I'm hoping they're putting them to good use at picnics all summer.
A few notes about the salad:
No snap peas? Asparagus or other fresh, early summer green veggies would be wonderful here too. You could shave the asparagus with a vegetable peeler, or cut into small pieces and briefly blanch in boiling water (maybe 90 seconds) to get them slightly tender. Fresh or frozen shell peas would be lovely too, though harder to eat.
No sesame oil? This adds a lot of nice flavor to the salad, but if you don't have any it's still delicious. Nut oils (e.g. walnut, hazelnut) or other flavorful drizzling types of oils would work well too.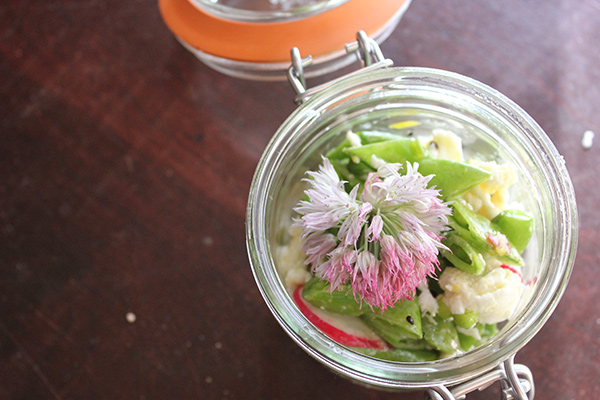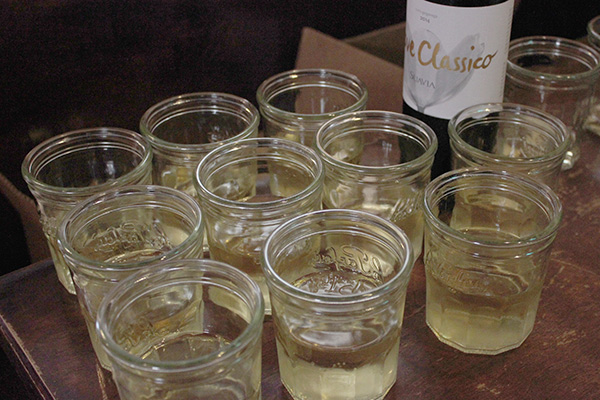 And this recipe wouldn't be complete without the wine pairing, from Molly at Table Wine: An ideal match for this combination of fresh, delicate flavors with a bright, lemony note is an equally light yet bright white wine. Pair with a light-bodied Italian white that has a touch of acidity, such as the 2014 Suavia Soave Classico.
Snap pea, radish, and mozzarella salad w/ lemon and black sesame

Serves 4 as a moderate side dish

10-12 oz. (about 3 cups) sugar snap peas, strings removed and diagonally cut ("on the bias") into small bite-size pieces
4 oz. radish, sliced into paper-thin rounds (a mandoline helps here)
4-8 oz. fresh mozzarella, torn into bite-size pieces
8-10 chives, snipped or chopped into tiny pieces
~3 Tbsp. lemon juice (2-3 lemons)
Zest of 1-2 lemons
3 Tbsp. olive oil
Toasted sesame oil, enough to drizzle
A few pinches black sesame seeds
Chive blossoms, for garnish (optional)
A few pinches flake/finishing salt (e.g. Maldon)
Fresh black pepper

– Assemble salad In a large bowl, toss together the snap peas, radish (separating rounds, which like to stick together), mozzarella, chives, lemon juice, lemon zest, and olive oil.

– Garnish salad with a generous drizzle of toasted sesame oil, large pinches of black sesame seeds and flake salt, and freshly cracked black pepper. Toss to combine, taste, and adjust all garnishes to taste. Place chive blossoms on top, if using.

Making ahead/storage: Salad will keep in the refrigerator up to 5 days; olive and sesame oils and salt may need adjusting.
Note: Le Parfait provided the jars ("terrines") and wine classes ("jam pots") for use in this class. Opinions stated here are my own! I only feature products on this site that I use and love.