Grilled corn and poblano salad
We are finally back in Madison after two months of travel, and we're trying to soak up every last bit of this summer. Aldo is toddling around like a crazy man, and between running after him and comforting the inevitable bonks and bumps that come with new mobility, we're focusing on all the joys of late summer in the Midwest – tomatoes, corn, eggplant, peppers, melons, and more tomatoes, and more corn, and more tomatoes, and more corn. Most evenings I cut up a hunk tomato for Aldo with some olive oil and balsamic vinegar, and because he's in the midst of an ardent tomato strike (not his first), I slurp up the leftover pieces from his plate and don't think twice about it.
The first weekend we were back we were invited over to a friend's house for burritos, and we wandered the Capitol market that morning to stock up on summer basics (aforementioned corn and tomatoes) and to grab the supplies for a Mexican-inspired roasted corn and poblano salad. I'm a huge fan of corn salads in the summer and generally go with a raw base, but when I saw the poblanos which I knew I'd want to char and peel, I let the corn follow suit.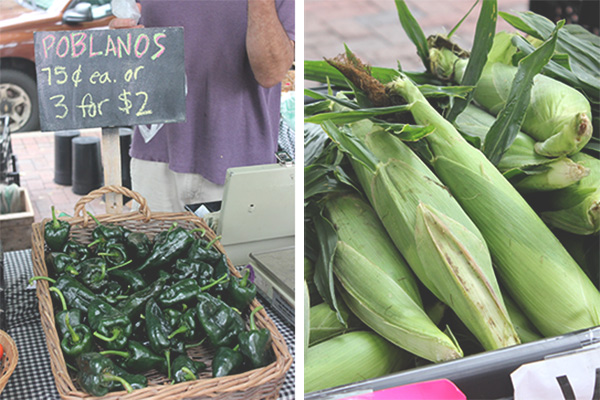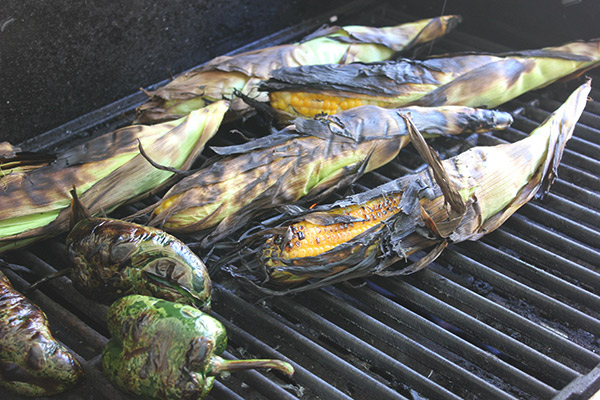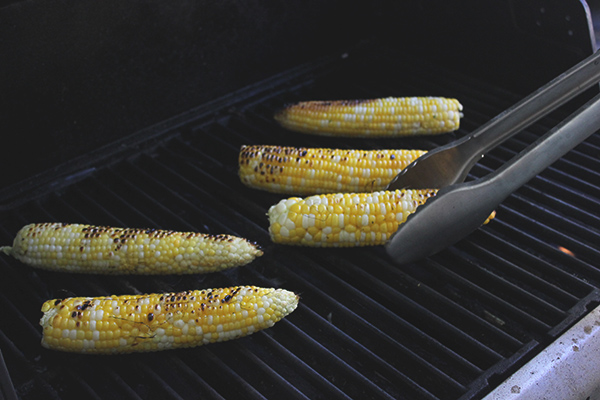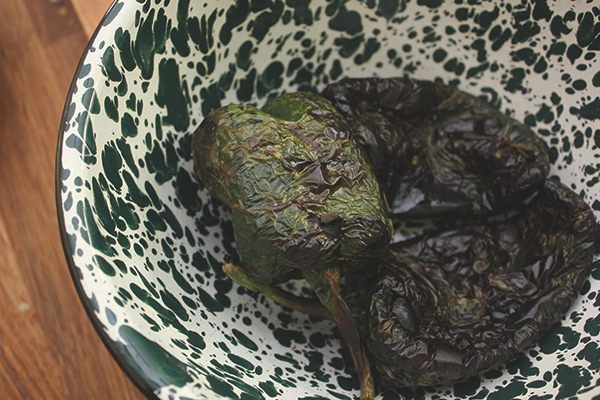 The poblanos are charred and peeled in the same way I do red or other sweet peppers for Spanish food, for frittatas/quiche, etc. Don't be afraid to get them entirely black and charred, and don't be afraid to put them right on a gas burner (NOT an electric one!) if you don't have/want to use a grill. The picture above shows the peppers far less black than I usually get them on the stove, but once the skin is entirely blistered, wrinkly, and ready to separate you know you're ready.
Cotija cheese is generally available at Mexican/international markets, though Cesar's Cheese is a Wisconsin company that makes excellent Mexican cheeses and they have a cotija available at Willy Street Co-op, among other places. This time, we picked up a bag of pre-crumbled cotija at Mercado Marimar on South Park.
Grilled (or roasted) corn and poblano salad

5 ears of corn, with husk
3 small or 2 large poblano peppers
3 green onions
1/2 bunch cilantro, roughly chopped
1/2 pint cherry tomatoes, quartered
1/4 cup crumbled cotija cheese, plus more for garnish
1 Tbsp. lime juice (about 1/2 lime)
1 Tbsp. canola or other neutral oil
1/4 tsp. chili powder, or to taste
3/4 tsp. salt, or to taste

– Grill and prepare corn (Can be done simultaneously with the poblanos and green onions) Heat a grill to medium high. Place corn (with husk) on the grill for 5-8 minutes, then carefully remove the husk and grill another few minutes until sufficiently browned. When cool enough to handle, cut the corn off the cob – you can see pictures of how I like to do this over on this post. (Or, do all of this under a broiler.)

– Grill and prepare poblanos Place poblanos on the grill and cook until blistered and charred over the majority of each pepper (see pictures, above). Put into a bowl and cover with a kitchen towel until cool enough to handle – this steams the flesh and makes the skin easier to remove. Remove the skin and seeds from the peppers and dice or roughly chop the flesh. Removing the skin and seeds under running water is sometimes easier. (Or, broil the peppers or place them directly on gas burners, turning with tongs.)

– Grill and prepare green onions Place the scallions on the grill and cook until somewhat browned and tender. Chop the bulb and the stem, up until any charred, papery parts. (Or, use raw green onions or place them under a broiler.)

– Assemble the salad Combine the prepared corn, poblanos, and green onions with the cilantro, tomatoes, cotija, lime juice, oil, chili powder, and salt. Taste and adjust lime, oil, chili, and salt as desired. Top with more cotija before serving.

Making ahead/storage: Salad will be even better the second day, but may need a bit of flavor adjustment (lime, oil, chili, salt). Salad will keep well in the refrigerator for up to 5 days.
Loading InLinkz ...