Whole wheat and rye muffins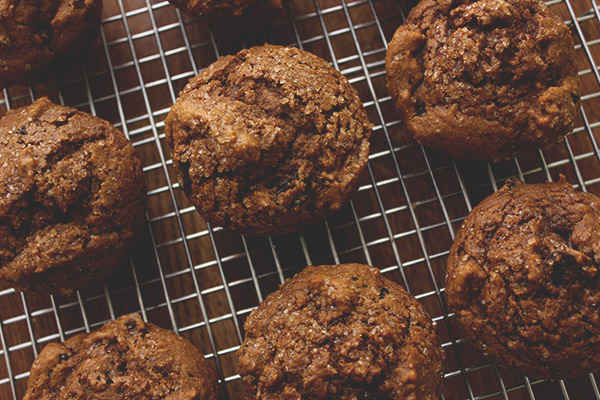 There's been nothing like feeding a growing, exploring, tiny new eater to inspire me to seek out new recipes, ingredients, and techniques – healthier, simpler, easier meals that fit into our new normal (a normal that includes a tiny, joyous, screechy, maniacal human tornado). I'm not sure how we'd survive without the minutely detailed weekly meal plans and grocery lists I put together every Friday, and planning for easy breakfasts is particularly necessary. Aldo isn't one to wait for breakfast (neither am I, let's be honest), and stumbling around pre-caffeine isn't a good time to start contemplating that day's first meal.
So nearly every week I plan to make something ahead – a few pans of granola, an egg bake, or a batch of something baked and tasty that we can pair with some yogurt and fruit for a quick, filling, satisfying breakfast. Because Aldo eats all of these things too, I'm newly inspired to incorporate fruits and vegetables, whole grain flours, and healthier sweeteners into my baking routine, and the recipe I'm sharing here is the most recent success (there have been others, too, and hopefully I'll get those on the site soon). These muffins are made with half whole wheat and half rye flour and sweetened only with a bit of molasses, making them nearly savory and deeply toasty. Perfect for pairing with scrambled eggs and a bit of cheese on a brisk fall morning.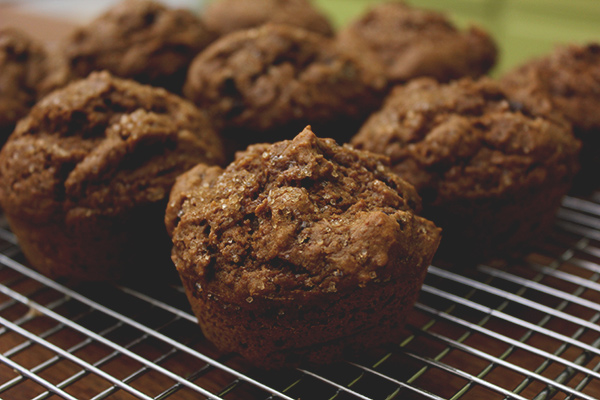 As noted in the recipe below, the raisins and sprinkling sugar in the original recipe provide much of what is still a very moderate level of sweetness. Omit those, and you have a more savory muffin that would go well with a bowl of soup or in plenty of other uses.
A few tips for this recipe:
Like with most tender baked goods (as opposed to breads or other kneaded doughs), don't overmix! The more you mix flour (flour with gluten, that is) with wet ingredients, the more the gluten strands develop and strengthen, which makes the final product gummy and tough. Mix the batter just until the dry ingredients are incorporated, then stir in the raisins until combined (de-clumping the raisins by hand as you add them to the bowl will make that easier).
Demerara sugar is a wonderful thing to have on-hand for sprinkling on cookies, muffins, double-crust pies, and scones. It retains its shape, adding a bit of crunch and a wonderful flavor and texture on the toasty, golden brown top surfaces of these items. It can be a little pricey, but when you're using it just for sprinkling a bag of it will last nearly forever (I'm about halfway through a bag I bought three years ago).
Whole wheat and rye muffins

Slightly adapted from Serious Eats

Makes 12 muffins

1 cup (4 1/2 oz.) dark rye flour (other rye flours are okay too, but dark rye is whole grain)
1 cup (4 1/2 oz.) whole wheat flour
1 tsp. baking powder
1/2 tsp. baking soda
1/2 tsp. salt
2 eggs
1 cup (8 oz.) whole milk
1/3 cup neutral oil (e.g. sunflower, vegetable)
2 Tbsp. blackstrap molasses
1/2 cup (about 3 oz.) raisins, see note below (dried cranberries, cherries, and blueberries would also work well here)
Demerara sugar, for generous sprinkling on top (regular granulated sugar would work as well, and see note below)

Note: Because these muffins are only sweetened by a small amount of molasses, the raisins and sprinkling sugar provide much of the rest of the sweetness. If you opt out of one or both of these, just know that this is a not very sweet muffin!

– Heat oven to 400F. Line or grease 12 muffin cups (I use neutral-flavored oil spray).

– Combine dry ingredients In a medium bowl, whisk together rye and whole wheat flours, baking powder, baking soda, and salt. Set aside.

– Combine wet ingredients In a large bowl, whisk together eggs, milk, oil, and molasses.

– Finish batter and bake muffins Add dry ingredients to wet and stir until just combined. Stir in raisins, making sure they aren't clumped when you add them to the bowl. Pour batter into prepared muffin cups and sprinkle each muffin generously with Demerara or other sugar. Bake 15-18 minutes, until golden and a toothpick or skewer inserted into the center of a muffin comes out clean. Let cool 10 minutes in the pan before removing and transferring to a wire rack to finish cooling.

Storage/making ahead: Muffins will keep at room temperature under a kitchen towel or in a container for up to 3 days, or in the refrigerator for 5 days. Muffins also freeze well for up to 6 months.