Wild rice and Puy lentil bowl with roasted squash, za'atar, and tahini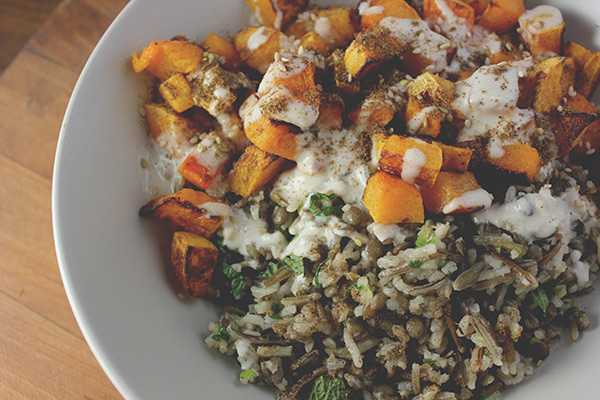 One of the many strategies we utilize for keeping things moving along at home without too much chaos is to spend time on weekends cooking batches of meal components to put together at a moment's notice. We usually cook a big batch of a grain, a bean or lentil, and a variety of roasted or otherwise cooked vegetables, and – if we're really on top of our game – a sauce or two, maybe a big batch of soup, and some breakfast and snack items for Aldo (like smoothies poured into reusable pouches, a batch of these mini muffins, or some homemade Lara bars).
This meal was one that worked into that routine – I had planned out the combination ahead of time, but doubled the batches of rice, lentils, and squash and used those in other meals throughout the week. Leftover rice became gallo pinto with fried eggs for breakfast, lentils were mixed into pasta and other dishes for Aldo's lunches, etc. etc. Weekday lunches for Aldo and I are commonly portions of grains and beans and vegetables in various configurations, heated in pans on the stove (or incorporated into packaged macaroni and cheese or Indian food – lest you think I do everything from scratch).
So while this recipe might seem like it has a lot of parts, I'd heartily suggest making bigger batches of various components to have on-hand for future meals.
Cooking tips:
Central to this recipe is a combination of nutty, sweet, and bitter flavors. Wild rice together with dates and tahini is one of my most favorite recent discoveries, and I'll be on the lookout for other ways to combine wild rice with sweet and bitter elements. (You can easily substitute dried currants for the chopped dates, which I've done in the past.)
You can definitely use just wild rice or just white rice (or any other grain, really), but this combination is a nice one – all the delicious, earthy flavor of wild rice but with a little more tenderness (and reduction in cost) from cutting it with white rice. Cooking them together isn't a perfect technique, but it's worth not having to use two pots to cook it. The white rice may cook a little more quickly than the wild rice, but because you're tossing it together with lentils and other ingredients, it doesn't need to be perfect.
Za'atar is a Middle Eastern spice mix usually consisting of thyme, sumac, sesame seeds, and salt. You can substitute pinches of dried thyme, dried sumac, and sesame seeds.
If you can find it, East Wind tahini is the best I've ever found in a grocery store. It's much thicker and creamier than others I've used, which I think balances out its bitterness quite nicely.
The tahini sauce alone may taste quite bitter, but it tastes much better as part of the assembled dish, believe me. I was skeptical at first but ended up adding more as I ate.
Wild rice and Puy lentil bowl with za'atar roasted squash and tahini

Makes 4 moderate servings

1/2c French/Puy lentils
1/2c long grain white rice (e.g. jasmine, basmati)
1/2c wild rice (more about wild rice in this post)
2c vegetable or chicken stock (optional – can use water instead)
2 medium butternut squash, peeled and diced into roughly 3/4″ cubes
6 dates, pitted and finely chopped
4 scallions, finely chopped
Around 1/2 cup parsley leaves, roughly chopped
Around 12 mint leaves, roughly chopped
3 Tbsp. tahini
1 1/2 Tbsp. lemon juice
A few big pinches of za'atar spice mix, for serving
Olive oil
Salt

– Heat oven to 425F for roasting the squash.

– Cook the lentils Bring the lentils, 1 1/2 cups of water, and around 1/2 tsp. salt to a boil over medium-high heat. Reduce to medium-low, cover, and let cook until lentils are tender – about 20 minutes. Drain.

– Cook the rice Rinse wild rice and combine with white rice, stock (or 2 cups water), and around 1/2 tsp. salt. Bring to a boil over medium-high heat, reduce to low, cover, and cook until rice is tender, about 25 minutes. Turn off the heat and, if you have the time, let sit with a cover for another 10 minutes before removing the cover and fluffing.

– Roast squash Toss diced squash with enough olive oil to coat and a couple of large pinches of salt. Roast until tender, 25-30 minutes.

– Make tahini sauce Whisk together tahini, lemon juice, and 3 Tbsp. water.

– Assemble final dish In a large bowl (or one of the cooking pots, if there's enough room), toss cooked lentils and rice with prepared dates, scallions, parsley, and mint. Assemble serving dishes with rice and lentil mixture, roasted squash, a hearty drizzle of tahini sauce, and a big pinch of za'atar.

Making ahead/storage: Rice mixture, lentils, roasted squash, and tahini sauce will all keep in the refrigerator for up to 5 days. If reheating the rice-lentil mixture on the stove, add a drizzle of water to the pan to keep it from drying out.