Roasted wild mushroom pizza
There was only a short period of my childhood where we had a structured weekly meal plan – tacos on Tuesdays, Hamburger Helper on Wednesdays, and so forth – but as life gets a little more hectic these days and we're committed to our weekly meal plans, I see the allure! It would certainly be easy to slot in variations on our favorite meal categories on a weekly basis, which I can verify in part because we fit in a pizza night every week. I'd say 1/3 of the time we order a basic, conventional pizza, 1/3 of the time it's from one of the fancier places in town (like Pizza Brutta, Sal's, or Ian's), and 1/3 of the time we make our own, which provides some nice variety even though it's still pizza, week after week. It's comforting, to know that every week one evening of meal planning is known and set, and all three of us love that there's usually pizza leftovers for lunch the next day.
This is one of the best ones we've made recently, and a particularly good one considering all the amazing mushrooms that will be springing up (pun intended) in the farmers' markets as they open again in the coming weeks. It's packed with mushrooms both above and below the cheese, since in lieu of a basic tomato-based sauce it uses a puree of the intensely-flavored roasted mushrooms that top the pizza, using the liquid that comes off the mushrooms during roasting to help hold the sauce together (plus a little cream, should you be into that sort of thing).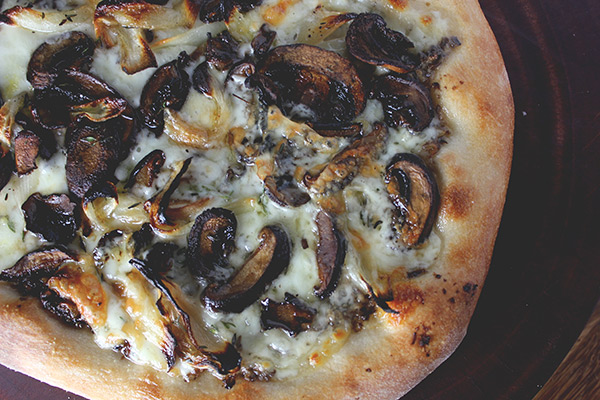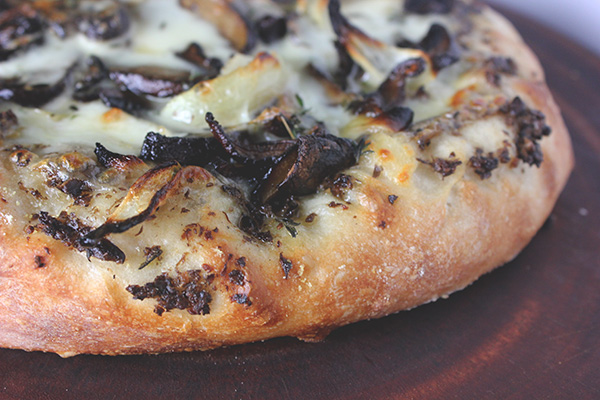 Cooking tips and recipe notes:
Mushrooms – This pizza shines in the flavor of the mushrooms, and is a perfect opportunity to use the wild, flavorful mushrooms of spring. To temper the rich, intense flavor of some wild mushrooms (and to protect your wallet), I suggest that at least half of the mushroom mix be basic cremini and/or white mushrooms. And if those are all you have, it will be a delicious pizza!
Taleggio is a rich, semi-firm Italian cheese that adds some nice creaminess and salt to the toppings of the pizza. It's certainly optional, but nice to include. I had the cheese counter cut a chunk of just a few ounces for me – remember, most (if not all) cheese counters will do that!
Pizza dough – There are many, many different recipes for making homemade pizza dough, which is relatively easy to do.When I want to make a quick, easy pizza dough, I like Mark Bittman's recipe. When I have the time and foresight for a slow proof, I use a 2-day dough recipe from my culinary program – someday I'll write about that one. We've started buying pizza dough from our local co-op, and I've heard that the brick-oven pizza place in our neighborhood will also sell dough. It's a nice shortcut for delicious pizza at home.
Pizza method – Likewise, there are many, many different methods for cooking pizza. Below I detail our most straight-forward oven method: sprinkle a metal pizza peel or the back of a metal baking sheet with cornmeal, top the pizza on that, and slide onto a hot pizza stone in a very hot oven (as hot as it goes). You can also bake the pizza on a baking sheet, make it on parchment and put it on a pizza stone, etc. etc. etc. In warmer months, we grill pizza. Depending on your equipment and preferences, the basic gist of the recipe below will work wonderfully, however you make your pizza. Here are two resources for pizza technique, including a variety of options: New York Times, The Kitchn
Oven temperature – The hotter the oven, the better the pizza. But keep in mind that heating your oven to its top temperature can take quite a bit of time – upwards of 45 minutes, for some older ovens. If increasing the temperature from roasting mushrooms, as detailed below, allow at least 25 minutes of heating before baking the pizza. If heating from cold, allow at least 35 minutes.
Roasted wild mushroom pizza

Makes 4 moderate servings, most likely in 2 pizzas

1 1/2 lbs. pizza dough (see note above)
24 oz. assorted mushrooms, stemmed as needed and sliced (at least half should be basic cremini or white mushrooms, see note above)
Thyme – a few large sprigs plus 2 tsp. roughly chopped leaves
1/2 yellow onion, sliced into crescents
Olive oil
Salt
1-2 Tbsp. heavy cream (optional)
8 oz. mozzarella (fresh is lovely, but any type will do)
3 oz. Taleggio cheese
Cornmeal or flour, for assembling pizzas (optional – see note above)

– Heat oven to 375F.

– Roast mushrooms and onions Toss prepared mushrooms with 3 Tbsp. of olive oil and a generous pinch of salt. Spread on a baking sheet lined with foil or a silicone liner, top with a few large sprigs of thyme, and place in the hot oven for 15 minutes. At 15 minutes, pour the liquid that has collected in the pan into a small bowl or container (you'll use this later in the mushroom puree). Add the prepared onions to the mushrooms along with a drizzle of olive oil, toss gently, and place back into the oven until the mushrooms are starting to brown and crisp and the onions are tender and browning, another 30-45 minutes. When done, discard the twigs of thyme and set aside the mushroom mixture.

– Meanwhile, prepare dough If your dough is cold (either from the store or homemade), take it out of whatever bowl or bag it is in, divide it into two rounds, and let it sit on a cutting board or other surface to warm up as the oven heats, for at least 30 minutes. Your recipe or dough source may specify how long the dough should sit before using, so pay attention to that.

– Increase oven temperature to 500F (or higher – whatever is the highest your oven goes). Place a pizza stone in the oven to heat along with it. It will likely take at least 25 minutes to get the oven up to temperature.

– Meanwhile, prepare mushroom sauce Place half of your roasted mushroom mixture into a small food processor or powerful blender (like a Vitamix or Magic Bullet). Add the liquid you collected from the roasting mushrooms and 1-2 Tbsp. of heavy cream (milk or water will suffice if you don't have cream). Process until a thick paste, salt to taste, and set aside.

– Assemble and bake pizzas When your oven is sufficiently hot, it's time to bake! Slice, grate, or tear your cheese for topping pizzas and have your mushroom paste, roasted mushroom mix, and chopped thyme leaves ready to use. One pizza at a time, generously sprinkle a metal pizza peel or the back of a metal baking sheet with cornmeal or flour. Stretch out a ball of dough until very thin, then place on the cornmeal/flour and shake the peel/sheet a bit to make sure it's not sticking. Quickly spread half your mushroom paste onto the dough, followed by half of your prepared cheese, half of your roasted mushrooms, and half of your chopped thyme leaves. Slide the pizza from your metal surface onto the hot pizza stone, and bake until pizza is golden brown and cheese is bubbling hot – likely around 10 minutes but depending heavily on your pizza stone, your oven, the thickness of your dough and toppings, etc. (Sliding the pizza onto the stone can honestly be the most difficult part of the entire process – the key is to top the pizzas and get them in the oven as quickly as possible! If they're sticking, you can gently lift up parts of the dough and throw more cornmeal or flour underneath. The more toppings you put on, the more difficult this step will be.)

– Remove and repeat When the pizza is done, remove it with a peel or with two large/long spatulas. The bottom should be rigid enough that you can do this fairly easily, but have the pizza's destination close at hand. Let it cool for at least 5 minutes before slicing and eating. Repeat with the second pizza.

Making ahead/storage: The mushroom mixture can be made up to 5 days ahead (including the making of the paste). Let sit out at room temperature for at least 30 minutes before using, so it's not completely cold when you top the pizzas. Leftover pizza will keep in the refrigerator for up to 5 days and the freezer for up to 3 months, and can be reheated in a low oven.