Baby turkey mini meatloaf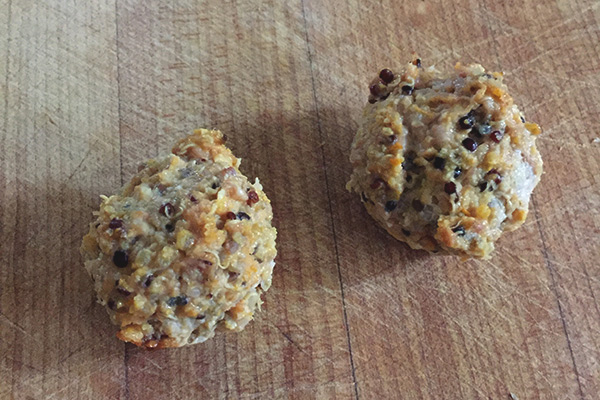 Baby turkey mini meatloaf

Makes about 30 (2 Tbsp. size)

1 lb. ground turkey (preferably at least partially dark meat)
1/2 cup pureed/mashed squash, sweet potato, carrot, or other slightly starchy vegetable
1/4 cup applesauce (I used mashed steamed apple)
1 cup cooked quinoa or other small grain OR 1/4 cup wheat and/or oat bran
1 egg
1/4 cup breadcrumbs
Spices: I used large pinches of garlic powder, fresh black pepper, and sweet paprika

– Heat oven to 350F. Grease a mini muffin pan with oil or melted butter (I used pure canola oil spray).

– Combine all ingredients in a large bowl, mixing until thoroughly combined (with ground meat, this works best using your hands to squish everything together – a spoon or spatula makes this much more difficult).

– Bake Fill the mini muffin tray with the mixture, about 2 Tbsp. in each well. Bake until thoroughly cooked, about 25 minutes.

Making ahead/storage: These will keep well in a closed container in the refrigerator for up to 5 days. You can also freeze on a baking sheet (so they don't freeze together) then move to a container or plastic bag for up to 6 months. Thaw overnight in the fridge and (if desired) quickly warm in a toaster oven or microwave.