We've been based in Minneapolis for a couple of weeks now (minus a quick trip to Chicago and Madison to visit friends), which coincided perfectly with my 28th birthday last week. My actual birthday was a perfect Minnesota day – we spent much of the day walking around the three main lakes in the city and my best friend from high school joined us for a great dinner at one of the city's trendy new restaurants (which turns out to be co-owned by the grandmother of a friend of mine from high school, because everything here is related to everything else). I'm itching to get back on the road and back into our tent, but at the same time I'm loving being in this place that feels so much like home and being around so many of the people I love that I rarely get to see. I haven't spent a significant amount of time here since I left for college ten (ten!) years ago, but every time I come back I find more to love about it. Brett will be applying to the University of Minnesota among many other schools, and I'm happy to know there's a chance we could end up in the Twin Cities.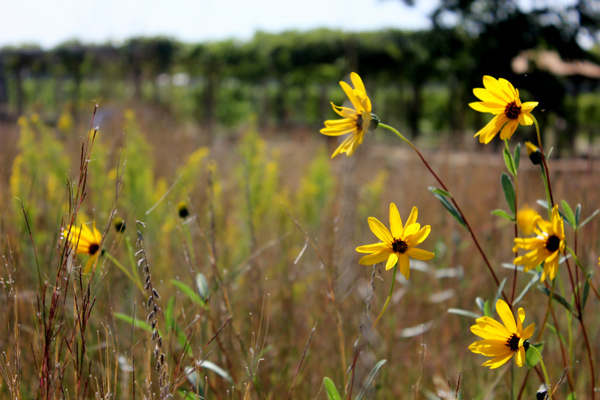 On Saturday my family coordinated a little birthday party for me at my cousin's vineyard, and I happily volunteered to make lunch for everyone. Some thought it was a little strange for me to cook for my own party, but I loved creating the menu, shopping for everything, being in the kitchen for a day, and setting everything up before the party. Brett and I went down to the vineyard in the morning to help with the grape harvest, then spent the early afternoon celebrating with my family and friends before settling in at my dad's house to watch football for the evening (it is college football season, after all, and I have obligations).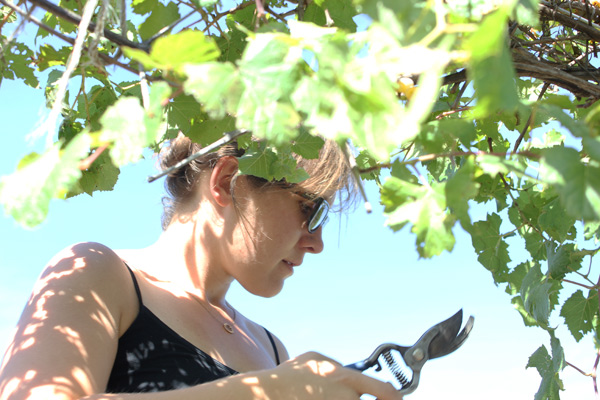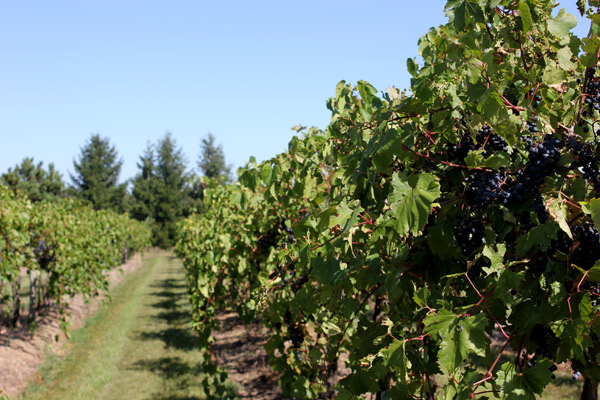 I often get questions about party menus, so I thought I'd share what I made and a few recipes. We expected somewhere around 15 people and had more than plenty of food, but I was very pleased with how everything turned out and more than happy to eat leftovers for the next few days.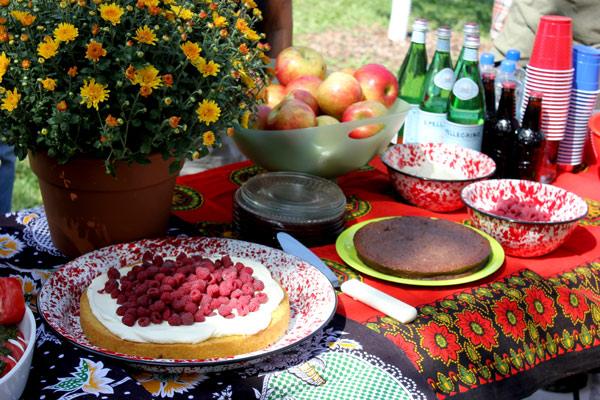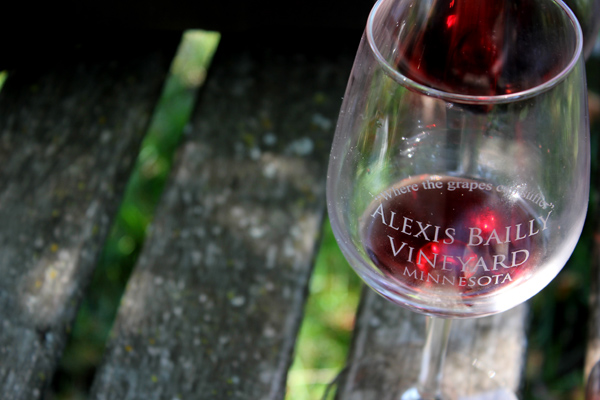 Birthday party picnic menu
Sliders on white rolls with sliced pork tenderloin, pickled red onions, bacon mayonnaise, arugula (recipe for all elements below)
Sliders on whole wheat rolls with grilled portobello mushrooms, havarti cheese, heirloom tomato, chimichurri
Caprese salad with sliced heirloom tomato and fresh mozzarella, pesto drizzle, balsamic reduction drizzle
Israeli couscous salad with fresh corn, pinto beans, cherry tomatoes, and parsley
Roasted fingerling potatoes and green beans with chives and lemon
Smoked salmon crostini with cream cheese (with salmon smoked by my dad)
Cubed watermelon
Honeycrisp apples
Almost-flourless chocolate bourbon cake (this recipe, with the bourbon alteration)
Assorted bottled waters and sodas
Wine from the vineyard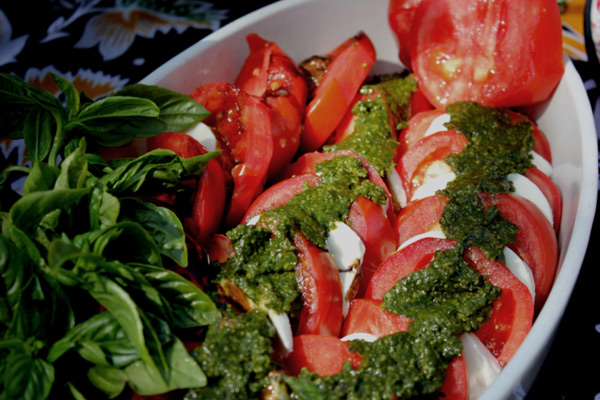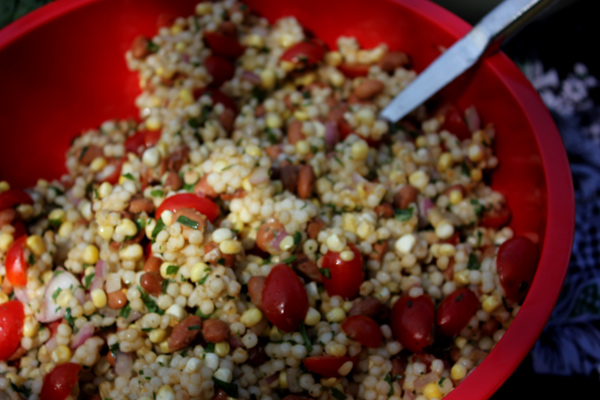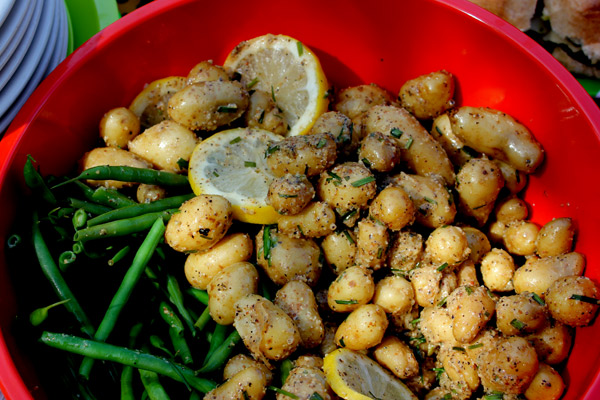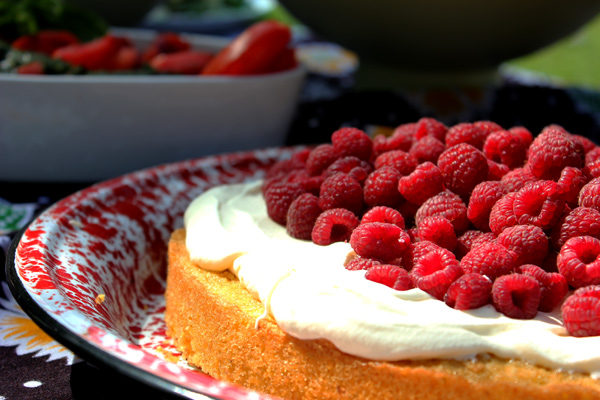 My vision for the menu started with the pork sandwich, which was what I was most happy with, so I'll share those recipes to start. I was also particularly happy with the polenta cake, but I have a few ideas for that recipe so I'll work on it a bit more before I share. If there are any other recipes you'd like, leave a comment below and I'll either make a post or send it to you directly.
Roasted pork tenderloin, brined and spice-rubbed

This recipe made about 24 sliders, but would also be fantastic on its own as a main dish, serving 6 to 8 people. Note that this recipe includes 4 to 14 hours of brining before cooking.

After brining and rubbing, the tenderloin could also easily be grilled instead of roasted, skipping the stovetop searing step. 

1 1/2 to 2 lbs. pork tenderloin
1 Tbsp. yellow mustard (optional, and other mustards would work as well)
1-2 Tbsp. cooking oil

Brine:

1 quart water
1/4 cup salt
1/4 cup brown sugar

Rub:

2 tsp. ground cumin
3 tsp. chili powder
1 tsp. smoked paprika
2 tsp. ground black pepper
1/2 tsp. ground cinnamon

– Trim the tenderloin of large pieces of fat, if needed. You still want some fat to show on the outside, but depending on where you get it, it may have large pieces of fat attached to the outside.

– Mix together the brine in a large bowl, container, or sealable plastic bag, and submerge the pork (likely cutting it into two or more pieces to fit).  Refrigerate for 4 to 14 hours.

– Heat oven to 400 degrees.

– Remove the pork from the brine, discarding the brine solution. Dry the pork well using paper towels or other materials. The brine may have separated the tenderloin lengthwise along connective tissue, and that's okay.

– Rub the pork with the mustard, if you like. It will help the rub stick to the sides but is not necessary.

– Combine all rub ingredients in a small bowl, and rub over the outside of the pork to cover.

– Heat an ovenproof skillet on the stove over medium-high heat. (If you don't have an ovenproof skillet, transfer pork to an ovenproof pan before roasting.) When the pan is hot, add the pieces of pork. Cook on each side until browned, 3-5 minutes. Remove each piece when browned, if some cook more quickly than others.

– Return all pieces of pork to the pan and place in the oven. Roast for 10 minutes, then turn over all pieces and return the pan to the oven. Roast another 5-15 minutes, or until the interior temperature of each piece is 145F, measured using an instant-read thermometer. (If you don't have a thermometer, roast another 10 minutes and cut a slit in each piece of pork to check the inside for doneness.) Smaller pieces may roast more quickly, and you may want to remove these from the oven before the others.

– Let pork sit for at least 10 minutes before serving or slicing.
Pickled red onions

Makes about 2 cups of pickled onions, more than enough for 24 sliders. They can be fairly strong, and just a sprinkling will do on each sandwich. These onions would also be perfect for tacos, crostini and other appetizers, and sandwiches of all types. 

2 red onions
1 cup vinegar (apple cider or white vinegar work well – I used half and half)
3 Tbsp. sugar
1 Tbsp. salt
2 cups water
2 tsp. black peppercorns (optional)
1 bay leaf (optional)

– Cut each onion in half from root end to top and peel. Slice thinly into small half-moon strips.

– Combine vinegar, sugar, salt, water, and optional peppercorns and bay leaf in a small pot and bring to a boil.

– Pour boiling vinegar mixture over onion strips in a heatproof container. Let sit at least 6 hours. Flavor will continue to intensify as the mixture sits, and after 6 hours you can add more sugar or salt to change the flavor as desired.
Bacon mayonnaise

Makes about 2 cups, about 1/3 of which we used for the sliders.

Note: This mayonnaise may not be as stable as other homemade mayonnaises, and could separate after a day or so in the refrigerator. You can easily mix it back together, or pour off the separated fat and eat what's left.

– 3 egg yolks

– 1/2 tsp. Dijon mustard

– 1 tsp. white wine vinegar (other vinegars or lemon juice would work as well)

– 1 1/2 cup fat, combination of bacon fat and olive oil (12 oz. bacon from Trader Joe's yielded approximately 1/2 cup filtered bacon fat)

– 6 strips bacon, crumbled

– Salt and pepper

– Cook the bacon in a skillet until crispy. I used an entire 12 ounce package of bacon from Trader Joe's, but you can use just the six strips or cook more to get more bacon fat. You can also use bacon fat you may have saved from previous bacon cooking.

– Remove the cooked bacon to a paper towel-lined plate to drain. Give the fat in the pan at least 10 minutes to cool, then drain through a coffee filter or comparable material. If you're using saved bacon fat, add to the pan and heat to liquify.

– Measure your filtered bacon fat, then add olive oil to reach 1 1/2 cups fat.

– You can make this mayonnaise by hand or in a food processor/blender, if you have a desired method. If you've never made mayonnaise at home, many cookbooks will have a detailed explanation of the method, and these two (1, 2) New York Times articles are also quite helpful. (The second is a Mark Bittman article specifically about using the food processor.) I won't go into detail about the process, since there's much written elsewhere.

– Combine the egg yolks, mustard, and vinegar by whisk or by food processor. With the processor on or consistently whisking, pour a slow but steady stream of fat into your mixture, creating an emulsion. If your mayonnaise begins to resist the inclusion of more fat toward the end (up to about 1/4 cup remaining), you can stop adding fat.

– Finely crumble or chop the cooked bacon and stir into the mayonnaise.  Season with salt and pepper as desired.