Chewy granola bars – a new secret weapon
by Bowen Appétit on September 23, 2010
Consider this your secret weapon.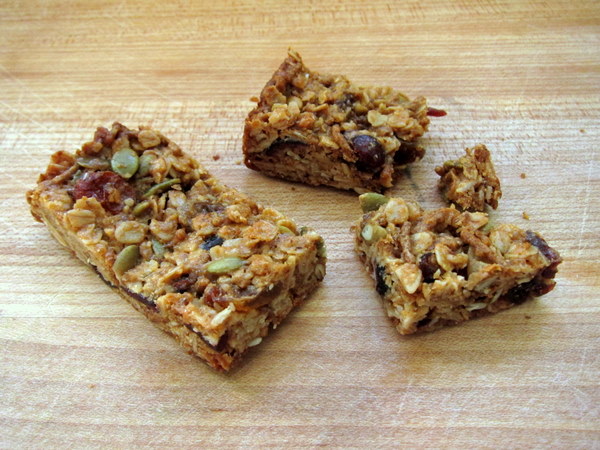 Chewy granola bars are an incredibly easy recipe that can serve as a tasty, healthy breakfast, snack, or even a health-conscious dessert (depending on what sorts of delicious little bits you want to sneak inside).
Maybe you aren't as excited by chewy granola bars as I am, but let's just say I have to limit the circumstances in which I bake these because if I leave myself more than a few in the house I end up stuffing myself silly.
When I was about 7, I decided I needed to start training for adulthood. (Is anyone surprised? If you know me, you shouldn't be.) I just wasn't quite sure how I would magically acquire all the necessary skills unless I started training myself – so I started "drinking coffee" with my mom in the morning. I say "drinking coffee" because what this actually meant was drinking hot chocolate and eating a chewy Quaker granola bar, since it was many more years before I considered coffee a palatable liquid.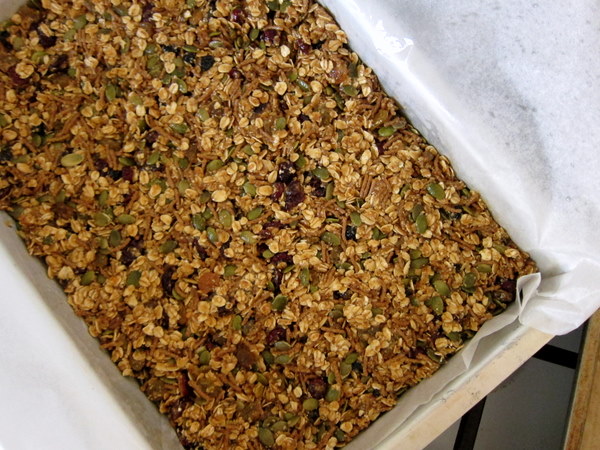 To 7-year-old Bowen, this was the height of sophistication – waking up early, groggy and mussed, drinking warm beverages out of a mug and eating a breakfast pastry. (Yes, a delusional 7-year-old can think that a packaged granola bar is a pastry.) I thought it was the sophistication that caused me to transform into a cheerful, bright young woman as I got ready for the day, though now I'm almost certain it was the metric ton of sugar coursing through my veins. Those chewy granola bars were a big part of my life for many years. Breakfast-time, lunch-time, snack-time. As far as I was concerned, they allowed me to eat chocolate, peanut butter, and even marshmallows at times of day I wouldn't usually get to eat dessert, and thus they were extremely valuable.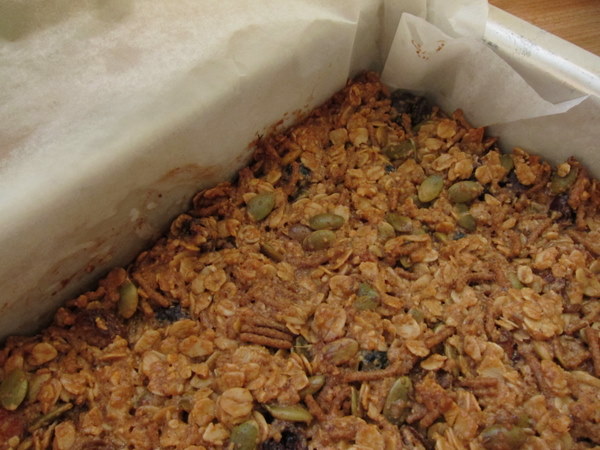 Now I see them in a slightly different way – an easy-to-make, easy-to-eat (read: perfect for new parents and people who eat on the go), easy-to-ship (yes, we've sent them as gifts), incredibly tasty little bite to have around the house. Much healthier than those Quaker bars I used to eat to be a grown up – and much tastier, too.
Chewy granola bars
Adapted from Smitten Kitchen

2 cups oats
1/2 cup sugar
1/2 tsp. salt
1/4 tsp. cinnamon or other spices as desired (cardamom, nutmeg, etc.)
2 1/2 cups additions: dried fruits, seeds, nuts, flax meal, bran cereal, puffed rice cereal, crushed pretzels, chocolate chips … the combinations are endless!
1/3 cup peanut or other nut butter
6 Tbsp. olive oil (or canola, or melted butter)
1/4 cup honey, maple syrup, or Agave syrup
1 Tbsp. water

– Preheat oven to 350F. Depending on desired thickness, line a square (8×8, 9×9) or rectangular (9×13) baking dish with parchment paper, then lightly grease the paper with non-stick cooking spray, oil, or butter. Thicker bars are a little more decadent, if you're planning on using this as a dessert.

– Process 1/3 cup of the oats in a blender or food processor until finely ground.

– If necessary, chop up dried fruit and nuts. Raisin-size pieces are fine, but dried apricots, or apples, let's say – should probably be chopped.

– Stir together all dry ingredients (oats, ground oats, sugar, salt, cinnamon, fruits/nuts/seeds).

– Whisk together wet ingredients – oil, honey, peanut butter, and water.

– Mix together the wet and dry ingredients, then spread in the pan. Press firmly into the corners and edges so the top is even.

– Bake for around 30 minutes, until the top starts to brown. Thicker bars will likely take longer, so you'll need to watch them, depending on how much batter you've spread in what size pan. The edges will become deep golden and they may feel underdone in the center, but that's okay.  They'll firm quite nicely as they cool.

– Let cool in the pan on a cooling rack for at least 20 minutes, then take them out of the pan using the parchment. Let cool completely before cutting.