West Coast Wild Rice Soup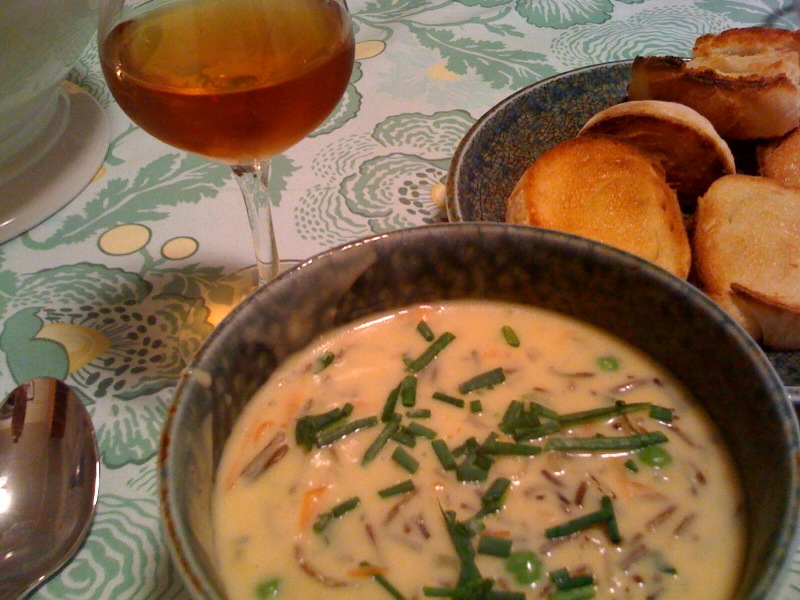 I love grocery stores. It's probably rare that anyone has been that emphatic about such a place, but in my case this excitement is in no way overstated, fleeting, or insignificant. I was raised on the luxury shopping experience of Minneapolis-based chain Byerly's/Lund's thanks to my caterer grandmother and the fact that it was by far the closest store to my house, and it wasn't until moving to Claremont that I realized the average grocery store didn't have chandeliers and wall-to-wall carpet, nor as wide and as high-quality a selection of items.  This is not at all an indicator that my young life was full of gourmet foods or fancy lifestyle habits, but rather that my family enjoys to have their Doritos and cases of Coke brought to their car for them and that Saturday lunches meant the store's hearty selection of free weekend samples from the time I was 6 years old.
I'm sure I'll talk more at length about my life's grocery store experience (most notably, the largest Whole Foods on the West Coast opening less than a mile from our apartment in Pasadena while we lived there, and spending a summer in Portland working as a food writer for New Seasons Market), but for now, let's get to the soup. If you've spent any decent amount of time in the Minneapolis area, you've likely spent a few good meals with Byerly's wild rice soup. Whether purchased frozen, fresh, or in the store's restaurants, it's a mainstay of the area's cuisine.  So much so that they provide the recipe on the store's website, which is helpful when you live away except for the fact that the soup no matter what requires a source of wild rice, a somewhat difficult thing to procure in other parts of the country. Sure, Trader Joe's and the like sometimes like to think they're selling you wild rice, but it's not even close to the earthy, chewy, hearty experience of real wild rice. In a pinch it will definitely do, but it's really not the same.
This summer we picked up a few pounds of the stuff at the Minneapolis Farmers' Market (incredible, by the way, if you ever get a chance to go) and just received another package from my Gram for Christmas, and I'd been saving it for a worthy occasion when I realized I hadn't made wild rice soup in a while. This is adapted from Byerly's recipe, and is perhaps the most satisfying soup I've ever had on a chilly evening. But don't even think about serving it as a side, unless it's a side to a salad – it's definitely hearty and rich!
Another important note: this is one of the easiest things I have ever made in my entire life. Honestly. It's definitely joining the rotation, at least until our source for the rice runs out.
West Coast Wild Rice Soup
Adapted from this recipe
Provides 4 hearty dinner-sized servings

You need approximately 2 cups of cooked wild rice to make this soup. Ideally it's real wild rice from a local grower, but like I said – in a pinch Trader Joe's wild rice pilaf or something similar will do just fine.

Ingredients:

6 Tbsp. butter
1 large or 2 medium minced shallots
2 stalks celery, chopped
1/2 cup flour
3 cups chicken or vegetable broth
2 cups cooked wild rice
1 large carrot, shredded (approx. 1/2 cup, optional)
1/3 cup(ish) cubed ham (optional)
1 cup(ish) frozen peas (optional)
2 tsp.(ish) pimenton/hot paprika, or to taste
Salt and pepper
1 cup half and half
2 Tbsp. dry sherry
Chopped parsley or chives for garnish

– Saute shallot and celery in butter in large (2+ quart) saucepan until tender

– Blend in flour and gradually add broth. Increase heat to medium high and stir until boiling, plus one minute

– Stir in rice, carrots, ham, peas, and pimenton. Season to taste with salt and pepper. Simmer for 5 minutes, stirring occasionally.

– Add half and half and sherry.

– Serve with garnish of chopped parsley or chives.