A perfect summer dinner
With a fridge packed full of more produce than we know what to do with from our weeks away and a hankering for summer to finally come to the Close Household, we celebrated a summer evening in our backyard with a perfect summer meal.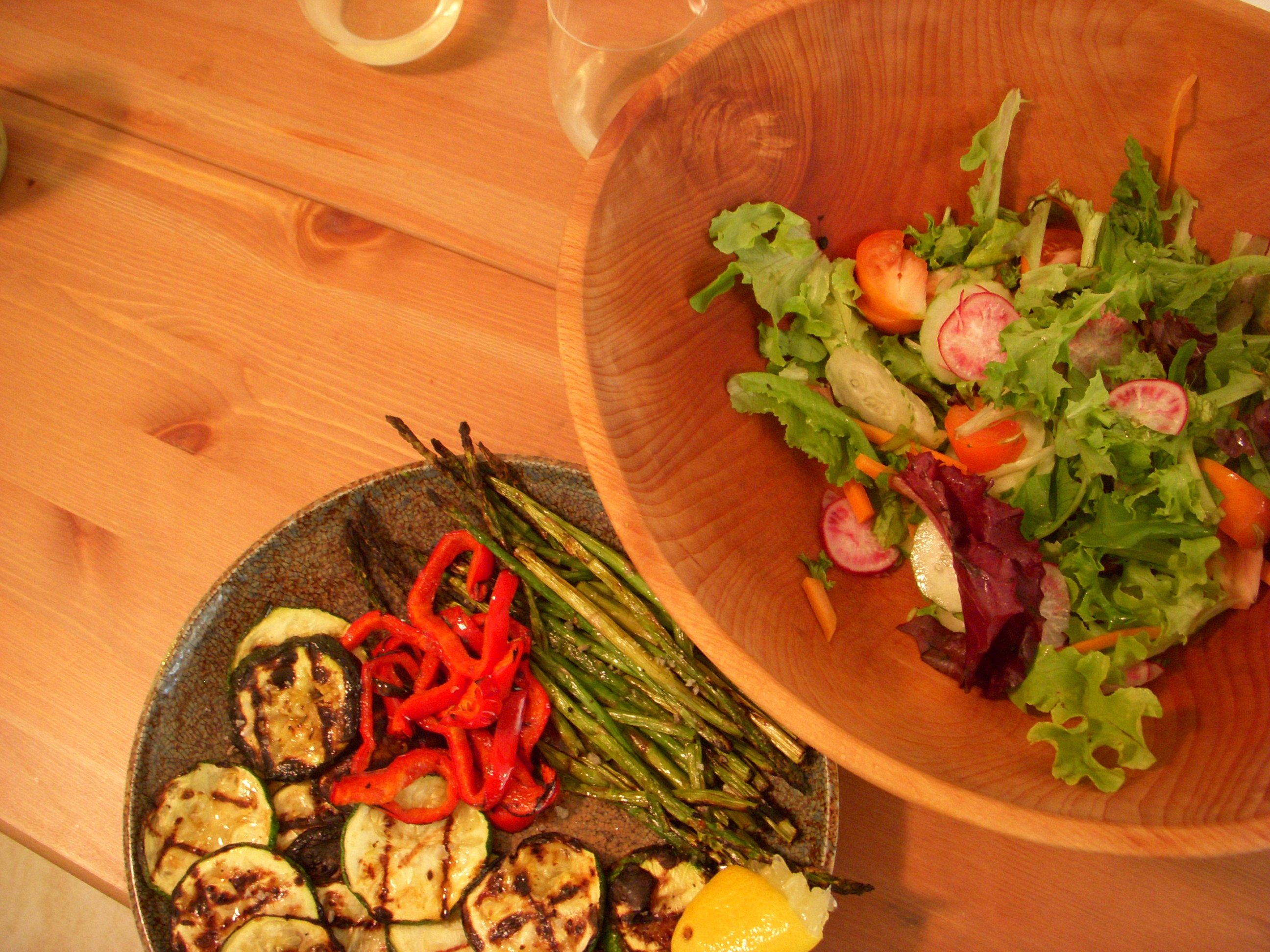 Grilled chicken and veggies (summer squash, red peppers, asparagus), a salad (greens, radish, carrot, armenian cucumber, heirloom tomato, cilantro-avocado dressing), garlic bread, and white table wine – perfection!
We're struggling to figure out what to do with the massive volumes of fruits and veggies in the house right now, and I've been waiting for the opportunity to do some baking this summer. Usually we'd be knee-deep in pies, cobblers, and crisps by this point in the summer, but I literally haven't peeled, sliced, or pitted my way through any peaches, nectarines, apricots, or even a measly cherry so far this year.
So let me say this: please make this galette I'm about to describe for you. Please make it – that's all. No begging, no convincing necessary – because it makes no sense to not make this. If you have the ingredients (which are flexible and simple) and you have even an iota of skill in the kitchen (yes, even you Sonia), you can do this and do it well. And invite me over to have some.
You could put almost anything in this galette – peaches, plums, apricots, cherries, berries, apples, etc. (and in fact, savory galettes are also quite good for dinner in the colder seasons), and the crust is so easy to deal with I would strongly suggest this recipe for anyone who is usually a bit intimidated by pies or other types of pastry-crust desserts. We didn't have any ice cream, whipped cream, or even yogurt in the house the first night we had this (I'm on day 3 today and still excited to have it packed in my lunch), and I was so worried about eating this without a dollop of topping that I almost poured some half and half on top before eating it – but the smooth, un-cloying, un-tart sweetness of the donut peaches and strawberries together made that usually-needed accompaniment totally unnecessary.
One a side note: While swooning and eating (a very common combination of activities for me), I classified a galette as both "rustic" and "fancy" – Brett was confused as to how the two were not mutually exclusive, but it seems perfectly logical to me – this combination is the most common aesthetic and menu concept of  the restaurants, event designs, and interior designs over which I drool and pine. Someone else out there gets what I mean, don't you?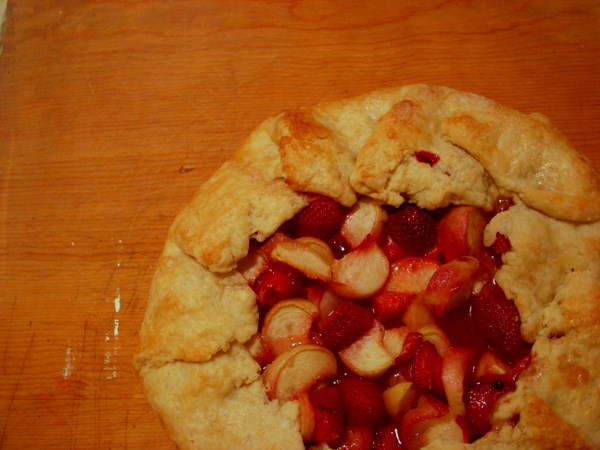 Summer (Finally) Peach and Strawberry Galette
Adapted from Rustic Fruit Desserts, by Cory Schreiber and Julie Richardson (which, by the way, if you love baked fruit desserts as much as I do you MUST buy this book. It has a very Pacific Northwest feel, which is exactly how I like my fruit desserts [and my summers] to be.)

Galette Dough

1 3/4 cups all-purpose flour
1 Tbsp. granulated sugar
1 tsp. salt
3/4 cup (1 1/2 sticks) unsalted butter, cold, cut into 1/2-inch cubes
5 Tbsp. ice water
2 tsp. lemon juice

– Put the flour, sugar, and salt in the bowl of a food processor and pulse to mix. (If you don't have a food processor – just mix in a large bowl.)

– Incorporate butter by pulsing in the food processor (or cutting in using forks, knives, or a pastry cutter) until mixture is coarse and the lumps of butter are about pea-sized.

– Mix together the water and lemon juice, then drizzle half of the mixture over the dough and toss with a fork and/or a wooden spoon until incorporated. Add the remaining half ~2 tsp. at a time until the dough can come together into one lump. After I put in all of the mixture I just dumped into a floured cutting board to press together, but only after I was pretty sure it would all come together. Add more water as necessary until the dough can stick together in your hands.

– Press the dough into a disc, wrap in plastic, and chill in the fridge for at least 1 hour (up to a few days, otherwise you can put it in the freezer for up to 3 months).

Filling/Making the Galette

1/2 cup sugar
1/2 tsp. cornstarch
1/2 tsp. salt
About 8 donut peaches and 1/2 pint strawberries
2 Tbsp. milk (optional)
Extra granulated/raw sugar for sprinkling (optional)
Powdered sugar for garnish (optional)

– Preheat oven to 400F.

– Remove your dough from the fridge/freezer and let it soften for 15 minutes (fridge) or more like an hour (freezer). Roll into a 14-inch circle – well, the general shape should be circle-ish – and ragged edges are totally fine (and lend to the rustic appearance, should you so desire).

– Place the dough on a baking sheet lined with parchment or generously greased.

– Mix together the sugar, cornstarch, and salt, and sprinkle 2-3 Tbsp. of the mixture over the dough (leaving a ~2 inch border around the edge).

– Slice/chop the peaches into slightly-larger-than-bite-size pieces, and halve/quarter the strawberries (depending on size). Toss with the rest of the sugar mixture.

– Pile/spread the fruit loosely over the dough, leaving that same 2-inch border.

– Fold the edge of the dough over the fruit, pleating as necessary to fold it in a circle (you get the idea from the photo above).

– If desired for browning, brush the dough with milk. Also if desired, sprinkle on some granulated or raw sugar.

– Bake for 30 minutes, then turn the temp down to 350F and bake for approximately 30-35 more minutes (check at minute 25 to make sure all is okay).

– I also basted it after the first 30 minutes, using a turkey baster to suck up the juice that was starting to pool in the center and squirting it over the edges and corners of fruit pieces that were sticking up above the top and looked like they were starting to dry out a bit. This is totally unnecessary but fuels my desire for micro-managing – Brett is grateful that I sometimes take out that desire on baked goods instead of on him, so your significant other might appreciate that as well.

– Take the galette out when the dough is golden and the juices are bubbling.

– You could try to eat this right away, but the longer you let it sit the more the juices will settle and congeal into that gooey deliciousness that is integral to any good pie-type item.

– You could also sprinkle powdered sugar on top, but once I was ready to eat it I was READY TO EAT IT, god damnit, and no sugar sprinkling activities could delay me. Or, I forgot. Whoops.