Beet-feta bruschetta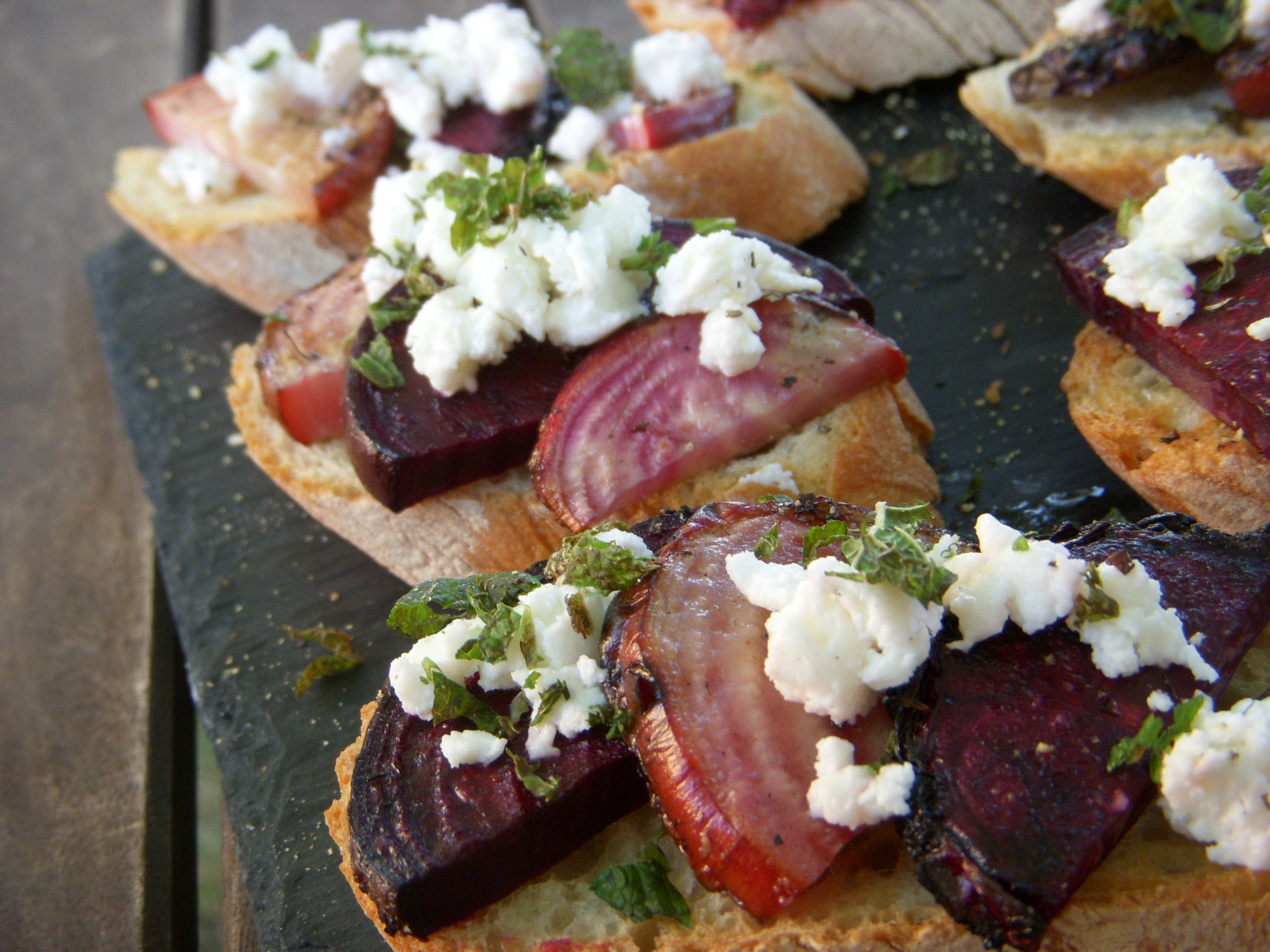 What impresses me most in terms of culinary skill is the ability to make something out of nothing. Or, rather, the ability to make an interesting, tasty dish out of whatever you have lying around. Instead of picking a recipe and tracking down the ingredients, the ability to look around at what you have and put something together. This is something the CSA has forced us to do more than we ever did before – one of the many reasons I appreciate it.
What makes this so difficult is the necessary toolbox of skills – the basic mastery of preparing various ingredients in various styles (braised vs. sautéed vs. roasted veggies, for instance); of preparing the foundations on which flavors can be applied (a roux, for example, or a basic buttercream frosting); of both common and alternative flavor pairings (mire poix – the carrot, celery, onion triad that makes the base for many French dishes, or the spice combinations common to most Latin American or Indian foods). And, of course, the variety of tools necessary for doing various things (like a slow cooker, or a zester, or a double-boiler).
We've tried to do what we can to build our kitchen, our spice cabinet, and our pantry (and, as many know, our liquor cabinet) such that we can make almost anything we come across in a cookbook or magazine or blog, and I can say we're trying to build those skills as well, but it's always still frustrating to face the kitchen without a plan and to piece together a cohesive, exciting, tasty meal.
Brett and I have been watching Spain, On the Road Again, which originally aired on PBS. It follows a rather random foursome – Mario Batali, Mark Bittman, Gwyneth Paltrow, and Spanish actress Claudia Bassols – on an  in-depth culinary road trip through Spain, where they literally wine and dine their way from coast to coast and city to town to village to rural settlement. I can't even begin to explain what sort of fantasies all of this conjures in my travel-hungry soul and just-plain-hungry stomach, but I will say that I strongly recommend the series (as long as you can look past the whole Gwyneth-and-Mario-being-celebrities-and-thus-fairly-obnoxious thing).
Toward the end of the series they visit a restaurant that I can only imagine costs approximately $1,452,982 per meal. There is no menu – when you sit down, the chef joins you at the table to discuss your likes and dislikes, then creates a meal specifically for you.  I was impressed by the concept itself, but blown away by the obvious skill of the chef and his kitchen staff to be able to pull this off with what was sure to be a limited array of kitchen equipment and ingredients on-hand.
Inspired by such a feat, we returned home this past weekend after almost two weeks of travel to a fairly empty kitchen and I was determined to make do with what we had (well, almost). Supplemented with a few additional ingredients (potatoes and bread – reasonable, I think), we cobbled together a delicious meal of Moroccan-inspired mustard grilled chicken and grilled potato salad (recipe forthcoming), preceded by a beet-feta bruschetta. It might not have been as extravagant as the Spanish chef's production, but I can certainly say it didn't cost us as much.
Beet-Feta Bruschetta

2 beets (we used two different colors, but I didn't even know that until I cut into them)
Feta or goat cheese
Slices of baguette or other bread
Olive oil
1 clove garlic
Fresh mint, chopped

– Slice the beets and grill until tender (checking with a fork is always a good way to tell).

– Grill or toast the slices of bread until lightly golden.

– Rub the bread with the raw garlic (cut the clove in half).

– Drizzle the oil over the bread.

– Places the slices of grilled beets on the bread, top with the cheese and mint.