Grilled potato salad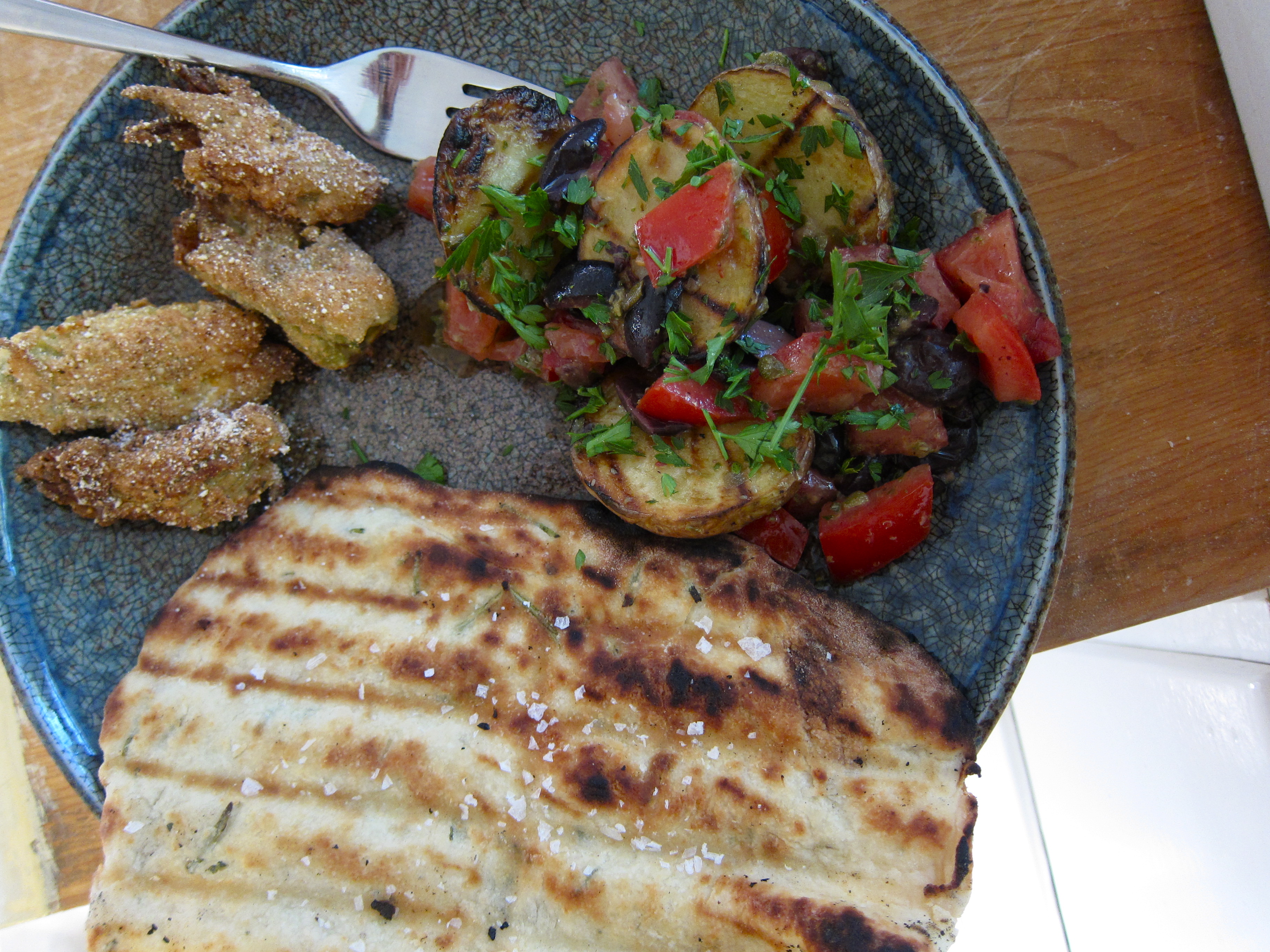 I'm just back from a whirlwind birthday weekend in New Orleans – there's still glitter on my face and bags under my eyes – and am already dreaming about muffalettas and jumbalayas and sleeping on a bed of beignets. But before my eyes turn too much toward Fall (that's what happens when Labor Day is behind you, yes?), I have a lot of summer left to share.
First is this potato salad – no mayo or cream or plastic grocery store containers to be seen! Instead, a summery combo of tangy caper-anchovy vinaigrette and kalamata olives, chewy/crunchy/creamy grilled yukon golds, and some fresh tomatoes from the garden. It was perfect with – fish, I think? I'm rapidly losing my memory of the fresh summer meals we crammed into a few weeks, but I could see this working well with fish, poultry, sausages … or a more Mediterranean meal of falafel/pita/hummus. Maybe some kabobs? Grilled haloumi! Yes.
Okay. Ahem. Let's just move on:
Grilled potato salad
Adapted from Sunset Magazine, July 2010

6 medium potatoes (Yukon Gold, purple, fingerling, etc.), halved lengthwise
1/4 cup olive oil
1 tsp. yellow mustard
1 Tbsp. red wine vinegar
2 Tbsp. fresh oregano
1 Tbsp. chopped capers
1 tsp. red pepper flakes
1 Tbsp. minced anchovies
1/2 to 1 cup kalamata olives
2 cups halved/sliced/quartered tomatoes (cherry, plum, grape, roma, etc. work well)
1/4 cup chopped fresh parsley

– Toss the potatoes in 1 Tbsp. oil and put on a heated grill, flat side down. Grill approximately 10 minutes, until grill marks appear, then move to an area with indirect heat and cook until eating consistency (firm enough that you can cut into chunks).

– Whisk remaining oil, vinegar, mustard, oregano, capers, pepper flakes, anchovies, salt and pepper in a large bowl.

– Cut potatoes into chunks, and add all remaining ingredients to bowl.