Grilled tomato bruschetta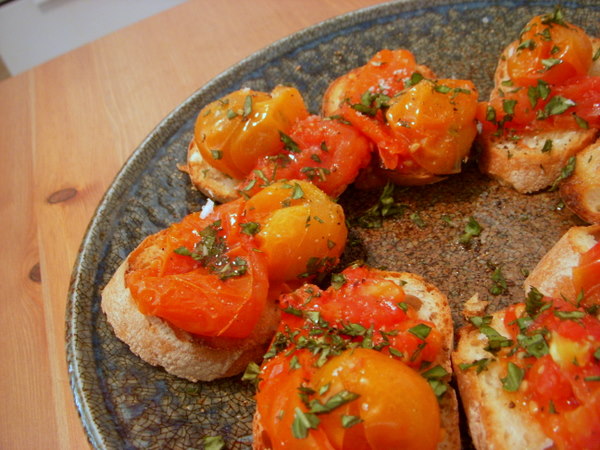 I shouldn't have waited so long to post this one – as far as the climate is concerned, tomato season is nearing a quick and painless end. We had rain (RAIN!) this morning when we woke up, and all day I could think of nothing other than curling up in fleece pants under a blanket with a cup of coffee and my new cookbooks (happy birthday to me!).
But if we get a bit of summer back, or if you're in a place where tomatoes are still in their prime, this is a quick, easy, and tasty summer appetizer or side dish. Add some cheese or sausage alongside, and it could even be a main dish.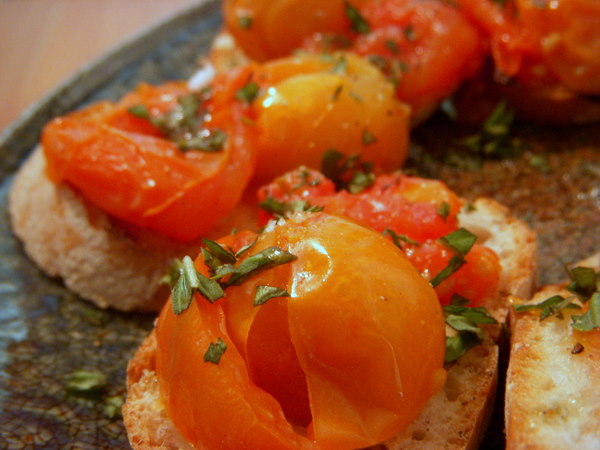 Grilled tomato bruschetta

2 cups (or so) of assorted tomatoes, sliced/halved/quartered into bite-size pieces
8 (or so) slices of crusty bread (such as baguette, ciabatta, etc.)
2 cloves garlic
Olive oil
Salt
1/4 cup (or so) chopped basil

– Heat the gas or charcoal grill (if you heat a charcoal grill just for this, I really need to you take some of your extra time and use it for something else, like baking me cookies)

– Pile the tomatoes on top of a piece of tin foil. Drizzle with oil and sprinkle with salt, then close up the foil into a loose sort of packet.

– Place the packet on the grill for about 15-18 minutes.

– Meanwhile, toast the slices of bread (or grill them, I suppose). Cut open the cloves of garlic, and rub the bread with the exposed face of the clove.

– When the tomatoes are ready, pile them on top and sprinkle with basil and salt as desired.