Garlic zucchini rotini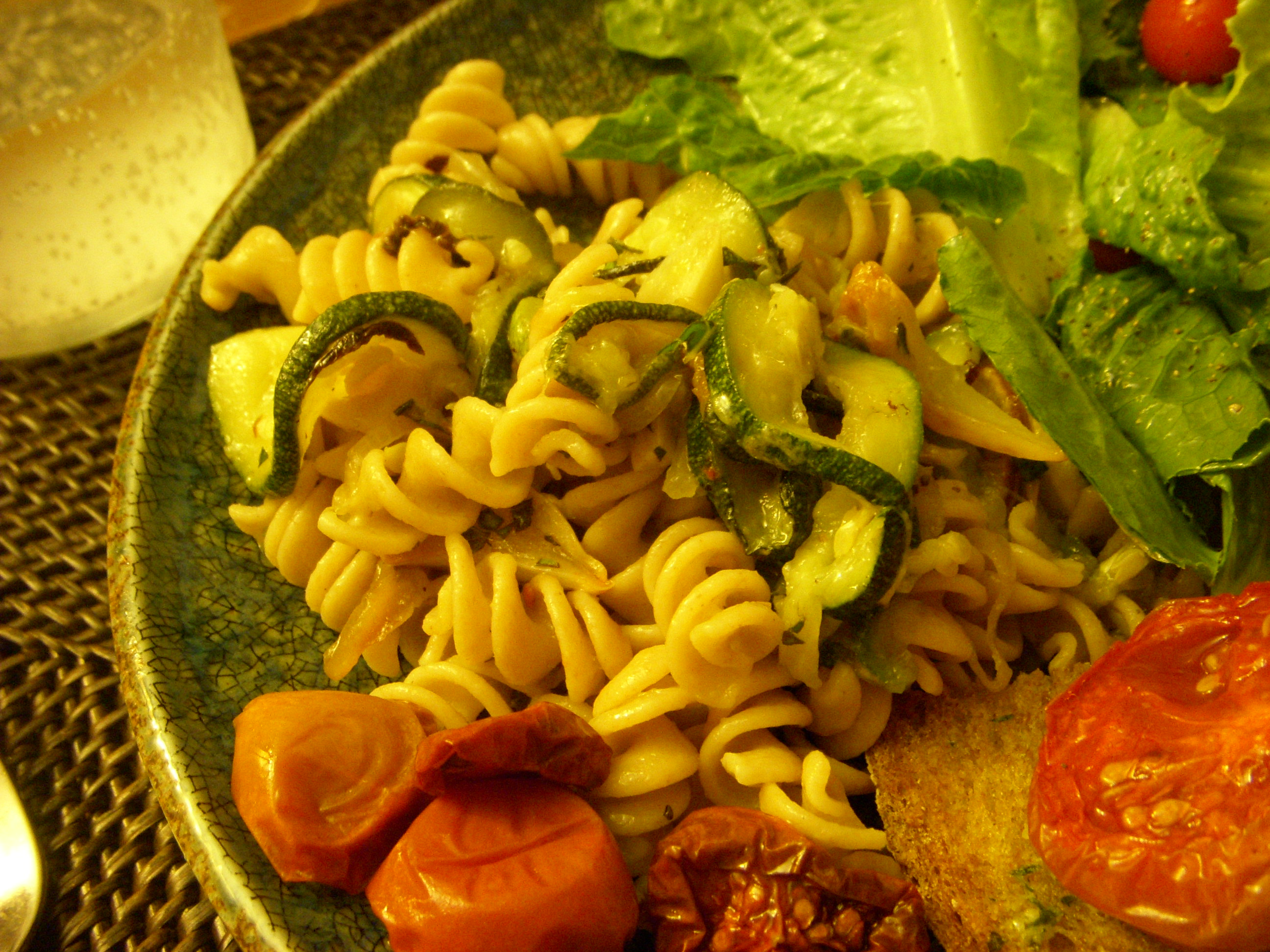 By the way, "garlic zucchini rotini" is a really fun thing to say. That alone is reason enough to make this recipe, especially along with reasons like: the zucchini avalanche the occurs every time I open my refrigerator, a last-minute gathering of friends for dinner and the need for a quick dinner in volume, and a need for leftovers to take us through a few days of lunches.
The one thing to warn here is the intense quantity of garlic and shallots that go into this recipe. The flavor imparted by the sheer metric ton of those two ingredients takes what would otherwise be a fairly boring pasta recipe – pasta and zucchinis alone do not a particularly exciting dinner make – into something spicy, savory, and healthy (the more flavor added, the less oil and cheese needed).
Garlic zucchini rotini
Adapted from Bon Appetit October 2010

2-3 pounds of zucchini, sliced into thin rounds (I used our mandoline slicer)
12 (yes, 12) garlic cloves, peeled and halved
6 (yes, 6) large shallots, peeled and thinly sliced
6 Tbsp. olive oil
1 tsp. dried red pepper
1 lb. whole wheat rotini pasta
Large bunch (~3/4 cup?) fresh basil, chopped
1/2 cup grated Pecorino Romano cheese

– Preheat oven to 400F. Toss zucchini, garlic, shallots, 4 Tbsp. oil, and red pepper in a large bowl. Spread on two baking sheets, season with salt and pepper, and roast for about 25 minutes (until tender, depends slightly on how thickly you slice the zucchini. I sliced them pretty thinly, as you can see above.)

– Cook the pasta according to the packaging instructions (or however you desire, I'm very flexible with my pasta-making experience), and drain – reserving 3/4 cup of the cooking liquid in a separate bowl or measuring cup.

– Place the pasta in a pot. Stirring over medium heat, add 1 Tbsp. of oil, 1/4 cup of the cooking liquid, the vegetables, the basil, and the cheese. Add more cooking liquid if necessary to keep the dish from being too dry. Season with salt and pepper as desired, and serve. We served this along with the smaller of the roasted tomatoes (a few recipes back), which was fantastic. And makes great leftovers, either warmed or room temperature.