Zucchini muffins
Oh, zucchinis. Why won't you stop? Sigh. I look forward to the day I open my refrigerator to find that it is zucchini-free.
Well, except, in this case. Because in this case, you are DELICIOUS. Especially with a big mug of mint tea on a dreary, dark, damp, lazy Sunday morning. Oh, it's afternoon now. I hadn't noticed.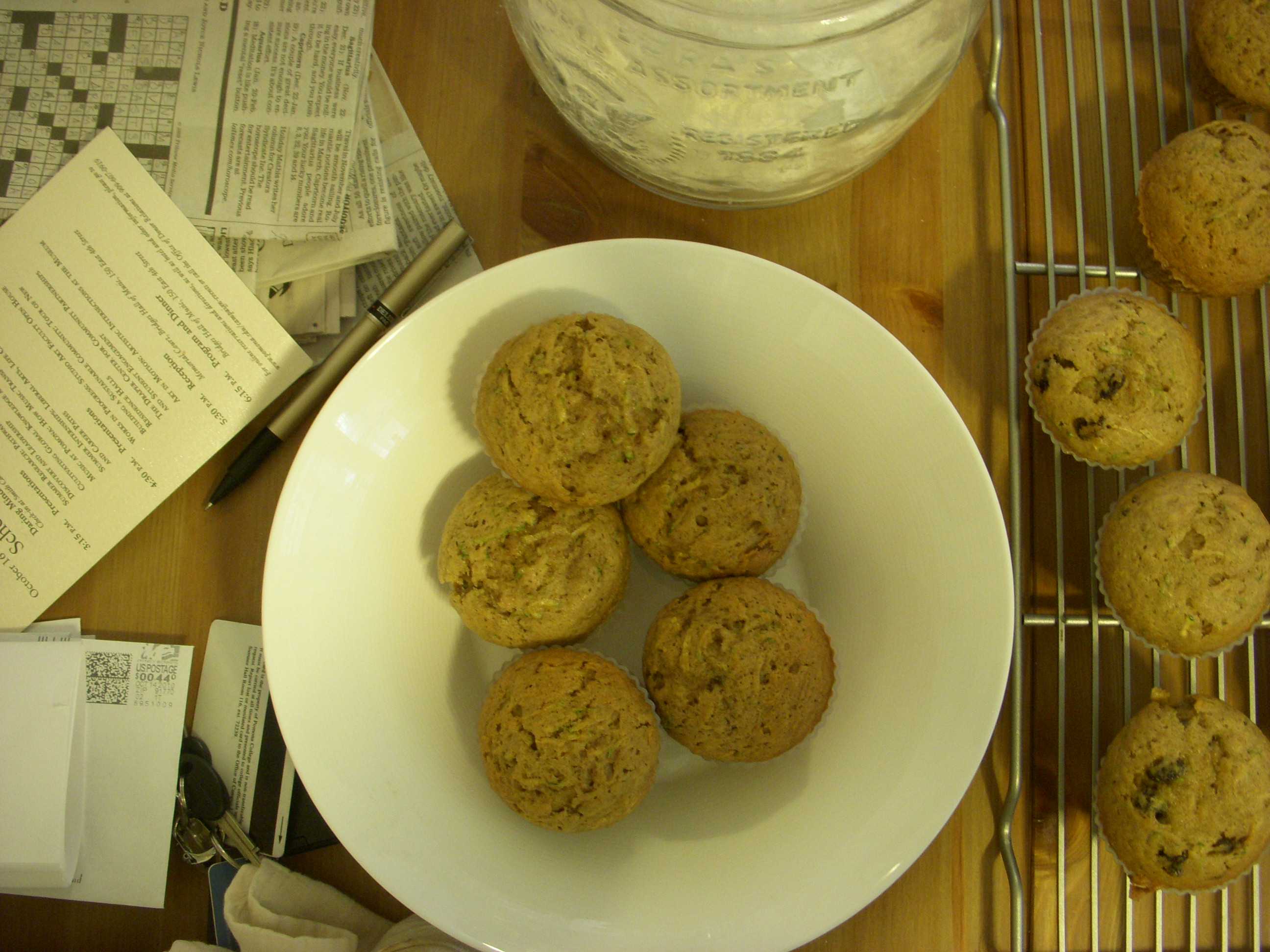 Lazy Sunday zucchini muffins
Adapted from Smitten Kitchen

Makes 24 muffins

Note: You can also use this recipe to make 2 standard-size loaves. Make sure to grease and flour the pans before pouring in the batter. Bake for about 60 minutes, beginning to check around minute 50. Bake until a tester inserted into the middle of the loaf comes out clean.

3 eggs
1 cup olive oil
1 3/4 cups sugar
2 1/2 cups grated zucchini (or about)
2 tsp. vanilla (except when you realize don't have vanilla, and have a brief freak out before turning to the liquor cabinet and instead using some Whalers dark rum)
3 cups flour (next time I want to substitute half with whole wheat pastry flour)
3 tsp. cinnamon
1/2 tsp. nutmeg
1 tsp.  baking soda
1/2 tsp. baking powder
Just over 1 tsp. salt
Nuts, (c)raisins, chocolate chips, as desired – I used about 1 cup of raisins in the second half of the batter

– Preheat oven to 350F. Line muffin tin with liners, or grease and flour them. I used the silicone liners we got as a wedding present, which made me feel very sophisticated.

– Beat the eggs with a whisk in a large bowl, then mix in the oil and sugar with a wooden spoon. Mix in the zucchini and vanilla (or hard liquor, you know, if you're hardcore like me).

– In another bowl, whisk together the remaining dry ingredients (flour, cinnamon, nutmeg, baking soda and powder, salt, and other additions – nuts, chocolate, etc.).

– Stir the dry mixture into the egg mixture, and pour into the prepared muffin cups (I filled them to the top of the cups, which made 20 muffins all together).

– Bake until a toothpick entered into the center of the muffins comes out clean, about 30 minutes. I'd recommend checking them at 25 minutes to make sure they're not overbaking.