Roasted chickpeas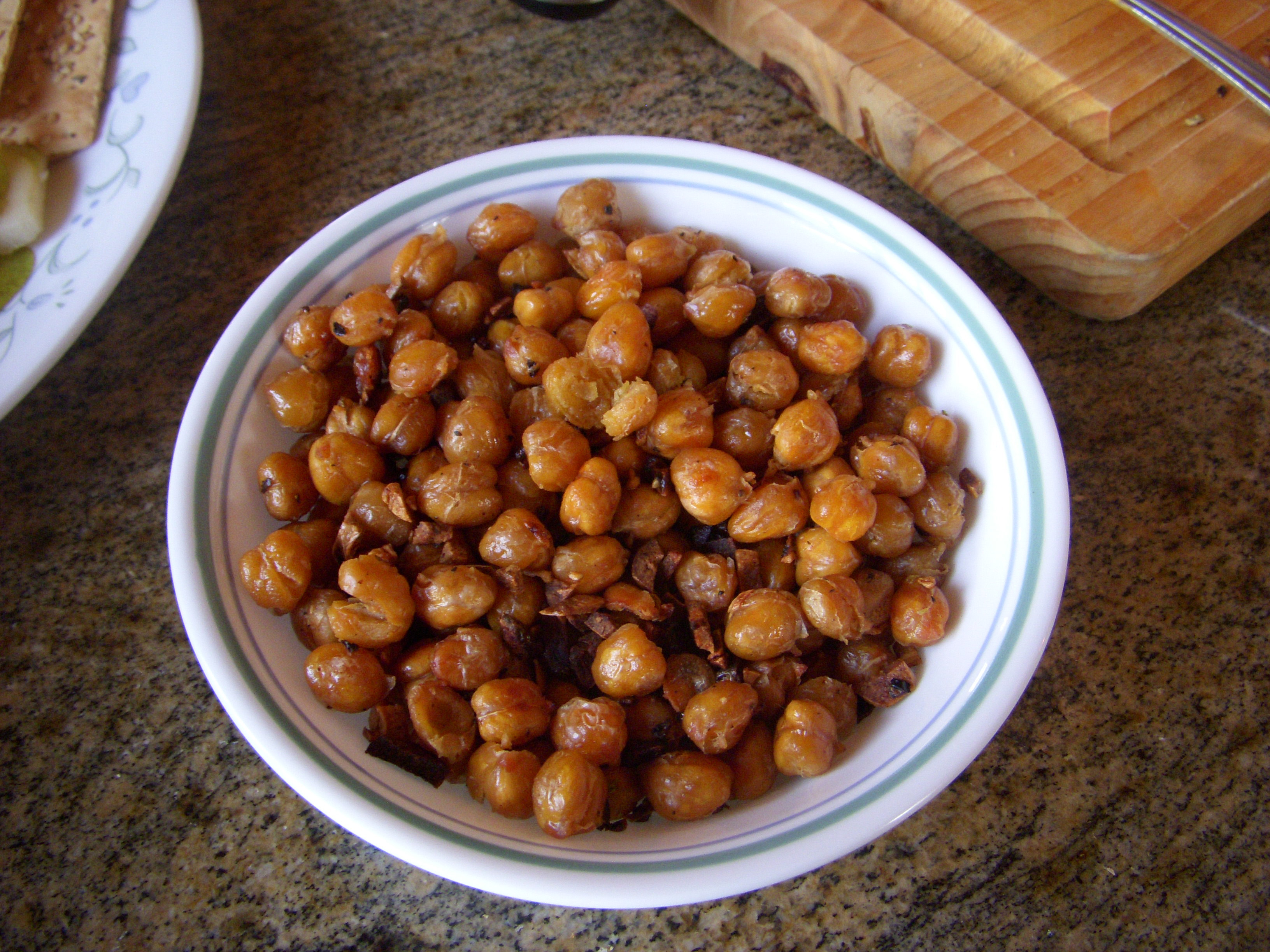 I'm always on the lookout for tasty, somewhat healthy snack foods. Cut veggies and dip just doesn't always cut it, you know? But there's often not a lot between that and chips. Or maybe there is, but I certainly don't know about it.
Except that now I do know about it! If "it" is one solitary option, because I still just have one. But it's good, so you should know about it too!
Turns out if you roast chickpeas for a while, they get a bit crunchy on the outside and stay a little chewy on the inside, in the most delicious way. Especially when they're roasted with garlic and olive oil and salt. Mmmmm.
And the longer you let them sit, the crunchier and snackier they get! One can of chickpeas made much less than I was expecting, but this recipe alone would be a great snack for two people. And it's incredibly versatile in terms of spices and flavors. I went as basic as you can get with garlic, salt, and pepper, but I could see a spicy mix with cayenne and chili powder, an Indian mix with curry spices, and so many others. I could also see using this to add some protein and weight to any other sort of snack mix, with pretzles, nuts, cereal, etc. Too bad football season's over, but I'm sure the world will continue to need snacks before next September.
I actually feel a little bad that this is the recipe coming out of How to Cook Everything, since (as the title implies) there is a huge variety of recipes to choose from in this book and this one is so small and simple. And Mark Bittman really is a fantastic source of recipes, particularly his material in the New York Times. But I'm sure there will be more to come from this book in the future, and for now I'm trying to get through this list!
Roasted chickpeas
From How to Cook Everything, by Mark Bittman

1 can chickpeas
~3 Tbsp. olive oil
1-2 cloves garlic, minced
Salt and pepper
Any other desired seasonings

– Preheat oven to 400F.

– Drain and rinse the chickpeas.

– In a large saucepan, heat the oil over medium heat for 1 minute. Add the chickpeas, garlic, and seasonings, and shake the pan to coat. Cook for another 30 seconds-1 minute, then transfer to a rimmed baking sheet for roasting.

– Roast the mixture until the chickpeas begin to brown, about 15-20 minutes, shaking or stirring the pan every 5 minutes or so. You can taste along the way to gauge crispiness, etc.