Date night braised lamb shanks
Brett and I have a weekly date night, and when those words come out of my mouth/fingertips it makes me feel a little bit more cheesy and settled than I already do, but let me tell you – I love date night. We alternate planning date nights, which can be as simple as dinner at the Italian place down the street or as complex as an entire day-long itinerary of activities, and we commit to spending the time purely on ourselves and on spending time together – no thoughts of work, no doing errands, no paying bills, no email and no phone calls.  We often end up going places or doing things we wouldn't otherwise. Two weeks ago, we went roller skating. Last week, we took a pizza to the drive-in movie theater nearby for a double feature. We've also taken food up into the mountains to watch the sunset, woken up at 5 a.m. to drink hot chocolate and see the sunrise at Skyspace, and spent a day exploring LA on public transit.  It's a great way to get to know our area and to experience the important things, considering we know we won't live in Southern California forever.
This weekend it was my turn, and I decided that we'd have a night in instead of going out. Brett had homework to do all day anyway, so I told him to show up at the house around dinnertime and I'd have dinner ready. Since I'd have all day to prepare, it would be the perfect chance to pick something out of one of our more gourmet cookbooks. So I took some time on Friday to pour through some Julia Child, some Tartine, and some Alice Waters, and came up with something I knew Brett would like: braised lamb shanks, braised red potatoes with garlic, my stand-by creamy polenta, and a green arugula salad.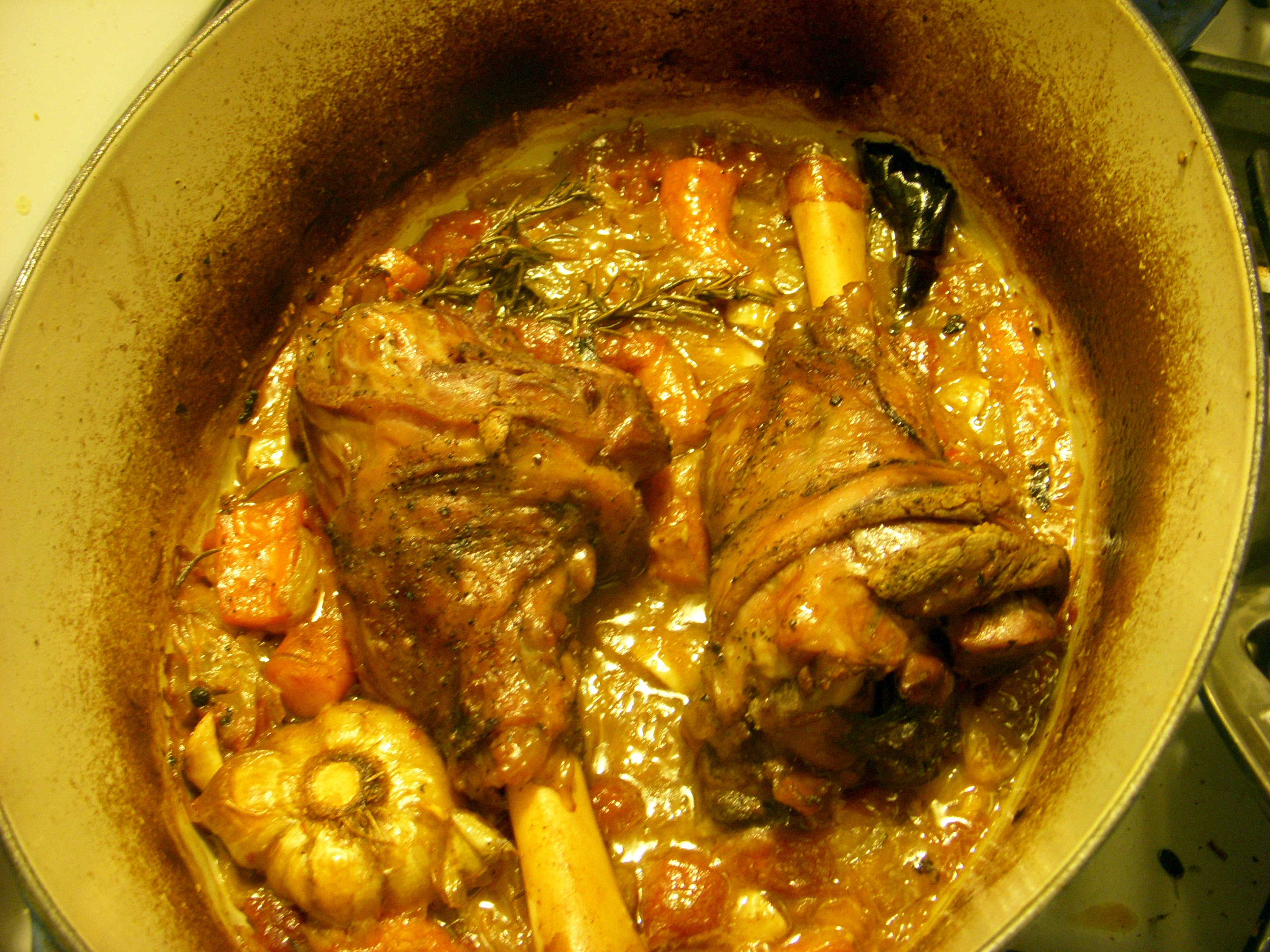 I was right about the menu, but wrong about needing all day to do it – I knew the polenta and potatoes would be simple, but I was surprised to find that the lamb was also incredibly straight-forward. After a bit of browning and a bit of pre-cooking of the items that braise along with the meat, the entire dish just stays put in the oven for 2.5 hours or so, with absolutely zero effort or attention paid. At the end the meat is meltingly tender and the braising ingredients are pureed into an incredible sauce, perfectly paired with a starch like polenta or maybe a spongy country bread. I think braising might be my favorite new technique, although I'm still having a little trouble ignoring the hold that the Zuni Café roasted chicken recipe has on my brain (case in point: making it again tonight for dinner).
The lamb shanks I got at the butcher were fairly large (~1.2 lbs. each) and each of us only ate about half the meat. The original recipe has 4 shanks for 4 people, but that definitely depends on size and on how much else you're serving alongside them.
Braised lamb shanks
Adapted from The Art of Simple Cooking by Alice Waters

Serves 2-8, depending on how many shanks and the size and whether you cut the meat off the bone for serving. (Estimate about 0.5 lbs. of bone-in shank per person, at least, if you cut the meat off.)

Lamb shanks
Salt and pepper
Olive oil (~3 Tbsp.)
2 onions
2 carrots
1 head of garlic
1 dried chile pepper
6 black peppercorns
1 large rosemary sprig
1 bay leaf
3/4 cup white wine
2 tomatoes, cored and chopped – or – half of a 14.5-ounce can of whole tomatoes, chopped
2 cups chicken stock or broth

– If possible, season the lamb shanks liberally with salt and pepper the day before (I did it at about 11 a.m. that morning).

– When ready to cook, pour olive oil into a heavy-bottomed roasting pan that you can cover. (I used our dutch oven.) Pour enough oil that the bottom of the pot is covered and turn to medium-high heat.

– Add the shanks and brown on each side. This will take 10-15 minutes all together.

– While the shanks are browning, cut the carrots and onions into large pieces (peeling the onions first). Peel all of the cloves in the head of garlic. Remove the stem from the dried pepper.

– When the shanks are brown, remove them from the pan and pour off about half of the fat. Add to the pan the onions, carrots, garlic, chile pepper, peppercorns, rosemary, and bay leaf. Cook, stirring often, for about 10 minutes, until the vegetables soften but are not entirely tender.

– Add the wine and tomatoes. Turn the heat to high and stir to scrape up any brown bits from the bottom of the pan. Cook until the wine has reduced by about half, then add the shanks back to the pan and add the stock/broth. The liquid should come about halfway up the sides of the shanks.

– Bring the pot to a boil, then cover the pot and either (a) turn the head down to medium-low or (b) put into a preheated 325 degree oven.

– Cook for 2.5-3 hours (more if there's more meat in the pan, less if there's less), removing the lid for the last 20 minutes if cooking in the oven. When done, the lamb should easily fall off the bones.

– Remove the shanks from the pan and put in a serving dish. Remove the bay leaves and rosemary sprig if easy enough, then pour all items in the pan into a blender or into a container for use with an immersion blender. Blend until fairly smooth, tasting and adjusting with salt and pepper as needed.

– Pour the sauce over the shanks, then sprinkle with gremolata (see below) if desired.

Gremolata


3 Tbsp. chopped parsley
1 tsp. grated lemon zest
2 garlic cloves, finely minced

– Mix together all ingredients.