Vegan chocolate cake with fluffy "buttercream" frosting and a surprise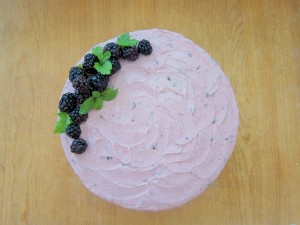 Like a huge number of 20-something foodies around the country, I used to be vegetarian. For 10 years, which is a pretty sizable period of time. Now, don't let that lead you to believe I actually ate as a vegetarian should – there were far more microwaved Morningstar Farms vegetarian chicken nuggets in my high school diet than I'd ever like to admit – but all those meat-free years definitely changed my perspective on what makes up a meal and what ingredients are necessary for a given recipe or dish. I still try to minimize my meat consumption and am often far more attracted to the vegetarian options on a menu (though I have to say – it feels liberating to be able to walk into a restaurant and pick almost anything on the menu, after spending 10 years choosing between two or maybe three options at most places).
And there were a good nine months or so in high school when I was actually vegan – I didn't get too concerned about honey, silk, etc., which some would say meant I wasn't actually a vegan, but I can say I didn't eat dairy or egg products during that time.  My interest in baking actually started at about this same time, which is a little strange, and every week or so I was coming up with some sort of new recipe – brownies with bananas instead of eggs (it works, really) or strange oatmeal chocolate chip cake/cookie hybrid concoctions. Some good, some not-so-good, some abysmal. This was long before the selection of vegan baking cookbooks available today, and all I had as my guide were a few hippie-leaning vegan cookbooks that listed strange natural foods and ingredients likely not found within 500 miles of the state of Minnesota.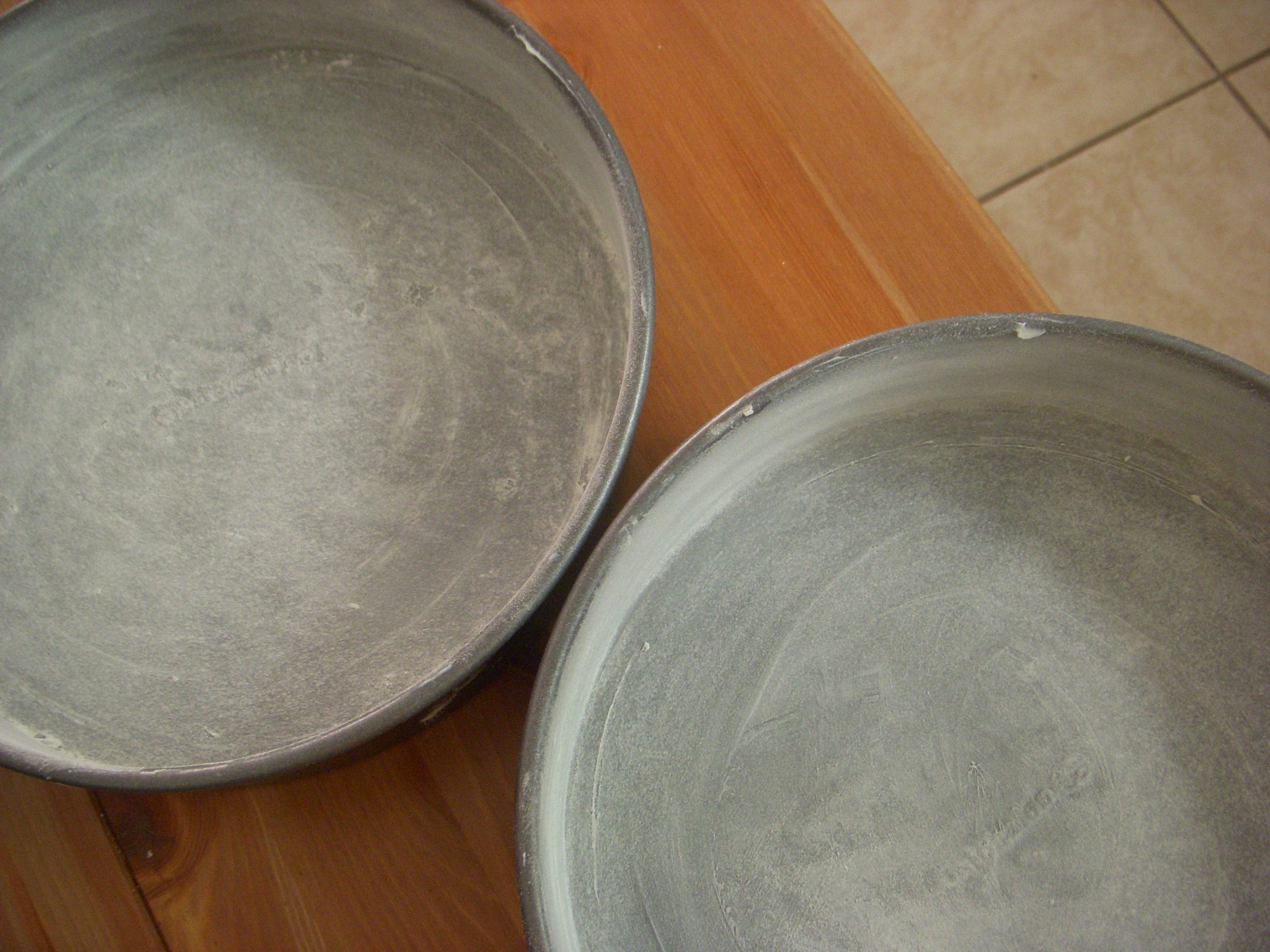 My vegan phase ended abruptly when the holidays started that year (my willpower around family gatherings and my grandma's baking is approximately non-existent), but my interest in vegan baking has persisted and I've often thought about diving into some of the newer resources now available. And so when I found out that there were no plans for a birthday cake at the girls' night/birthday celebration gathering I attended last night and knowing that one of the birthday girls is vegan, I jumped at the chance to put something together.  So I spent a couple hours reading up on a variety of different cake techniques and ingredient substitutions, finding myself steeped in about 500 recipes for vegan chocolate cake and with a growing sense of overwhelming indecision. But late in the process one recipe stood out, interesting in its ingredients and seemingly appropriate for our Mexican-themed dinner party – a springy chocolate cake moistened by a smashed avocado.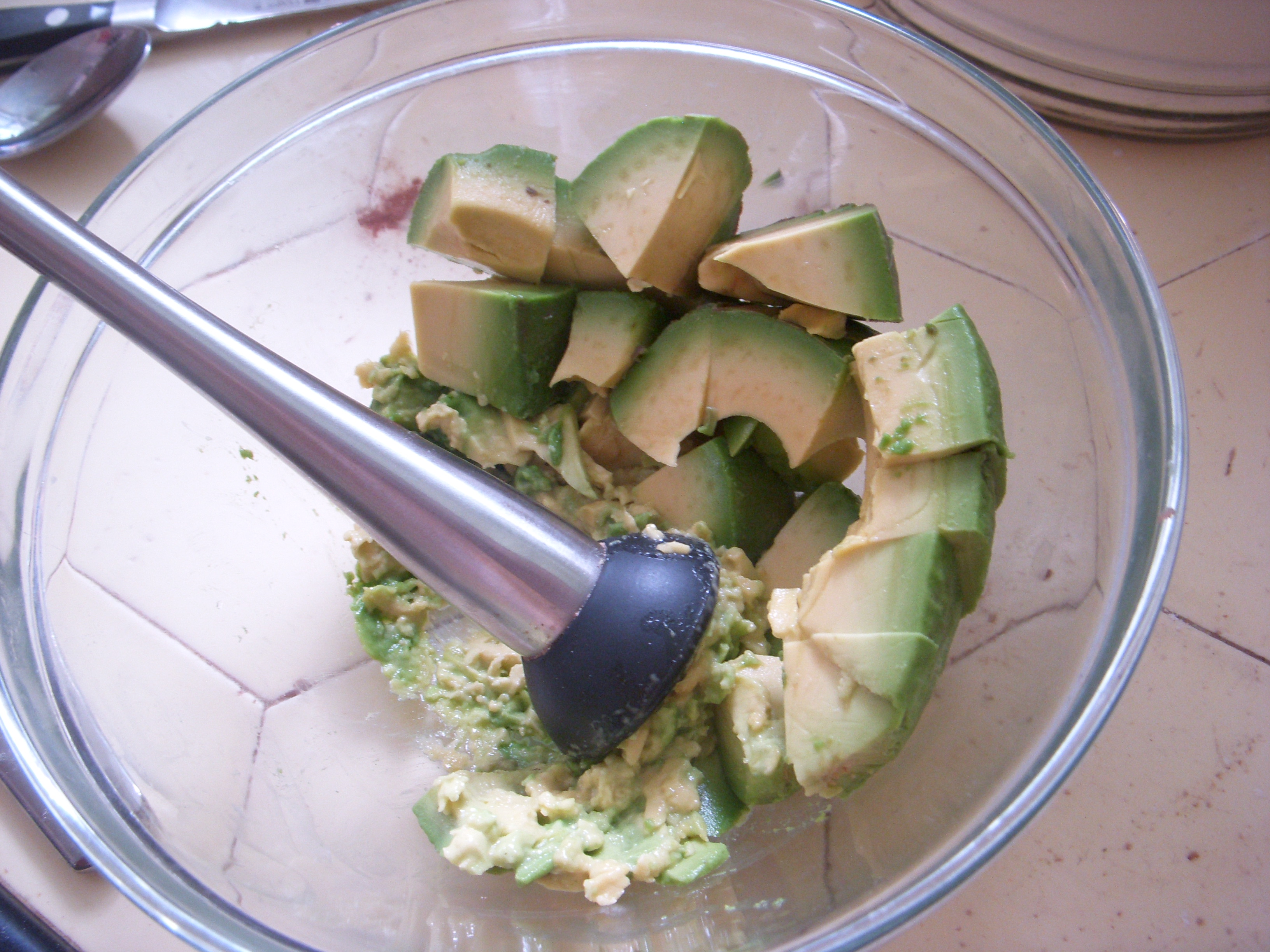 I know what you're thinking, most likely, because I thought all those things too. Really? I thought.  Wait – perfect! I thought. Or weird? I thought. Does it make the cake a weird color? I thought. And so on and so forth. And once your internal dialog about a recipe lasts over two minutes, you pretty much have to try it, so I bookmarked the recipe and moved on with a sense of accomplishment and finality.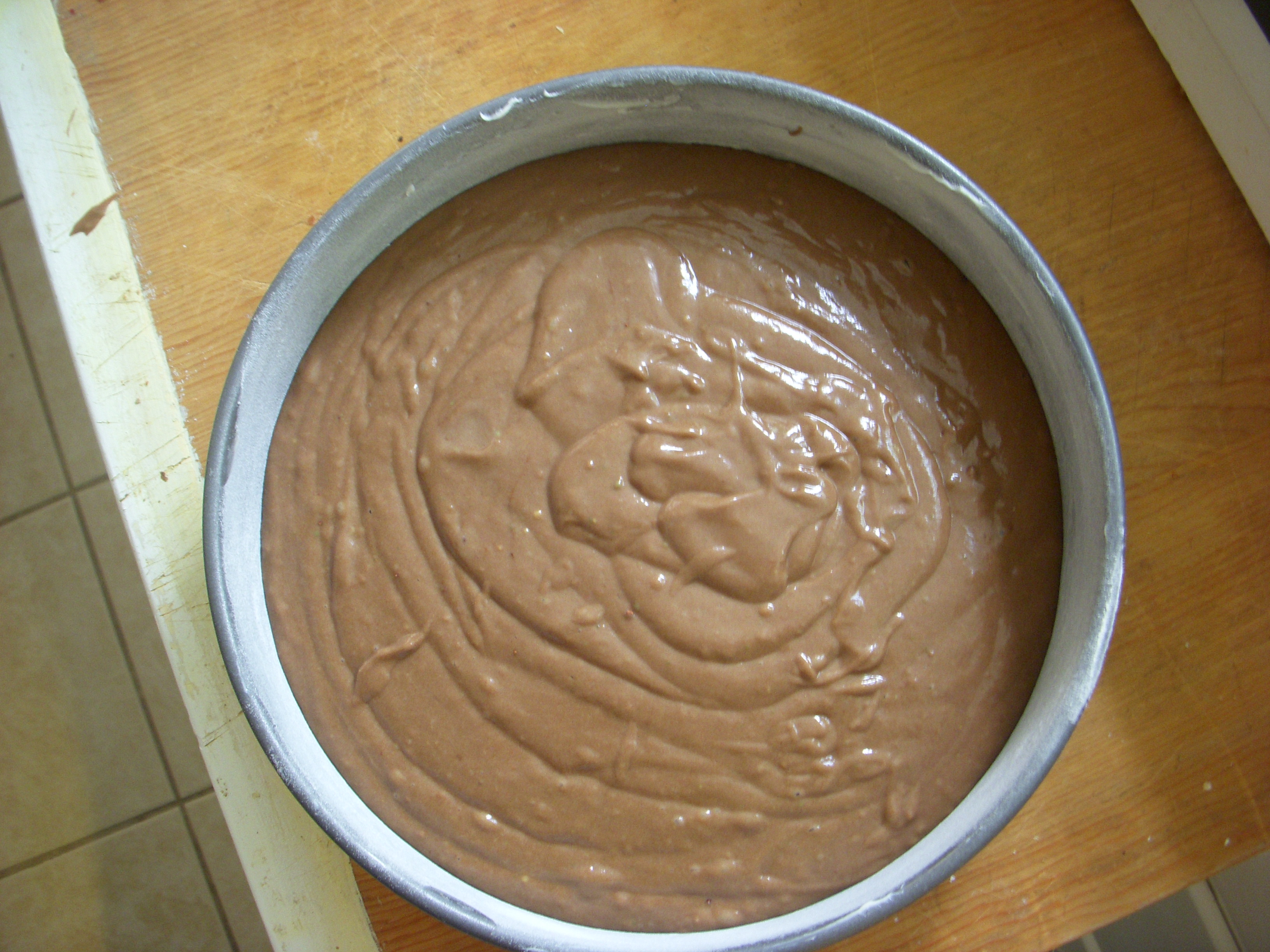 But then I remembered that a cake, especially of the birthday variety, has two very important components – cake, and frosting. I don't actually have a lot of positive experience making frostings – that's something for next year's list, I suppose – and was a bit nervous about finding a good vegan recipe, especially with all the lackluster options showing up as I searched and searched and searched online. But, finally, a photo of a vegan chocolate cupcake piled high with fluffy clouds of vegan "buttercream" stopped me in my tracks, and I knew I'd found the recipe I was looking for.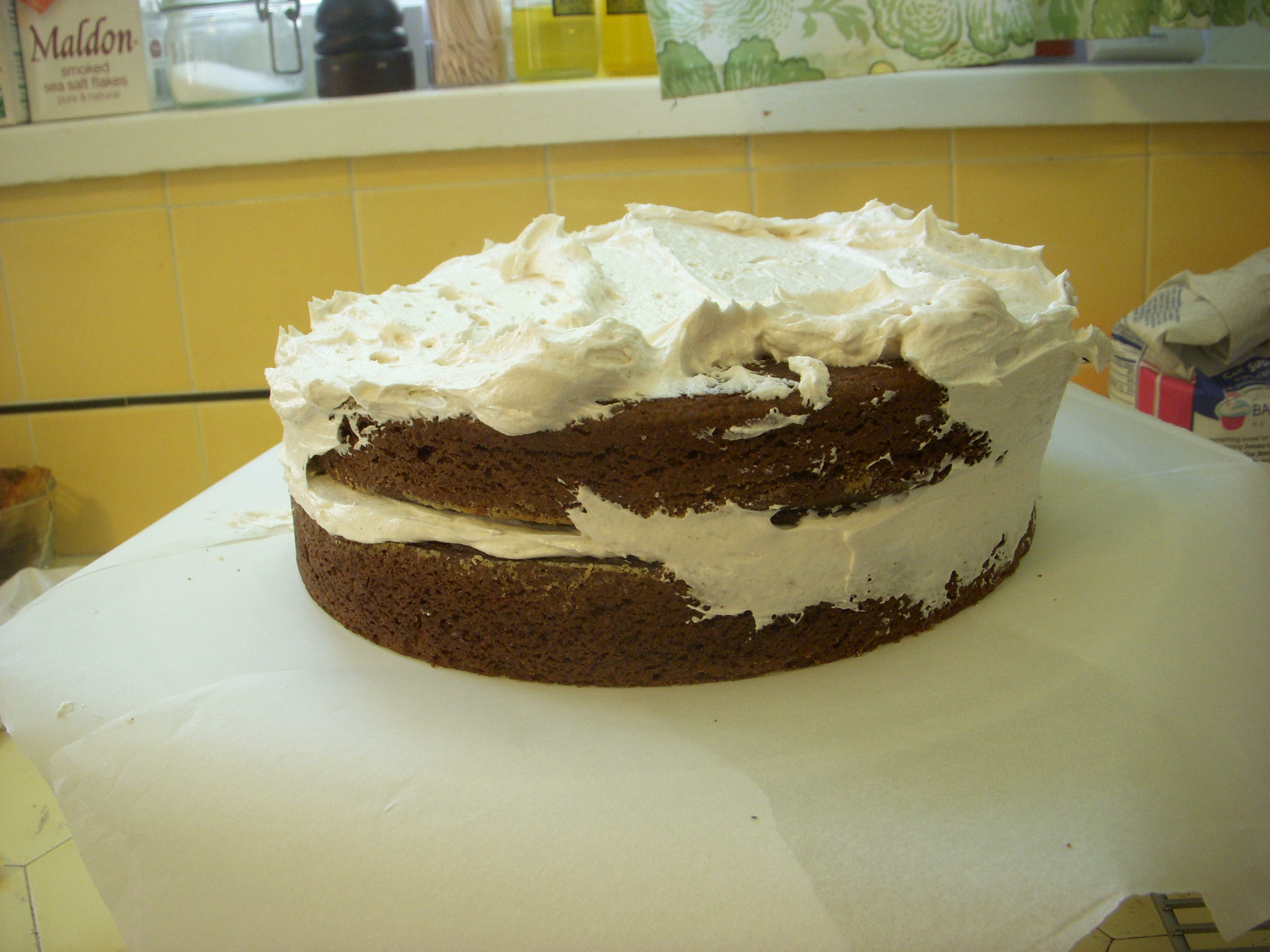 And this was definitely my most successful venture into vegan-friendly baking. It might be that now I actually know something about how to bake, or that I have a kitchen full of nice tools and equipment, or that I had some decent recipes from which to get started … but in any case, this cake was absolutely perfect for our little party last night. The cake was moist, fluffy, and perfectly chocolate, with the tiny bit of tang that comes from the addition vinegar (which reacts with the baking soda to help the cake rise) and that makes red velvet cake so good. The frosting was fluffy, creamy, and a tiny bit earthy/spicy with the addition of cinnamon (I couldn't pass up the opportunity to use some of my Extra Fancy Vietnamese Cinnamon, especially since this was part of a Mexican meal).  The cake was a bit gummier than you might want for cake in general, but for a vegan cake it was probably the best I've had.  It was light enough that we all had seconds (and continued picking at it as we sat around talking and laughing for another few hours after dinner) and didn't feel weighed down, like you might with normal cake. I'd say a success.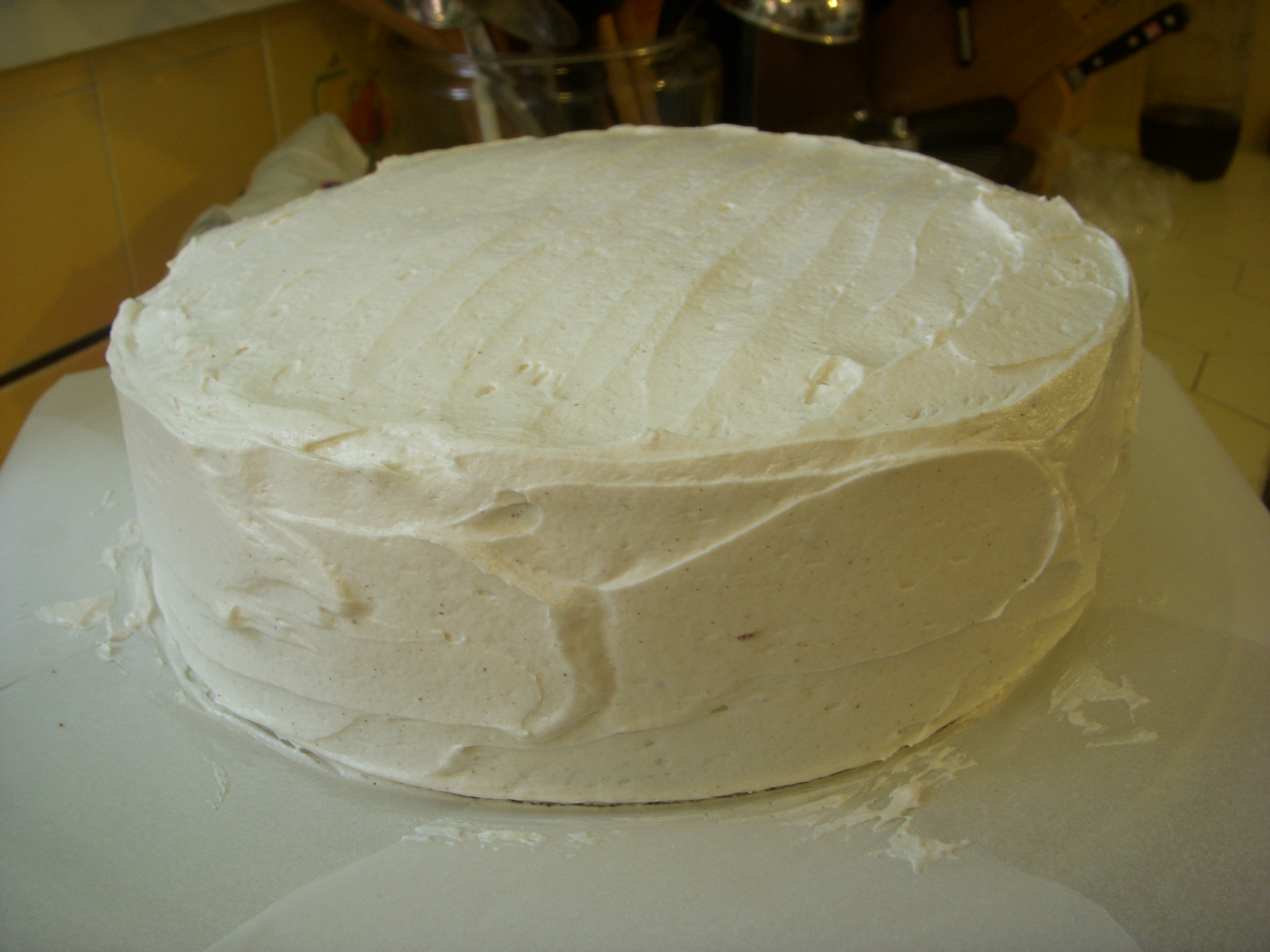 Now I just need to find more vegans in need of cake. Anyone?
Update: I made this cake for my vegan friend's birthday again this year, but instead of cinnamon added a few fresh blackberries into the frosting. The color was gorgeous, and the flavor went well with the chocolate cake.  Based on the juiciness of berries you add you may need to add a bit more sugar, but I was fine here.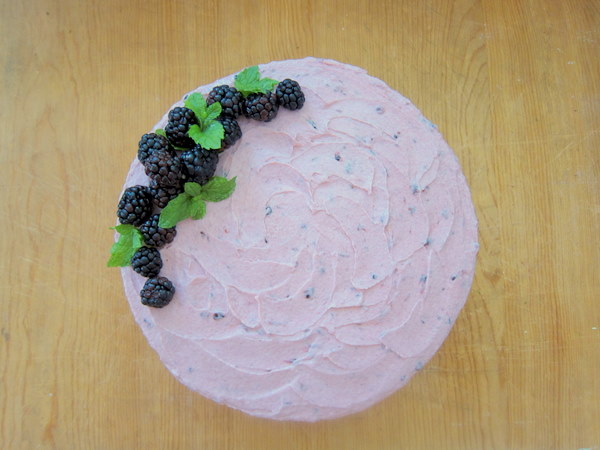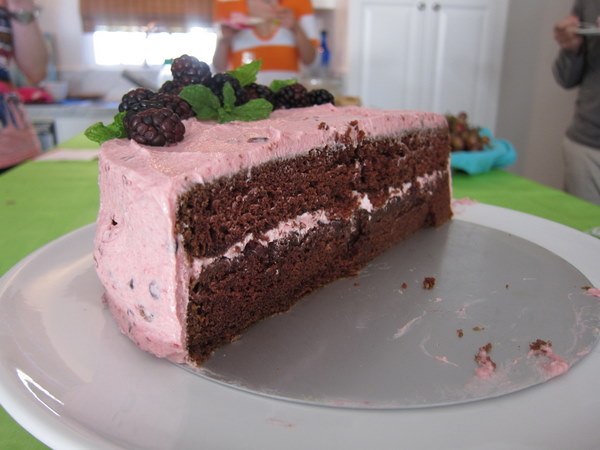 Vegan Chocolate Avocado Cake
Adapted slightly from Joy the Baker

3 cups flour, plus more for dusting pan
6 Tbsp. cocoa powder
1/2 tsp. salt
2 tsp. baking powder
2 tsp. baking soda
1/4 cup vegetable oil
1 medium avocado, well ripe, mashed heavily into as smooth a paste as you can
2 cups water
2 Tbsp. white vinegar
2 tsp. vanilla extract
2 cups granulated sugar

– Preheat oven to 350F. Butter and flour two cake pans (I used 8-inch rounds, but 9-inch rounds or two square pans or one 9×13 pan would work too).

– In a medium bowl, sift together all the dry ingredients except the sugar (flour, cocoa, salt, baking powder, baking soda).

– In a large bowl, mix together the wet ingredients – oil, avocado, water, vinegar, and vanilla. At this point all the little bits and pieces of avocado rose to the top, and I skimmed them off and pulsed them in our mini food processor. I probably could have avoided this by mashing the avocado in the processor/blender to begin with, or I could have just discarded these bits. There were definitely still 20 or so little avocado bits on the top of the liquid, but that was fine. I did see one or two tiny little green specks in the cake when it was done, but that didn't change the consistency or taste.

– Add the sugar to the wet ingredients and stir.

– Pour the dry ingredients into the wet (all at once) and beat with a whisk until smooth.

– Pour batter into prepared pans. Bake for 30-40 minutes, just until a toothpick inserted into the middle comes out clean. I started checking every two minutes or so after 25 minutes had passed.

– Let the cakes cool in the pan for 10 minutes before turning them out onto wire racks to cool completely before frosting.

– As with most layer cakes, I used our serrated bread knife to slice off the "dome" on top of each layer, making it flatter and more easily layered. I never slice off enough to make them completely flat, but even a 1/4″ off the top makes a world of difference (and gives you some bits of cake to snack on, with frosting if desired, so you can see what it will all taste like in the end).
Vanilla-cinnamon vegan "buttercream" frosting
Slightly adapted from chow.com

1/2 cup shortening (preferably a nonhydrogenated, more natural kind)
1/2 cup vegan margarine (again, preferably nonhydrogenated – I love Earth Balance for baking)
3 cups powdered sugar
1/4 cup plain soymilk (vanilla would probably work just fine here too)
1 1/2 tsp. vanilla extract
4 hearty shakes of powdered cinnamon (1/2-1 tsp.)

– With a hand mixer or stand mixer, beat the shortening and margarine together until soft and fluffy – about 3 minutes.

– Carefully add the sugar and beat for another 3 minutes, starting the mixer on lower speeds until the sugar is somewhat incorporated (otherwise you'll likely experience exploding puffs of powdered sugar projecting out of the bowl and onto every surface on your person and in your kitchen).

– Add the soy milk and vanilla and beat for another minute or two. Add the cinnamon and beat until combined.

– The frosting will be quite soft and fluffy.  I refrigerated it for about 15 minutes before frosting the cake just to see if it would become any more firm and it didn't – but that was fine, it was more just for curiosity's sake. Because it was so soft and fluffy it was really quite easy to work with, and frosting the cake was a breeze!