PUPUSAS!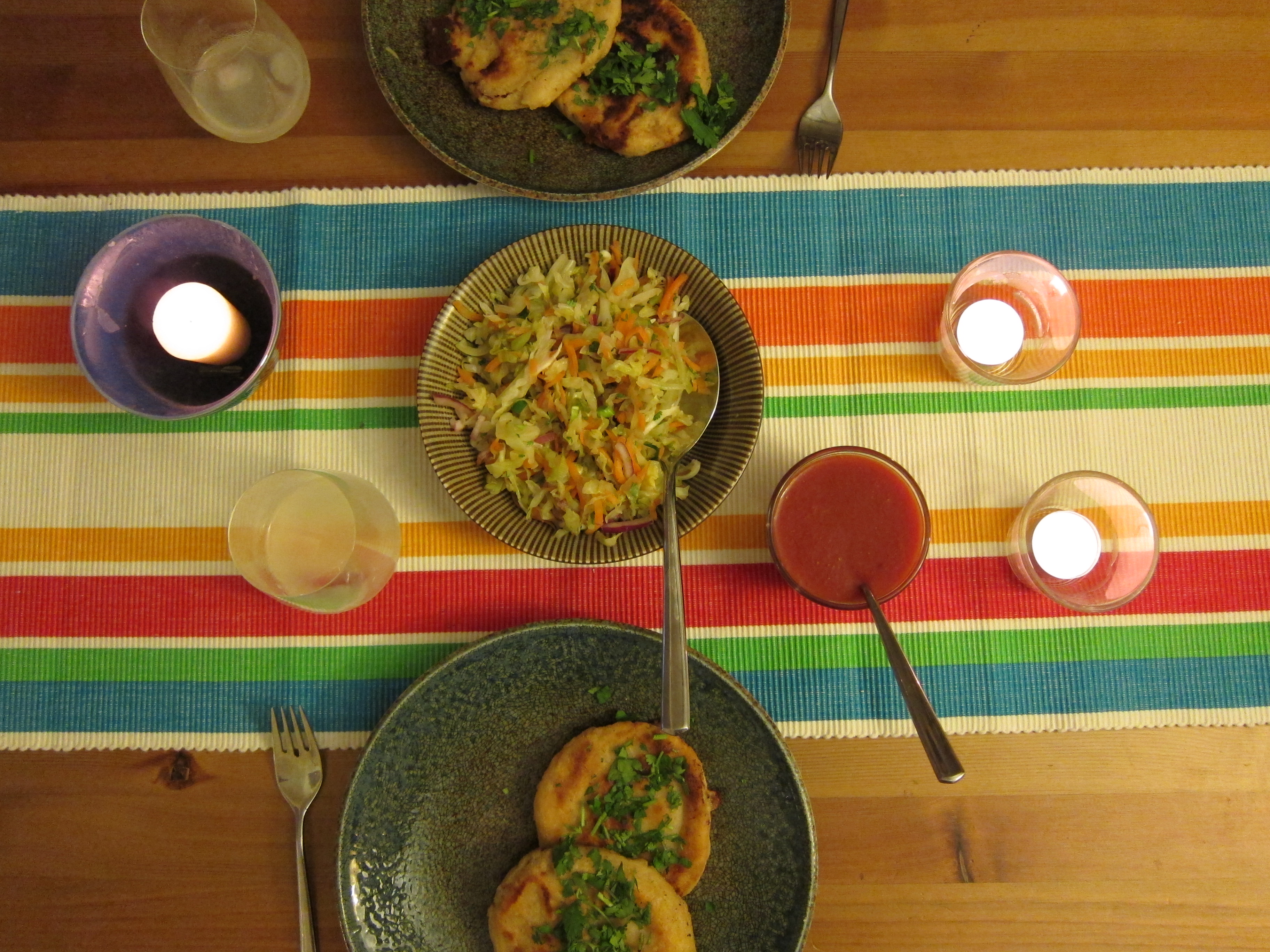 When I type "pupusas" into my phone it auto-corrects to "PUPUSAS!"
I like to think this is because my phone really gets me and how I feel about pupusas, but really it's only because the first time I typed it into my phone it was as "PUPUSAS!," which still says something.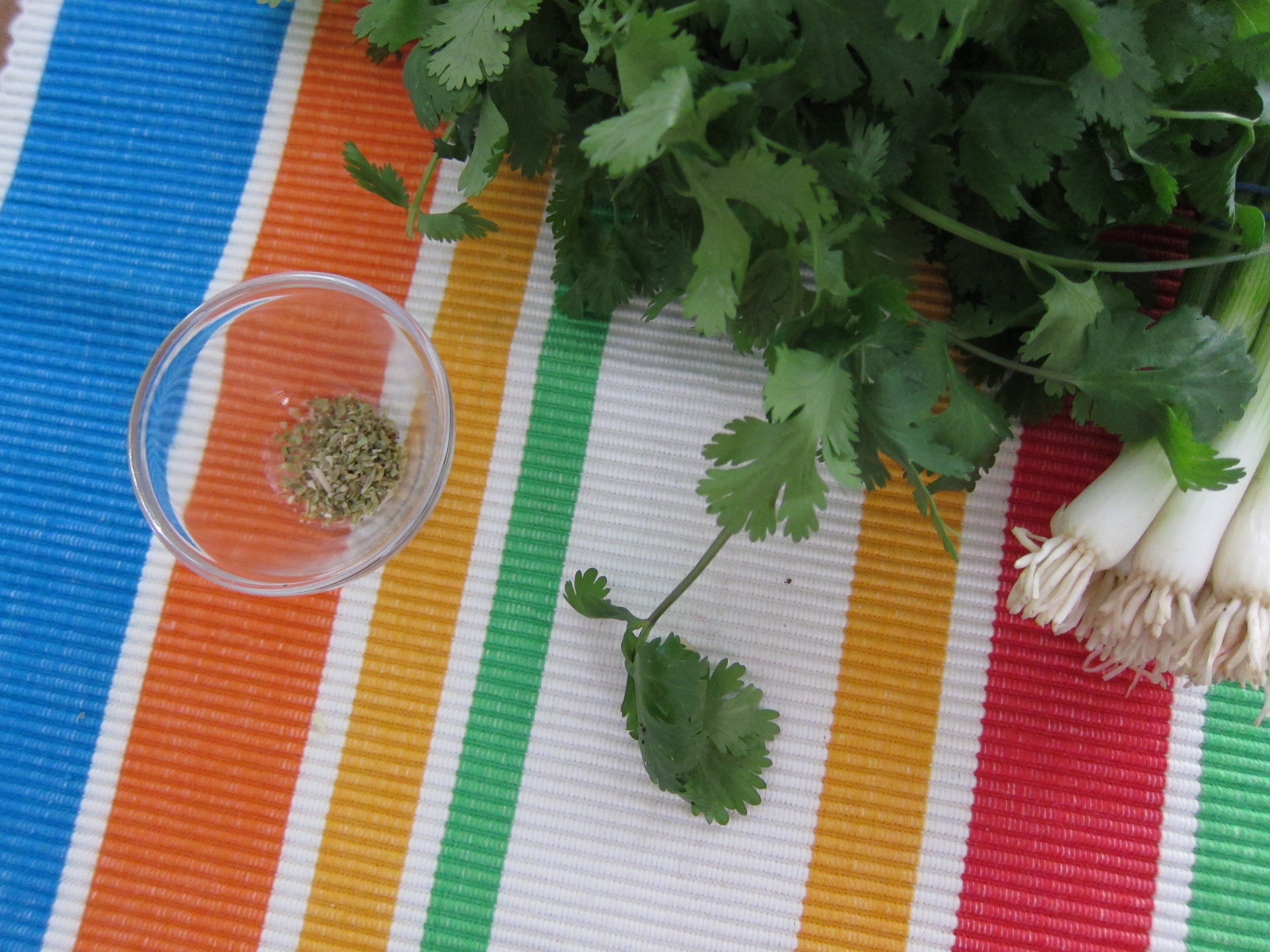 This is actually the second (well, second and third, considering we made them two nights in a row) time we've made pupusas at home. The first time was less than a complete success, due mainly to my inability to use a reasonable amount of filling for almost anything (see: tacos and burritos that frequently end up requiring the use of a fork and knife).  A light hand is important here, with 2-3 Tablespoons of filling at most for a 4-5 inch pupusa.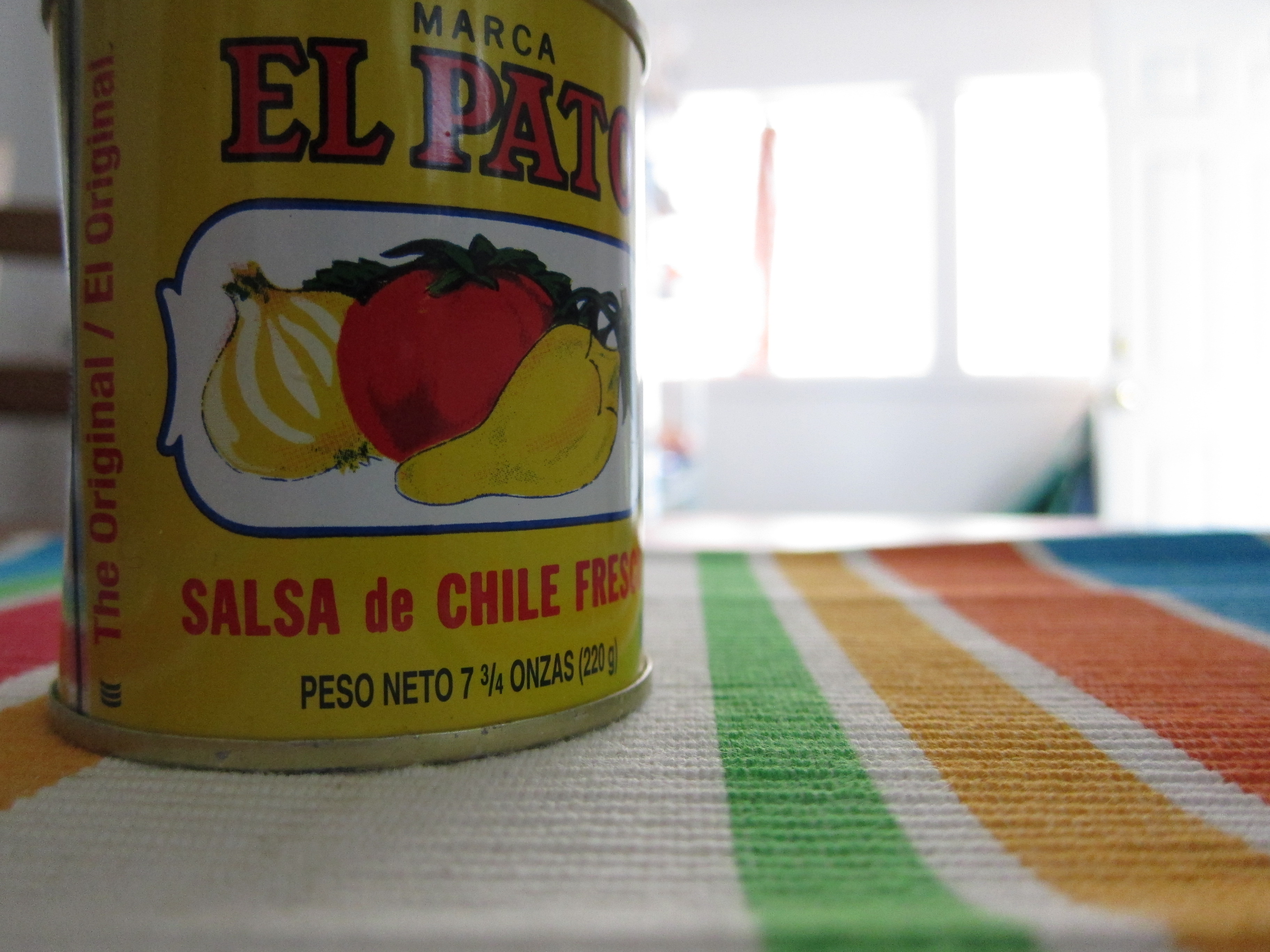 Wait. I should probably back up. Do you know about pupusas? You should, but do you? I didn't until about five years ago, and they're still pretty uncommon even around here.
Pupusas are a traditional food of El Salvador – a thick, hand-pressed corn tortilla filled with some combination of cheese, refried beans, pork, and/or loroco (a squash blossom-like flower bud that grows in Central America), then pan fried or cooked on a griddle. They're similar to the Venezuelan arepa (which is filled after cooking) or the Mexican gordita (usually open at one end), but are always filled and completely enclosed with the corn/masa dough before cooking.

And while this alone is a pretty good start, pupusas are usually served with curtido, a crunchy vinegar-dressed slaw of cabbage, carrots, and red onion, and some type of tomato sauce similar to a ranchero sauce or smooth red salsa.  I'm not sure what type of eating technique is traditional, so I do what I've seen done around me – a small piece of pupusa ripped off, wrapped around some curtido and drizzled with sauce. The warm, soft, gooey pupusa together with the tangy, cool, crunch of the slaw and the heat of the sauce is an absolutely perfect combination.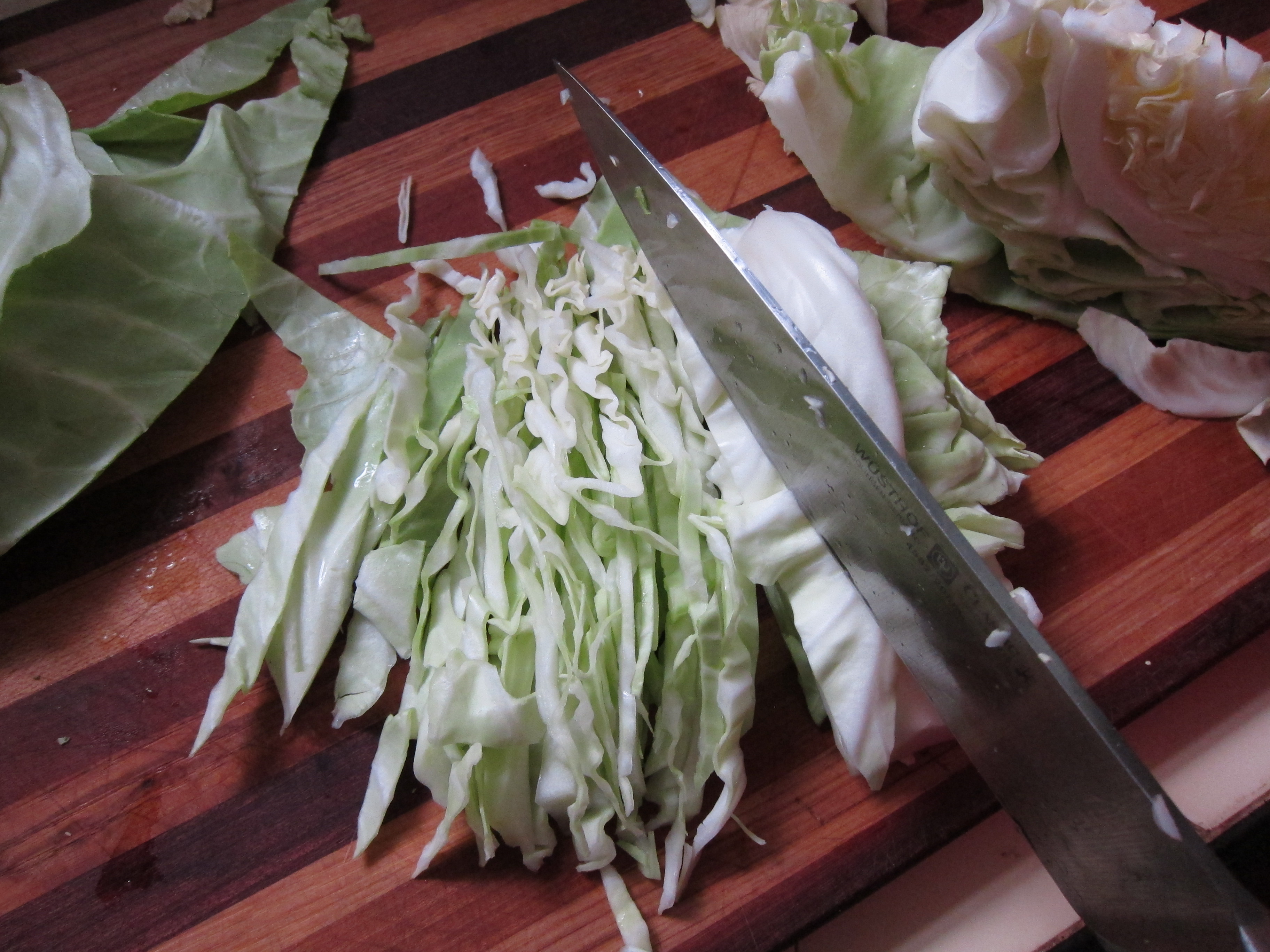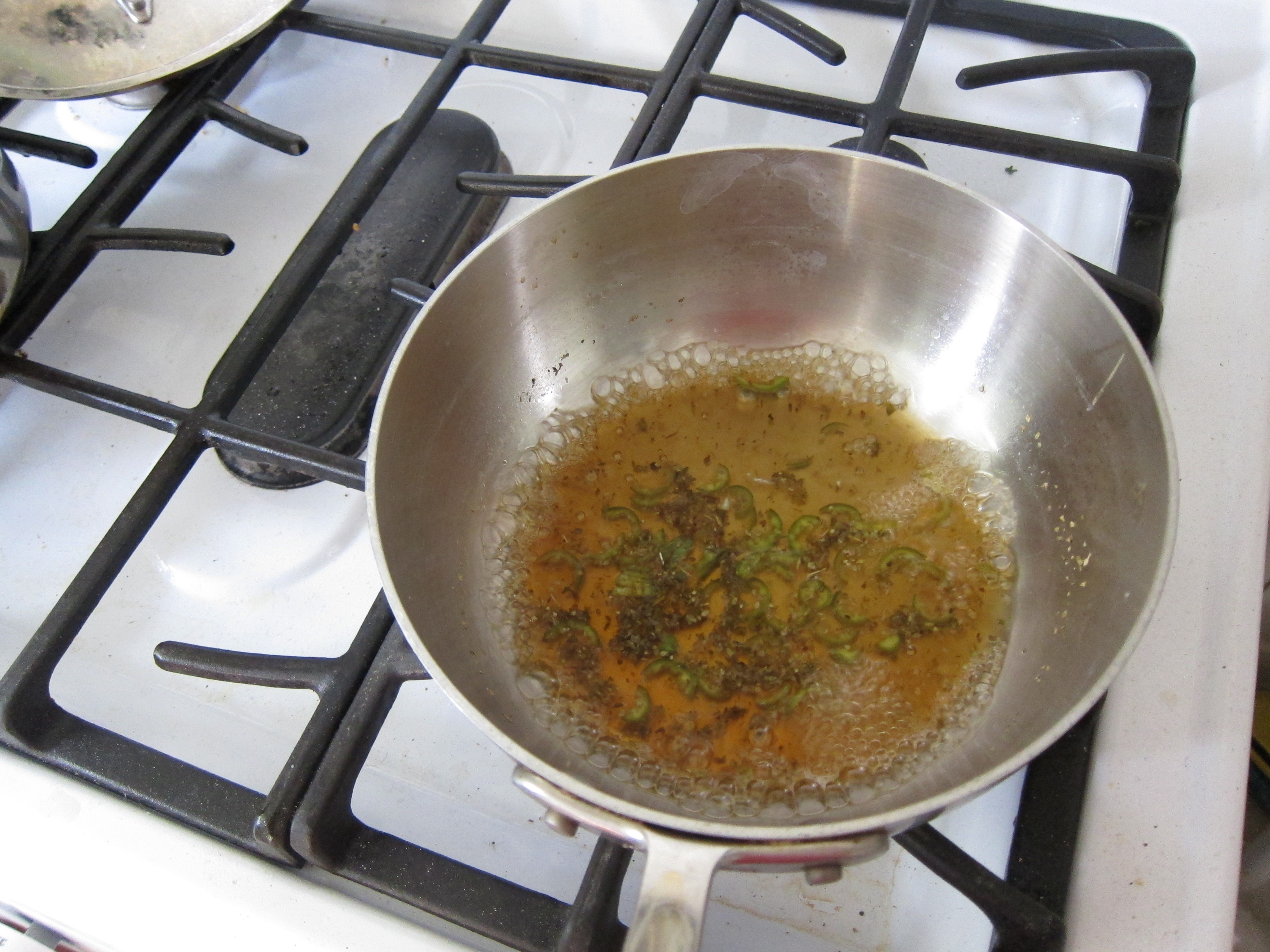 As the pupusas cook, the filling melts and the outside crisps – and if you're lucky, some of the cheese will ooze out and crisp along the edge.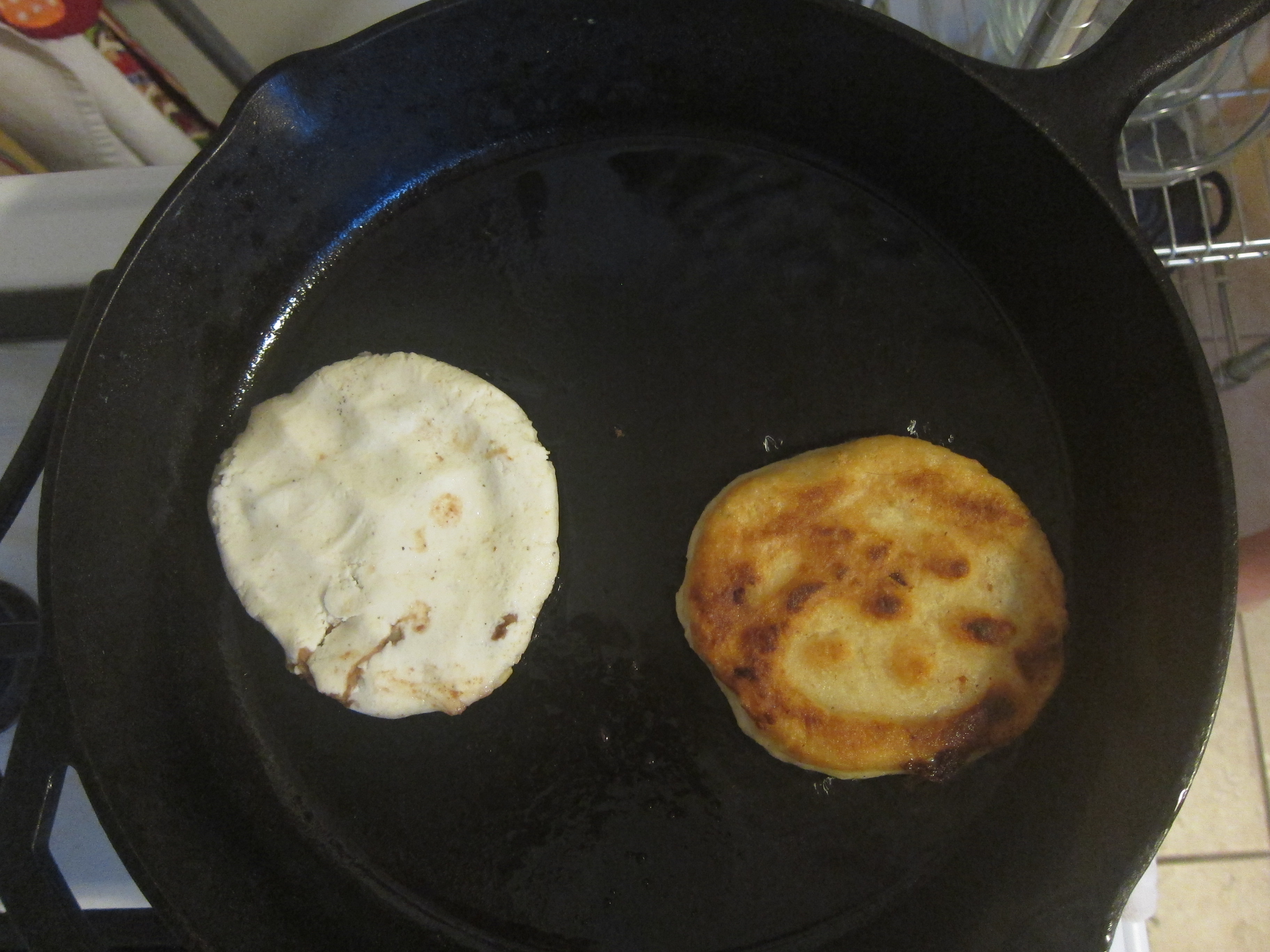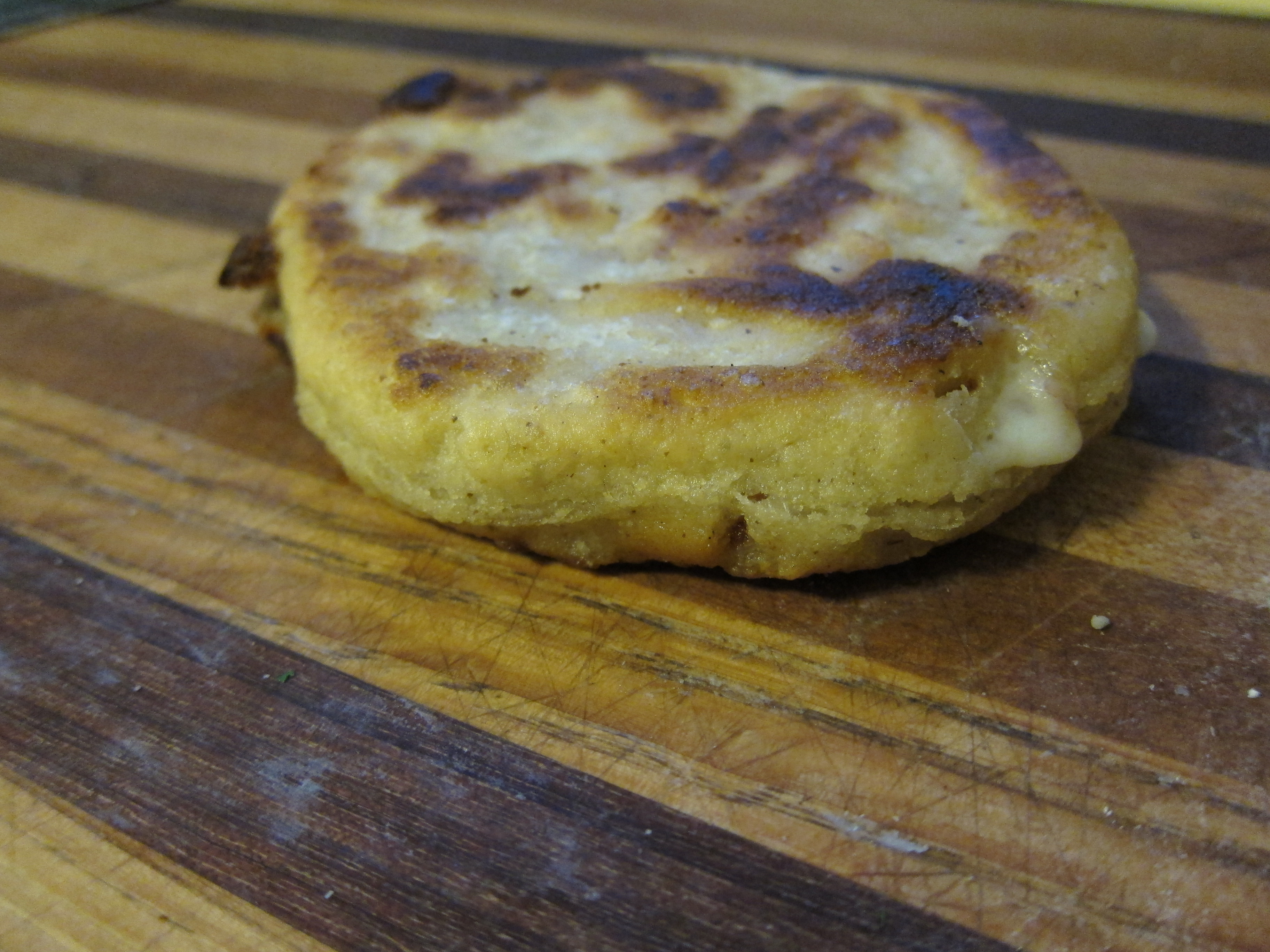 Because we were trying to get the basic technique down, we went a little easier on ourselves this time – we bought pre-prepared masa from the Mexican market, picked up a can of refried beans, and bought a little can of El Pato spicy tomato sauce instead of making our own ranchero sauce.  Now that I feel like we've got the basics down, I'll be interested to make more of the components from scratch – especially chicharrón, a typical pupusa filling of soft, slow-cooked pork (not to be confused with the pork rind type of chicharrón).  Refried beans and masa dough are also pretty simple, but you don't have to if you don't want to! Ahhh, the convenience.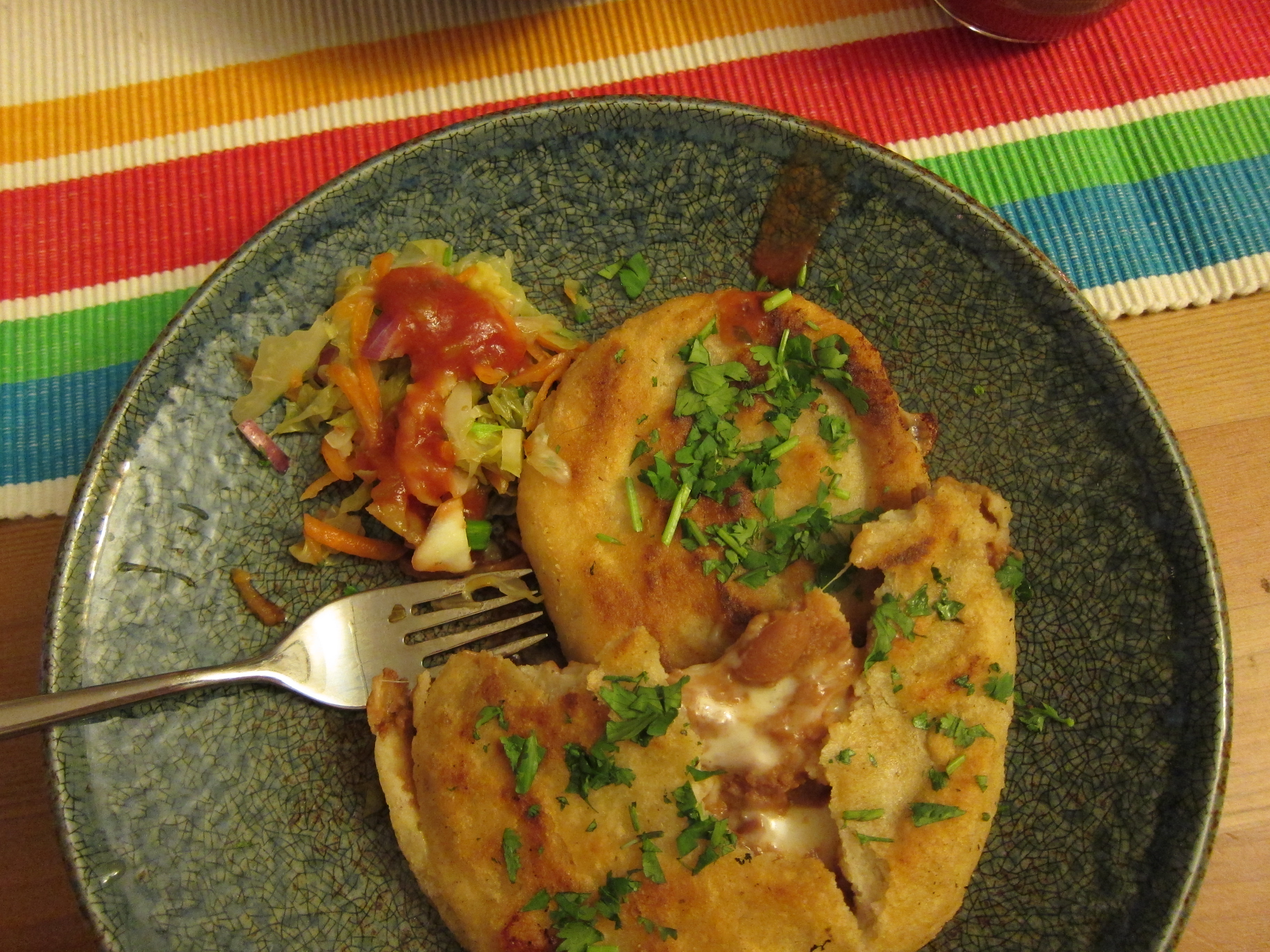 Pupusas

Makes 12 4-5 inch pupusas – you can easily made fewer at a time, just using less masa and filling. It's hard to pare down the curtido recipe, but it will keep in the fridge for at least a few days!

3 cups masa de harina and 1 1/2 to 2 cups water -OR- 4 cups pre-made masa dough
2 tsp. ground cumin
1 tsp. salt

For filling, we used:

About 3/4 of a can of refried beans, warmed ahead of time to soften
About 1/4 lb. Oaxacan cheese, cut into small pieces. We purchased this at a Mexican grocery store – it's similar to mozarella and melts well. You could use any of a variety of Mexican/Hispanic cheeses that melt well, or even just jack cheese.

For serving:

Curtido (see recipe below)
Tomato/ranchero sauce: Canned ranchero sauce or Mexican tomato sauce will work well, or even a thick hot sauce.  Serving with just curtido would be fine as well.

– If starting with dry masa, mix together the flour, cumin, and salt. Add the water and mix well, adding more water as necessary so the dough is moist enough to form a ball but isn't sticky. To clarify: the dough should be feel dry on the outside, but be fairly loose – easily malleable and sticks together well but can also easily leave bits behind on your hand or a surface.  You can see from the photos above how the dough is fairly dry and smooth on the outside, and how it's dry enough to crack and rip.  Masa feels quite different than most doughs because of the lack of gluten, and it can take a bit of getting used to.

– If starting with pre-made masa, use your hands to work the cumin and salt into the dough.

– Separate the dough into pieces for forming into pupusas rolled into balls, ours were a bit smaller than baseballs.

– Press your piece of dough flat, about 1/4-inch thick, being careful to press from both sides so it doesn't stick entirely to the surface or your hand. Throughout the process I found a bench scraper (see photos above) to be very helpful in removing the dough from the cutting board – I could work it on the cutting board surface without worry, then work the bench scraper underneath the dough to remove it with little trouble.  I also found it helpful to press the edges of the dough thinner than the middle, which will come in handy during the next step …

– Place filling on the center of the dough – we found that about 1-2 Tbsp. of beans and 1-2 Tbsp. of cheese was about the perfect amount – and fold the edges of the dough over to enclose the filling. Here's where the thinner edges come in handy, otherwise you can end up with lots of dough on the top where the edges fold together.

– This is somewhat of the tricky part – gently press the dough and filling and work with your hands to about 1/2-3/4 inches thick, being careful that the filling doesn't come out. Here's where masa's texture comes in very handy, because it's easy to pinch off areas of thicker dough and use those to cover up any rips or holes that might form.

– As you're preparing your pupusas, coat a large skillet with vegetable oil and heat over medium.  When heated, place the pupusas in the pan and cook until browned (approximately 2-4 minutes on each side). Cheese may ooze out in a place or two, which is perfectly fine.

Curtido
Adapted from Duo Dishes

Makes more than enough curtido for the pupusa recipe above, and easily halved.


1 cup apple cider vinegar
2 Tbsp. water
2 tsp. brown sugar
1 Tbsp. salt
1 tsp. dried oregano
1 serrano or jalapeno pepper, seeded and sliced thinly
1 medium green cabbage, cored and shredded
1/2 red onion, diced
2 medium carrots, shredded/grated
About 1/2 cup chopped cilantro

– Pour the vinegar, water, sugar, salt, oregano, and pepper into a saucepan and heat over medium, bringing to a low boil and dissolving the sugar and salt. Set aside.

– In a large pot, boil water and add cabbage; cook for 3-5 minutes then drain and put cabbage in ice water. Drain again and shake to remove some excess water, but leave somewhat wet.

– In a large bowl, mix together the cabbage, onion, carrots, cilantro, and vinegar mixture. Toss and chill for at least two hours, preferably overnight.