A bit of broccoli rabe detox, perhaps?
This is a pretty common occurrence in my life:
Go out of town. See lots of people. Schedule every breakfast, lunch, mid-afternoon snack, dinner, and post-dinner drinks time. Eat out approximately six times per day.
Pants get anxious.
Don't exercise nearly as much as at home.
Pants give warning.
Bring tons of food on return journey, because there were so many bakeries/restaurants/delis/grocery stores that couldn't fit in ridiculous vacation schedule.
Pants begin routine of punishment, particularly when in contact with a very small, hot airplane seat. Discomfort ensues.
Get home. Experience separation anxiety from kitchen; bake at least three things in the first 36 hours.
Pants stage a coup; jersey skirts and yoga pants triumph and reign over life for a week or so.
Throw a wedding weekend into that mix – full of celebratory meals and drinks with friends and some of the most amazing cake I've ever had – and things are even more out of control. So that's why I came home craving foods in various shades of green and beverages in various states of not alcohol. (And by that I really mean one particular state of not alcohol, that being: 100% not alcohol.)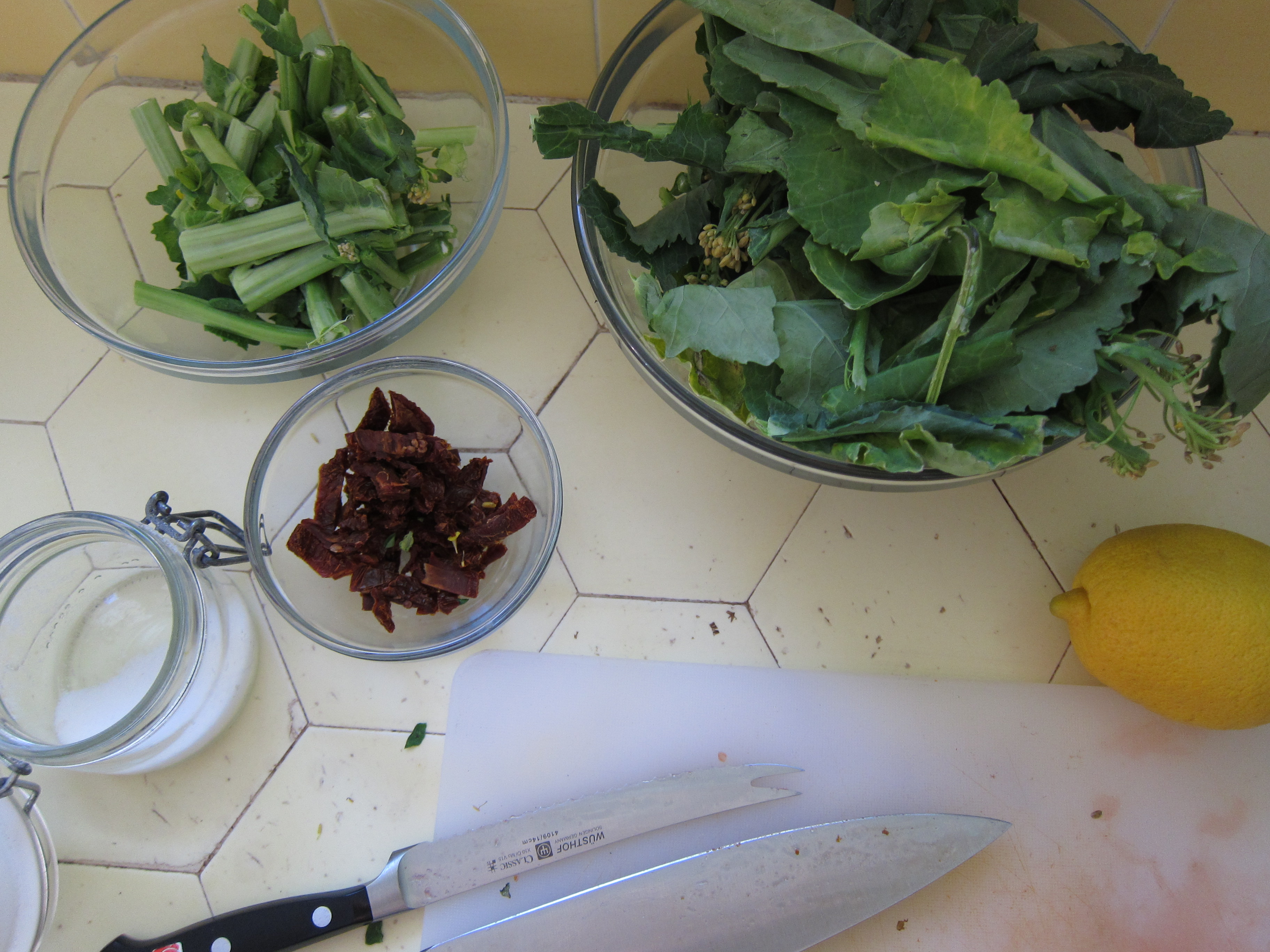 And so on what felt somehow like our first night of summer at home, last night we sat on the front porch and tucked into an improvised plate of pasta with spicy, garlicy broccoli rabe and the year's first tomato salad.  Balance was restored, if just a bit, as we prepare for a lengthened, intensified two weeks of the above series of events (schnitzel and gruener weltner and sacher torte, I'm looking at you).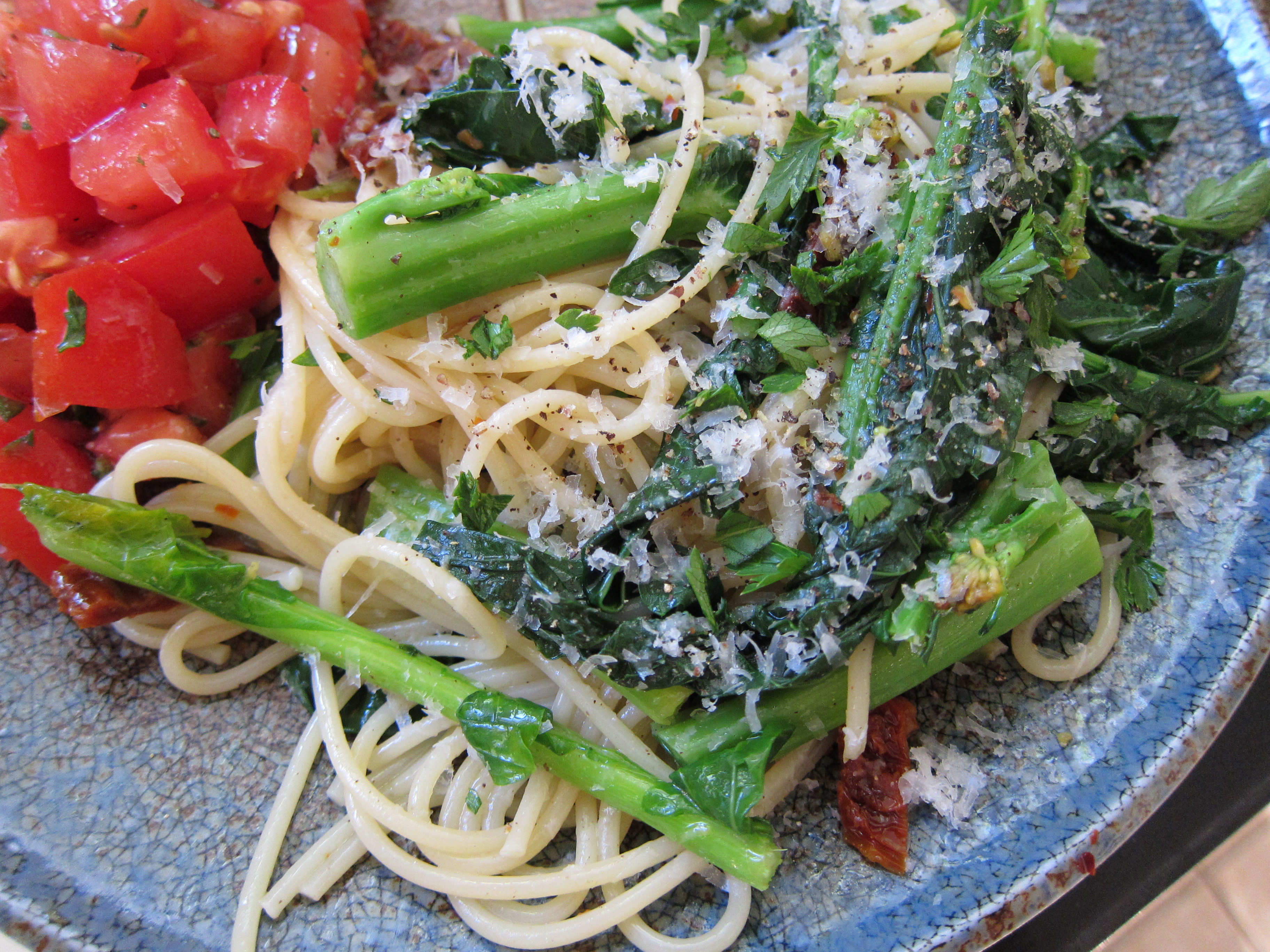 Spaghetti with broccoli rabe, garlic, and red pepper
Serves 2 as a main dish, 4 as a side

Two moderate servings spaghetti noodles
1 medium to large bunch of broccoli rabe, ends trimmed
Olive oil
2 tsp. crushed dried red pepper – I used my new very hot crushed red pepper flakes from Penzey's, which smell incredible and taste even better
2 cloves garlic, minced
1/4 cup (or so) sun-dried tomatoes, sliced or cut into small pieces
Salt and pepper
Parmesan or Pecorino Romano, grated, for topping (optional)

– Separate thick broccoli rabe stems from the rest of the broccoli rabe and cut both piles into 1-2″ pieces. Fill a medium pot 2/3 full of water and bring to a boil.

– Coat the bottom of a large sauce pan with oil over medium heat. When hot, add garlic and red pepper. Cook until fragrant, reducing heat if the garlic starts to brown.

– When the water is boiling, briefly submerge the broccoli rabe. Start with the pile of thick stems 1 or 2 minutes before the leaves and thinner stems, boiling them together for another 2 minutes or so.

– Remove broccoli from the water with tongs, shaking over the pot to remove excess water, and add to the sauce pan (be careful of splattering the may occur when the wet broccoli hits the hot oil). Keep the broccoli water boiling, and add the pasta to the pot to cook as directed.

– Use tongs to toss broccoli with the oil, and continue to cook over medium heat. When broccoli tastes almost done, add sun-dried tomatoes and salt and pepper to taste and continue to cook until broccoli reaches desired tenderness.  If it cooks faster than the pasta, turn down the temperature.

– Drain the pasta when done, reserving at least 1/2 cup of the cooking water.

– Toss pasta and broccoli mixture together with 1 Tbsp. or so of olive oil, adding some of the reserved pasta cooking water as necessary to moisten the pasta. Salt and pepper to taste.

– Top with cheese, if desired.