Quest-worthy chewy chocolate brownies
by Bowen Appétit on July 24, 2011
I've been on a valiant quest – full of risks and moments of false hope and failures and times of despair.
And success.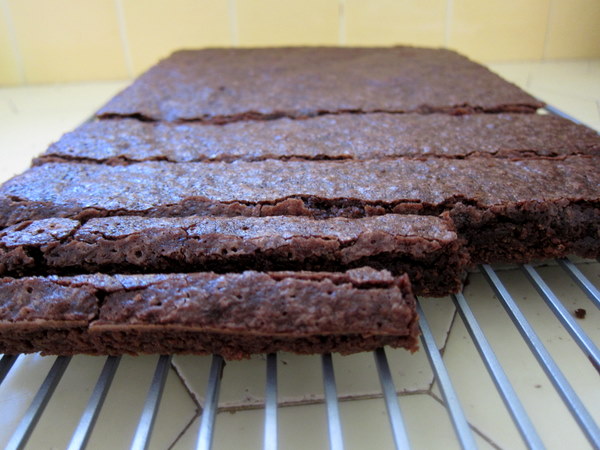 What you don't see here are the four failed batches of brownies that preceded these.
You see, my valiant quest has been about brownies. I'm actually not a huge brownie person – sure, one every now and again is pretty satisfying, but rarely does a specimen meet enough of my preferences to make me choose it over a cookie, cupcake, or other option. I want a brownie that is not too cakey, not too dense, not so chocolatey that the serving size is miniscule, reliably good and straight-forward, unfussy in technique, and with that perfect box-mix chewy texture (you can't deny it – the texture of a box-mix brownie is pretty supreme).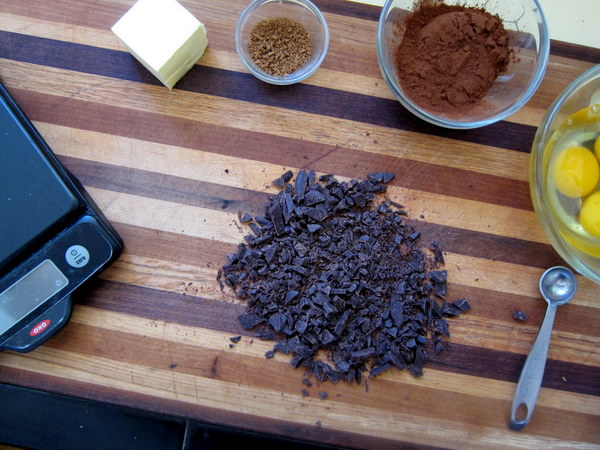 Funny and relevant story: one time my grandmother (you know, the one who has for decades made a living of baking and cooking) went to a real estate open house, and ate a brownie or two off a plate offered in the front foyer.  She was so impressed by these bars – chewy, substantial, and satisfying without being too intensely chocolatey – that later in the day she drove back to the house to ask for the recipe.  The homeowner went into the kitchen and brought back with him the secret to his success – an empty Betty Crocker brownie mix box.
So I chose four recipes from our cookbook collection, as different in technique as I could find.  One specified whipping egg whites and folding them into the batter; one used ultra-fine baker's sugar to absorb more readily into the batter and was incredibly fussy about not overworking; one was tested and experimented heavily to find the perfect mix of fats and saturation points to produce that ideal chewy texture; one was as close as I could find to a basic, straight-forward, old-fashioned American brownie recipe.
And all failed. Not to say that it was entirely their fault; I readily admit to the possibility of user error. But remember that one of my requirements is a fairly reliable, unfussy recipe – something that can turn out a decent product with some reasonable margin of error. One batch wouldn't set in the center despite baking for twice as long as required in the recipe; one batch was so cakey and dry it was more desert than dessert; one batch that required three separate forms of chocolate (powder, melted, chunks) and was so incredibly rich and chocolatey that I could only eat one 1″ square at a time.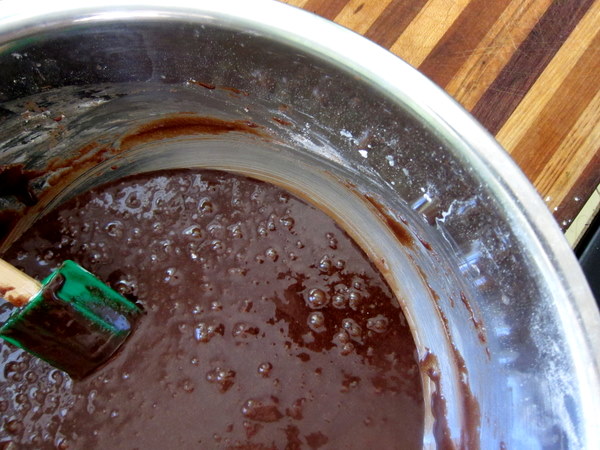 So I tested a little more, and think I've come up with something good. Scratch that – I know I've come up with something good. It all comes together in one bowl with little more than a whisk and rubber spatula, and there are no intimidating warnings or over-mixing or over-baking.
And they're versatile – good out of the pan, as a base for ice cream, or as a little post-breakfast snack. And probably as part of a picnic after a hike, but I can't say for sure until later today.
Enjoy!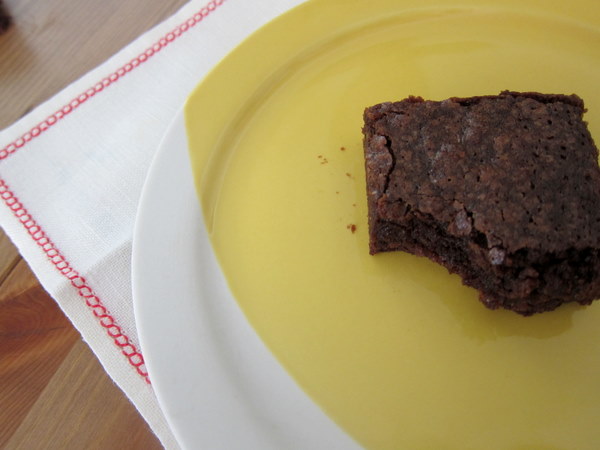 Quest-worthy chewy chocolate brownies
Adapted from Cook's Illustrated, March/April 2010

1/3 cup (1 1/4 oz.) cocoa powder (Dutch-process preferably – it has a better chocolate taste – but either kind is fine)
1 tsp. instant espresso (optional, and double this if you want a slight coffee taste in your brownies, which is fantastic)
2/3 cup boiling water
2 oz. unsweetened chocolate, finely chopped
4 Tbsp. (2 oz., 1/2 stick) unsalted butter, melted
2/3 cup vegetable oil
2 large eggs
2 large egg yolks
2 tsp. vanilla extract
2 2/3 cups (18 2/3 oz.) sugar
1 3/4 cups (8 oz.)  all-purpose flour
3/4 tsp. salt
Optional flavoring: 1/2 tsp. mint extract, 1/2 tsp. coconut extract, zest of 1 orange, or other such flavors would be great in this recipe.

– Preheat oven to 350F. Line a 9×13 baking pan with foil, leaving enough hangover on the edge that you can use this "sling" to pull the baked brownies out of the pan after baking (the brownies are fairly sticky on the bottom even though they're firm, so it might be difficult to get them out of the pan otherwise). Spray the foil with nonstick cooking spray, if you have it (I forgot this step and it was still okay).

– Whisk together cocoa powder, espresso, and boiling water until smooth. Add chopped chocolate and whisk until melted.

– Whisk in melted butter and oil (it's okay if the mixture doesn't get totally smooth or homogenous here).

– Whisk in eggs, yolks, vanilla, and other optional flavoring (if using).

– Whisk in sugar until fully incorporated.

– Add flour and salt to the bowl and mix in with a rubber spatula.

– Scrape batter into the pan and bake about 28-30 minutes, or until a toothpick inserted between the edge and the center (so about 1/4 of the way in across the entire pan) comes out with a few moist crumbs attached.

– Transfer the entire pan to a wire rack to cool 1-2 hours, then take the brownies out of the pan with the foil "sling" and return to rack until entirely cool.

– You don't have to do this, but I flipped the brownies and sling upside down on a baking sheet to remove the foil (then flipped them right side up again on a rack).  To do this flipping, I sandwiched the brownies between the rack and sheet and held on to both of them while I flipped it over.