Okra, corn, and chili "fork stew"
One of the best things about it not really being summer anymore is that late summer veggies are finally at their peak. That shouldn't make sense, but it does, really, when you live in Southern California. I know I just wrote about how summer is over, but the temperature meter in my car will tell you that it is definitely (definitely) still summer here, at least as far as the weather is concerned. So it makes sense that tomatoes are at their peak and that massive royal purple eggplants pile the tables at the market.  I'm seeing persimmons, and okra, and melons, and grapes, and chilies, and I feel like I'm eating out of a box of Crayola markers – not the classic ROYGBIV pack, but the Bold pack, full of jewel tones. Remember those?
Soon everything will be the browns and dark forest greens (and maybe a little orange if we're lucky) of winter, but for now I'll revel in a bit of this: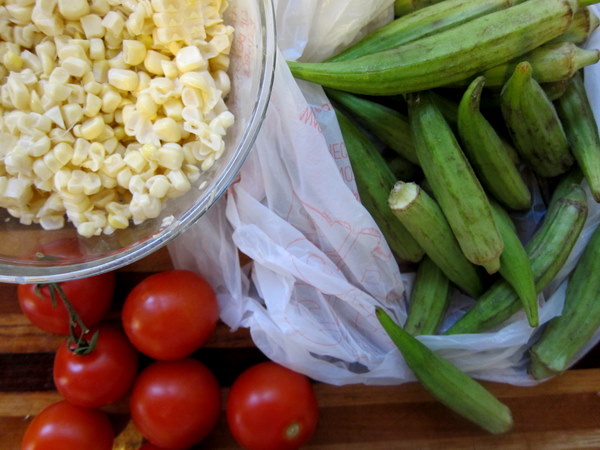 And I've been doing this thing lately where I get a vision of some food item – complete with ingredients and details – and am not satisfied until it is in my kitchen and ready to eat.  Sometimes it's exactly or similar to something I've made before; sometimes it's something I've had at a restaurant or bakery; and sometimes it comes out of nowhere (like my birthday dinner).
At the market last weekend I saw a big pile of okra and it gave me a vision.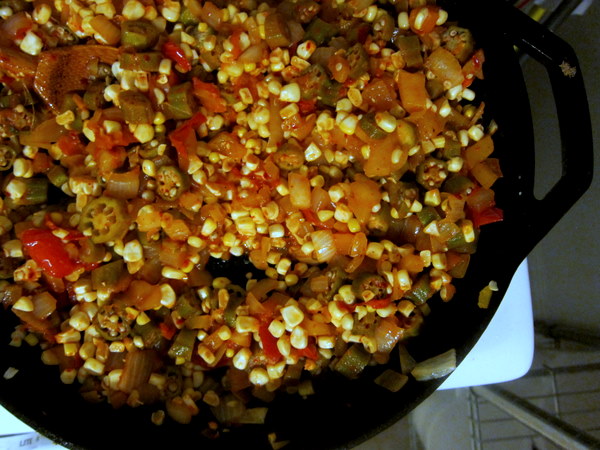 We first made this dish about a year ago, when we decided to figure out what the heck to do with okra. I hadn't thought about it since, but that morning at the market it was in my sights.
Have you ever cooked with okra? It is one weird, slimy vegetable. Wikipedia tells me it is mucilaginous, which is a fancy and somewhat uncomfortable way of saying "holy bejeezus, this vegetable is slimy."
When you cut open and cook okra pods, they release an incredibly slippery liquid, which feels weird between your fingers and much, much weirder in your mouth.  There are ways to avoid this unpleasantness, including: cooking the pods almost instantaneously on high heat (taking them off the heat before much of the slimy liquid has a chance to escape), the use of an acid (like lemon juice) in the dish to break down the slime, or cooking the pods for a decent amount of time with some other sort of liquid that will break down the sliminess and then absorb it.  That meaning: you want sauteed okra? You better flash pan fry it, add a hefty dose of lemon, or turn it into some sort of stew or gumbo or something with some other liquid – or you'll be faced with a slimy mess.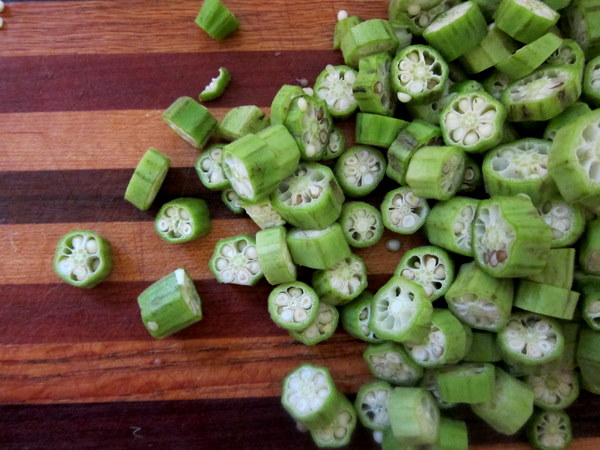 I've found the third method to be the best, and when faced with a pile of okra almost immediately envisioned this luscious, thick, satisfying "stew" of okra, corn, tomatoes, and a hefty dose of chili powder.  I say "stew" because it's much less soupy or gravy-laden than you might expect a stew to be, but as the tomatoes and the moisture of the okra break down together you get something perfect for scooping up with a wedge of cornbread. It lives just barely on the fork side of the fork/spoon boundary – a "forkable stew," you might say. (Something about that seems a bit tawdry, but you get what I mean.) Maybe let's stick with "fork stew."
There are two aspects of this dish that really make it something special – the texture, and the smoky, peppery chili flavor.  Mixed in with a smooth, luscious sauce of cooked tomatoes, the okra and corn together give the stew an incredibly satisfying crunch – not the crunch of raw vegetables, but the crunch of sweet, fresh corn and perfectly tender okra pods. And I'm completely enamored by chili powder after making this dish. Yes, we used some amazing chili powder from New Mexico that we recently received as a gift, which was (to be perfectly honest) much, much fresher than the powder sitting in our spice drawer. But I guarantee you a perfectly enamor-worthy chili flavor with what you have in your house. (Though again, to be honest – fresher is better, and one is supposed to refresh one's spices with some regularity. That is, if one is far more ambitious and generally with it than myself, as I sit here thinking about the jars and bags and bottles I've had in that spice drawer for five years plus …)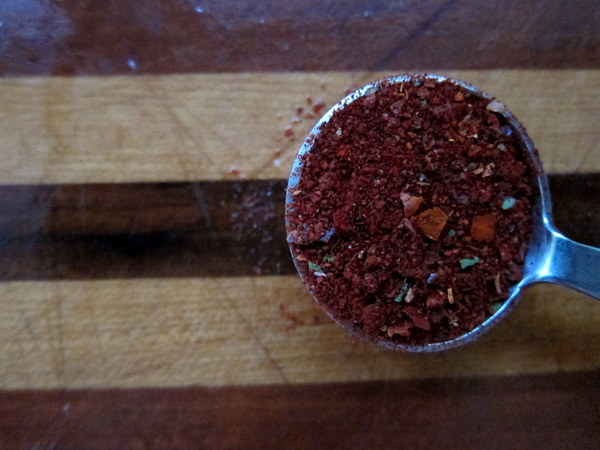 In any case. Chili powder is smoky and peppery and often not nearly as spicy as you'd expect – which makes this a perfect dish for introducing peppers into the life of someone who isn't incredibly keen on spiciness. Together with the tomatoes, the chili flavor and the sauteed veggies make this a deeply warm and satisfying dish that is still yet perfect for late summer and a meal on the front porch or in the backyard.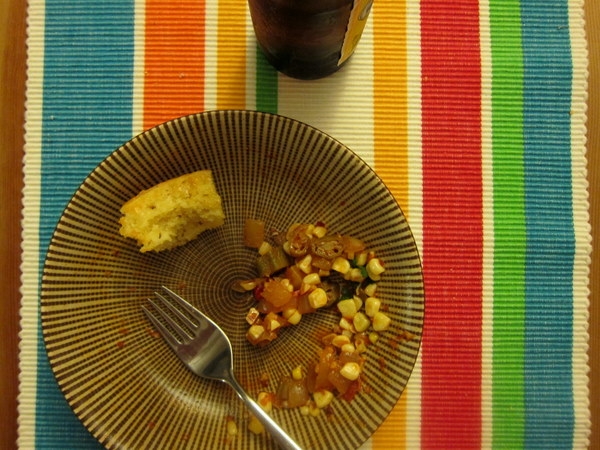 Okra, corn, and chili "fork stew"
Slightly adapted from How to Cook Everything by Mark Bittman

Makes 3-4 main dish servings, or 6-8 side dish servings. Serve warm or room temperature. As a main dish, this works fantastically with crusty bread or a large wedge of cornbread (preferably spread with butter and drizzled with honey), and a green salad.

Olive, vegetable, or other cooking oil

1 large onion, chopped
1 bell pepper, diced, or 1 handful of padron or shishito peppers, stems removed and roughly chopped

Two large handfuls of cherry tomatoes, halved OR 2-3 medium whole ripe tomatoes, roughly chopped

Salt and pepper
2 cups okra, stems cut off and sliced into 1/4-1/2″ rounds
1-2 Tbsp. chili powder (to taste)
2 cups corn kernels, preferably freshly cut off 2-3 cobs of corn

– Pour oil in a large skillet to cover the bottom. Heat over medium heat for a minute or two before adding the onion and pepper. Sprinkle with salt and cook until the peppers are tender (about 10 minutes).

– Add okra, tomato, and chili powder.  Cook until okra is tender – about 10-15 minutes. If at any time the mixture starts to look a bit dry, add a splash of water.

– Add corn kernels and cook for about 5 minutes. Adjust salt and chili powder to taste.

Storage/making ahead: Mixture keeps well in a covered container in the refrigerator for up to 5 days. Adjust salt as needed.