Birthday tortilla soup
We're a relatively new little family unit here in this house, which means we're still in the process of creating and writing and forming the household practices that may one day become long-standing family traditions.  Some have started to stick (like the holiday treat boxes we give to friends and coworkers every year, and like how our annual Easter party always turns out to be the biggest and most fun party we have all year), and others haven't worked out so well (like that oh-so-deliberate set of traditions we "started" on our first wedding anniversary and entirely ignored on our second).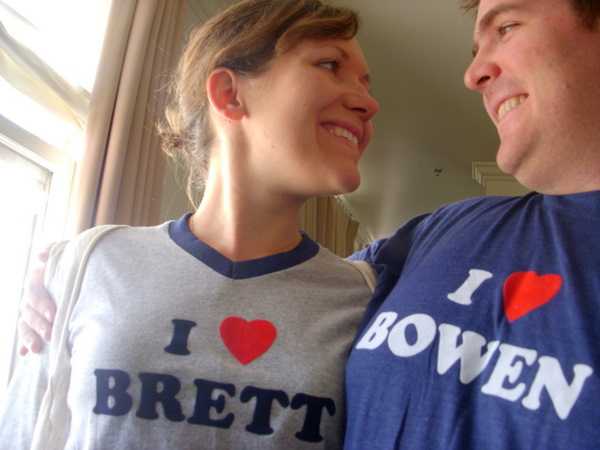 I suppose sometimes it's that deliberate quality that causes the downfall of a potential tradition – when they're too planned to become second nature, and too forced to become a tried-and-true ritual.  And I suppose the best traditions are the ones that come naturally; the ones you don't realize are traditions until you see that they've become a regular part of your life.
Like two-day birthdays.
What? You only celebrate your birthday for one day? You should join this family, where we take birthday celebrations seriously. Two-day birthdays: for when one day of fun won't cut it.  Two-day birthdays: for when your birthday falls on a work day, which sucks.  Two-day birthdays: because three celebratory birthday meals are not nearly enough.
That last point is really what started it.  One birthday dinner means choosing between going out to eat and cooking an exciting dinner at home, and that just simply wouldn't do. Who would force you to make such a decision on your birthday?
And hence, the two-day birthday.  Close family tradition since 2010.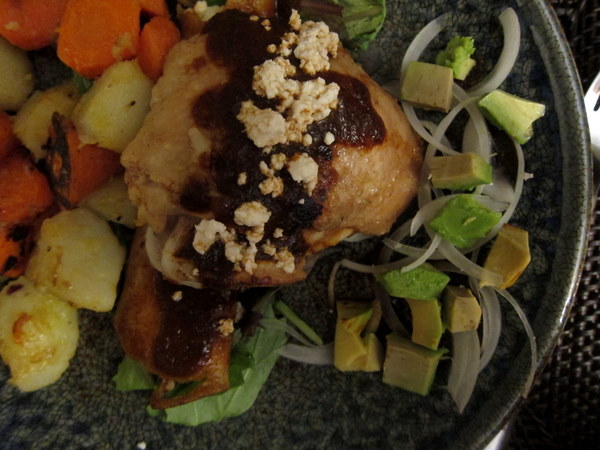 It was Brett's birthday on Monday, and we celebrated First Birthday Dinner on Sunday with a homemade, authentic (I mean, as authentic as we can get) Mexican dinner from one of our growing library of Mexican cookbooks.  Since we know we won't be in Southern California forever we've made a goal of learning how to make Mexican food – real Mexican food – and last year for Christmas my Gram gave us a small stack of cookbooks more authentic and far less glossy than the ones you see lining shelves in the "what's hot now" section of cooking stores.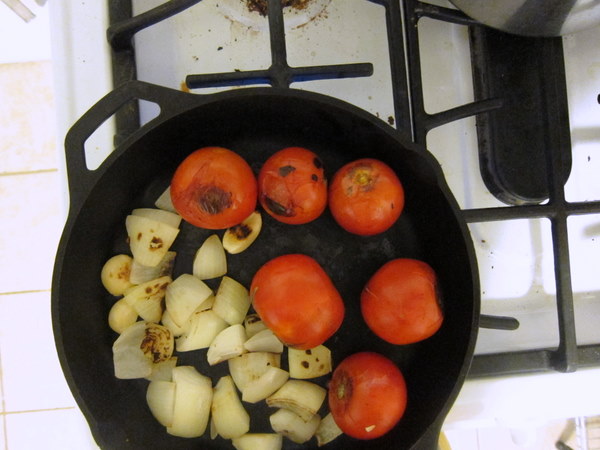 We made two dishes from Mexico: The Beautiful Cookbook – notable not only in its thorough, in-depth coverage of cuisine from various parts of Mexico, but also in its size.  While not nearly as thick as its Joy of Cooking, Blue Chair Jam, or America's Test Kitchen kin, this book is tall and wide enough to require storage on top of the bookshelf, kept company only by a half-empty box of cake flour and another one of our favorite cookbooks, significantly smaller but still too tall to fit any of our shelves.  Mexico: The Beautiful Cookbooks is one in a series of "The Beautiful Cookbooks," each of which are a combination coffee table book and cookbook that showcases the flavors, colors, and production techniques of traditional foods from a given country or culture (the books are similar in content and scope to the Culinaria series, which I talked about a few weeks back).
Before I go any further, let me establish the following fact: I am crazy for tortilla soup. To the point that on taco day in the dining hall on campus – surrounded by fresh corn tortillas and fantastic carnitas and the best black bean chilaquiles I have ever had – I will most often chose tortilla soup.  At Mexican restaurants, faced with a bounty of burritos, enchiladas, tacos, and a bevy of other foods I normally list as favorites, I will quite often chose tortilla soup. I love the thick, satisfying texture, the earthy, spicy flavor of dried chiles, the sour note of a lime squeezed on top, and the way cheese melts into the soup like velvet.  I love how the tortilla strips soften but maintain their shape and often stay just the tiniest bit crunchy inside. I love it when the soup has a little surprise – corn, or maybe black beans, or chorizo, or cilantro, or shredded chicken. The possibilities are endless, and I love them all.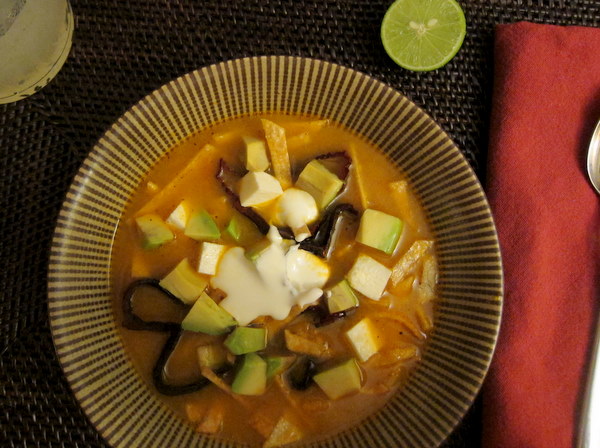 I established this fact to state the following with absolutely no shortage of gravity: this was the best tortilla soup I've ever had.  All of the things I love about the tortilla soup I find in the best, most authentic Mexican restaurants, but with the added benefit of freshly fried tortilla strips, and freshly roasted tomatoes and onion and garlic, and freshly made chicken stock. The lovely companion across the table didn't hurt either, nor the margarita alongside the bowl.
We've made tortilla soup before, but nothing like this one – none nearly so flavorful, so fresh, and so hearty.  We could have easily had larger bowls of this alone for dinner, instead of as a first course.
This two-day birthday thing is here to stay, if you ask me.  I'd add a third day, a day dedicated just to eating tortilla soup, but there's no way I'm waiting for another birthday to eat this soup again.
p.s. If you're going to be frying tortilla strips anyway, you should probably fry up some fresh chips to eat while you're waiting for the soup to finish.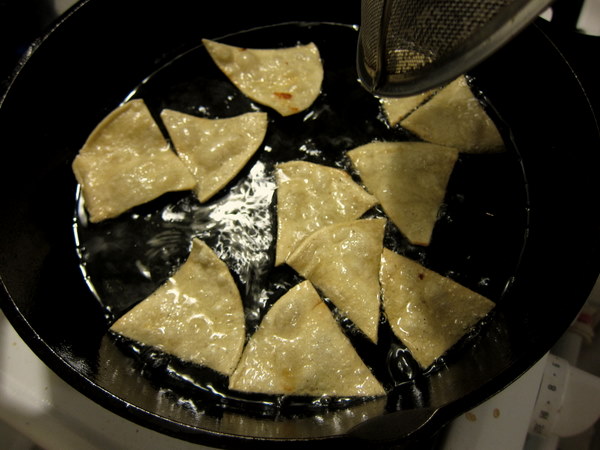 Tortilla soup
Adapted slightly from Mexico: The Beautiful Cookbook 

Serves 4-6 as a side dish, 2-4 as a main dish

3 cloves of garlic
1/2 white or yellow onion, cut into 1″ chunks
3 large ripe tomatoes (we used 6 smaller ones)
6 cups chicken stock, preferably homemade (you could use vegetable stock, especially one that was pepper-heavy)
1 Tbsp. lard (or vegetable oil)
2 small sprigs epazote (a traditional Mexican herb, optional)
Salt and pepper
6 day-old corn tortillas (if fresh, dry in a 250F oven for about an hour)
Vegetable, grapeseed, or other appropriate oil for frying (approximately 1 cup, but depends on the size of your pan)
2-3 dried pasilla chiles
2 avocadoes, cubed
10 oz. queso fresco, crumbled or cubed
Crema (Mexican sour cream) for serving
Limes for serving

– Roast the onions, garlic, and tomatoes on a grill or in a heavy skillet, until well browned or charred. Peel and core the tomatoes and place the tomato flesh, onions, and garlic in a blender.  Puree with a few tablespoons of chicken stock until well processed.

– Heat the 1 Tbsp. of lard or oil in a large saucepan over high heat and sautee the tomato puree.  Let it boil for 2 minutes, then lower the heat and cook for another 5 minutes or so, stirring regularly. The puree should thicken and slightly change color.

– Add the chicken stock and the epazote (if using) to the pan.  Bring to a boil, add salt and pepper to taste, then cover and reduce heat to medium. Cook for 15 minutes, then set aside. You can reheat if necessary depending on your timing. This part can also be made up to a couple of days ahead of time, then reheated when needed.

– Meanwhile, cut your tortillas in half and then into thin strips.  Fill a large skillet 1/2 inch deep with oil and heat on high. When the oil is hot, add the tortilla strips and fry for about three minutes, until golden brown. Make sure to stir/flip the pieces as they're frying.  Remove the strips from the oil with a slotted spatula or a wire mesh strainer, and drain on paper towels. In a pinch, you could use high quality (preferably relatively freshly made) tortilla chips. Mexican markets can be a great source for these.

– Cut the dried chiles into 1/2 inch rings, discarding the seeds. Fry in the hot oil for a minute or so, until crisp. Drain on paper towels as well. When ready to serve, chop the chile rings into 1/4-1/2 inch pieces.  If you'd rather not do this part, just know that there's otherwise no spice to the soup. You'd likely want to add some hot sauce at some point, or perhaps roast/blend some hot peppers into the tomato sautee.

– To note, the frying can be done ahead of time too. It's fantastic to have these items freshly fried, but if you need to do them up to a couple of days ahead of time, that's okay too.

– To serve the soup, add tortilla strips and fried chile pieces to the bottom of the bowl. Ladle soup on top, then sprinkle with avocado and queso fresco. Dollop crema on top, and serve with limes (halved or wedged).