Chocolate pudding and kitchen memories
When I was young, I spent early mornings before school and many afternoons after school at my great-grandmother's house.  I knew that split-level house and its uneven, blocky yard inch by inch, from the green shag carpet in the living room, constantly littered with pine needles and ornament hangers from last year's Christmas, to the exact best place to roll down the hill behind the house, to the back utility closet that opened onto the deck and that served as a clubhouse/office/hideaway for my best friend and me through the early years of elementary school.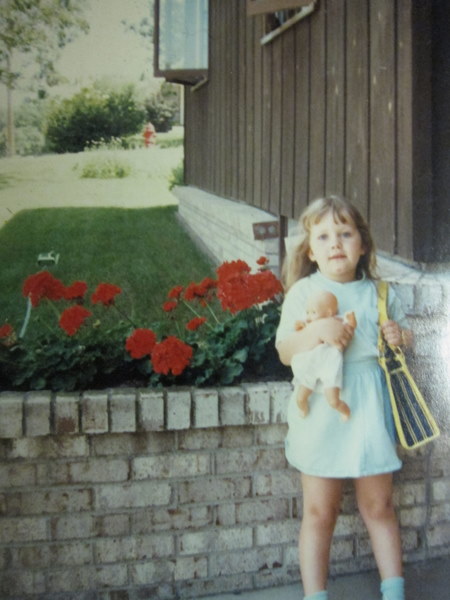 All of my earliest kitchen memories are from this house.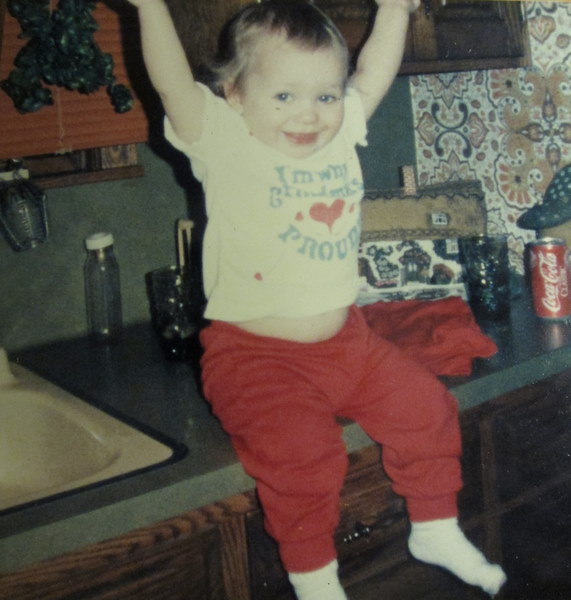 My Gay-Gay and I, our heads together, listening to the bowl of Rice Krispies crackle and pop, before I walked down the street to Mrs. Goldberg's first grade class.  Her extensive set of heavy, ceramic dishware, each painted with a singular rooster in the middle, and her heavy green glassware.  Wedges of chocolate cake, dipped in milk. Tea cups of caramel-bottomed custard, crusted with nutmeg. Tuna salad with ring noodles. Eskimo Pies from the basement freezer. Pudding pops and bowls of Jello-O 1-2-3 (may both of those delicious and celebrated products rest in peace until I retain the wealth and technical skill to resurrect them). Oatmeal swimming in warm cream and sugar and the butterscotch sundaes I claimed were a homework assignment.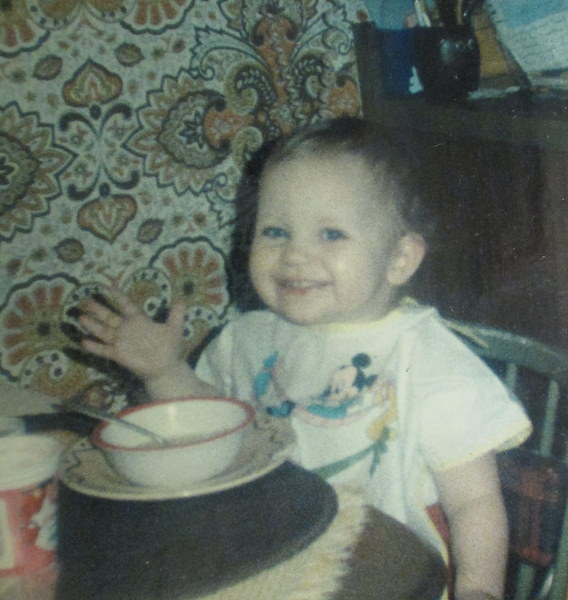 When I was in kindergarten, I told dear, sweet Gay-Gay that my homework assignment for the rest of the semester was to eat my favorite ice cream sundae every Friday. French Vanilla ice cream with jarred butterscotch sauce and Cool Whip. I loved my great-grandmother, but I honestly don't know even now whether she saw through this immediately and let me do it anyway, or if she was gullible enough to think it was true.  (I think about this often, now that my real-life homework includes things like making homemade macaroni and cheese, rich with béchamel and heavily laden with garlic Parmesan bread crumbs.)
When I was older, my grandmother moved into that house, and still lives there now.  My kitchen memories became chocolate chip cookies, and hearty peanut butter sandwiches (with butter).  Perfectly sweet sautéed carrots, and pan-fried walleye with lemon, and boxes of leftover Mongolian Beef from our favorite Chinese restaurant at 50th and France. Filling my Nalgene bottle with her strong, sweet lemonade every morning in the spring of my senior year of high school, before driving the four blocks to campus.
And now, with great hesitation, here's a picture of me in the kitchen when I was 13. Everyone enjoy.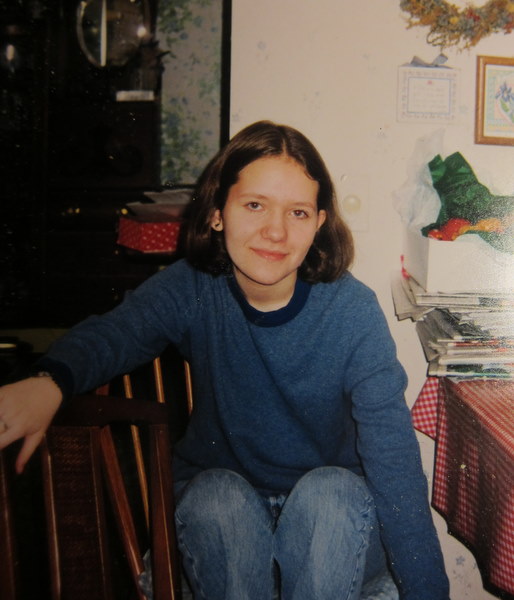 Moving on.
That kitchen is the only place I've regularly and consistently spent time over my life.  Everyone else I've known has moved and even the most regular of hangouts and restaurants and stores have closed or relocated – but that house has always been a part of my life. Maybe that's why, I realized a few days ago, I think about that kitchen a lot. I think about the roosters on those plates, now mostly long gone, and about all the time I've spent rooting around for whatever sweet bit had come out of the oven most recently.  I can almost hear the clink of ice on those heavy green water glasses. I think about coming home on breaks from college, returning late after going out with friends and perching on a stool in the kitchen in the wee hours of the morning, chatting with my grandmother while she took another batch of brownies out of the oven.
And I can't really talk about memories of that kitchen without talking about chocolate pudding. The earliest photo I've seen of myself cooking has me standing on a stool at the counter in that kitchen, next to the mustard yellow stove that died only a few years ago, stirring a bowl of pudding mix with a wooden spoon. I did a lot of sitting around in that kitchen, and a tremendous amount of eating, but one of the few memories I have of actually cooking in that kitchen is of helping Gay-Gay make pudding.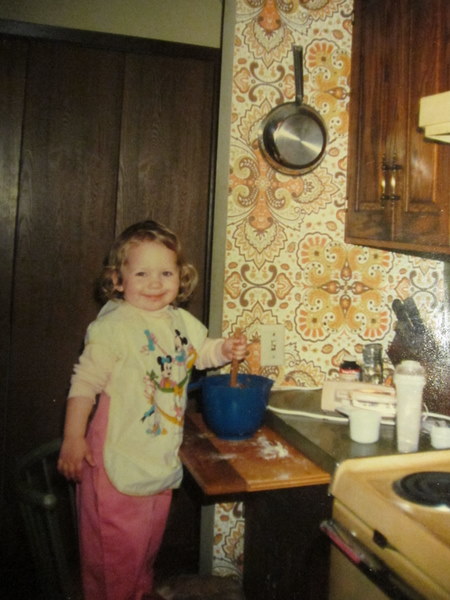 Nothing special, on the surface – just a box of Jell-O chocolate pudding.
I remember thinking it took an infinitely long time for it to cook, stirring and watching for it to thicken, and then an infinitely long time for it to cool just enough so I could eat it. I always ate it the same way – still warm, in a wide, shallow bowl and doused with cold milk.  Even as a very young child I'd keep the cold milk out, adding it just a little at a time so each bite could have some warm pudding and cold milk.
I hadn't eaten pudding in many, many years, until this weekend. I was surprised by how easy and quick it was to make from scratch, under 15 minutes from cookbook to table. I served it with a dollop of vanilla whipped cream and shaved dark chocolate, though I admit I ran for the carton of cold milk after the first two bites. It was a simple yet decadent dessert – rich, velvety, and creamy enough to tone down the intensity of two types of chocolate.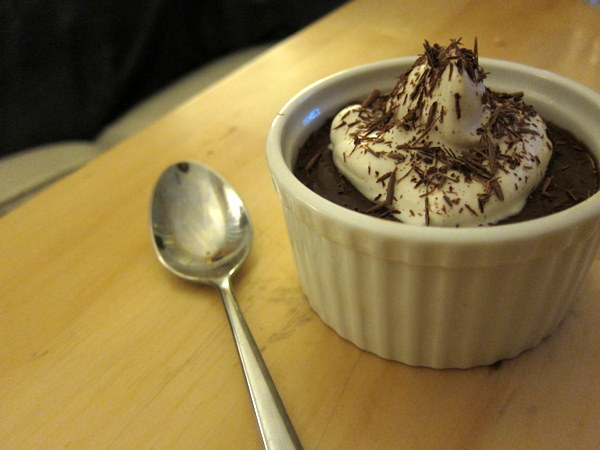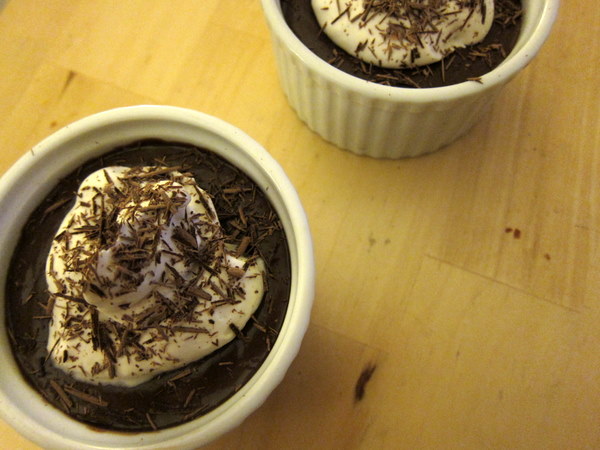 I easily ate to the bottom of the bowl, even though there wasn't a rooster there waiting for me. I used my finger to get the remaining smears, and I thought about my favorite kitchen.
And then I ate some more out of another ramekin, but that's a different story.
Chocolate pudding
Adapted slightly from Tartine, by Elisabeth Prueitt and Chad Robertson

Note: You can serve this out of a large bowl, or in smaller individual servings. We have small ramekins, but you could use bowls, tea cups, or whatever you like.  

Note #2: As far as I can tell, most chocolate pudding recipes are pretty similar – just varying amounts of milk vs. cream, whole eggs vs. yolks, etc. This is a great one, but if this isn't in front of you, you can probably also find good ones in cookbooks you have at home or on your favorite blogs.

Makes 6-8 servings.

16 ounces (2 cups) whole milk
5 ounces (1/2 cup + 2 Tbsp.) heavy cream
1/4 cup cornstarch
3/4 cup sugar
3 Tbsp. cocoa powder (not Dutch process)
3 eggs
1/2 tsp. salt
3-4 ounces dark chocolate, coarsely chopped

– Place a mesh sieve over a large heatproof bowl, and set aside.

– Combine milk and cream in a medium saucepan and scald – heat to just under a boil.

– Meanwhile, in a medium mixing bowl, whisk together the cornstarch, sugar, and cocoa powder.

– In a small mixing bowl, whisk together the eggs and salt. Whisk the egg mixture into the sugar mixture.

– Slowly add half the hot milk mixture to the egg mixture, whisking constantly. Pour it all back into the pan with the milk mixture and cook over medium heat, whisking constantly, until the mixture has thickened drastically, about 8-12 minutes. If you have a thermometer, it should reach over 200F.

– Pour the pudding through the sieve into the bowl. Add the chopped chocolate and stir until melted.

– At this point, you can use a blender or immersion blender to make sure your pudding is completely smooth. Before I did this, it appeared to have some small lumps/curds, and using the immersion blender for about 3 minutes made it incredibly smooth and velvety. This isn't necessary, but it's pretty easy and makes a noticeable difference in appearance.

– Portion the pudding and serve warm (my favorite), at room temperature, or chilled.  The pudding will keep, covered with plastic wrap, for up to 6 days. Serve with whipped cream, shaved chocolate, chocolate cookies, berries, etc., as desired!