Thanksgiving pumpkin-carrot muffins
Happy Thanksgiving!
I made some very Thanksgiving-y muffins for you.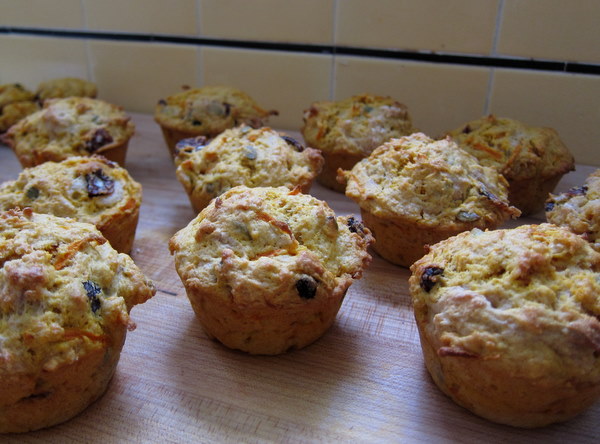 Sorry about how you're not here and so most likely won't get to eat any of them. But if you wanted to come over today, you'd be invited! This is the first time we've hosted Thanksgiving at our house, and we're pretty darn pumped up about it.
I'm thankful for more things than I have the time to write about, so let's just talk about how I'm thankful for a hearty, healthy, seasonal breakfast.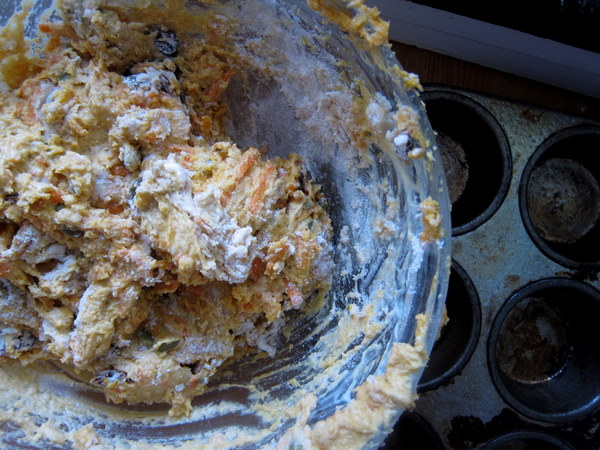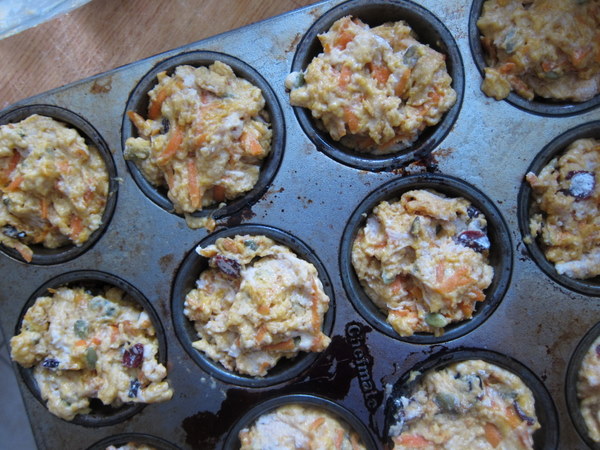 I wanted to make something holiday-appropriate but not-too-indulgent, and preferably to use up the pumpkin puree leftover from making the pie I will heartily devour later this evening. I went to bed last night with a muffin vision, and this morning that vision materialized in a raggly, rustic-style specimen, loaded with pumpkin, carrots, dried fruit, and pumpkin seeds (nuts would work well too). I wanted the same texture as these lovely Grand Central Bakery-style blueberry buttermilk muffins, with a soft interior and a browned, slightly crispy outside, and used that recipe as a basic structure. I purposefully made these not too sweet, with a little sugar and some sweetness from the vegetables and the dried fruit – but they're just subtly sweet enough to pair perfectly with eggs or other savory dishes.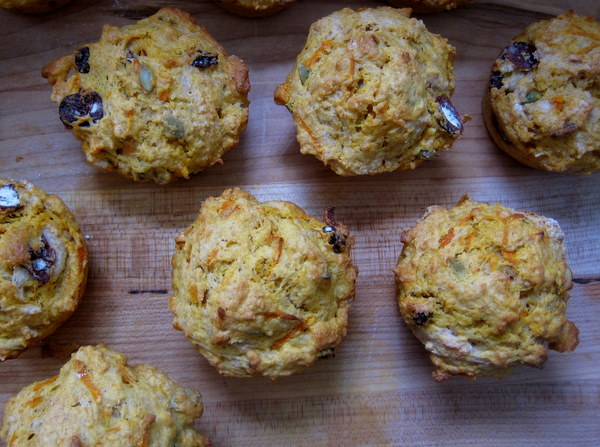 Here's hoping you and your friends and family have a wonderful Thanksgiving, full of appreciation and thanks! There will be much cooking in the house this weekend, so stay tuned for more …
Fall harvest muffins

2 1/2 cups (10 ounces) all-purpose flour
1/2 cup (5 ounces) whole wheat flour (optional – can use 3 cups all-purpose)
3/4 cup granulated sugar
2 tsp. baking powder
1 tsp. salt
1 tsp. ground cinnamon
1/2 tsp. ground ginger
1/8 tsp (pinch) dried cloves
1/8 tsp (pinch) dried nutmeg
1/4 cup dried cranberries
1/4 cup dried raisins
1/4 cup pumpkin seeds
2 eggs
1/2 cup (4 ounces, 1 stick) unsalted butter, melted and slightly cooled
1/2-3/4 cup grated carrot
1/2 cup pumpkin puree
1 cup (8 fluid ounces) buttermilk

– Preheat oven to 350F and prepare a 12-cup muffin tin with butter, spray, or paper liners.

– Whisk together the flour, sugar, baking powder, salt, and spices in a large bowl.  Add in the dried fruit and seeds and mix together.

– In a medium bowl, whisk together the eggs and butter. Whisk in the carrot and pumpkin.

– Create a large well in the center of the dry ingredients and pour in the pumpkin/egg mixture.  Pour half the buttermilk around the edge of the bowl and use a spoon or spatula (the bigger the better) or your hand (even better) to gently mix the dry and wet ingredients together.  I use big, slow strokes to turn the dry and wet ingredients together, pouring in the rest of the buttermilk as needed on dry areas (like all that floury stuff that likes to hang out on the bottom of the bowl).  The delicate texture of these muffins and the crispy, craggly top comes from this method of incorporation.  You're not looking for complete incorporation – there will be lumps and some small patches of flour and that's okay (see photo of finished batter above).

– Spoon the batter, which should be fairly thick, into the prepared muffin tin, filling the cups at least 3/4 full (mine were full to the top, but since the batter doesn't really pour it wasn't filling the entire cup – see photo above).  They won't rise too much, so don't worry about overflowing.

– Bake 40-45 minutes, until top is golden brown and somewhat crispy. The muffins may seem fairly solid and a toothpick might come out clean 30 minutes or so into baking, but waiting for the crispy, browned edges makes a much better muffin.

– Remove the muffins from the pan as soon as they're cool enough to handle. Cool on a wire rack until eating (and these are great warm!).