Gift guide part II, Food List catch-up
Housekeeping day! (Literally, in regards to my house, and figuratively, in regards to this blog.)  I hear Sundays were made for rest, but I almost always end up using them to tie up loose ends from the week before, to prepare for the week ahead, and to make progress on the projects that otherwise never get much attention (hey there, homemade Christmas gifts that are supposed to be made sometime in the next three weeks …).
First thing: I've gotten some great response to my 2011 Gift Guide, but I realized there are a few really important things I left out.
Artisan, small-production food items I mentioned honey and spices, but what about jams, cookies, salts, sauces, crackers, granola, etc. etc. etc.? Handmade, small-production food items are always a great gift and do a great service to boosting local economies and to supporting hardworking artisan food producers/processors.  One of my favorite sites for these sorts of items is Foodzie (which recently started requiring a registration/login and I'm not sure why, but it's worth it), which also offers a fantastic (and very gift-worthy) Tasting Club service that sends the recipient a hand-picked assortment of items each month. There are plenty of other sites that distribute small-batch food items: Etsy is always a good pick and TheKitchn has a short list of others here.
Homemade food gifts Almost every year I put together holiday treat boxes for our local friends and family (see 2010's box here), and last year we also made large batches of cranberry and coffee liqueurs and granola to give out as gifts. You can search for "homemade food gifts" and come up with a huge variety of options, and TheKitchn has a great rundown of candies, sauces, cocktail mixers, and much more here.
Food-related charity donations There are thousands of well-deserving and inspiring organizations around the world that focus on food related issues, from hunger to nutrition education to gardening and sustainable agriculture.  Seek out food banks or other non-profits in your community that could use assistance, and give a gift in the name of the recipient. Heifer International is always my go-to charity, providing agricultural and other resources to impoverished families around the world and helping them turn those gifts into life-long resources for their community. TheKitchn (yet again, and no they don't sponsor me – they're just really doing a great job this holiday season) has a post about a large variety of food-related charities that could use your donation this year.
Second thing: It's time for a Food List catch-up post. I'm getting to the end here, folks. Just over three weeks left! I think I'll make it, though in the last week or so there might be a few items each day (good thing we'll be on vacation that week!).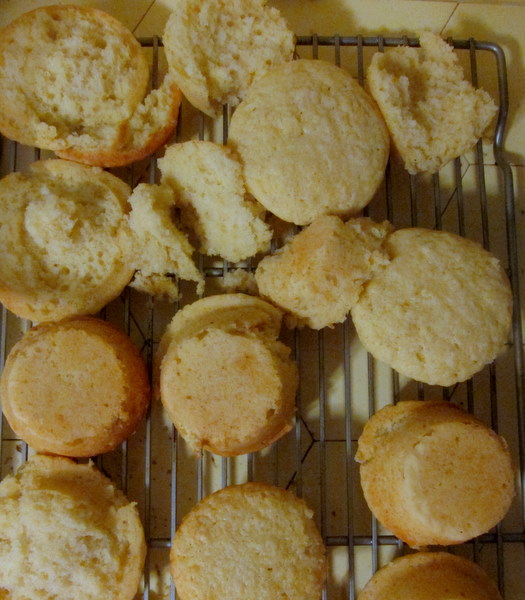 Baking with Julia rosewater vanilla mini-cakes I imagine this is kind of what a cake graveyard looks like.  I made rosewater vanilla mini-cakes from Baking with Julia by Dorie Greenspan and Julia Child. Fantastic (really fantastic) rosewater flavor – but way too soft/fluffy to be a mini-cake (in my mind, they should be on the dense side of the spectrum) and definitely not appropriate sizing for baking in a standard 12-cup muffin tin, as suggested in the recipe.  There was too much batter in each cup (I suspected this would happen but ignored my intuition and did it anyway), so each cake went over the edge and thus not only had a cupcake/muffin-type "cap," which was not supposed to happen, but also stuck to the tin and was incredibly difficult to remove (reference photo, above). I greased the pan, even the top, but the top of the cakes caramelized enough that they were pretty sticky and for some reason the bottoms of the cakes also decided they didn't want to leave their cozy muffin tin home. I will have to experiment with rosewater in cakes again, but not with this recipe …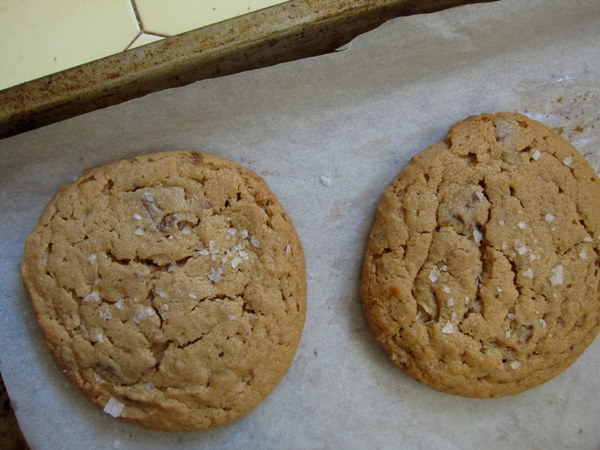 Salted peanut butter cookies When Orangette posted these cookies a few months back, I immediately bookmarked it. I'm not a huge peanut butter cookie fan, to be honest, but love sweet-salty peanuts and thought I'd give this one the benefit of the doubt.  They were fantastic – nice, chewy texture with a distinct salty flavor and a bit of crunch from some flake salt on top. Definitely one to make again.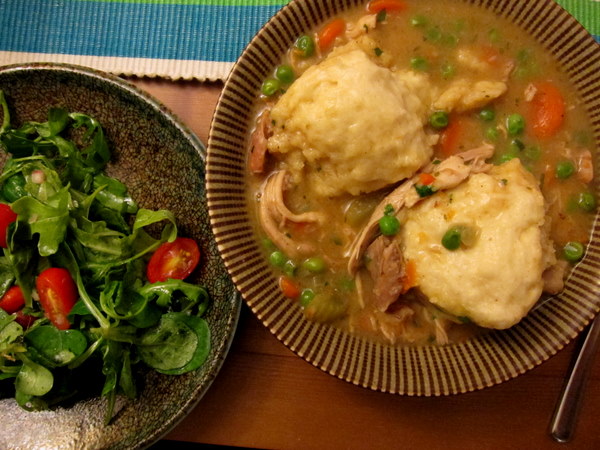 America's Test Kitchen Family Cookbook chicken and dumplings This is a great go-to resource cookbook – thousands of classic, American recipes with clear photographs and helpful side notes about things like what can go wrong when making a recipe, or why it's important to pay attention to things like the appropriate softness of "softened butter" in a cookie recipe. And this is a particularly good recipe, originally recommended by my Aunt Sally. We've made it a few times now and love it – fluffy biscuit-like dumplings atop a flavorful, hearty chicken stew thickened with a tiny bit of roux. It's particularly good when having people over, since it's a great one-pot meal.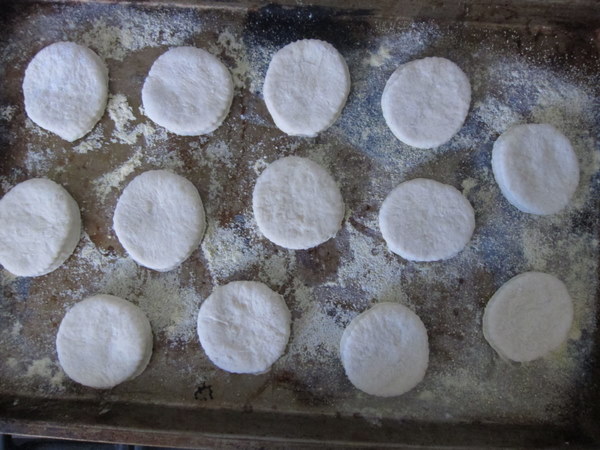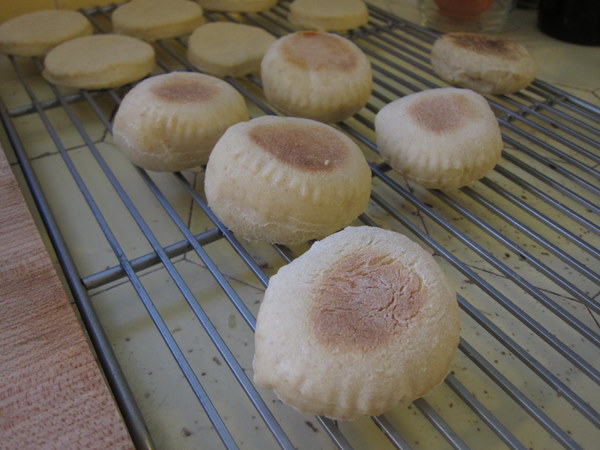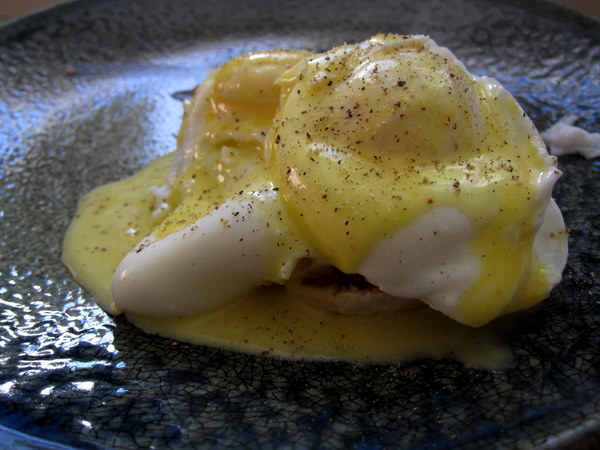 Eggs benedict with homemade english muffins and perfect (!!) poached eggs We discovered a particularly simple-looking recipe for sourdough english muffins in a book Brett's grandfather gave me last year for Christmas – Dungeness Crabs and Blackberry Cobblers: The Northwest Heritage Cookbook, by Janie Hibler. Unfortunately the book focuses quite a bit on ingredients we can't really get down here, but I love reading the recipes for how much they remind me of Oregon and some are basic enough that we can do them from Southern California. The muffins were good, but pretty small (even though I cut them based on their instructions). I'd make them bigger next time, and now realize how long it takes to fully cook the dough (they're not baked, but pan-heated until brown on each side and cooked in the middle).  I had to make hollandaise sauce as a homework assignment for the culinary course I'm taking, so it was a natural fit to try poaching eggs again. I'd venture to say I think I have it down: deep water, add vinegar, bring to a high simmer/slow boil, no swirl, dump in, don't touch for 3 minutes, fish out with a slotted spoon. No more poached eggs fear!