Weekend Links, Jan. 9
I don't know about you, but I tend to have a hard time keeping up on my blog reader, links people have sent me, and all the other random internet "stuff to do" during the week. I make up for it on weekends, and at the beginning of each week I want to start sharing with you all the things I've found that I love.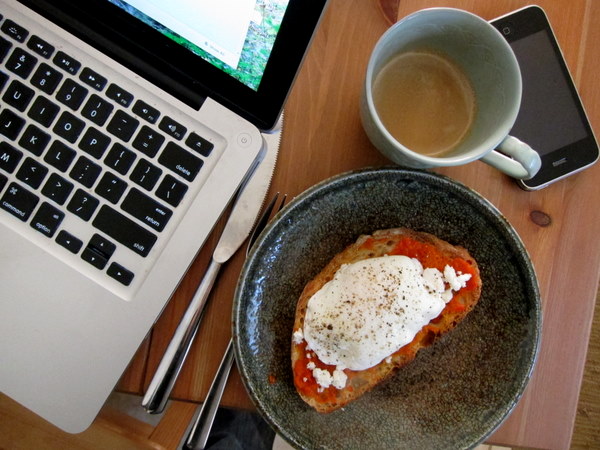 Breakfast this morning – Brett's homemade bread (Tartine baguette recipe) with red pepper spread, feta, and a poached egg. Good way to start a Monday!
For instance:
Want to make better scrambled eggs? We started doing the low-and-slow method a few years ago and I will never look back. We first got it from Mark Bittman (you can read about it straight from the source, here), but this more recent Gilt Taste piece by Ruth Reichl gets to the same point.
As you know, I've spent a lot of time over the past year(s) re-envisioning what I want my life, particularly my work life, to look like. So I was really excited to see Less Work, More Living over at Yes Magazine. The article itself is a bit self-indulgent, but I'm thrilled to see this issue discussed. Yes' fall issue is titled New Livelihoods, and I see lots of content I need to put on my reading list for next weekend …
I'm not one for resolutions, much, but this list of 20 Resolutions for 20-Somethings has quite a few that would be good for people of any age.
And if I were to make some resolutions, they'd probably include going mushroom hunting.
Trader Joe's sells coconut oil now! Yay!
I'm in the midst of a big, exciting new feature post for later this week. Until then, have a great start to your week!