Winter cocktail: blood orange rosemary fizz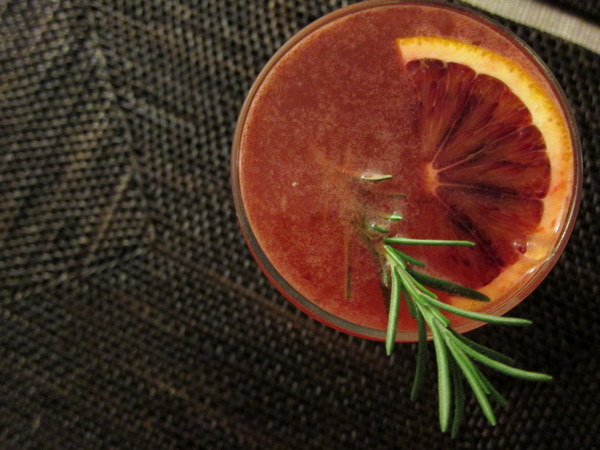 I fell in love with blood oranges my first year of graduate school.  Almost every Saturday morning that year we trekked to Santa Monica to splurge on produce at the farmers market – top-quality, top-price produce to distract myself from how much work I had to do and how terrified I was on a weekly, daily, hourly basis.  Blood oranges were unique enough for me to fancy myself something more than a poor, lowly, graduate student with little other than my undergraduate loans to my name, and bitter and tart enough enough to wake me up a bit each time I had one. Eating a couple every day gave me little shocks to the system that kept me going through endless site visits and mapping exercises and paper writing and group projects.
If only I had known then what I know now, about blood oranges and cocktails, I would have fallen even more in love. I've been thinking about a blood orange cocktail for a while, and knew I'd want to emphasize the bitter tones of the fruit but keep it light and refreshing. Splashes of Aperol (Campari would work as well) and a rosemary simple syrup provide sweetness and a more nuanced bitterness to a simple blood orange/gin mix, and topping it off with sparkling water keeps everything bright and fizzy.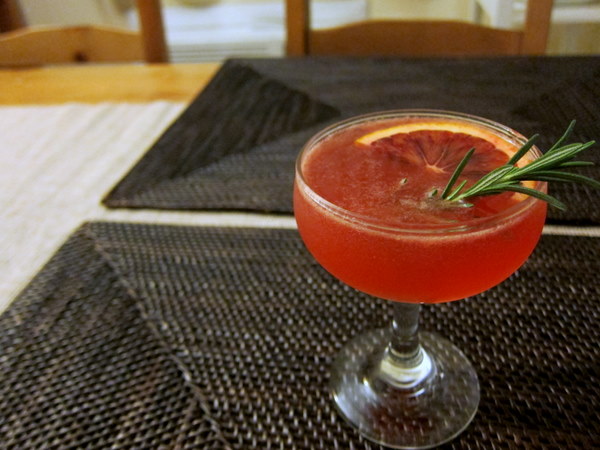 I can't say I'm working as hard as I was that first year of graduate school, and I'm probably (probably) not as terrified. But sometimes I still need a little bit of a tart, fizzy, bright shock to the system.
Blood orange rosemary fizz

1 1/2 ounces gin (vodka would work here as well, if you prefer)
1 ounce blood orange juice (freshly squeezed, if possible – this is about one average blood orange)
1/2 ounce Aperol (or Campari, though you might need to add a bit more simple syrup to make up for the reduced sweetness)
1/2 ounce rosemary simple syrup (see instructions, below)
Sparkling water
Ice
Blood orange slice and rosemary sprig, for garnish

– Fill a shaker halfway with ice. Add the gin, blood orange juice, Aperol, and rosemary simple syrup. Shake and strain into a cocktail class. Top with sparkling water, to taste (in the photo above, I added about 1 1/2 ounces). Garnish as desired.

– Rosemary simple syrup: simmer equal parts sugar and water (for a small batch, start with 1/2 cup of each) and one large sprig of rosemary. Stir as you heat, until sugar is dissolved. Turn off the heat and let the rosemary infuse for at least 10 minutes. Pour into a jar or bottle for storage in the refrigerator up to 1 month.