Weekend links, Feb. 13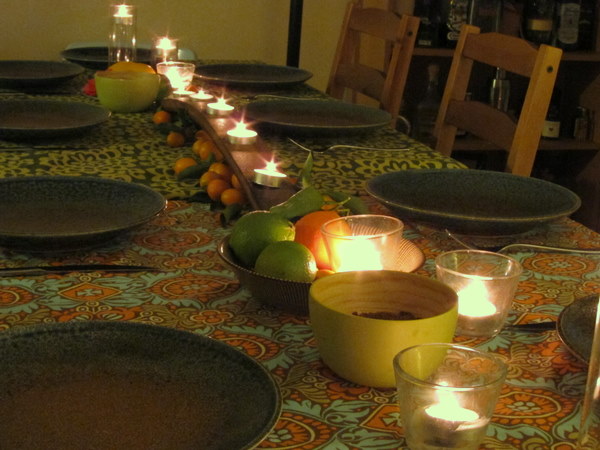 Table's all set for last night's Indian-themed dinner party.
It's roasted chicken season! Don't let this scare you – get comfortable so you can always pull a roast chicken out of your back pocket. (Not literally.)  Ruth Reichl lays out the basics.
My lovely and super-talented friend Rachel just coordinated an event for New York Fashion Week. See her behind-the-scenes scoop!
Speaking of food to pull out of your back pocket – The Kitchn is compiling a list of recipes to know by heart. My list of stuff to memorize looks something like this: chocolate chip cookies, brownies, roast chicken, basic vinaigrette, granola, buttermilk scones, focaccia, pizza dough, risotto. I'm about a quarter-way there!  Any other suggestions?
I'm in the process of designing my new business cards and am a little overwhelmed when I look at how many awesome ones there are out there in the world.
I'm going to go with an emphatic "pop" on this one. Sometimes I actually am Midwestern.
A look at how one family plans a week of meals. We're good at this sometimes, other times not so much.  Maybe once our schedule settles a bit we'll get into a new routine.
One follow-up to last week's links: this week I made my go-to granola with coconut oil instead of olive oil. Verdict: amazingly delicious, but super rich. I find it best in smaller quantities as a snack (rather than in a big bowl for breakfast), or mixed with other cereal (Trader Joe's bran cereal is a winner!). Perfect for granola gifts, which I always make a tad bit sweeter or richer.
Have a great week! I've got a super busy and hectic one ahead of me, but it includes lots of things to look forward to: Valentine's Day, charcuterie week in cooking class, finishing our croissants in baking class, a milk steaming/latte art class at Intelligentsia, teaching three of my favorite classes, doing my favorite lecture in a class at Pomona, happy hour with one of my favorite ladies, and a visit from an old friend … so I think I'll make it through.