Chili beans with shredded greens
The weather here has been really lovely lately – a little unpredictable, but generally warm, sunny, and clear – and … wait. I think I'm breaking some cardinal rule by broadcasting what the weather is like here in Southern California in February.  I also probably shouldn't mention that on Valentine's Day we had lunch outside without jackets. But now it's done, so I think we should just recognize that winter weather in Southern California is generally pretty awesome, and then move on.
What I was going to say was that on Saturday my good friend Nika drove up from San Diego and the weather was absolutely perfect for a somewhat challenging little hike in the Claremont Wilderness Park.  The recent rains left everything much greener than normal, and it was even warm (and uphill) enough for a while to hike in just a t-shirt.  We hiked around and talked about work, and travel, and college memories, and it was a lovely way to spend an afternoon.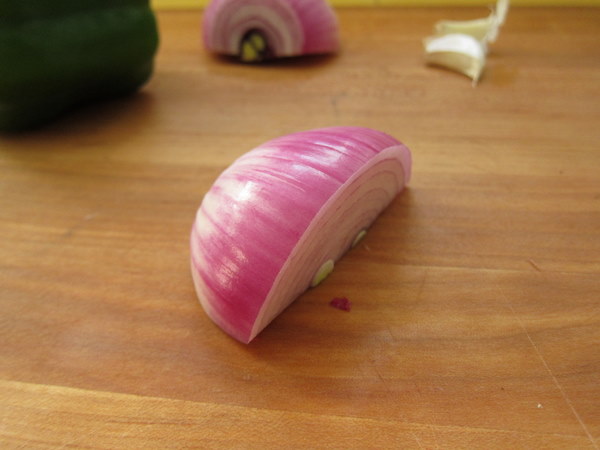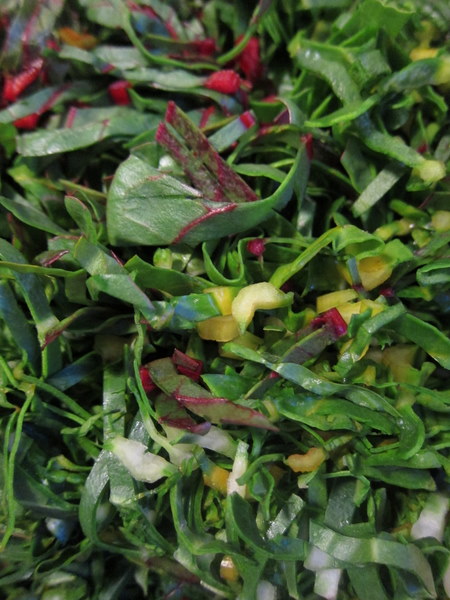 When we got home I quickly pulled together/improvised what ended up being a perfect post-hike early dinner. Hearty but healthy and filling, packed with beans and veggies and the warming power of chili powder and a bit of diced serrano pepper. Kind of like a big pot of chili, without the soup part. With a quick cornbread and some red wine it was a great way to refuel and relax and visit with a friend I hadn't seen in far too long.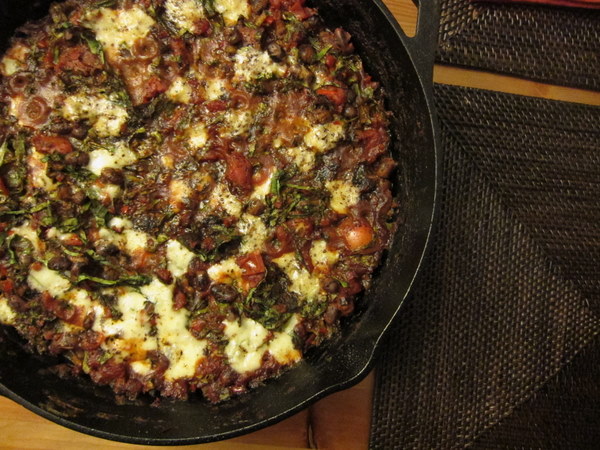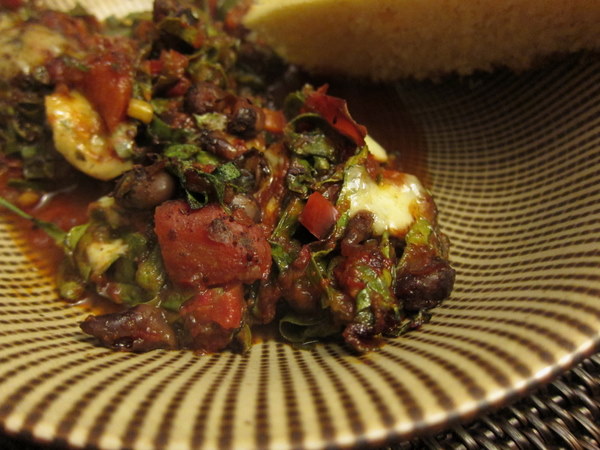 This dish is a great template for a variety of flavors – cooked beans, flavored tomato sauce, shredded greens, melty cheese. My original inspiration came from this recipe, which has a more Mexican flavor with chipotles and adobo sauce and queso fresco, but I could see something Italian with prosciutto and mozzarella working well or something Greek with feta. Any sort of green would work well here, though something heartier than chard or kale might need to be par-cooked first.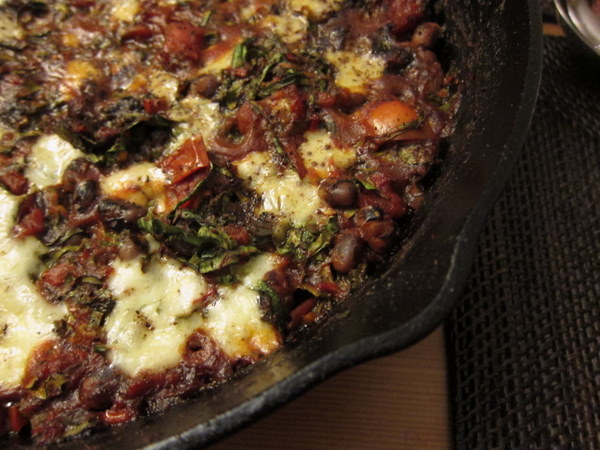 Chili beans with greens

1 cup uncooked beans (I used these)
Vegetable oil
1 green pepper, finely diced
1 red onion, finely diced
4 cloves garlic, finely diced (divided)
1 yellow onion, diced
1 red pepper, diced
1 serrano pepper, seeded/de-veined and finely diced
1 Tbsp. chili powder (potentially more, based on the potency of your chili powder)
2 tsp. ground cumin (preferably whole cumin seeds, toasted and ground)
1 14 oz. can diced tomatoes
1 medium bunch chard, washed and shredded/cut in a chiffonade
Approx. 1/2 cup well-melting cheese, crumbled or shredded (cheeses like queso fresco, mozzarella, and cheddar would work well)
Salt and pepper

– Cook the beans. This process can take place well ahead of the rest of the recipe –  you can even cook your beans a few days ahead of time, if you want. Soak the dry beans overnight or for at least 6 hours, water covering the beans by at least 1 inch. If you soak in a cooking pot, you won't even have to move them when you want to cook them (choose about a 3 quart pot). When ready to cook, saute the green pepper, red onion, and garlic in a Tbsp. or so of vegetable oil, until semi-soft and translucent.  Add water as needed so the beans are still covered by about an inch, add the vegetables, and bring to a boil for five minutes. Reduce to a low simmer (likely as low as your stove will go), cover, and cook until tender. Depending on the freshness of your beans, this may take 1-2 hours (or even more). Taste along the way to determine when they're done.  If the water level drops substantially, add more (preferably hot water from a kettle or very hot water from the tap, so you don't lower the temperature too much). When tender, add salt to taste.

– Preheat the oven to 350F. In a medium (8-9″) ovenproof skillet (preferably cast iron, but anything that can go in the oven – including one with tinfoil wrapped around a plastic or rubber handle – is fine), saute the red pepper, onion, and serrano with vegetable oil over medium high heat. When the vegetables are soft, add the chili powder and cumin. Add the can of tomatoes (including juices) and stir. Salt to taste, and feel free to add more chili powder and cumin as desired.

– Add the shredded chard and the beans to the pan and stir everything together.

– Spread the crumbled or shredded cheese on top of the pan and put in the preheated oven until the cheese melts and is golden and bubbly, and the chard is cooked – about 15-20 minutes. If the cheese is browning too much before the chard is cooked, cover the pan in foil.