Strawberry cake, a fixation
I can get a little fixated on things sometimes. I'll be the first to admit it. But together with a growing sense that it's "no big deal" to churn out another batch of cookies or another shaker of cocktail or, in this case, another layer cake, that tendency to fixate means that sometimes I'm making a sizable volume of something in order to make sure I know how I like it best.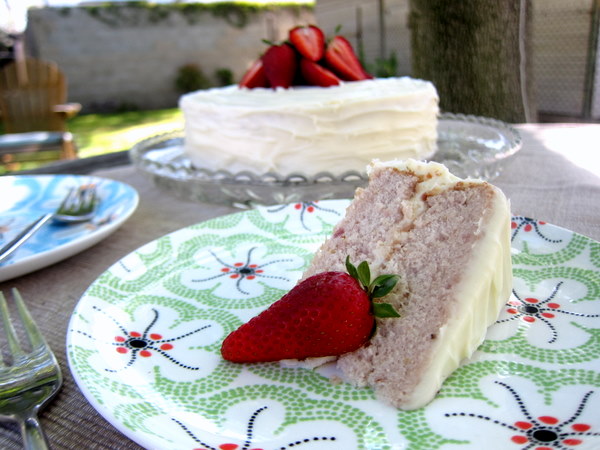 The cake in the photo above is #3 in a line of five strawberry cake attempts (including three in one day), each slightly different adaptations on two different recipes. Many people I know have been eating strawberry cake recently thanks to this obsession, and there's still one unfrosted attempt left in the freezer.
Yes, it might be a little over the top. But I can now say that I have a reliably good version of a lovely and somewhat unique cake, which justifies all those hours of measuring and mixing and baking and trimming and tasting. (Especially the tasting.)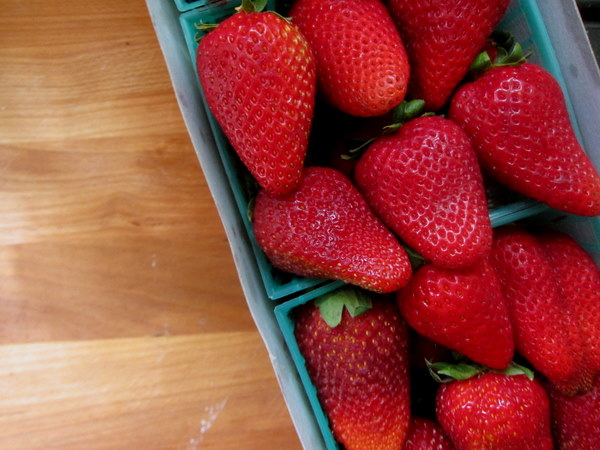 And from what I can tell, this is one of those times I've stumbled upon a food item with quite a bit of cultural clout. I take it that strawberry cakes are much more common in the South than in the places I've lived, since I've honestly never seen or tried one. I'm not sure how the recipe was originally developed, but I do know that modern versions tend to feature cake mix, red food coloring, and a packet of strawberry Jell-o mix. Sure, they're brilliantly pink and intensely flavored, but not the sort of thing dedicated home bakers and food enthusiasts like to put on their tables – so I set out to find a recipe with real ingredients, packed with fresh strawberries and all of the lovely ingredients (butter, sugar, cake flour, eggs) that I like to see in cakes. I knew it would be far more subtly hued and with a less intense (but far less fake) strawberry flavor, but with that expectation in hand I forged ahead.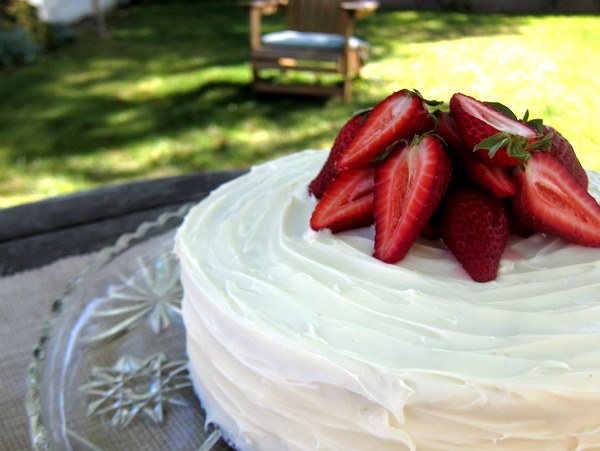 How to explain this cake? Let's just say this: Do you like strawberry ice cream? Would you like some strawberry ice cream in cake form?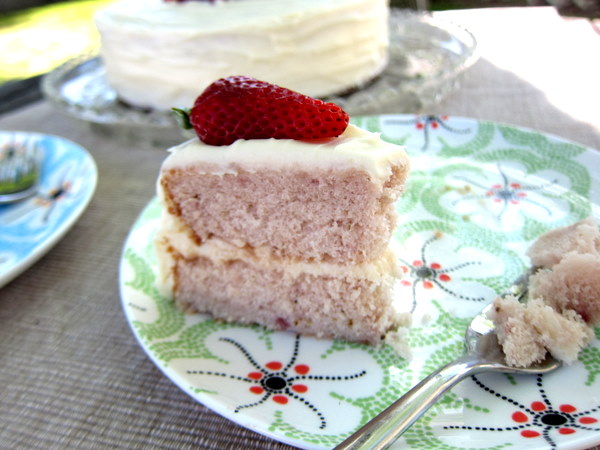 Because that's really what this is, especially with a creamy frosting. Strawberries and Cream Cake would be an appropriate name, if you wanted to get cutesy like that. Lovely fruit flavor, but also an amazing creaminess from the butter, milk, and vanilla.
I used cream cheese frosting here but am honestly still looking for a great recipe for that … so if you have one you like, use that! (Also let me know what it is.) A creamy buttercream would be great here as well, and I'm interested in seeing if the strawberry flavor will hold up to a layer of ganache either inside or on top, for sort of a chocolate-covered strawberry effect. Guess I'll have to test this some more …
Strawberry cake
Adapted from America's Test Kitchen, via this blog

Makes two 8- or 9-inch layers, which can be sliced for a four-layer cake

Note: This recipe calls for just egg whites, but you can substitute three whole eggs for the six whites, if you'd rather – just know that the subtle pink coloring will turn a bit more beige, and the strawberry flavor will subside a bit.  

3/4 cup pureed strawberries (about 7-8 large strawberries)
1/4 cup milk, room temperature
6 large egg whites, room temperature
1 Tbsp. vanilla extract
2 1/4 cup (8 3/4 ounces) cake flour, sifted
1 3/4 cup sugar
4 tsp. baking powder
1 tsp. salt
12 Tbsp. (1 1/2 sticks) butter, room temperature

– Preheat oven to 350F and prepare two 8- or 9-inch round cake pans by spraying with cooking spray (I use canola) and lining with parchment.

– Combine the strawberry puree, milk, egg whites, and vanilla in a measuring cup or small bowl.

– Combine the flour, sugar, baking powder, and salt in the bowl of a stand mixer or a large mixing bowl.

– Add the butter to the flour mixture and beat on low speed (or by hand with a wooden spoon) until the butter is entirely incorporated and the mixture resembles wet sand.

– Add the strawberry mixture and beat until fully combined (in a stand mixture, that's medium speed for about 1 minute). Wipe down the sides of the bowl and beat by hand for another 30 seconds or in the mixer for another 10 seconds or so, to make sure everything is incorporated.

– Divide the batter between the cake pans and smooth the top of the batter.

– Bake until a toothpick inserted into the center of the cake comes out clean, or until a light press near the center springs back. This should take about 22-28 minutes.

– Let the cakes rest in the pans for at least 10 minutes before turning out onto cooling racks. Let the cakes cool completely before frosting. If you're not frosting for more than 12 hours or so, wrap the cakes separately in saran wrap and refrigerate for up to three days before frosting. You can also double-wrap the layers and freeze for up to one month before frosting (refrigerate overnight to thaw before frosting).