Campsite rice and beans
July 2013 update – looking specifically for backpacking meal ideas? Check out this post for a few trail-appropriate recipes and meal plans. 
A few people have asked for more information about how we're eating when we're traveling, specifically when we're camping. We just finished camping for seven nights in a row, and after one night in a hotel in Calgary are camping for the next four, which means quite a bit of campstove cooking and mobile kitchen setups. Cooking while camping can be a daunting task, but so far we've found great ways to nourish our hard-hiking, long-driving days.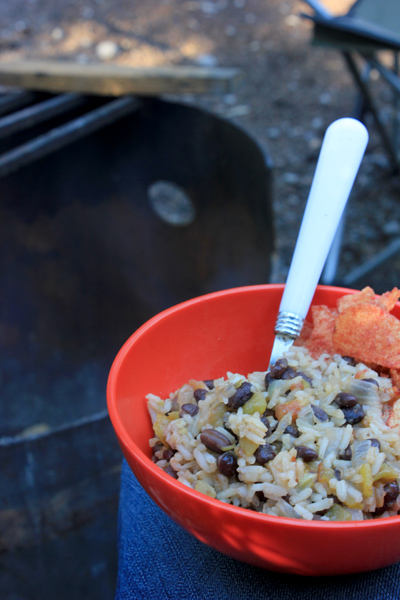 I actually like cooking outside quite a bit, and nothing tastes quite so good as a meal around a campfire. Some of the meals I list below may seem pretty ordinary or low-brow, but I can tell you that even the simplest of things tastes amazingly good after a long day of hiking or driving. Sometime soon I'm going to put together a longer, more detailed guide to camp cooking, but for now I just thought I'd share how we've been feeding ourselves lately, along with a super-simple, super-healthy, flavor-packed dinner that's great for camping or at home.
We brought a pretty good kitchen setup with us – a fairly good-sized cooler for perishables, a Rubbermaid tote full of pantry items, a milk crate full of kitchen tools, and our handy two-burner propane camping stove.  And some assorted bottles of wine, beer, and other tasty beverages, of course. We filled the pantry tub full of food items before we left, and have stopped to pick up odds and ends of groceries (mainly perishables) every three or four days – easy enough to do when driving between spots, or on the way back from a hike. Sometimes camping in more remote locations means grocery stops are harder, but thankfully it's been easy enough on this trip. I posted on our travel blog a fairly detailed list of the cooking equipment and the food/drink items we brought with us, and an essay I wrote about choosing cooking utensils for the trip was recently published in Farmer General.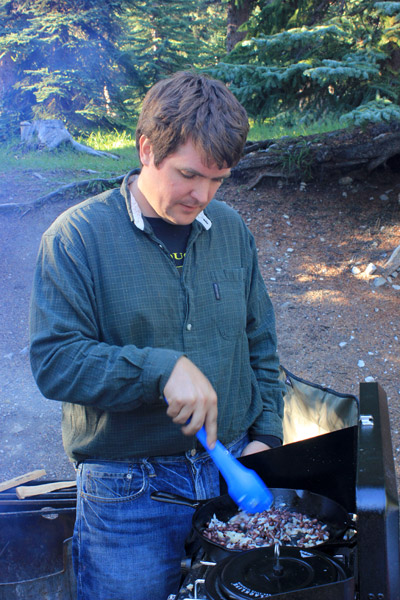 When I write the guide I'll talk more about why we brought the things we did and our overall strategy in planning the food for the trip, but for now I'll just say that our number one strategy is to bring a variety of food items that mix and match well together. You can see a variety of the same items used in different ways throughout what we're eating.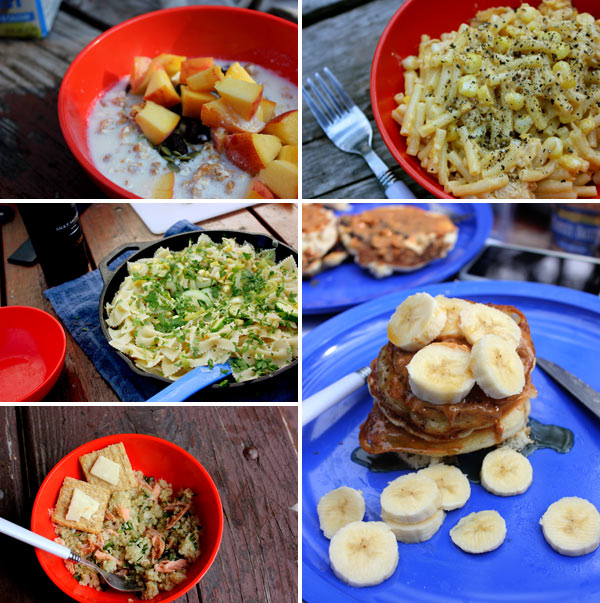 For breakfasts, we have three main choices, which we use depending on how much time we have in the morning:
Cereal/granola with dried and/or fresh fruit, nuts (Brett) or pumpkin seeds (Bowen), and soy milk or regular milk (soy milk can stay in the pantry bin until opened, which is helpful)
Quick-cook steel cut oats with brown sugar, dried and/or fresh fruit, nuts (Brett) or pumpkin seeds (Bowen), and soy milk or regular milk
Pancakes (a mix that only requires water) with peanut butter and maple syrup (and bananas, if we've been to the store recently)
For lunch, almost every day we pack ourselves a meal and eat it on the trail or in a park along the road. We pick up deli meat (ham, turkey, chicken, and/or salami), bread, lettuce, and tomatoes every four days or so, and have that along with cheese, mayo, and mustard.  We keep ourselves stocked in carrots (usually we stay away from those bags of baby carrots, but they're pretty handy in this circumstance), and pack a ziploc baggie full of pretzels or chips.
Dinners have ranged widely depending on level of exhaustion, hunger, and rainfall when it comes around to dinnertime. Here's a good sampling of camping meals we've cooked over the last few weeks:
Pasta with sauteed zucchini, peppers, and fresh corn, with lemon, red chili flakes, and parsley
Box macaroni and cheese with a can of turkey chili and a bag of frozen mixed vegetables
Pasta with mussels and clams in tomato sauce (we were camping on the coast, close to a seafood market)
A can of turkey chili, chunks of cheddar cheese, slices of sandwich bread
Triscuits and salami and gouda, peanut butter and jelly sandwiches
White rice, packaged palak paneer, and baby carrots
Box macaroni and cheese with a can of tuna, fresh corn, and chunks of gouda
White rice and black beans with green chilis and tomatoes
Peanut butter and jelly sandwiches and leftover beans and rice
Quinoa salad (with onion, garlic, lemon, and tons of parsley) with a bit of smoked salmon, cheese, and Triscuits
Pasta with sautéed mushrooms, onions, and garlic, a can of tuna, and red chili flakes
Some I remember more than others, with all of these meals linked to beautiful places and memorable days. The night we had macaroni and cheese with tuna we had hiked up and down mountains at Lake Louise for almost 10 hours, and there was nothing so perfect as the first few bites of that meal. The night of peanut butter and jelly sandwiches and leftover beans and rice, we returned to our campsite from hiking in Jasper much later than expected, entirely famished, and the thought of bringing out the stove and washing dishes was more than we could handle. The night we ate chili and sandwich bread it was raining, and very cold, and quite late because someone had taken the campsite we had woken up early and driven two hours in the rain to reserve. We huddled in the cook shelter with a family from the Twin Cities, of all places, and accepted the wine they generously offered us, and scraped chili out of our bowls with the pieces of bread.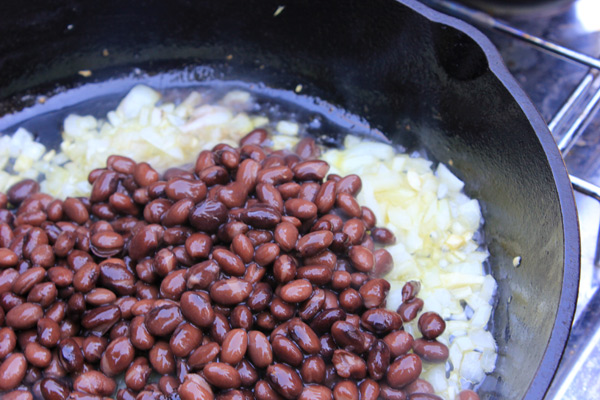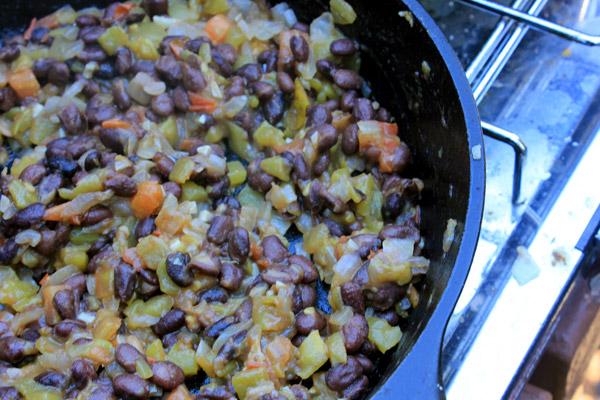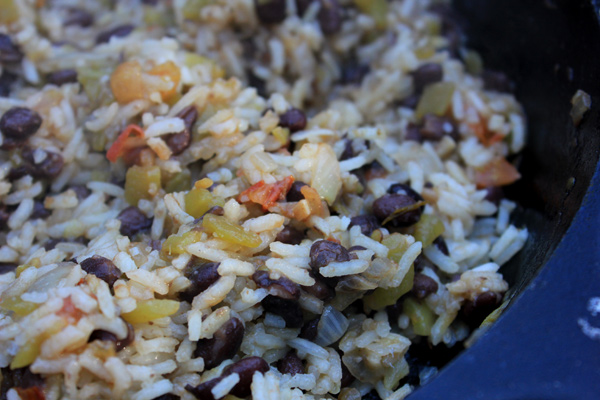 And overall there are actually quite a few good recipes to come out of the things we've made camping in the past few weeks, but the one that stands out among them all was the simple beans and rice we made just a few nights ago. It was cold outside, but a huge bowl of flavorful and hearty black beans and rice with a bit of an habanero kick at the back end was entirely warming and filling, and easy enough for the end of even the hardest days of hiking or adventuring. We made this in the style of Nicaraguan gallo pinto, slightly frying the beans in a bit of oil for more flavor – when your meal consists almost entirely of beans and rice, a little more olive oil is not the enemy, certainly. This is one of those dishes that only gets better as time goes on and as the flavors continue to develop, and the leftovers we had the next night for dinner (along with peanut butter and jelly sandwiches – we couldn't manage to leave much left, it might be good to know) were even better (cold!) than the night we made it.
The only fresh vegetable we had at the time was a solitary tomato (onions don't count, since they can sit in the pantry tub for weeks), but almost anything would work in well here – mushrooms, peppers, and fresh corn, particularly. I'm sure a few slices of avocado or fresh tomato on top would also be fantastic. Or a spoonful or two of salsa. We ate it with a few ketchup potato chips – that's a thing here in Canada, and one that I'm particularly enamored with – and while that didn't make as great of a combination as we had hoped, I bet some tortilla chips would do very well here (but probably not those Extreme Dill Pickle Doritos I keep seeing up here). And I can easily see making this at home, either as a main dish (perhaps adding in more veggies, or even some shredded chicken) or as a side dish for grilled meats or similar sorts of things.
Campsite rice and beans

Serves 2 heartily, or at least 4 as a side dish

1/2 cup white rice
1 cup chicken stock (preferably) or water (still a notable ingredient, while camping) – we used a packet of Trader Joe's liquid chicken broth concentrate mixed into 1 cup water
Olive oil – approximately 2 Tbsp., but enough as needed
1 or 2 large pinches of ground cumin (optional)
1 small to medium onion (yellow, white, or red would work), diced
2 cloves garlic, minced or finely diced
1 can black beans, drained (using the lid to pour out most of the liquid is perfectly fine, and no need to rinse the beans)
1 small can chopped green chilis
1 small tomato, diced
Salt, as needed
Dash of hot sauce (optional)

– Cook the rice Cook the white rice as desired. Here's how I like to cook white rice: bring the rice and liquid to a boil, then cover and reduce to a simmer for 20 minutes. Our camp stove is a little finicky, though, and it's hard to bring it down to just a simmer without the flame blowing out. So I just keep adding liquid as needed for the rice to cook.

– Cook the aromatics and beans Meanwhile, heat a large skillet over medium-high heat. Add a few teaspoons of olive oil immediately followed by the cumin (if using). Stir the cumin into the oil, let it cook until fragrant (20 seconds or so), then add the garlic and onion and sauté until the onion is translucent and soft. Add another small glug of oil, then pour in the can of beans. Stir and cook for 5-7 minutes, cooking off most of the liquid and letting the beans fry a bit – ideally, they'll get a bit of a crust on them.

– Add more veggies and season Add the can of chilis and the diced tomato, stir, and cook for another few minutes. Salt as needed for flavor, then add in hot sauce to desired level of heat. (Add hot sauce after salt, since salt will increase the power of the hot sauce.)

– Combine and serve When the rice is done, add it to the pan of beans and stir everything together.