Weekend(ish) links, Sept. 3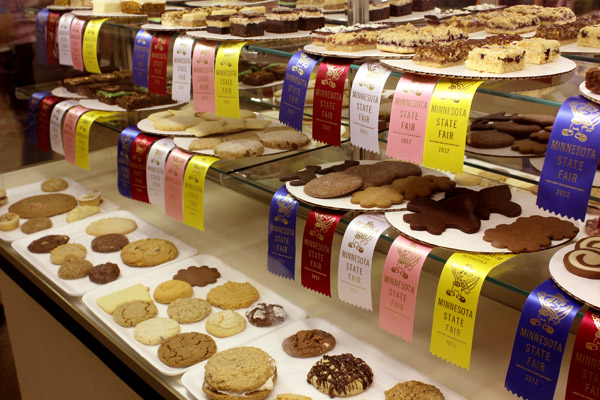 Prize-winning bars and cookies at The Great Minnesota Get-Together. 
We've been happily (but very) busy in Minneapolis, Chicago, and Madison, and now that we're back in the Twin Cities our schedule is packed with friends and family and birthday celebrations and planning our next travels. I swear there are new posts coming soon, but in the meantime here's a build-up of links:
An A-to-Z list of famous writers' favorite foods.
A fantastic overview of meat cuts and what to do with them.
Let's file this wall tap in the "future home kitchen features" folder.
Food waste is undoubtably a significant global problem, and here are a few really ingenious things people are doing about it. (And here's the fascinating follow-up article about food auctions.)
Since I read this NPR article about the President's new "homebrew" I've seen another dozen or so (that's what happens when I run behind on links), but it's a good place to start.
You schwenker, I schwenker, let's all schwenker together! (But in all seriousness I really want to do this.)
Gilt Taste does it again and again: making homemade tomato paste (a "concentrated flavor bomb") and super-easy homemade-cured gravlax.
Made these simple seared pork chops in Chicago last week and will be definitely be adding them to the "super fast dinner" repertoire.
Bourbon pie. Bourbon. Pie. Nothing else to say.