African chicken peanut soup
So. Monday. We're going abroad for four months. No big deal.
Leaving at the tail end of Thanksgiving weekend has its pros – like: time with friends and family before we leave, and a good All-American sendoff – and its cons – like: my god, we better not have forgotten to purchase ANYTHING for this trip, because going out into the world on the weekend after Thanksgiving to buy travel-size bottles of shampoo might actually be what hell is like.
It's a weird feeling, knowing that we're going to be away for that long. I suppose we did about four months on our Canada trip, but we still had phones and our car, and we didn't need to carry everything on our backs (proof), and we were still cooking quite a bit (proof). I've never really traveled abroad before, other than one- or two-week vacations, and I'm not really sure what to expect.
But if I keep talking about all of this, we'd snowball pretty quickly into a big dose of Bowen Neuroses, and no one needs that now. We all have enough things to worry about.
But here's something to not worry about – what you're going to eat this week.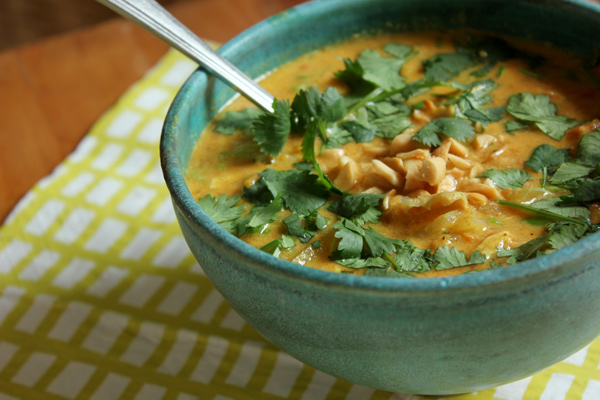 Or this weekend, or whenever, just sometime soon. Because you're going to make this soup. Now is a particularly good time because it would work well with any turkey leftovers you have, but also because it's a great way to recover from Thanksgiving festivities. Go home, make this for yourself, maybe have a close friend or two or your sweetie join you, pour it into big ceramic bowls, and eat it without any big ceremony or hubbub. Let it just be. Let it be in front of you without much preparation or hurrah. Let it be warming and hearty and interesting. Let it be a welcome departure from those same holiday dishes we relish in eating year after year.
African chicken soup is certainly something different, full of spices and thickened with peanut butter. I've had it at restaurants and cafes a few times over the years, but none have been as good as this homemade version. It calls for cooked chicken, which makes it great when you have leftover roasted chicken around the house (and turkey would work great here, so think about this for your Thanksgiving leftovers!). I made it a few weeks back the night after we had roasted a chicken. We saved the breasts for the soup pot, and I used the remaining chicken parts to make a ton of broth, most of which we froze and have used for other things.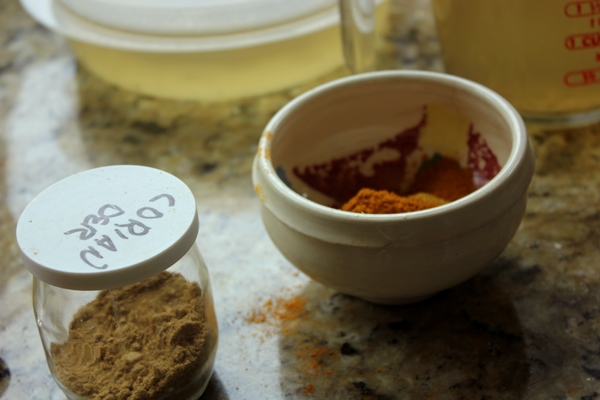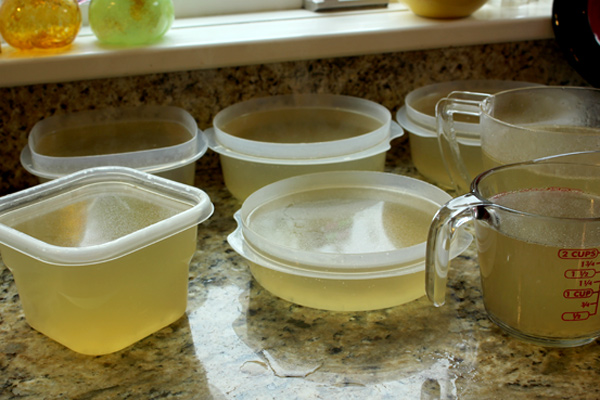 The recipe for this soup originally came from Brett's mom, and I'm not sure where she got it. Brett first made it for me way back in my grad school years, and it's been on my mind through all those years since. It's easy enough to make for oneself but interesting enough to make a great dinner party showcase dish, and let's make this post serve as an official reminder to me that this soup needs to start happening more often.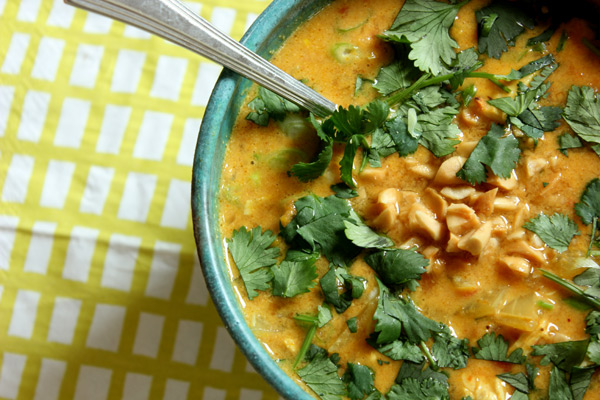 African chicken peanut soup

Serves 6-8 as a main dish (great with some sort of flatbread), 10-12 as a side dish.

Olive oil
1 large onion, diced
2 cloves garlic, minced
Salt, to taste
2 Tbsp. curry powder
1 tsp. cayenne pepper
2 tsp. ground coriander
5 cups chicken broth
16 ounces or 2 cups tomato puree or sauce (canned or homemade)
16 ounces or 2 cups crushed tomatoes (canned or homemade)
1/2 cup peanut butter, preferably natural
1 lb. cooked chicken or turkey, roughly chopped or shredded into bite-size pieces
1 cup scallions, thinly sliced on the bias
1 large handful cilantro, stems and leaves roughly chopped, for serving
1 cup peanuts (toast first, if raw), chopped, for serving

– Start your flavor base: Heat a large, heavy soup or stock pot over medium high heat. Add a few glugs of olive oil and sweat the diced onion until soft. Taste and salt as needed. Add garlic and cook for 1-2 minutes, until fragrant. Add curry powder, cayenne, and coriander and cook for another 2 minutes.

– Add the liquid and simmer: Add the chicken broth, tomato puree, and crushed tomatoes, and another healthy dose of salt. Stir everything together, making sure nothing is stuck to the bottom of the pot. Simmer for 30 minutes, keeping the soup below a boil.

– Thicken: Put 1 cup of soup and the peanut butter in a blender and puree. Add back into the soup and stir until combined.

– Finish and serve: Add chopped chicken and sliced scallions to the soup while still on the heat. When ready to serve, remove from the heat. Ladle into bowls and top each with chopped peanuts and cilantro.