Brett's salsa (¡Feliz Año Nuevo!)
Happy new year from Peru! We still have another few days before I'll start working on my Peru food post, but in the meantime here's a recipe post from way back in October, before we left. It's one of our absolute stand-bys, and I'd be lying if I didn't say that looking at these photos right now is eliciting some pretty severe cravings – mainly for Mexican food, but also for home.
This is actually the first post I've had that I didn't write myself. Perhaps some day I'll be getting offers for guest posts from Mark Bittman and Molly Stevens and Chad Robertson and all my other favorites, but I'll be happy to say that my first ever guest post was written by one of the best chefs I know – who also happens to be my husband. We've actually been meaning to post this for a long time, since it's one of the things we almost always have around the house, especially in the summer. I know it's not the most seasonally appropriate recipe (in the Northern Hemisphere, at least), but you can keep this one in your back pocket for when tomatoes and cilantro and carrots are at their best. We dedicate this post to Hayden, in her infinite hunger for salsa.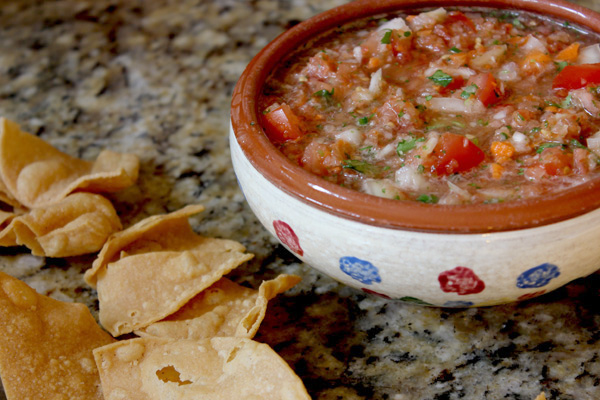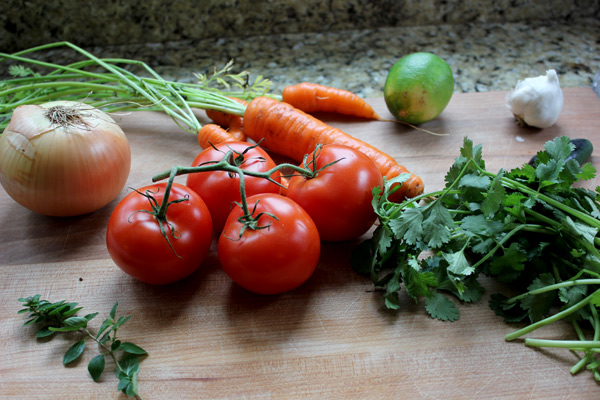 This is the salsa I've been making for the last few years, with only a few changes. There are two things that make this salsa different than the standard salsa. The first, and less unusual, is the inclusion of oregano. I got this idea from the salsa at El Portal, our favorite Mexican restaurant in Pasadena. Oregano is pretty common in traditional Mexican food, but it not in most standard American Mexican food.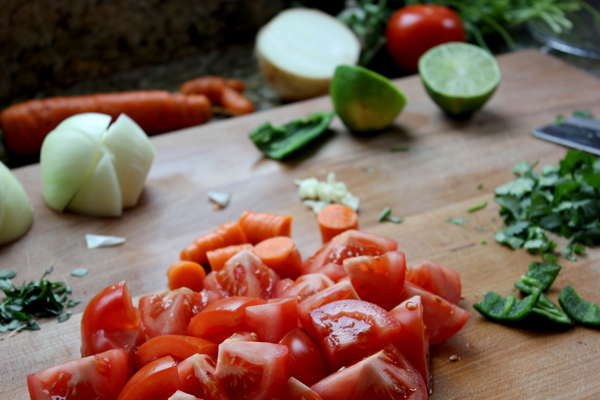 The more unusual element is the inclusion of carrot. I got this idea from a salsa that a family friend made the first time I came on my father's birthday camping trip. He called the salsa Brett's Blend and packed it with habanero peppers and lots of carrots, and I honestly don't know if there were any tomatoes at all. The carrots add some crunch, but also some sweetness that I think tastes really good with the spice from peppers and the acid from tomatoes.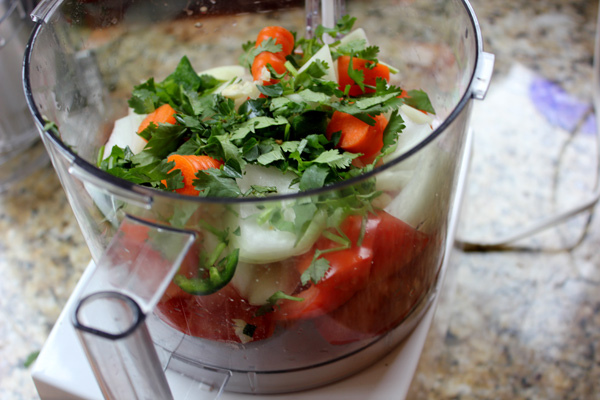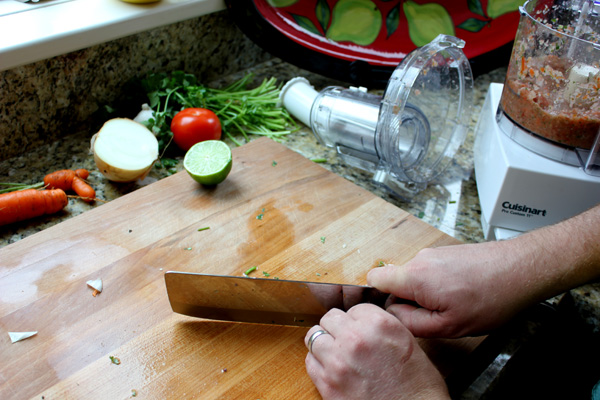 The other small innovation is in the method. I like chunky pico de gallo-style salsa, but it can be little hard to scoop with a chip and takes more time and effort to chop everything than I want to put in. So instead, I let a food processor do most of the work, and then add in some hand-chopped tomatoes and onions for chunkiness and crunch.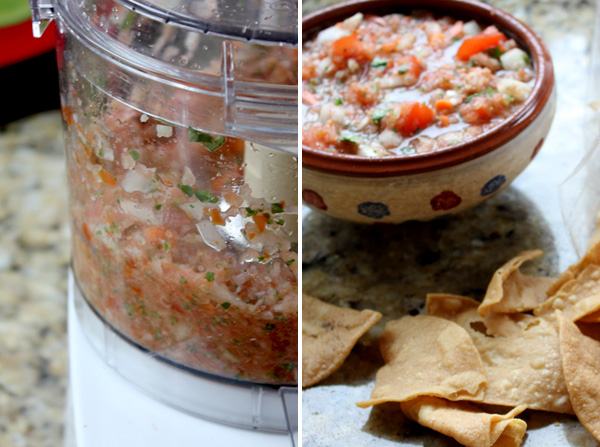 All the ingredient amounts listed below are very approximate and flexible.  Feel free to add more of the things you like in your salsa and definitely taste and adjust.
Brett's salsa

2 tomatoes
1 onion
1 medium carrot
1 serrano or jalapeño pepper (or more, depending on how hot you want it – the heat of peppers can really vary and the salsa will be hotter if you keep the seeds. I prefer serrano peppers.)
2 cloves garlic
1 1/2 tsp. salt, plus more to taste
1 Tbsp. fresh oregano leaves (optional, but recommended)
Around 1 Tbsp. fresh lime juice (usually somewhere between half and one whole lime)
Scant 1/4 cup cilantro leaves and stems

– Process most of the ingredients: Chop one of the tomatoes and half of the onion into a few pieces each, so that they fit well in the food processor. Roughly chop the carrot and the pepper(s). Place these in the food processor (it's smart to start with less pepper and add more if you want it spicier) along with the garlic, salt, oregano, lime juice, and cilantro. Process until only small chunks of carrot and onion remain. Taste for spice and add more pepper as desired.

– Chop the rest and combine: Dice the rest of the tomato and onion. Stir into the processed ingredients.

– Season and serve: Taste for salt and lime juice and adjust as needed. Enjoy!