Spring cocktail: Frühling's 19
We've been in Vienna for over a week now, the longest we've been anywhere since we left Claremont last July. Being here for five weeks has meant an entirely different rhythm of travel, one that feels a lot more comfortable as we've gotten more and more exhausted over the last ten months. We keep saying that it's 50% normal travel – venturing out into the city to see and do things – and 50% normal life – grocery shopping and cooking, slow mornings and early nights, and lots of time at our computers catching up on work and life and getting things done.
On our second night here we cooked dinner for ourselves, made a cocktail, and watched a DVD on the television in our apartment's living room. It really set in, then, that we'd get to have a fairly domestic little experience while we're here.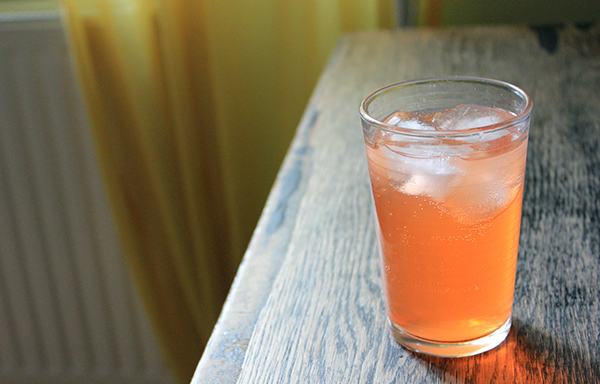 Most of our evenings here have looked like that, actually – we make cocktails or pour glasses of wine, we cook dinner, and we watch a show or a movie or we read or we both get work done. Sometimes somewhere in there we put a wooden cutting board on the dining room table and pile it with bread and sausage and cheese and mustard, and we snack on that while we're waiting for dinner or for whatever comes next. Our mornings generally all look the same, too – waking whenever it feels right, and slowly emerging into the day with breakfast and tea and coffee and a virtual check-in with the rest of the world. It feels a little like dipping our toes back into what normal life will feel like, and we like it.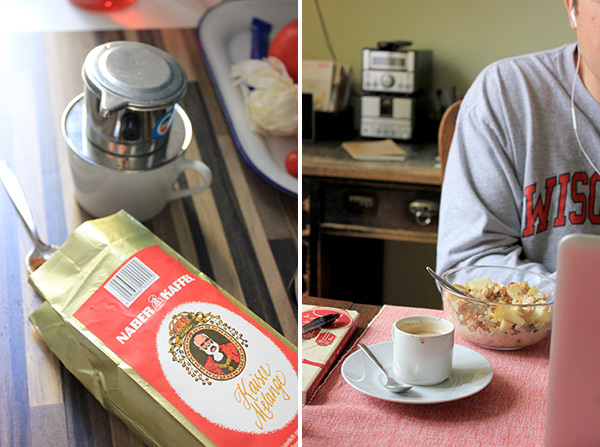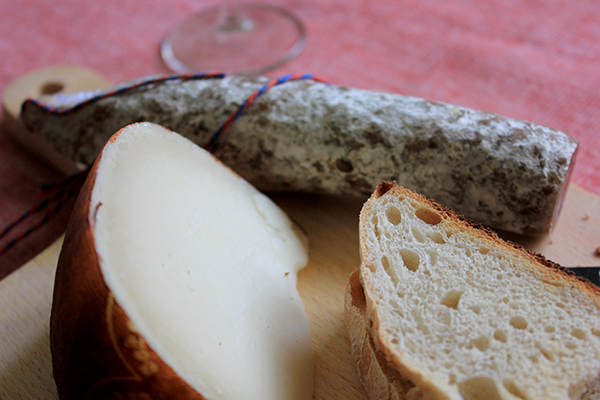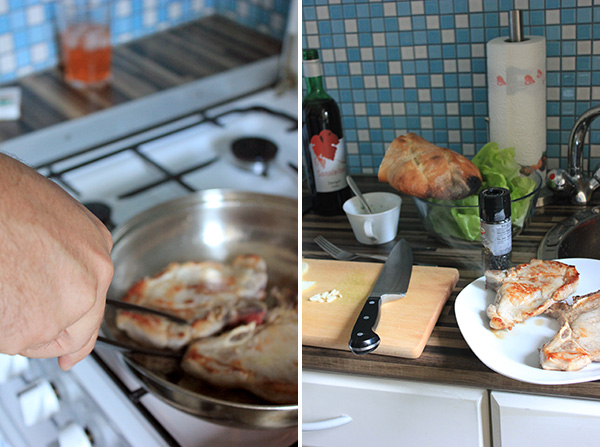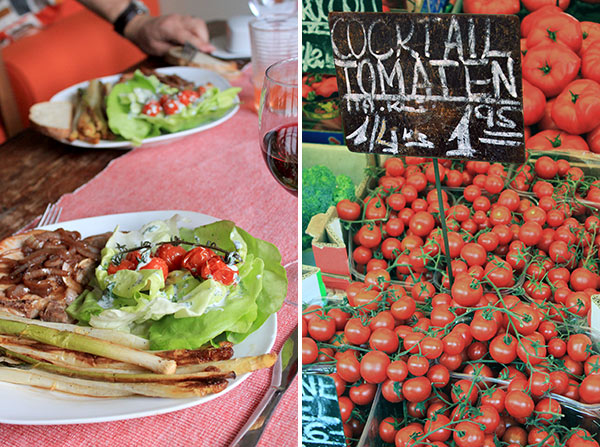 We've been doing quite a bit out in the city, as well, but everything we do feels less like tourist activities and more like the sorts of things we'd do if we lived here. We walk to various markets (and sometimes buy too much and have to lug it all back across town), we go hiking, we sit in cafés and at wine cellars, and we mainly just wander around the city. My German is much better, this time around, and we generally don't hesitate to go into shops that look interesting or to engage with people when we need or want something.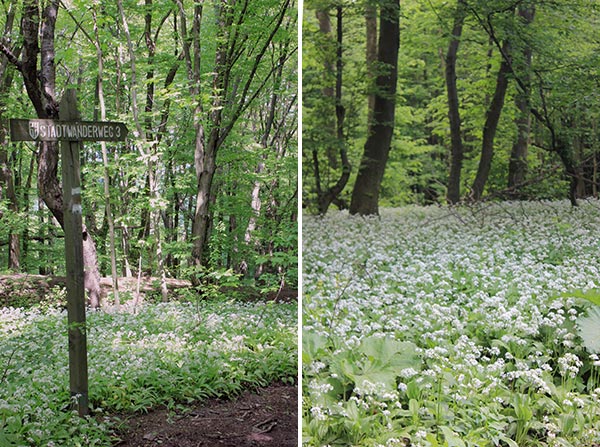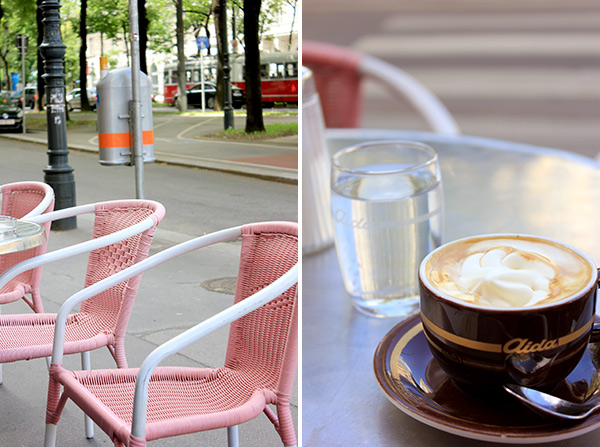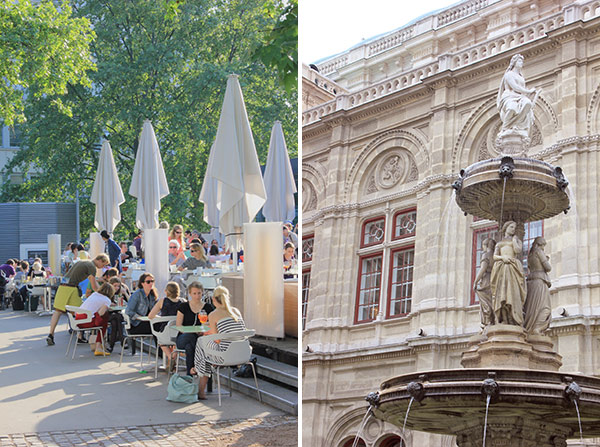 It's obvious, from the mood on the streets and from how people are dressed, that spring has recently appeared in Vienna. From what I can tell the seasons transition smoothly from snow to rain before ending up in late spring, and that it's finally now that people can enjoy being outside and walking and biking around the city without being entirely bundled up or huddled under umbrellas. Most of the restaurants, cafés, and beer halls or wine cellars we go to are empty as crickets inside with packed outdoor patios, and everyone seems to be showing off new spring wardrobes and sunglasses and brightly colored shoes.
We've felt the lure of spring as well, although we haven't quite mastered the art of predicting the short bursts of rain clouds that come through, and that's why the cocktail I made a few days ago before dinner is named after our experience here: Frühling is the German word for spring, and 19 is our apartment number. I threw this together with what we had in the kitchen (which is extremely limited), but it turned out to be one of my favorite simple cocktails I've ever made. Fruity, fizzy, and refreshing – perfect for spring, and for sipping while you cook with all the windows open. (Equally as perfect for sipping while doing nothing else with all the windows open – we've tried it.) It's exactly what spring feels like here in our apartment, and thus a fitting name.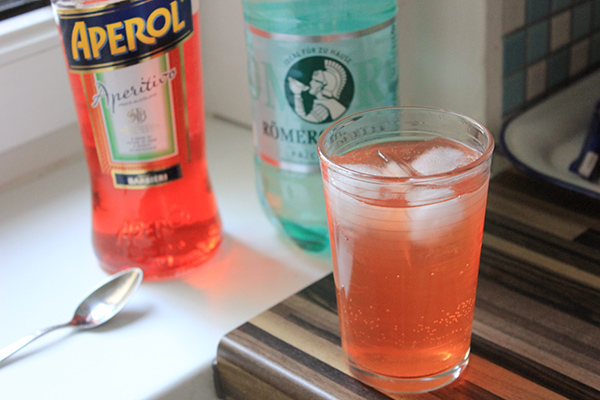 A note about Aperol: this bitter orange liqueur is fairly common in Austria, Germany, and other places (I also wrote about it when we were here two years ago), but it's not as commonly seen in the United States. We've always found it at BevMo and have even found it a couple of times at Trader Joe's, and it should be available at most liquor stores with a wide selection. It's a really great alternative to Campari if you find that too bitter, since it's in the same vein but a little less intense. If you want to use Campari for this cocktail instead of Aperol, try reducing the amount to 1/2 ounce and increasing the simple syrup to compensate – but I haven't tested that, so play around with what works best for your tastes. Campari is a great option if you don't have Aperol and don't want to buy it.
Frühling's 19

Makes 1, easily scalable

1 1/2 ounces gin

3/4 ounce lemon syrup (see below, OR 1/2 ounce simple syrup and 1/2 ounce lemon juice)
3/4 ounce Aperol (see note above)
3 to 4 ounces soda water

– Mix together the gin, lemon syrup, and Aperol, either in a shaker with a bit of ice (especially helpful if your gin and Aperol are at room temperature) or in your serving glass (which should be large enough hold a 6-8 ounce cocktail with some ice). Add a few cubes of ice.

– Top with soda water and give a quick stir to mix the ingredients.
Lemon syrup

Makes 1 cup, easily scalable

1/2 cup lemon juice

1/2 cup granulated sugar (anything bigger grain than regular granulated sugar will be difficult to use)

– Combine ingredients in a closed container and shake heartily until combined.

Storing: Lemon syrup will last at least 1 month in the refrigerator in a closed container. We keep this on-hand all summer for making lemonade, radlers (beer and lemonade), and other cocktails.