Trail cooking – sesame peanut noodles, a pair of cocktails, and two meal plans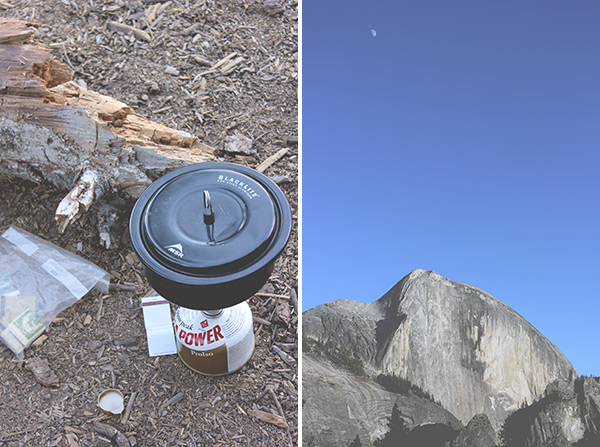 We've camped a lot this year. A lot a lot. We realized, in fact, that we have probably spent more nights in our tent over this past year than in any other place. It's been fantastic, in part because we've camped in some amazing, jaw-dropping places (like the Canadian Rockies, the Boundary Waters, and Yosemite), but also because we spent most of our years in Southern California wishing we had more time to head into the wilderness, pitch a tent, and spend days doing not much of anything but hiking.
So these days I have pretty good footing on matters of camp cooking. I get a lot of questions both on this site and from friends and family about how to plan for camp meals, and this page from last year has been by far my most popular this summer, so soon I'll put together a new site feature all about planning camp meals and menus.
But first, I want to talk about trail cooking, an entirely different beast.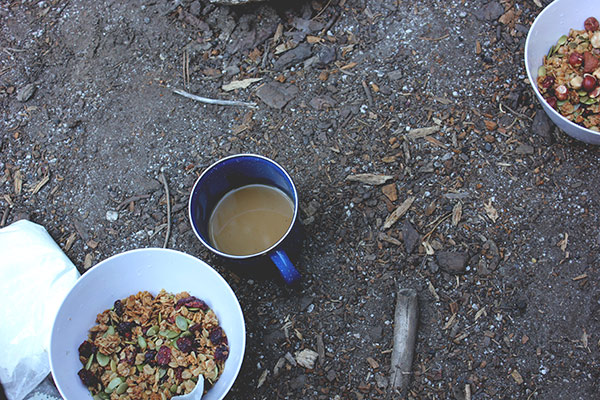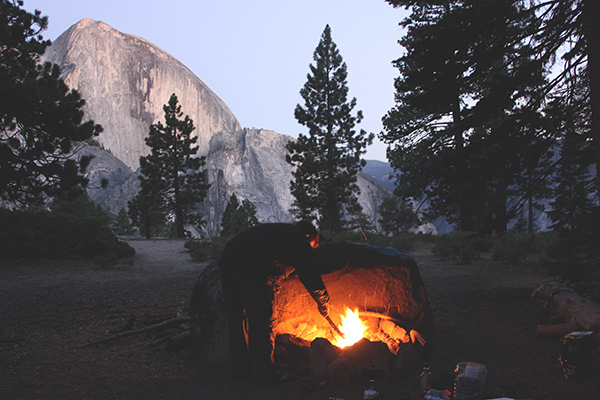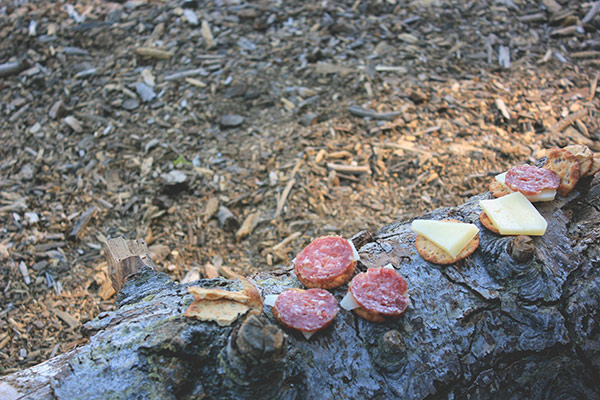 Feeding yourself while backpacking is entirely different than for car or walk-in camping, considering you have to carry all food and equipment on your back and access to important resources like water and fire may be a bit limited. Backpacking burns far more calories, and you need food that is compact and doesn't weigh very much, but it hearty enough to sustain long days of working hard. Things like cooking oil, fresh produce, and canned foods are limited, and most things need to be repackaged into exact serving sizes, all of which requires foresight and ingenuity in planning. Despite our love of camping, Brett and I had never been backpacking together before this month (which means neither of us had been since early in college – over seven years, ack!), and we struggled to dust off some of our old tricks and ideas. (Also, turns out many of the things I ate as a 19-year-old backpacker don't really appeal to us now. Pop-Tarts may have kept me going for a whole day of hiking back then, but now not so much.)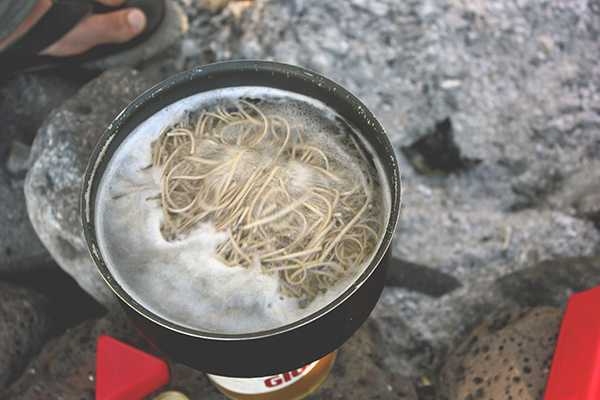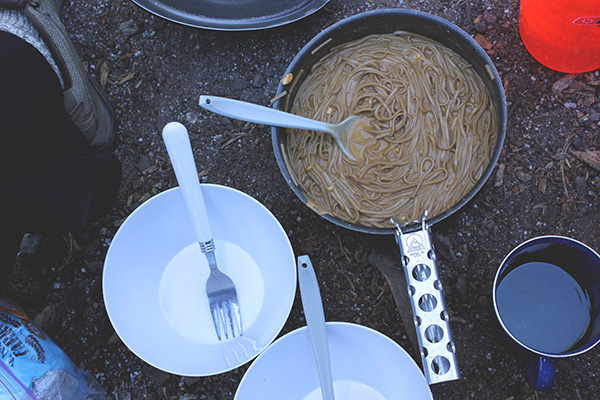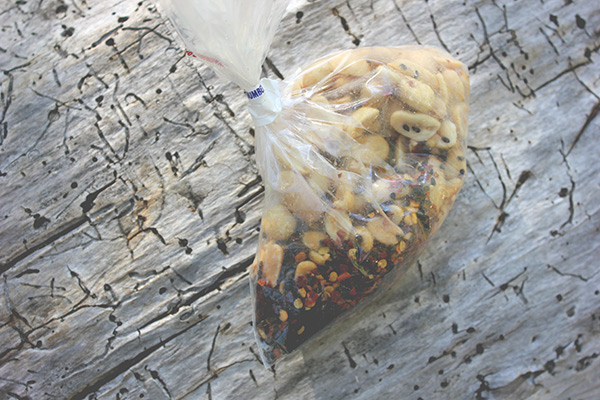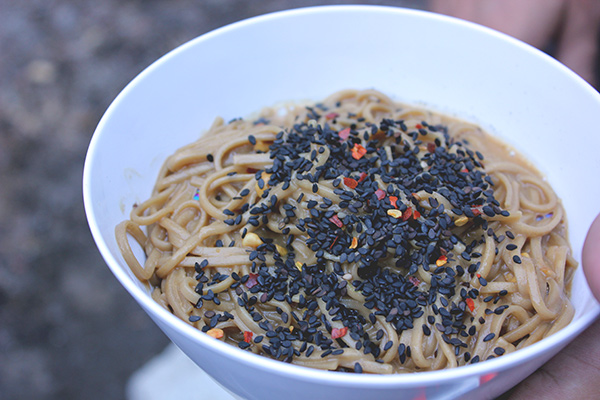 When we backpack, we rely on packaged foods far more than we do in our everyday life. We eat pre-made packets of Indian food and store-bought par-cooked grains (gotta save that fuel!), little plastic sheaths of instant coffee, and trail mix packed with M&Ms. We are not purists or high-tech in any regard; we do not dehydrate fully cooked meals to bring along or use those backpacker meals they sell at REI. We bring hard cheese and crackers (the weight! the size!, the purists cry) and do not calculate weight-to-calorie ratios. But we sustain ourselves, we eat well, and our backpacks maintain a reasonable size and weight. Good enough for me.
There are also really cool things we've discovered, like that the Emergen-C tropical flavor together with whiskey is better than some cocktails we've had at fancy bars. And that after a few hours in a peanut butter sandwich, packed for a day's hike, chewy, leathery dried banana strips transform into a perfectly soft, sweet addition to a pretty classic trail lunch. Or that when you shake milk powder and water together instead of just stirring it, it creates flavorful, heady foam that you can spoon on top of your morning coffee.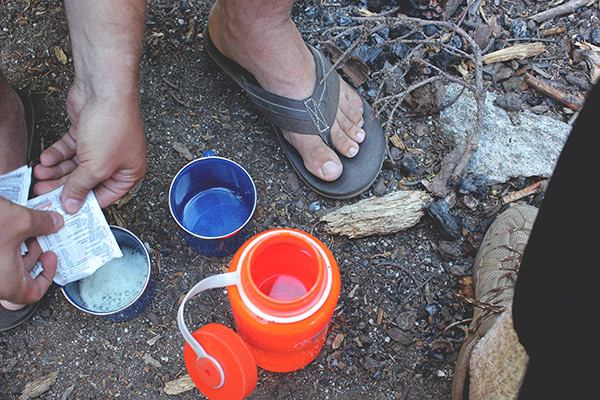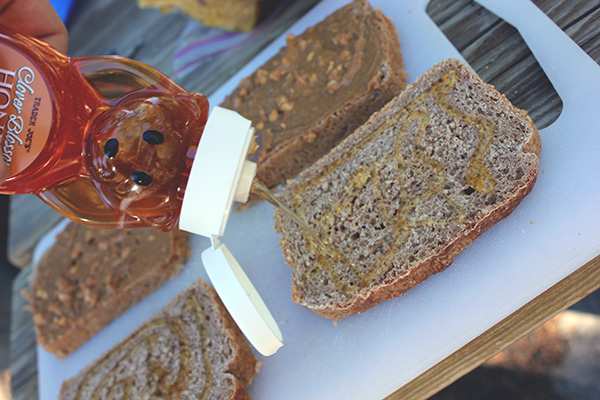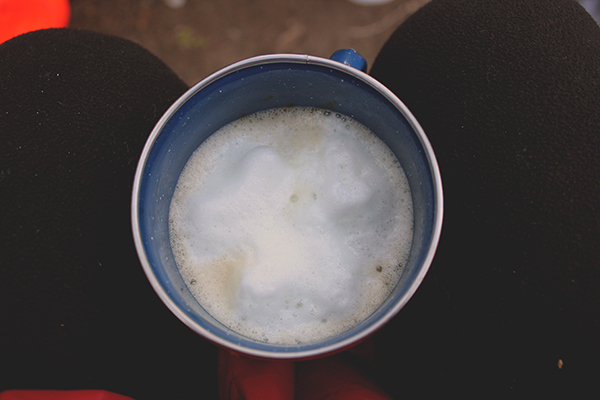 So first, a few recipes – my all-time favorite backpacking dinner, and two embarrassingly simple backpacking cocktails we experimented with on our last trip. Then, our meal plans from recent two-night and three-night trips. If you have any questions about trail cooking, let me know in the comments below – I'm happy to help!
Trail sesame peanut noodles

Serves 2 moderately in size but well in heft. If you're planning this for after a particularly long or hard day, consider increasing serving size.

Two servings dry long pasta, preferably soba (where two servings dry is around 5.5 oz.)
A few tablespoons peanut butter, preferably crunchy
Around 4.5 Tbsp. (2.25 oz.) soy sauce or tamari
Around 1.5 Tbsp. (0.75 oz.) sesame oil
A large pinch of black sesame seeds (optional)
A small pinch of red chili flakes (optional)
A few tablespoons peanuts, maybe roughly chopped ahead of time (optional)

Notes on trail packing: Soba noodles can be broken in half and packed in a sandwich-size ziploc bag. Peanut butter can be packed in a small tupperware container (usually we're bringing some for other uses as well) or a plastic bag. Liquids can be packed in a 3 oz. travel container (if you're going up in altitude quite a bit and the lid on your container could pop open, make sure to release a bit of pressure – to secure even further you could put your bottle in another ziploc bag). Sesame seeds, chili flakes, and peanuts can be packed in a plastic baggie.

– Cook pasta Cook noodles in boiling water until tender, or as otherwise instructed on the package of your noodles. Drain most of the pasta water in a safe place (away from your main campsite and any water source, or as otherwise dictated by the regulations of your site/ranger station). Keep some water in the bottom of the pan, enough that when you tilt it and push the noodles out of the way, water puddles at the bottom. This will help loosen your sauce a bit.

– Add sauce ingredients Add the peanut butter, soy sauce, and sesame oil right to the pan and mix together until fully incorporated. Things may look a bit soupy at first and that's very good, because as everything cools down it will thicken quite a lot. If you didn't leave enough water in the pan, things may get a little heavy and thick … in which case, you can always add more water to make the sauce silky again.

– Serve and garnish Spoon into bowls and add sesame seeds, chili flakes, and peanuts as desired.
Wilderness first responder

Makes 1, easily scalable

Also: do not laugh at this, at least not too much – it is really surprisingly delicious, and delivers some huge percentage of your daily vitamin/mineral needs, along with the hydrating electrolytes that are super important while you're backpacking. We're not sure if other Emergen-C flavors pair with whiskey quite so well, but we'll continue working on that. (Our gift to you.) 

1 packet tropical flavor Emergen-C

A few ounces of water
1.5 ounces whiskey or bourbon

– Combine ingredients Mix together Emergen-C packet and a few ounces of water in your camping cup. Add whiskey, stir to incorporate.
Mountain julep

Makes 1, easily scalable

Another idea I have is to plop in one of the ginger candies I take with me everywhere and let that melt in instead of using sugar. When I try it, I'll update the recipe.

1 bag mint tea (plus boiling water to prepare)

1.5 ounces whiskey or bourbon
Sugar to taste (we generally hoard sugar packets for camping use, and we shared one packet between two of these)

– Combine ingredients Prepare a small mug of mint tea with boiling water. Add whiskey and sugar to taste, and stir to incorporate.
Trail meal plan #1 (Steens Mountain, OR) – two breakfasts, two lunches, snacks, two dinners for two people

Breakfasts:

Granola, powdered milk, dried fruits (raisins and bananas), hazelnuts (Brett)

Beverage options: instant coffee and/or black tea, additions: powdered milk, sugar packets, hot cocoa powder

Lunches, packed in the morning and brought hiking:

Heavy-duty bread (soft stuff will squish in a backpack), hummus powder, tubed mustard, basil (fresh basil leaves will stay good for up to 3 days, wrapped in a moist paper towel in a ziploc bag)

Heavy-duty bread, peanut butter, honey, dried banana strips

Snacks:

Trail mix (dried fruits, nuts, seeds, M&Ms)

Energy bars

Dinners:

Peanut sesame noodles (recipe above)
One packet indian food (Trader Joe's) and one half-bag par-cooked farro (Trader Joe's)
Dessert: high-quality chocolate bars (which utterly melted on this trip … when hot, consider something else!)
Beverage options: Emergen-C packets, mint tea, whiskey, hot cocoa
Trail meal plan #2 (Yosemite Ntl. Park, CA) – three breakfasts, three lunches, snacks, three dinners for two people

Breakfasts:

Granola, powdered milk, dried fruits (raisins and bananas), hazelnuts (Brett)
Beverage options: instant coffee and/or black tea with additions (powdered milk, sugar packets, hot cocoa powder)

Lunches:

Heavy-duty crackers, hard sausage, hard cheese, tubed mustard
Energy bars

Snacks:

Trail mix (dried fruits, nuts, seeds, M&Ms)
Turkey jerky
Small candies – soft raspberry licorice, ginger candies, etc. – they're helpful when you're flagging on the trail and need something distracting

Dinners:

Peanut sesame noodles (recipe above)
Two nights: One packet indian food (Trader Joe's) and one half-bag par-cooked farro (Trader Joe's)
Dessert: high-quality chocolate bars (which did not melt on this trip but were stolen by a bear – for real – on our last night)
Beverage options, including the cocktails above: Emergen-C packets, mint tea, whiskey, hot cocoa