Marinated goat cheese, with endless variations
I'm always looking for good ways to make something special out of an everyday ingredient, especially as we enter our grad school budget phase of life, and marinated goat cheese is definitely one of those things. I'm a little obsessed.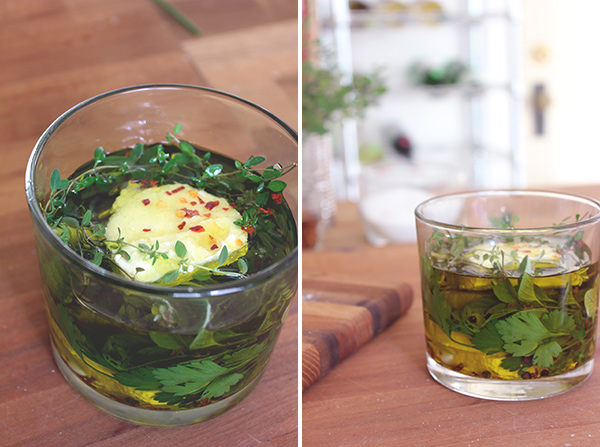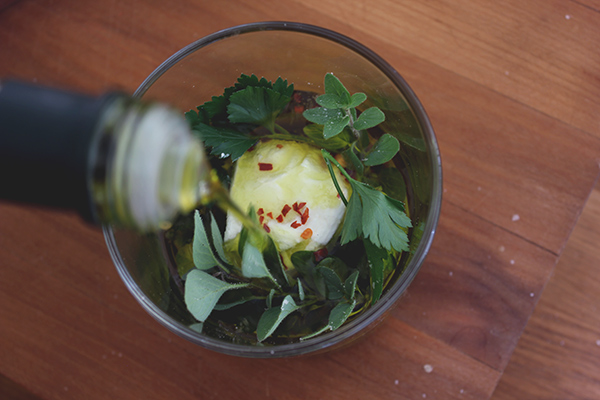 Put together some plain ol' goat cheese, some herbs and/or spices and/or citrus zest and/or etc., and a few pinches of salt, cover it all in olive oil and let it sit for at least a few hours and up to a week, and you have a sum much greater than its parts. Everything ends up infused with the flavors of whatever you've added, and the oil makes it perfectly luscious, just waiting to be spread or dipped into. Just a few nights ago we made a delicious meal out of toasted bread, marinated goat cheese, sliced tomatoes, and a few eggs fried in the marinating oil.
Even the most basic goat cheese can be transformed into something that seems a little fancier and more decadent, and all it takes is a bit of forethought so you have time to let the flavors meld as it all sits. And as you eat the cheese you also have a tasty infused oil to use in dressings or for spreading on bread or for roasting vegetables or for any one of a million things (just make sure there's always at least a thin layer of oil over the top of the cheese as it sits in the fridge). Brilliant!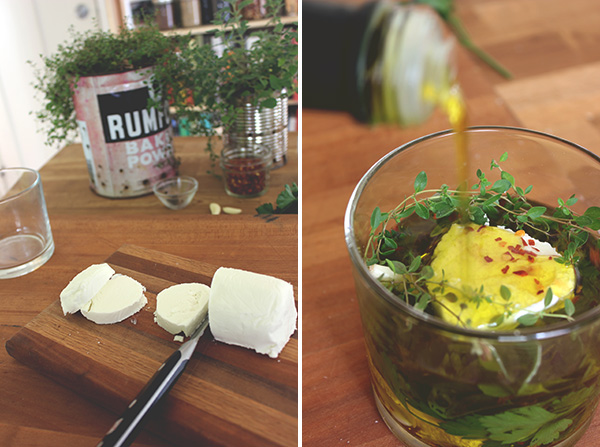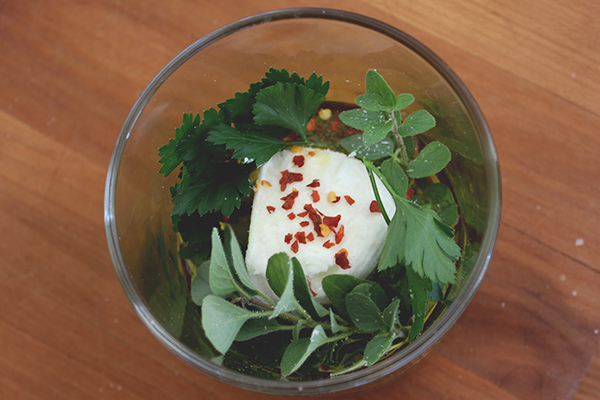 Don't pay too much attention to the specific herbs and flavorings I used here. There is a huge amount of flexibility based on whatever you have around at the time. Right now we happen to have a ton of herbs around the house, so I stuffed in as many as I could, but in times of scarcity there are plenty of dry spices or more seasonal elements you could use. Here are some additions you might consider:
Herbs, preferably fresh (but dried would be okay too): thyme, oregano, rosemary, basil, chives, sage, tarragon, parsley
Spices: peppercorns, fennel seeds, chili flakes, bay leaf, whole allspice
Orange or lemon zest, peeled off in wide strips using a vegetable peeler
Fresh chilis, sliced in half lengthwise (or whatever shape you need to fit in your container) and de-seeded
Garlic cloves, peeled
You can add flavoring elements in pretty much any combination, so play around with it. Maybe lemon rosemary? Bay leaf, chili, and orange? Garlic, basil, and oregano? Pretty much anything flies here, and in almost any quantity. Like I said, we have a lot of herbs right now, so I used a ton in this batch. But should I only have a sprig or two around, that would be okay too. For most dry spices I'd go with a small pinch for a 4 oz. log of goat cheese, and if you're using a fresh chili beware that it could make things quite spicy! Maybe add just a little, then taste a day later and see how things are going, and adjust. Whatever you decide to use, make sure to add a pinch of salt after each goat cheese round. It will help all the flavors infuse and meld.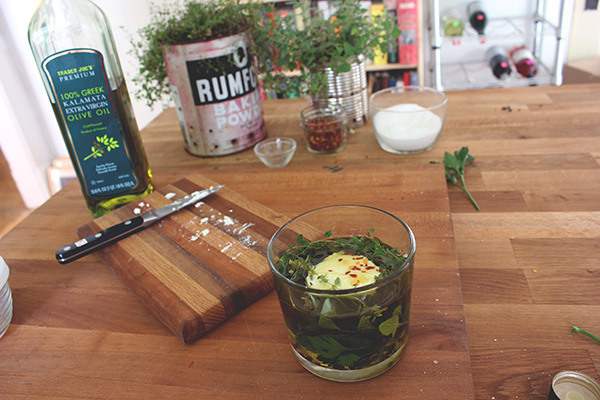 This makes a great appetizer or snack when you have people over (or when you have no one over, but need something to stabilize a solo glass of red wine enjoyed on the porch), and is likewise perfect to bring to parties or potlucks. The holidays will be here sooner than we know it, and this is a lovely and relatively inexpensive thing to bring along with your holiday cheer. I've dipped crackers right into the jar, as long as there's not too much oil sloshing around on top, or I've fished out rounds with a fork or clean fingers and placed them into a little serving dish, adding more fresh herbs or quartered cherry tomatoes on top along with some freshly ground black pepper. Simple and delicious!
Marinated goat cheese, with endless variations

Update: If you're not a fan of goat cheese or don't happen to have any available, a few alternatives include mozzarella (the fresher the better), Camembert, brie, and ricotta salata (the firm, dried, sliceable version of ricotta). If you choose a creamy cheese, just make sure you'll be able to cut or form it into pieces that won't fall apart too badly in the oil.

Easily scalable

Goat cheese (here I used most of a 4 oz. log from Trader Joe's)
Olive oil (enough to cover everything in the container, which depends on how much you use and the width of your container)
Flavoring elements (see list of possible options above) – here I used a couple of sprigs each of lemon thyme, oregano, and parsley; two small peeled cloves of garlic; and small pinches of chili flakes and black peppercorns
Salt

– Prepare the cheese Carefully slice your goat cheese into rounds about 1/3-1/2″ thick. This is easiest when the cheese is cold. If slices crumble a bit, don't worry – just press them back together with your fingers. You can also shape the cheese into hand-formed rounds or balls, if you like.

– Combine ingredients Place your first piece of cheese in a container, preferably a widemouth glass jar or other glass or ceramic container. In a pinch, tupperware will do, though the flavors may leech into the plastic somewhat. Even a drinking glass or mug will be fine as long as you have some way to tightly cover it (e.g. plastic wrap). Sprinkle salt on top of the cheese and pour in oil to just cover. Make sure each piece of cheese has oil on top before you add another, or they may stick together too much. Continue layering cheese and salt and adding oil, inserting your flavoring elements as you go. I sprinkled chili flakes between the layers just as I did with the salt, otherwise everything was sort of pressed up against the side of the container. You may want to put herbs and things between the pieces of cheese as well, which is fine.

– Let sit Let the container sit at least 4 hours before eating; preferably at least 2 days. Cover and refrigerate if waiting more than 4 hours to eat. In the refrigerator the oil will solidify slightly, so you'll want to bring it up to room temperature before eating. You can keep this oil in the fridge for up to 1 week (some sources say more, but I wouldn't do more than 1 week).