Fall Cocktails: The apple picker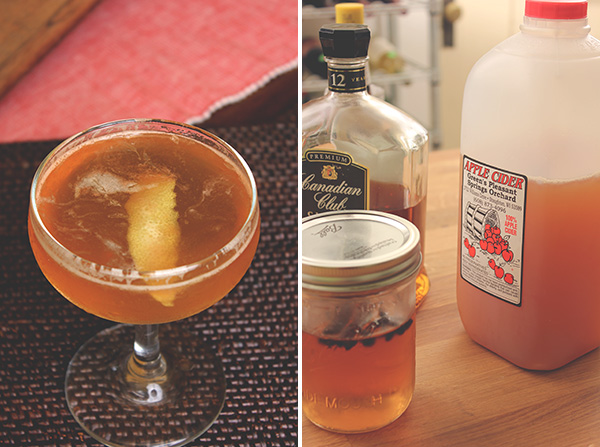 Two months in and we're settling into our new life here in the Midwest. After a while of time with things sort of up in the air, I have my situation fairly figured out (more on that in a bit) and Brett's pretty entrenched in his first semester of his PhD program. We're slowly meeting people and finding folks to share our time with, and we're trying to bite off snippets of time to go explore our new town and the surroundings.
And, it's fall. Even in the first few days of it, it's the sort of fall I've been waiting for since I left Minnesota over a decade ago. That first fall away was a big swirl of college freshman activity and I didn't have a chance to think much about it, but by sophomore year I would catch myself lingering over photos – photos of anything, from anywhere – that somehow reminded me of the falls I was used to. This continued and intensified for years, and one time just a couple of years ago I caught myself fawning wistfully over a photo of what amounted to a fairly barren park, all leafless and windswept and well into its waning pre-winter days. I couldn't stop looking at it and feeling nostalgic, and I knew it was time to go back. Fall is one of the things I missed most about being in California, and one of the main reasons I'm happy to be back.
It also means I can add more to the Fall Cocktails category of this website, woefully neglected amongst the palms.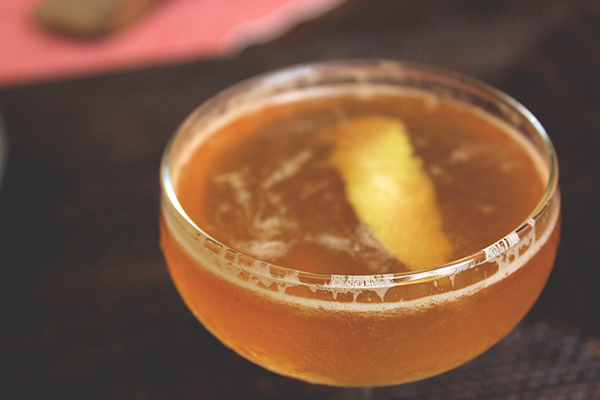 We've been buying apple cider at the farmers' market each week, and I've been looking forward to knocking around some cocktail ideas. There are plenty of warm ones that come to mind, but I'm saving those for when things are a bit colder and we're seeking some additional … inner warmth. In the meantime, I've worked on some cold cocktail recipes and come up with two that I particularly like. One is a sangria for which I have no photos, but I will get that up here eventually. I made it at a birthday party a few weeks back and included it in the tapas class I taught recently, and both groups raved. (If you're in need of the recipe before I post it here, let me know in the comments and I'll send it along.)
The other is one we're calling "The Apple Picker," a semi-strong mixture of cider, whiskey, a splash of lemon juice, and one of my all-time favorite cocktail ingredients – simple syrup infused with spices. We made some last night to photograph, and when all the power went out in the house midway through photographing (which also happened to be midway through cooking an involved dinner) and we couldn't find the fuse box in the dark and very creepy basement, these came in handy for reasons I probably don't have to explain.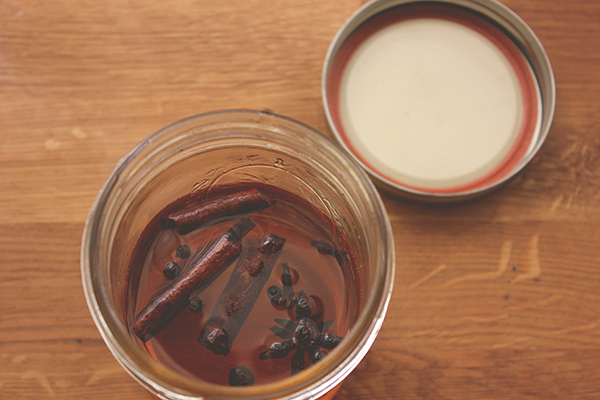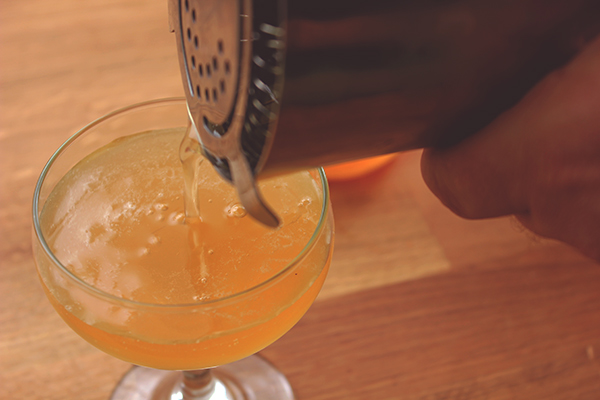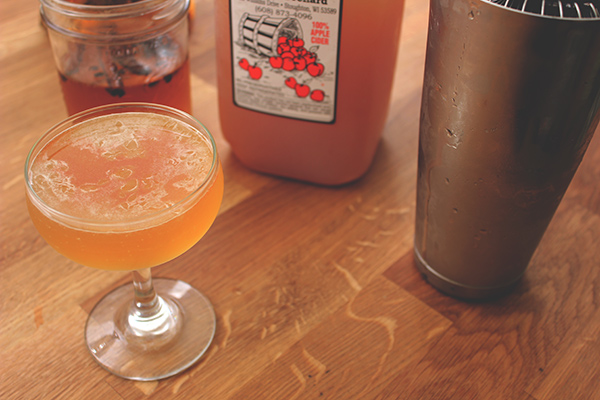 Before we get to the recipe, a few quick announcements:
One is that my upcoming classes in Madison with Madison Eats are now on sale! Check out the Classes + Events page for registration details.
Two is that voting is currently open for Madison Magazine's Best of Madison – if you live in Madison, write in Bowen Appétit for Best Local Food Blog! You can vote once per day every day until the end of October. Your votes are much appreciated!
Three is that people have been asking lately about "what I do" in Madison. I didn't really know how to answer that for my first six weeks here, but now I have an answer! As of a couple of weeks ago I am the full-time Communications Director for REAP Food Group, a non-profit organization in Madison that connects farms to tables through restaurants, schools, health care, home cooks, and celebratory events. I cannot be more excited to be focusing on food professionally again, and I'm really happy to be involved in Madison's efforts for a sustainable, socially just food system. I'm also still working a few days here and there at The Kitchen Gallery, which I love, and helping out a bit with communications for Slow Food Madison, a great group of folks working on a lot of neat projects. And I'm hoping to get the cooking classes off the ground in the next few months, hopefully teaching once every two weeks or so at a variety of venues (including private classes – if you're interested, get in touch!). It sounds like a lot, but it all fits together pretty well and I'm happy to be involved and meeting people. So far, so good!
The apple picker

Makes 1, easily scalable

1 1/2 ounces Canadian whiskey (other whiskeys will work here as well)
1 1/2 ounces apple cider
1 Tbsp. spiced simple syrup (see recipe below)
1/4 oz. lemon juice
1-2 dashes bitters
Lemon twist, for garnish
Ice

– Combine and shake ingredients, strain, and garnish Combine all liquid ingredients except the bitters in a shaker half-filled with ice; shake and strain into a cocktail glass. Add 1-2 dashes of bitters on top and garnish with a lemon twist.
Spiced simple syrup
Makes approximately 1 cup, easily scalable

1 cup (or equal part) sugar
1 cup (or equal part) water
Small handful spices: cinnamon sticks, star anise, whole allspice, whole cloves, black peppercorns, cardamom seeds or pods, etc. Think wintery baking spices. In this batch I used 3 small cinnamon sticks, 1 star anise, 4 allspice, 3 cloves, and 4 or 5 black peppercorns.

– Simmer ingredients, cool, and store Simmer sugar, water, and spices in a small pot over medium-high heat, stirring until sugar is dissolved. Simmer another 5-8 minutes, then let cool and store in an airtight container in the refrigerator.

Making ahead/storage: This syrup will keep in an airtight container in the refrigerator for up to 1 month.