Vietnamese braised eggplant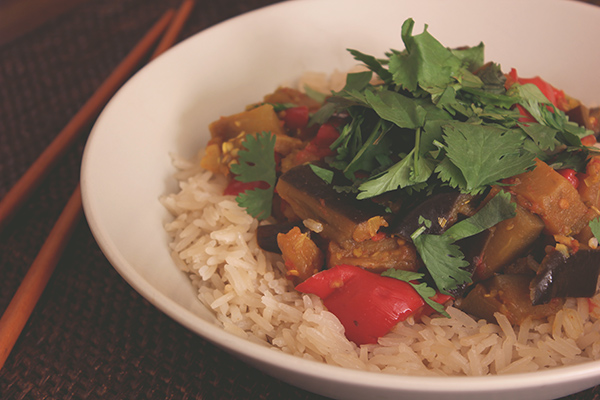 We're entering that brothy, stewy time of year I love so much, and this recipe has been added to our rotation for the season since it's delicious, relatively simple to put together, and perfect for making in larger batches to divide over a few meals. We don't cook a lot of Asian food at home, but this is definitely one of the most delicious and simple ones we make. It's inspired by one I made last spring in a cooking class in Central Vietnam, where they fill clay pots with vegetables, aromatics like garlic and lemongrass, and a sweetened fish sauce broth, and cook it all over a low fire. These were unlike any of the other dishes we ate in Vietnam – warming and filling like Pho and other noodle soups, but instead packed with vegetables, intensely flavorful, and served over rice – and I knew the concept would be more easily adaptable to making back at home.
And I was right on that one, or at least in the recreation that I've come up with. The most exotic ingredient it calls for is lemongrass, which you should be able to find in larger grocery stores or Asian markets (most of which will have it in the freezer section already peeled and chopped, if it's not available fresh), and a sauté pan fills in perfectly fine for the traditional clay pot. You can use fresh tomatoes when they're available or canned ones during the rest of the year, and aside from the eggplant the other vegetables you add are pretty flexible. I particularly like using quartered cremini mushrooms, sliced shitakes, and green beans, and I'm hoping to experiment a bit with using sweet potatoes and squashes this winter. I've never added a protein, but I included a note in the recipe about how you could add chicken, tofu, or other proteins if you like. (If you try it, let me know! Once I do it, I'll add more details.)
On an entirely different note, Madison Eats and I are offering a special deal for our last two classes in November! The Homemade Italian Classics class next week still has a few openings, but since the two remaining classes in November are still wide open, we're offering a special price discount for groups of 6 or more that would like to make the class a private event. The menus we've proposed are Tapas and brunch, but as a private class the participants can work with us to adjust the menu and techniques covered, if they like. Discount group pricing details and class information are available here!
Vietnamese braised eggplant

Makes 4 moderate servings

2 Tbsp. peanut, soybean, canola, grapeseed, or other neutral oil
2 cloves garlic, finely chopped
2 Thai or other small, hot chilis, finely chopped (Or more, if desired – it always depends on the chilis, but in this case 2 Thai chilis provided a mild-to-moderate heat level. And if you can't find nice fresh chilis, a sprinkling of spicy red pepper flakes added instead or a splash of hot sauce at the end will work just fine)
2-3 Tbsp. finely chopped lemongrass (this time, this meant 2 medium stalks of lemongrass – but it will really depend on the size and freshness of the lemongrass you buy – see this page and this video for great information on buying and preparing lemongrass)
2 green onions, roughly chopped
1 tsp. ground turmeric
Around 3 cups of vegetables cut into bite-size pieces – I've used red peppers, green beans, mushrooms (if using white/button or creminis, quartering them is a nice way to prepare them for this), and carrots (cut into much smaller pieces so they didn't take quite so long to cook) and they've all worked very well. Squash or sweet potatoes would be interesting (roast or bake until firm but edible, and add at the same time as the eggplant), as would strips of cabbage or leafy greens. In the case of the pictures here, I used two large red peppers.
Around 2 lbs. eggplant (in this case, 3 medium eggplants), ends trimmed and remainder cut into large bite-size pieces
1 15-oz. can of tomatoes (whole, diced, or crushed) with its juices OR 2-3 juicy ripe tomatoes, quartered, plus 1 cup water
1/4 cup fish sauce
2 Tbsp. brown sugar
Roughly chopped cilantro and/or basil, for serving
Jasmine or other rice, for serving

Note: Chicken, tofu, beef, or other proteins could be lovely in this dish. If you want to add something already cooked, add those pieces right before the dish is done cooking. If you want to cook them, add the pieces to the pan before the other vegetables and sauté until almost completely done before continuing. Marinating the protein in complementary flavors – fish sauce, lemongrass, garlic, ginger, turmeric, sesame oil, etc. – would make things even better.

– Sauté the flavor base In a large, wide sauté pan or pot that has a cover, heat the oil over medium-high heat. Add the chopped garlic and hot chilis, and stir until fragrant, around one or two minutes. Add the chopped scallions and lemongrass and stir until fragrant, another minute or two. Add the turmeric and stir until incorporated.

– Add vegetables Add your non-eggplant vegetables and cook until starting to become tender (for the red peppers, this meant about 5 minutes). Add the tomatoes and their juices (canned tomatoes) or water (fresh tomatoes) and the diced eggplant and stir/toss to combine. 


– Add sauce and braise Pour the fish sauce and sprinkle the brown sugar over the ingredients and stir/toss to combine. Lower the heat to medium-low, cover the pan, and cook for at least 15-20 minutes, or until the eggplant and all other ingredients are cooked through and tender. (Many of the pieces of eggplant should slump into the sauce, though some may retain their shape well.) Check the pan every 5 minutes to check on moisture – if the pan is looking fairly dry and things are sticking, add a few tablespoons of water. If things are looking a little soupy within five minutes or so of the end of the cooking time, remove the lid and continue cooking to let moisture escape.

– Serve and garnish Serve the braised vegetables over rice or as desired, garnishing with roughly chopped cilantro and/or basil.

Making ahead/storage: This will keep well in a sealed container in the refrigerator for up to 1 week. It will freeze well for up to 6 months; for best results, thaw for at least 8 hours in the refrigerator and then reheat in a pan.