Honey gimlets, and other objects of my obsessions
Fairly often, things wiggle their way into my life and hang around for a while. Sometimes it's a craving that won't quit, or an activity that becomes a routine, or an idea or flavor or experience I become a little fixated on.  I go through phases with foods I want to eat all the time, I get addicted to TV shows, I listen to albums non-stop,  I wear certain outfits whenever they're clean, and there's usually some cocktail or other that I'm ordering. These things stick around for a while until something – a change in the weather, a random craving, or a need for change – steers me elsewhere.
And right now, it's this humble little honey gimlet.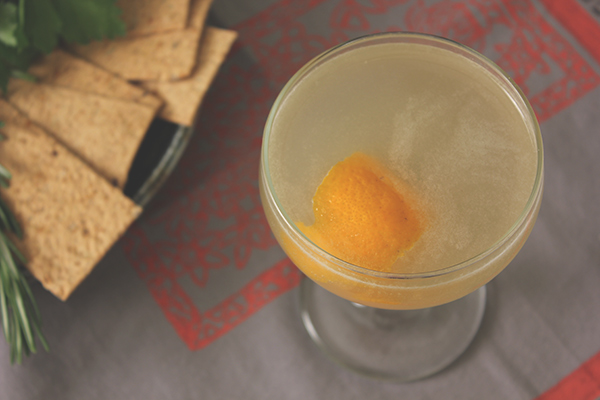 I've been particularly emphatic about both honey and gimlets over the past month, and one night a few weeks ago the two cravings converged in my brain to produce something quite lovely. More complex than a regular gimlet (lime, simple syrup, gin), not as candy-sweet as a Bee's Knees (lemon, honey, gin), and a perfect complement to the starchier, creamier, softer, warmer food we're starting to eat as the world here turns toward winter. I've been garnishing with orange peel and a cherry, just because the idea struck me as a good one, but they're certainly not necessary.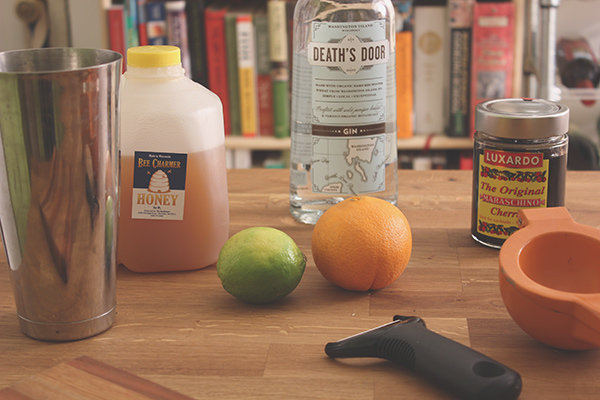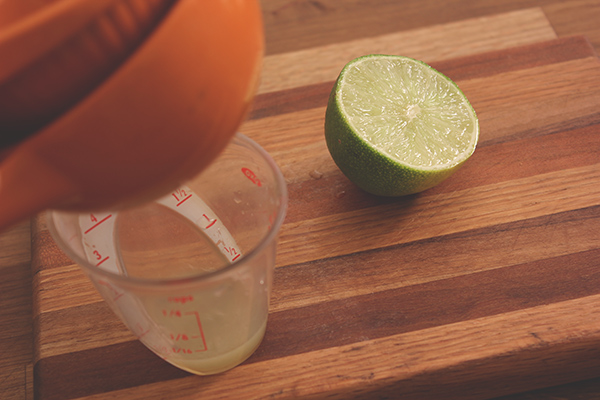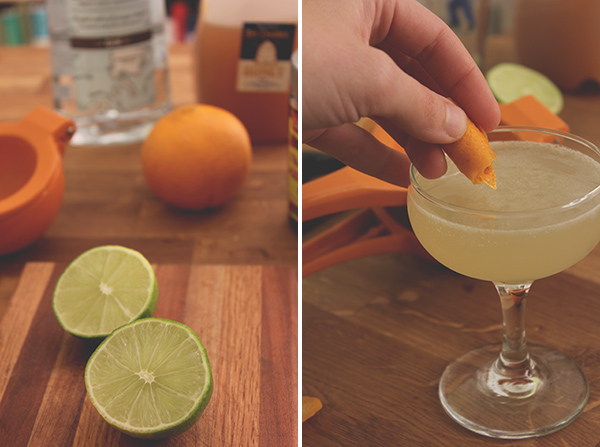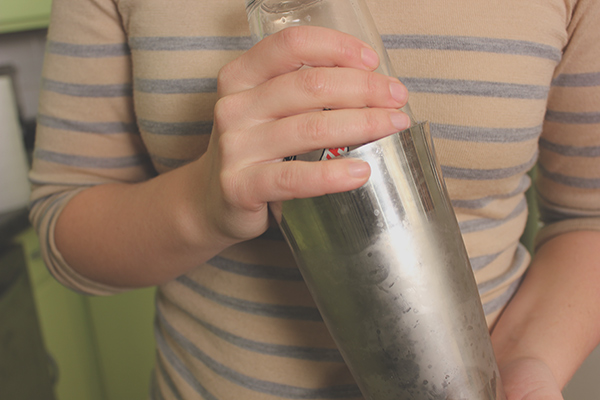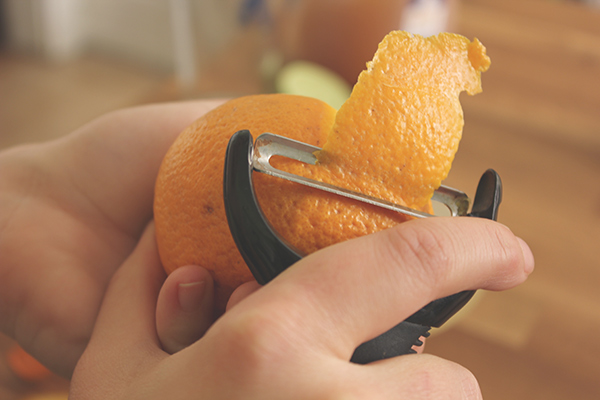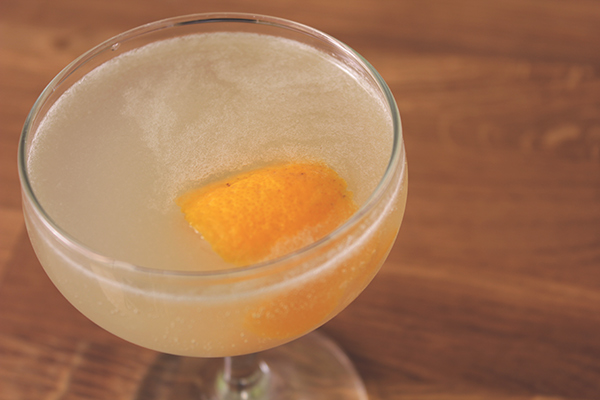 And since we're on the subject, let's talk about some of the other things I'm into lately. It seems more and more recently people have been asking me what we're eating and cooking these days, and I think it's that such a huge and fairly sudden shift in the seasons and in what's around (at least here – all you Southern California readers, just glide on through the rest of this sentence) can be a little overwhelming. So for food and otherwise, here's what's on the top of my mind:
Ginger: chocolate-covered dried ginger in my desk drawer, bags full of ginger candy, ginger tea in the mornings, and WiscoPop's incredible ginger brew, which I buy now without fail wherever it's on tap.
Honey on everything, especially spoons. Honey on goat cheese, honey on oatmeal, honey wherever I normally use sugar. Honey infused with vanilla, honey mixed with peanut butter, honey on graham crackers.
Sweet potatoes, in all places where I'd usually be using butternut squash at this time of year. And if you haven't yet gotten your hands on Ottolenghi, do it for the sweet potatoes, and make immediately the sweet potato galettes and the brilliantly simple sweet potato gratin with sage (which I made tonight using half sweet potatoes and half red or Yukon Gold potatoes and which would be absolutely perfect for the holidays).
Bread crumbs, whizzed in a food processor with anchovies, chili peppers, garlic, and lemon zest, then toasted or briefly pan-fried in olive oil, sprinkled on everything.
Chocolate malts made with Sassy Cow milk and vanilla ice cream and a hearty, hearty dose of this local malt powder.
Osteria Papavero, and the incredible dinner we ate there earlier this week. Already scheming a reason to go back soon …
All things Amy Thielen, particularly her ricotta recipe. (Need to update to that one here on this site;the version I used before doesn't even compare!)
My straight-sided 4-quart sauté pan, which seems to be the hammer to all my kitchen nails lately.
Down. Wool. Flannel. Fleece. (p.s. I bought that coat wayyyyy on sale a few months back, let's be clear.)
This brilliant woodcut artist, whose work makes me feel all the feelings. We're thinking of buying ourselves a piece for Christmas, and I couldn't be more excited.
Lorde. I may always and forever associate these songs with this first month at my job, riding the bus back and forth between our house and downtown.
And otherwise, Colin. Saw him solo live this week for the fourth time, and July, July slayed me like it always does.
And lastly, this.
So I guess those were mostly food, but that's pretty par for the course with me, anyways. I've been a little too busy to be obsessed with watching or reading or doing much else, but hopefully those thing will make their way back in soon.
One more thing: if you're in Madison, make sure to check out the Holiday Artisan Food Tour from Madison Eats. There are a small number of tickets left, and it looks to be an incredible event. A tour of many of Madison's best locally-owned artisan food producers, then a party featuring even more local food along with live music, cocktails from Old Sugar Distillery (featuring WiscoPop, one of my current obsessions), and a silent auction benefiting Eat for Equity Madison. I'll be there, and you should be too!
Oh right, a recipe! I just came very close to publishing this without even getting there. Lucky you, I remembered.
Honey gimlet

Makes 1, easily scalable

1 1/2 oz. gin
1/2 oz. (1 Tbsp.) lime juice
1/2 oz. (1 Tbsp.) honey
Orange peel and Maraschino cherry, for garnish

– Combine, shake, and strain ingredients Combine gin, lime juice, and honey in a shaker filled with ice. Shake and strain into a cocktail glass.

– Garnish Garnish with a strip of orange peel (made easily with a vegetable peeler) and a Maraschino cherry.