Weekend Links, Jan. 13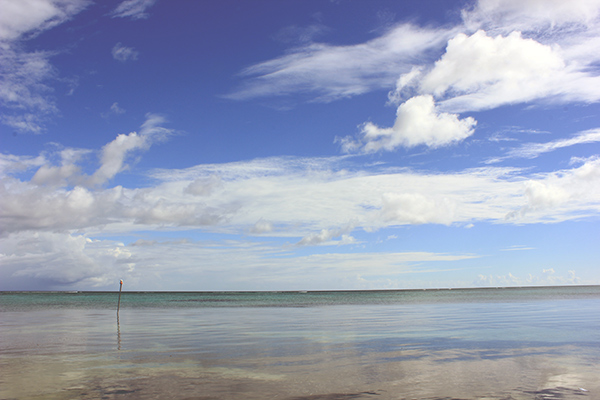 One of a few non-rainy moments – Xcalak, Yucatán, Mexico. 
Welcome back to Weekend Links! I stopped doing these weekly round-up posts when we left for our year of travel, but I'm feeling settled in again and heard from many people that they missed these weekly collections of links – news, recipes, interesting articles, and other notes – so they're back! The plan is to post these every Monday, so welcome to your new (or returned) source of distraction for the beginning of the week.
Although deciding to return this week is not the best timing, considering we spent the last week without internet in The Yucatán (a woefully ill-fated trip including six days of cold and rain and bouts of both something flu-like and intense food poisoning, which was 100% our own fault), but here's a small collection of notable links from the last month or so.
Speaking of our trip to Mexico, we were able to eat so little Mexican food while we were there that our quest for it here in Madison has doubled. Looking forward to eating here, as well as many of the places on this good round-up (from my friend Otehlia of Madison Eats) of local sources for Mexican food. We've been hitting Mercado Marimar on the weekends for some tacos and fresh tortillas (among many other things) and are gearing up to start making a lot of Mexican food at home in the coming weeks. (Stay tuned for a pepita pipián I'll hopefully be posting later this week!)
Here I am, agreeing with Michael Ruhlman, once again. I've always thought touching food was really important in learning how to cook and in really engaging with the process.
So excited these guys got their Kickstarter. Can't wait to buy my Ginger Brew in bottles! (Isn't referring to something possessively one of the first signs of addiction? Hmm …)
Yet another sad but important story about how the hard-working farmworkers of the Central Valley (and most other places) can't afford to buy the food they work so hard to produce.
Singing the praises of eggs. Right there with ya, Martha.
Madison folks, make sure to get your tickets for REAP's Pizza Party, Jan. 26! Seriously – $10 for a buffet of pizzas from Salvatore's, Osteria Papavero, Ian's, and other amazing Madison pizza makers, all with locally-grown ingredients, plus salad and WiscoPop … how is that even a question? (pssst … Burgers & Brew tickets go on sale Saturday!) (Also I promise I won't link to my work events every week.)
And just a note that I'm looking for more places to teach cooking classes, demonstrations, and workshops in Madison! If you have any thoughts or know anyone who might, let me know. Many thanks!