Single-serving orange-rum (or not) hot cocoa
Hot cocoa is yet another thing I kind of forgot about when I lived in a warmer place. I like hot cocoa more than well enough, but it was never something that crossed my mind or presented itself as something functional, in the way that it does living here. Many nights over the past few months I've found myself wanting something sweet, something a bit boozy, and more than anything something warm, usually around 8:45 p.m., and when I realized that a quickly-prepared mug of cocoa could perfectly meet all three of those wants, it began crossing my mind on a fairly regular basis.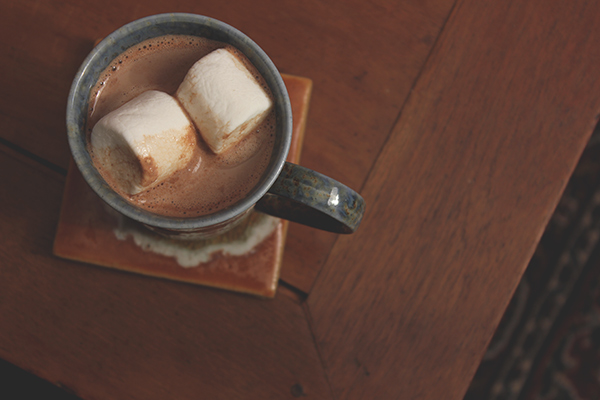 And this recipe is particularly handy in its easy-to-remember ratio of ingredients – one cup of milk plus one tablespoon of each of the rest of the ingredients (aside from the salt, which is added with a pinch). Of course you can scale any of the ingredients to your liking, and you can easily switch out the rum and orange liqueur for other items in your home bar. Or nothing from your home bar – this makes a lovely, fast hot cocoa without the booze.
Rum-orange hot cocoa

Makes 1 serving, easily scalable. Rum and orange liqueur are completely optional!

1 cup milk (the closer to whole milk, the better)
1 Tbsp. cocoa powder (preferably Dutched)
1 Tbsp. sugar
1 pinch salt
1 Tbsp. dark (not spiced) rum
1 Tbsp. orange liqueur (e.g. Citronge, Cointreau)
Marshmallows or whipped cream, for serving

– Make and heat base Whisk together milk, cocoa powder, sugar, and salt in a small pot over medium heat. It may take a bit of whisking to incorporate the cocoa, which wants to float on top of the milk. Heat, whisking occasionally and making sure to scrape along the bottom of the pot, until the mixture is steaming. Turn off the heat.

– Add the fun stuff Stir in the rum and orange liqueur. Pour into mugs and add marshmallows or whipped cream, as desired.