Peanut butter chocolate chunk cookies
by Bowen Appétit on February 12, 2014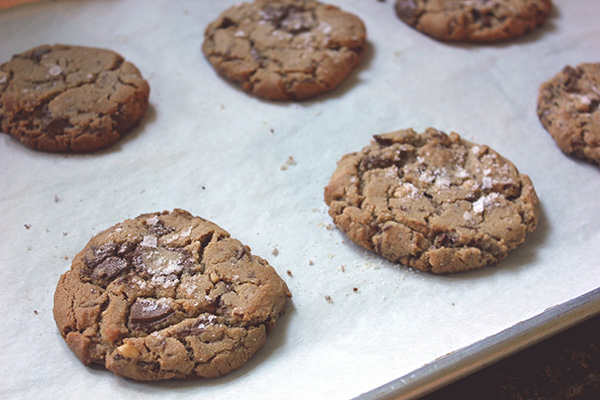 There's a sort of tragic story behind these cookies. A real lose-lose-lose-lose situation, you might say, and those don't come about all that often. I suppose there's definitely at least one win in there somewhere, since in the end there were a few cookies to eat and they were really delicious. And there's a good recipe to come out of it that I get to share with you, so that's another win.
But otherwise, it's a pretty sad story.
I made these cookies for a Super Bowl party a few weeks back, and they put me in a really great mood. I've been busier than normal the past month or so, but I set some time aside to bake these for the party and I was on a real baking high. The dough was delicious and gorgeous, I had grand plans to press each ball into a fat disk and sprinkle it with sugar and salt, garlic bread was going to happen as well, there would be wings at the party, I would have a couple of beers and yell at the television with all the desperate excitement of a football fan about to be deprived of football for the next nine months … despite that last part, things were really looking up!
So I put the tray of dough out on the back porch to chill, and went inside to catch up on email.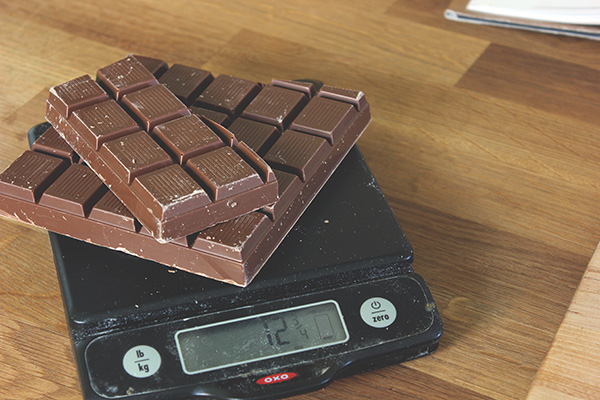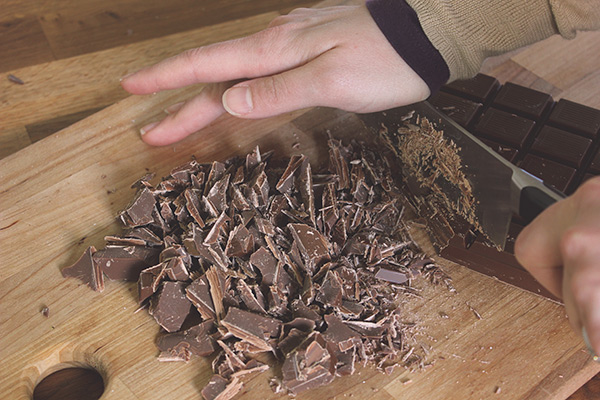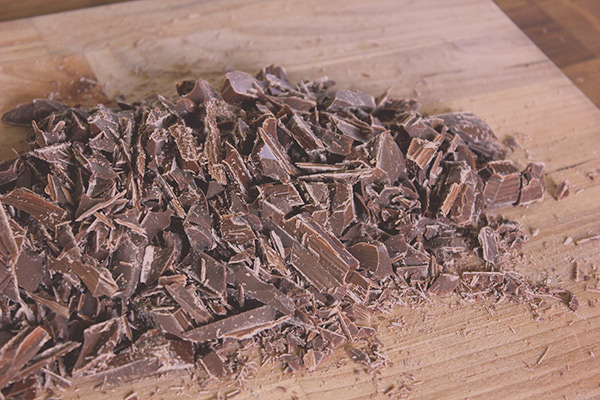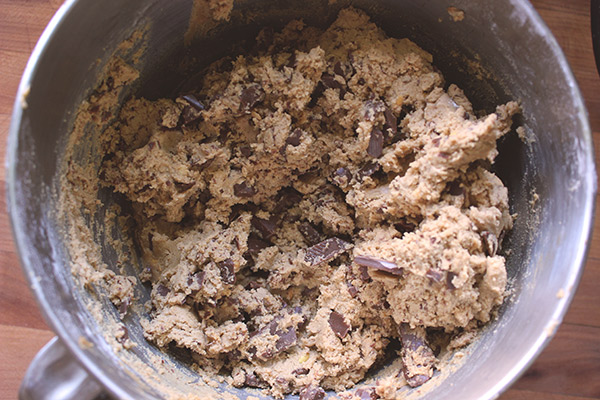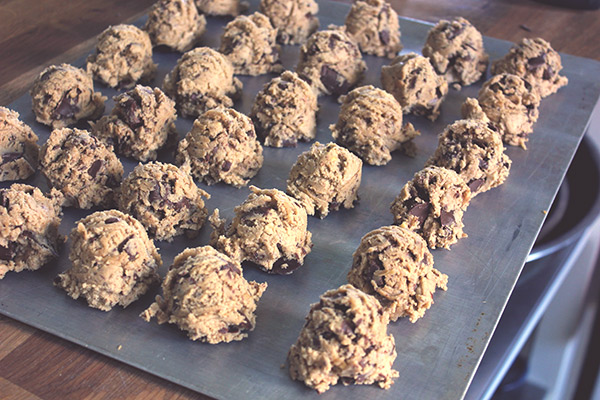 15 minutes later, oven heated, back to the porch. No cookies.
No cookies.
No cookies. Empty baking tray, a few crumbs, my brain trying to piece together the scene in front of me.
And that's when our upstairs neighbor's dog, a fluffy white muppet of a thing named Griffin, bounded around the corner of the house and began leaping in circles around the backyard. Leaping, it struck me suddenly, with all the energy and zest for life of a dog who had not only escaped the confines of his home but had also just eaten exactly two dozen unbaked peanut butter chocolate chunk cookies.
Long story short, the dog is fine (one veterinarian-prescribed turkey baster-induced vomiting session later), and I still had enough dough in the kitchen to bake up about 10 cookies. They were wonderful – chewy in the center, crisp around the edges, perfectly peanut buttery with a great sweet-salty balance and melty pockets of milk chocolate. (I'm a firm believer, by the way, that it's milk chocolate that belongs in a peanut butter cookie. That's about the only place I prefer it to dark, and that preference is quite strong.)
But despite how good these cookies are, let's be clear:
Upstairs neighbor with poisoned dog who ate downstairs' neighbors cookies = loss
Upstairs neighbor's dog = definite loss, despite initial win
Me, down a batch of cookies and having poisoned upstairs neighbor's dog = loss
Super Bowl party guests, down one dessert = loss
Loss-loss-loss-loss.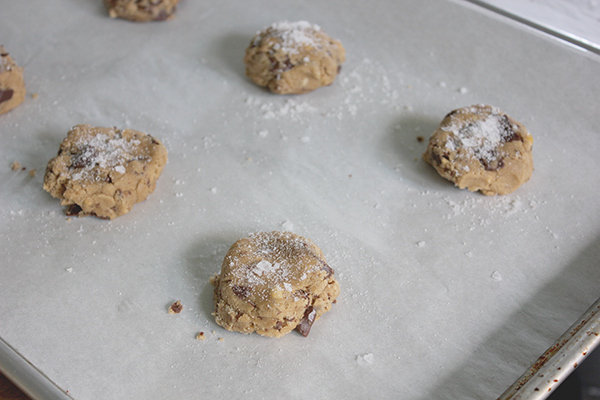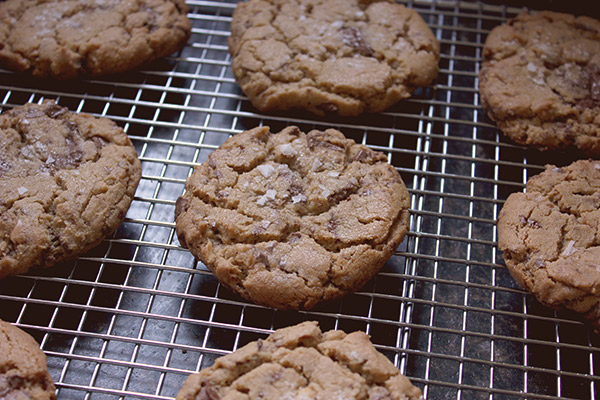 Sad story aside, I'm going to place this in my mind-file of classic recipes. There's nothing particularly innovative about them, aside from the sprinkling of both sugar and salt on top (which I can't remember seeing elsewhere), but it's the best peanut butter cookie I've made, so here it is.
Peanut butter chocolate chunk cookies
Adapted from The Grand Central Baking Book

Makes about 36 cookies

3 cups (13 1/2 ounces) flour
2 tsp. baking soda
1 1/2 tsp. salt
1 cup (8 ounces or 2 sticks) unsalted butter, room temperature
1 cup (7 ounces) sugar
1 cup (7 1/2 ounces) light or dark brown sugar, lightly packed
1 1/4 cup (about 9-10 ounces) peanut butter – natural or other types and both crunchy and smooth will work well
2 eggs
2 tsp. vanilla
12 oz. milk chocolate chips or chunks (I chopped up chunks from a large bar, and you can see from the picture above that I went slightly over 12 oz. – which I probably ended up eating from the pile of chopped chocolate, in any case)
A pinch or two each of sugar and salt (if you have coarse, flaky salt like Maldon, that works best here) for sprinkling

– Heat oven to 350F.

– Combine dry ingredients Whisk flour, baking soda, and salt in a medium bowl. Set aside.

– Cream butter and sugars and add wet ingredients Using a stand mixer or electric hand mixer, beat the butter, sugar, and brown sugar on medium speed for 5 minutes, until light and fluffy-looking. Add the peanut butter and beat for another minute. Reduce mixer speed to low and add eggs and vanilla. Scrape the sides of the bowl as needed to make sure everything is incorporated.

– Add dry ingredients With the mixer still on low speed, add the dry ingredients in three additions and mix until just incorporated. Add the chocolate chunks and mix with a wooden spoon until well incorporated.

– Chill dough (if you want) and bake Scoop the dough into balls of about ping-pong size, around 1 Tbsp. I find it easiest to roll all the dough on one baking sheet before baking (as shown in the pictures above). If you want, chill the dough in the refrigerator for about 30 minutes before baking – the cookies will spread less and stay a bit chewier. When you're ready to bake, line baking sheets with parchment or silicone liners and with slightly wet hands roll each dough into a smooth ball and press into a thick disk. Place six cookies on each sheet. If you want to sprinkle with sugar and salt, combine in a small bowl and sprinkle some on top of each cookie (see picture above). Bake for 12 minutes, rotating the pans halfway through the baking time. Let them cool on the sheets for a minute or two before transferring to a cooling rack.

Making ahead/storage: These cookies will keep well at room temperature for up to a week. The unbaked dough will keep well in a covered container in the refrigerator for up to 5 days before baking. You can also roll the dough into balls and freeze them for up to 3 months. You can bake them directly from frozen, but they will take a bit longer and may not have exactly the same texture.