Baked eggs + weekend links
It's been a bit rough around here lately – at one point I was nursing two injuries and two forms of illness, all at the same time – and along with work and school and everything else, we haven't been cooking as much as we normally do. I did make a really fantastic pizza last week – pesto, mozzarella, kale, chicken, and artichoke hearts on a whole wheat crust – and hopefully soon I'll be posting here about that. But really, considering the doozy of a month we have ahead of us, don't be surprised if there's a bit of radio silence in these parts.
To get you by, some baked eggs: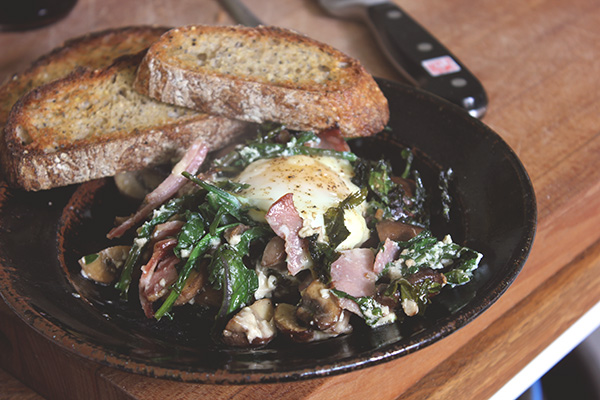 This is about as easy as it gets, as far as eggs are concerned. Start with some sort of delicious base, which can be just about anything. It's a perfect way to use up leftovers or random bits of this and that you have. In this case, I sauteed some kale and then some quartered cremini mushrooms and tossed them with the last of the Easter ham and a bit of sharp white cheddar. It could just as easily have been some other cooked vegetables, maybe a bit of bacon, maybe some leftover stew or lentils or beans. Whatever you have, spread it in the bottom of a lightly oiled or buttered baking dish. A chunky tomato sauce would also works well. I particularly love the way cooked greens cushion the egg as it bakes, but roasted sweet potatoes or some canned artichoke hearts would do just as nicely. If you can, create some wells where the eggs will sit. It's best if you can keep the eggs from resting on the bottom surface of the baking dish, but it's not that big of a deal. Maybe add some grated cheese on top, or a splash of cream, or some bread crumbs, or a final drizzle of oil. Stick it all in the oven until the eggs are set, and you have a meal.
Once it's all in the oven, it's not too fussy. You're cooking it at fairly moderate heat (325F), so there's not much risk of overcooking the eggs. Check in after 15 minutes or so to see how things are going. It may be done around then, or it may take quite a bit longer (depending on how cold your eggs were to start, how warm your base is, and how thickly things are piled in the dish). Take the dish out once the whites of the eggs have cooked (or longer, if you want the yolks a bit more cooked).
This is an absolutely perfect thing to make when you're having people over for breakfast (or lunch, or dinner), since you can prepare the base ahead of time, crack the eggs on top, slide in the oven, and kind of forget about it. It emerges warm and bubbly  and impressive, and all will be happy.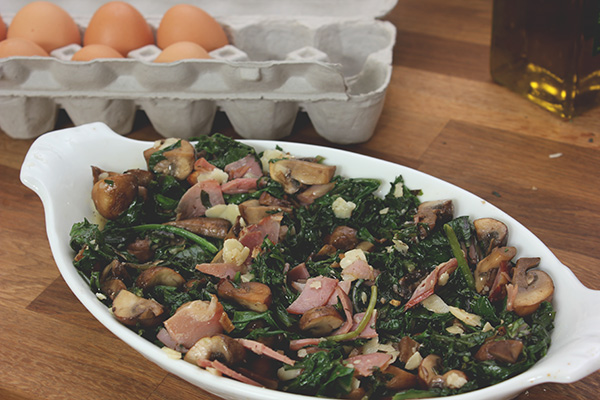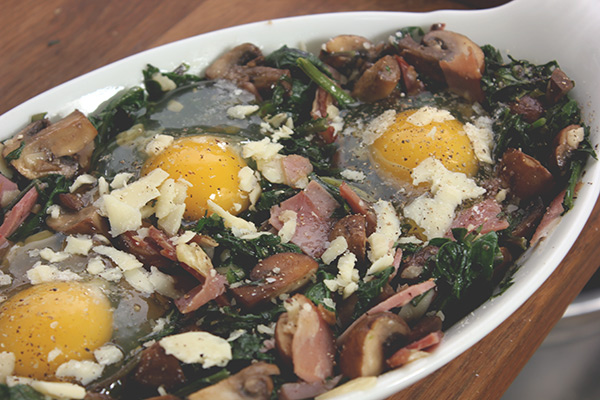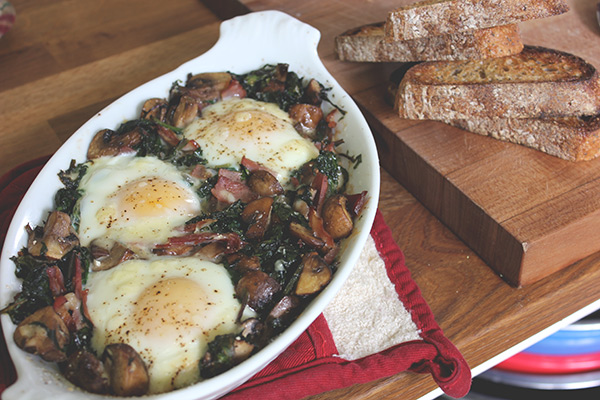 And since it's Monday, here are (just a few) weekend links:
Portraits of daily meals around the world.
The inside of chefs' refrigerators.
Feel like drinks you make at home never taste as good? Bartenders share what they think at-home bartenders are doing wrong.
Not much of a meal plan this week – while it's rainy and a bit chilly outside we're hoping to finish out the stews and curry pastes and other such items in our freezer, plus hopefully a grilled cheese/tomato soup evening.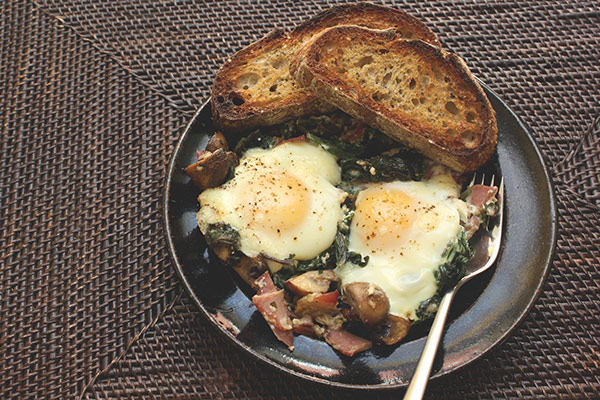 It feels kind of silly to make a recipe out of this since it's more a general set of instructions, but if anything let it jog your memory that you can bake almost anything with an egg or two on top and make a delicious meal of it.
Baked eggs

Makes however many servings you'd like – in this case I used 3 eggs for 2 people (one larger eater and one smaller eater)

Olive oil and/or butter
Whole eggs
Cooked base of vegetables, meats, beans, etc. In this case, I sauteed bunch of baby kale with olive oil and salt, then a few ounces of quartered cremini mushrooms with olive oil, salt, and minced garlic, and mixed those with some chopped up cooked ham and some crumbled white cheddar. You can also add a splash of cream, bread crumbs, grated cheese, or a variety of other things. Taste for salt and seasoning and make sure it's delicious!

– Heat oven to 325F.

– Assemble and bake Grease your baking dish with olive oil and/or butter. Spread out your base, make wells for the eggs, and crack the eggs directly on top of the base. Cover with pinches of salt and pepper (and grated cheese or bread crumbs, should you be into such a thing). It's okay if they spread out a bit. Bake uncovered until the whites are set, somewhere between 15-40 minutes (depending on how warm and thickly spread the base is and how cold the eggs are). You can prod the eggs with a fingertip or a utensil to see how set they are. Remove from the oven and spoon onto plates.

Making ahead/storage: The elements of your base can certainly be made ahead, depending on what the dish is. Once the eggs are baked on top, it's best eaten fresh.